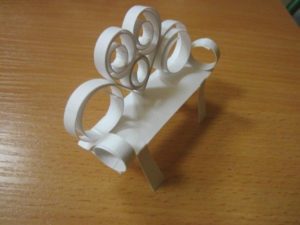 Every child wants his toys to make up a special world, similar to the real one. For this, doll houses, cars, and other toys are created. But dolls that have a home will probably need a yard around it. And what is a yard without a bench? In this article, you will learn how to make a paper bench yourself to please your child, prevent common mistakes and make the craft as close as possible to original.
Tools and materials
The content of the article
Tools and materials

Sequencing

Tips

Conclusion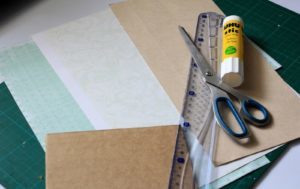 Materials for such a craft can be found in every home, because there is nothing unusual about them. Any adult who has no problems with other activities that require relative manual dexterity - for example, embroidery or minor household repairs - is quite capable of making such a toy.
So, you will need:
brown and black colored paper;
scissors;
glue;
food skewers;
thick cardboard.
IMPORTANT! Take a photo in advance or find a photo of a real bench on the Internet. If you keep it in front of your eyes, then the craft will turn out more like a real shop and more believable.
When all the necessary materials are collected, you can start working.
Sequencing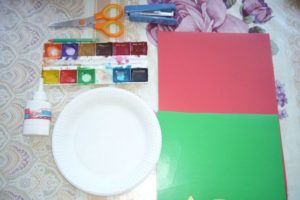 First, decide on the size of the product. It should not be very large, but at the same time, think over how the child will use the bench. Probably in conjunction with other toys, such as dolls. In this case, it will be important to observe the proportions relative to them. It will be strange if the bench is larger or much smaller than the dolls or animals that the child wants to put there.
Depending on the sizes you choose, cut out the necessary components from cardboard and paper. We will give an example of the dimensions of our craft so that it is convenient for you to understand how the details relate to each other. Add or subtract a few centimeters to make the bench exactly what you need.
We got two side parts 12 by 8 cm long, several strips a centimeter wide - 15 cm. Wooden skewers should be cut so that they are about 12 and a half centimeters long. Now you can start, in fact, to make the bench.
The details need to be pasted over with colored paper, the side elements in black, and the stripes in brown. By the way, in the absence of colored paper or simply at will, you can paint them with paints, colored pencils or felt-tip pens.
Now we make three small holes in the side part, it is important to make sure that they are not through, then the craft will be damaged. They need to be filled with glue and wooden skewers inserted into them. If you are afraid to fill the whole part with glue, then you can dip the skewers themselves into it. After the glue has dried, do the same with the second part.
Try to be as neat as possible or place the sticks parallel to each other. As a result, a kind of bench frame comes out, in which the features of the future product are already guessed.
After that, it remains only to glue the stripes that represent the boards on the lower part and on the back. With an average size of the toy, they will fit 3-4 on both parts. After that, check whether the elements of the bench are peeling off, shake and tug. If everything is in order, then the work is over.
Tips
You can add wrought iron twisted ornaments to the bench. To do this, you will need 2-3 mm thick wire and acrylic paint to give it the desired effect. The wire is shaped to the desired shape with pliers. Parts can be connected with tape, and then glue the "forged" parts of papier-mâché. Thus, the frame of the product will also be strengthened.
The paste used to grease the pieces of newspaper can be prepared from boiled water and flour in a ratio of 3 tablespoons of flour to 500 ml of water, adding a little glue to it. The resulting mass must be cooled and only then, with its help, glue the wire over. Please note that you will need not one or even two layers, but about 3-4, so that the papier-mâché turns out to be dense and does not disintegrate in the future.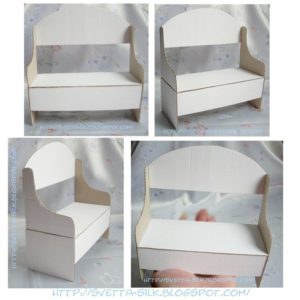 The next step will be to eliminate all the resulting irregularities. For this, sandpaper is used, first of medium, and then of fine grain. After that, the element is covered with self-hardening plastic, which is sold in small packs and hardens rather quickly, then the procedure for removing irregularities is repeated. However, here you can not try too hard, because roughness may be appropriate to reproduce the effect of "antiquity" and just a more natural look of the bench.
Monograms must be present on the frame, which are also made using plastic. With a knife, you can make them more expressive and deep, as well as give the whole frame more precision and "detail". The last step is painting. With black paint, everything is clear, but how to give the bench a metal effect? Silver paint is needed here. It should be applied with a dishwashing sponge. Then we let the parts dry, cover it with acrylic varnish and attach it to other elements.
Conclusion
As you can see, the last addition is much more difficult to perform than the bench described earlier. Such crafts can be used not only as toys for children, but also be exhibited in competitions and win prizes, as well as become a hobby that will delight you after a hard day.
Perhaps an attempt to fulfill a child's whim will grow into a real passion for this creativity.
Subscribe to our Social Networks