Polypropylene pipes are interconnected with fittings. These are the necessary details for arranging a functional system. A coupling for polypropylene pipes connects the pipeline into a straight line. This connecting element provides a sealed and reliable joint that can withstand both loads (temperature, pressure) and the active effect of aggressive media.
The content of the article:
Technical characteristics of couplings for polypropylene pipes

Where are couplings for polypropylene pipes used

Classification of couplings for polypropylene pipes

Distinctive features of "American" - couplings for polypropylene pipes

Features of mounting couplings for polypropylene pipes
Technical characteristics of couplings for polypropylene pipes
Couplings for welding polypropylene pipes are made of the same material as the pipes themselves. That is, made of polypropylene. Therefore, both products have the same technical characteristics.
Basic:
Density - 0.9 g / cm³.
Hardness - 40 N / mm².
Tensile strength - 40 N / mm².
Elastic modulus - 800 N / mm².
Kinematic viscosity - 420-500 cm³ / g.
Thermal conductivity - 0.24 W / m C.
Fitting withstands all the loads that the line may be subjected to. Hence the advantages:
high product strength;
resistance to all active and aggressive media, which makes it possible to avoid corrosive processes;
the permeability of the fittings is preserved due to the fact that their inner diameter does not decrease during operation due to salt and mud deposits;
lack of electrical conductivity, which ensures safe operation of both couplings and polypropylene products;
excellent sound insulation;
low thermal conductivity, which allows to reduce heat losses of the line;
withstands temperatures up to + 95 ° С (short-term + 110 ° С), which makes it possible to use fittings in

heating systems

,

hot water supply

;
small specific gravity;
ease of installation in the joint joint of two polypropylene pipes;
service life is more than 50 years.
Polypropylene couplings are more expensive than many other couplings. But they are cheaper than their metal counterparts. Their quality is high due to the production technology used, which is based on the extrusion of polypropylene (when the molten raw material is fed into molds under high pressure). Hence, not only the quality, but also the exact dimensions. All this makes it possible to use fittings in different engineering networks.
Where are couplings for polypropylene pipes used
Polypropylene couplings can be used in the following engineering systems:
water supply - cold, hot;
heating - radiator, warm floors;
conditioning;
pipelines at industrial facilities, through which various liquids, including corrosive ones, move;
amelioration and irrigation networks;
drainage.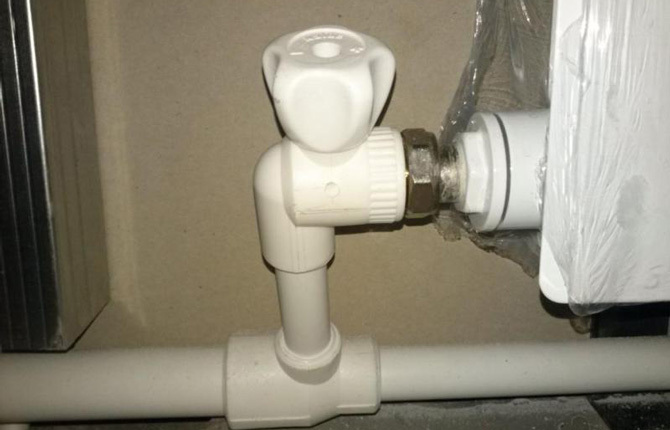 Two different couplings in the heating system
Classification of couplings for polypropylene pipes
Pipelines are optional elements of the same diameter, made of polypropylene. There are many options when it is necessary to connect products of different materials and diameters into one network.
Today, several types of polypropylene couplings are produced, with the help of which pipe sections with diameters of 20-110 mm are connected.
Classification and features:
if products of the same diameter are connected - straight couplings;
for structures of different diameters - transitional;
installation of piping made of various materials, for example,

steel and polypropylene

- combined models are suitable.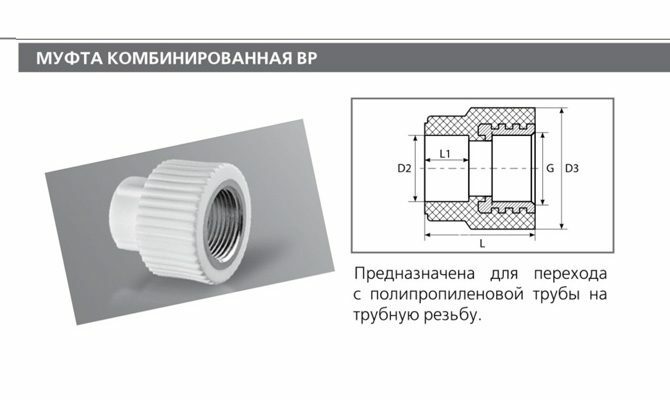 According to the type of connection, such connecting elements are divided into:
By connection option:
By functional features:
repair;
connecting;
protective.
To connect the first two options (direct, transitional), soldering technology is used, for which a special tool is used - soldering iron. Such couplings withstand pressure up to 2.5 MPa, temperature up to + 95 ° C.
The diameter must be indicated in the marking. If this is a transitional model, then two indicators are noted. For example, MP 40x32. That is, using this element, you can connect polypropylene pipes with a diameter of 40 and 32 mm.
Combined models allow you to connect pipes made of polypropylene and other materials. They are also suitable for docking with shut-off valves. For this, a steel thread is inserted into their structure. It can be outside or inside.
It is the ability to interconnect steel and polypropylene elements that is the advantage of combined couplings for polypropylene pipes.
Distinctive features of "American" - couplings for polypropylene pipes
American is a common name for a large number of split couplings. These are the elements that can disconnect the pipeline if necessary. Such couplings, installed on the connection, are used repeatedly, which is their great advantage over other types.
Pros of the American:
ease of assembly and disassembly of pipelines;
high speed of installation work;
compactness of the connection;
versatility of the design - you can connect pipes with each other with an external thread, and with an internal one;
the possibility of repeated use;
when disconnecting, there is no need to twist the pipes,

cut them

;
the length of the sleeve and the thickness of the seal do not complicate the process of connecting and disconnecting, as is usually the case with squeegees;
high tightness due to the installed gasket.
The American consists of two fittings that are installed on the two ends of the pipes or pipes to be connected and another element of the line, for example, a heating radiator. There is a spacer between them. And also a hex-type compression nut, which compresses two fittings, forming a tight and tight connection.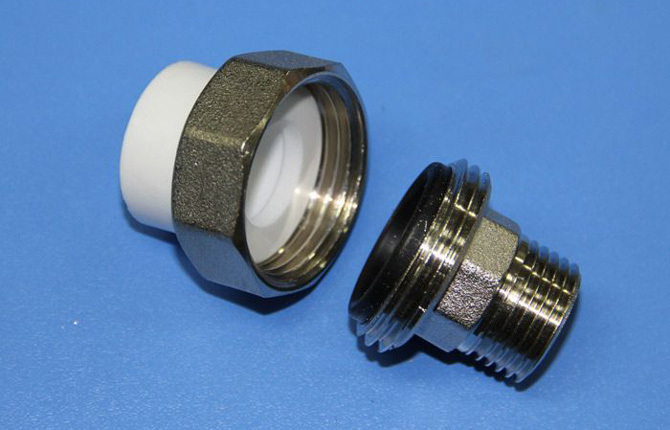 American
Varieties of American women:
For joining steel pipes with each other or with plumbing and heating equipment. It is completely made of steel. Two threaded unions. Both threads can be internal or one external, the other internal.
For connecting polypropylene pipes with other elements. In its design, one of the fittings is provided with a branch pipe. It is connected with a polypropylene pipe using a straight or adapter sleeve.
Conical model. Here one of the fittings is bored for a cone, the second has a straight configuration, but the seat in it is bored for an inner cone. This connection creates one hundred percent tightness, so this type of fitting does not use a gasket.
There is another classification of American women, which is based on the connection configuration. Depending on this factor, they are straight and angular. The first ones connect pipes located on one straight line. Second, if it is necessary to dock the elements at an angle of 90 °.
Features of mounting couplings for polypropylene pipes
Everything will depend on which coupling is used for joining. The easiest to install are straight and transitional. To use them, you need a soldering iron with nozzles of different diameters. Usually there are two of them: drone for pipes, sleeve for couplings.
The soldering iron is heated to a temperature of + 260-270 ° C, after which the joint elements are inserted into the nozzles. They warm up for 15 seconds, then the sleeve is pushed onto the polypropylene pipe. The joint is durable and tight.
In the same way, the free end of the coupling is connected to the second pipe.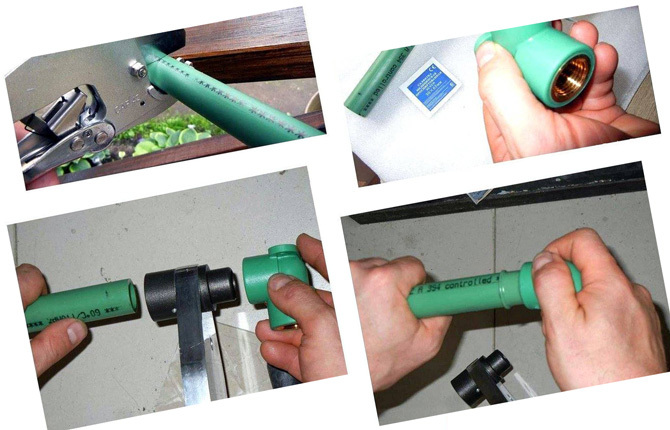 If it is necessary to collect the water mains under cold water of a temporary type, or in which water will move under a pressure of no more than 1 atm, then it is possible to use compression couplings to connect polypropylene pipes.
Such fittings represent a branch pipe or corner, on both sides of which union nuts are installed, and between them - cone-shaped gaskets. During the installation process, the joints are sealed, and the assembly itself is done quickly without the use of tools. The coupling itself is made of low pressure polyethylene.
Working with the American woman is a little more difficult because the threaded connection requires a good seal. To do this, use a FUM-tape or thread, which is wound in the direction of twisting the fitting. It is important here to select the exact number of turns of the sealant.
Each fitting is connected to the pipeline elements separately. A gasket is inserted between them. Then the nut of one fitting is screwed onto the thread of the other. You cannot squeeze it strongly so as not to flatten the gasket. Therefore, the clamp is carried out by hand.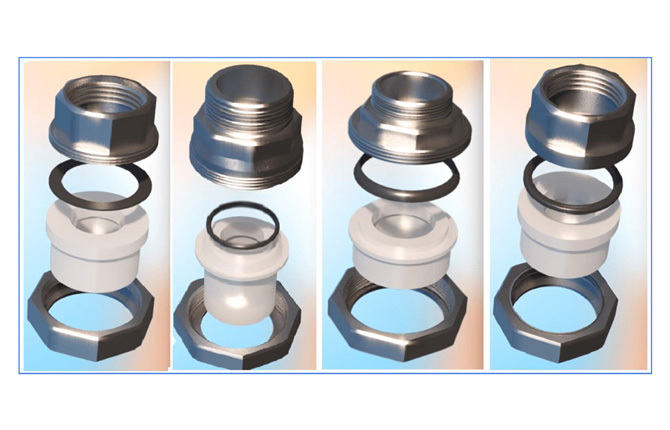 Configurations of American women and rules for their assembly
An important component of the installation is the exact fit of the polypropylene elements at the site of their connection. Other features:
the temperature at which it is best to carry out the installation is not lower than + 5 ° С;
when working with polypropylene pipes, do not use gas, adjustable wrenches;
do not carry out any aggressive actions with polypropylene - heating, threading, bending, etc.
the tool used must be in good technical condition and be clean.
Couplings for polypropylene pipes are one of the best options for ensuring the most tight joint of the line. The presence of detachable structures in the model range makes it possible to simplify repair work on systems of any type.
Have you used similar elements when arranging the pipeline at home? Write in the comments. Share the article on social networks and save it to bookmarks so as not to lose it.
We also recommend watching selected videos on our topic.
What is "American" in plumbing?
Polypropylene pipes: types, fittings, accessories, pipe soldering.
Sources:
https://santehstandart.com/poleznye-materialy/mufty-dlya-polipropilenovykh-trub
https://dispetcherdoma.ru/ustanovka/mufta-dlya-plastikovyh-trub.html
https://spark-welding.ru/montazh-i-remont/mufty-perehodnye-polipropilenovye-razmery.html