Initially, we wanted to purchase modern furniture, no frills. They searched, chose, until they gave preference to an angular gray set with facades for concrete. The kitchen turned out to be elegant and austere, but at the same time very comfortable and functional.
Made in a studio  Kitchen Suite,
vk.com/kuhni_luxe
G. Dace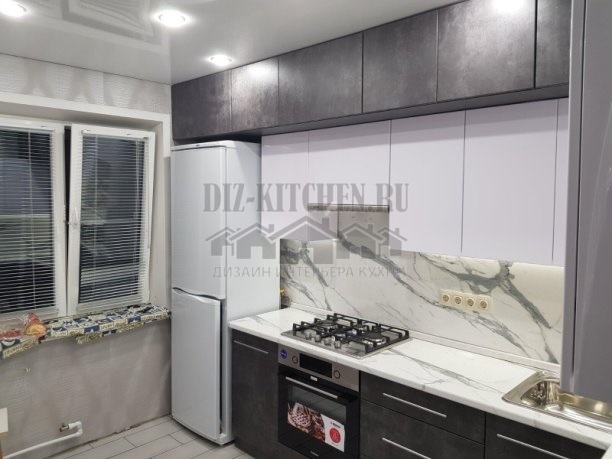 Attention! Earned on our website kitchen designer. You can get acquainted with it and design your dream kitchen for free! May also come in handy wardrobes designer.
The gray and white interior looks calm and balanced. The color scheme is quite cool, thanks to this, the atmosphere in the room turned out to be restrained, emphasized minimalistic.
The body is made of laminated chipboard. Facades - from MDF with a film coating. Center - white gloss, bottom and mezzanines - dark concrete.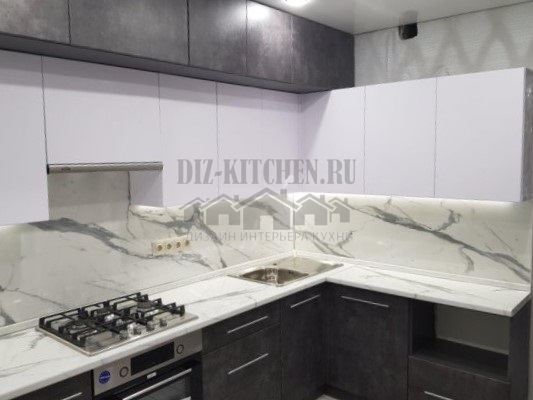 White is a pure and open color and is in the center of the headset. Thanks to this, a special depth and dynamism appeared, although the main tone of the furniture is still gray (there is more of it). It is located on the lower facades and continues into the upper mezzanines.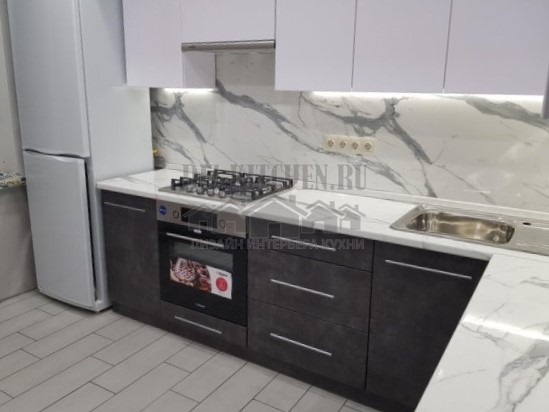 But white is evenly distributed throughout the interior: facades, floor, walls, refrigerator, countertop and wall panel. All this makes the environment light and somehow weightless. By the way, the refrigerator fits well and imperceptibly into the gray-white interior.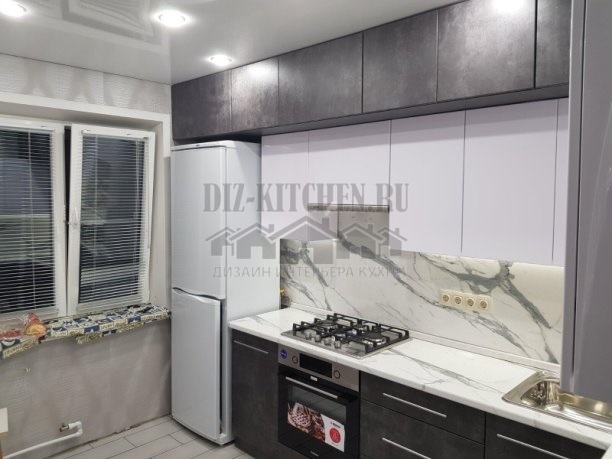 The floor is covered with white tiles that continue the cool color scheme. The upper tiers come without handles, the mechanism works by pressing and is inserted into the tip-on door hinges (manufactured by Blum). The rest of the fittings with closers are also from Blum.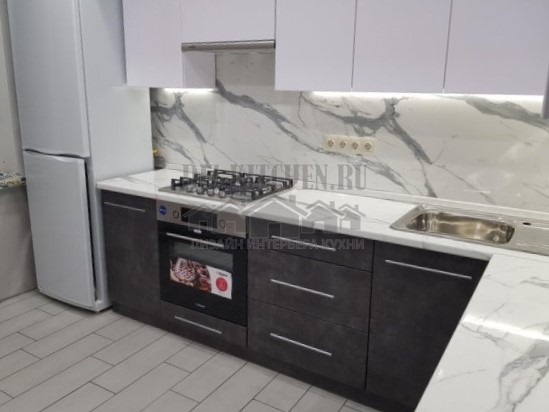 The table top is moisture resistant, made of laminated chipboard with a plastic coating on top. Our wall panel looks like marble. It has become a kind of accent against the background of the cold gray-white scale. The drawing looks noble and expensive, harmonizing well with gray concrete surfaces.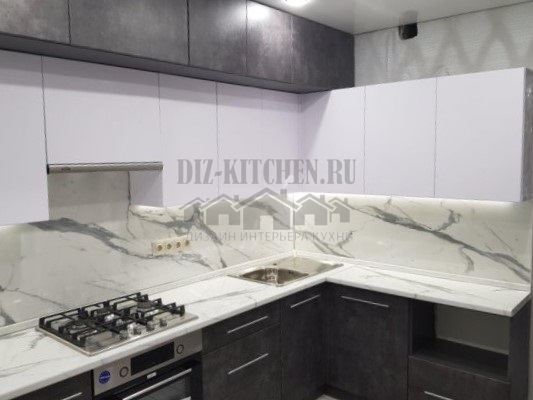 Our kitchen is very beautiful. There is nothing superfluous in it, there are many storage places and all the work now brings great pleasure.