A loft-style kitchen with concrete finish is a stylish solution for those who want to emphasize their status and impeccable taste. The noble gray color is incredibly popular today, it looks expensive and stylish. And the apron with the texture and palette of natural wood brings naturalness and warmth to the interior, creating an incredible duet of warm and cold tones.
Made in the company  Lavelle Kitchens,
lavellakitchen.ru
G. St. Petersburg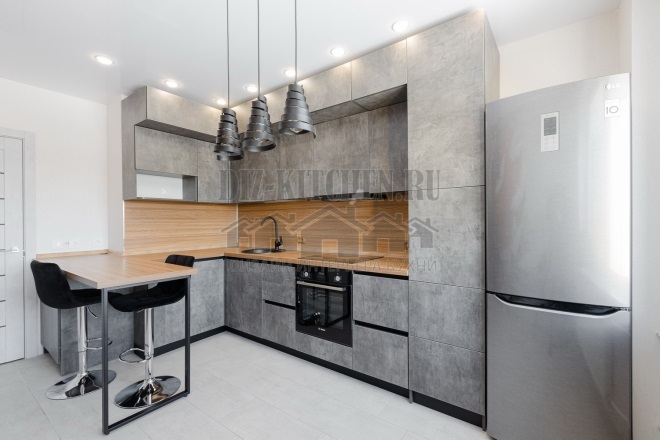 Attention! Earned on our website kitchen designer. You can get acquainted with it and design your dream kitchen for free! May also come in handy wardrobes designer.
The kitchen looks original and sophisticated. In the process of coordinating the project, all my wishes were taken into account, so it is convenient to cook and receive guests in the 12-meter kitchen. There is nothing superfluous here.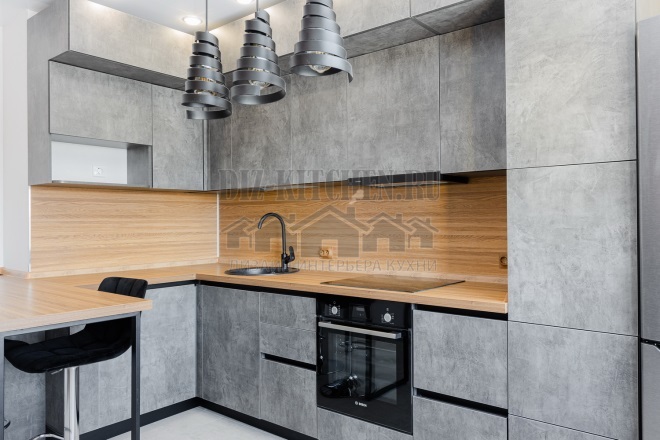 Multilevel facades and a wooden bar counter create an interesting geometric line, continuing the contrast of natural textures: rough polished concrete and living wood. The bar counter flows into the countertop.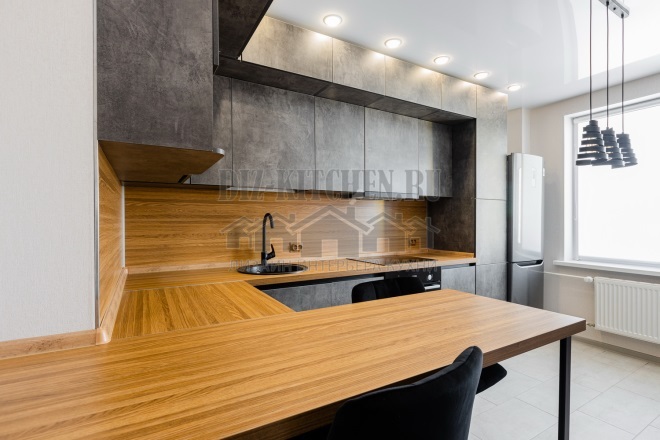 The corner kitchen is highlighted in the space of the room with very light walls. On the opposite wall is a drawing that has become the main accent of the kitchen.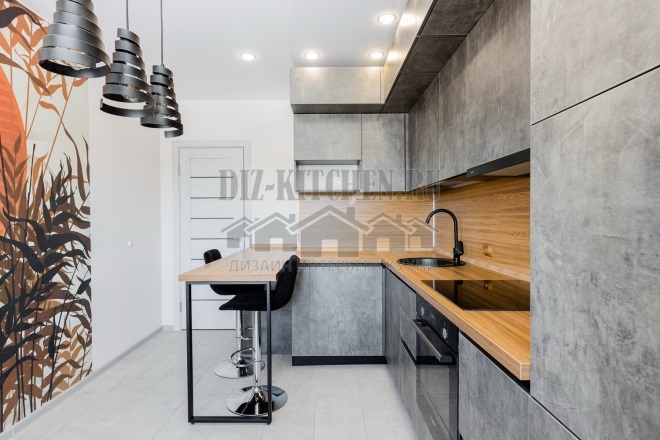 Natural textures, the absence of the usual decor, muted color combinations are the main features of our strict and laconic interior.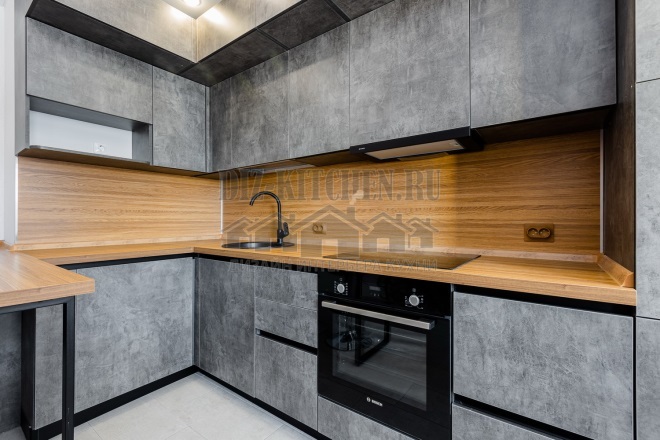 The main color of the furniture is light Chicago concrete. The facades look authentic, the pattern is practically not repeated and completely imitates light gray concrete surfaces. The glossy refrigerator near the window has successfully become a part of the gray interior.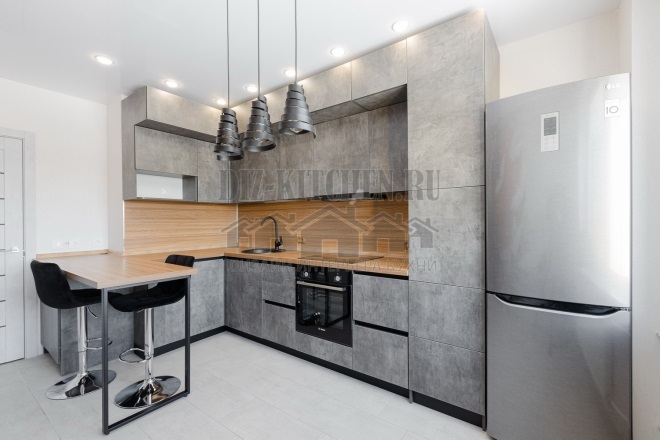 Frame and facades material - laminated chipboard (Egger). The sections look just as beautiful on the inside as on the outside.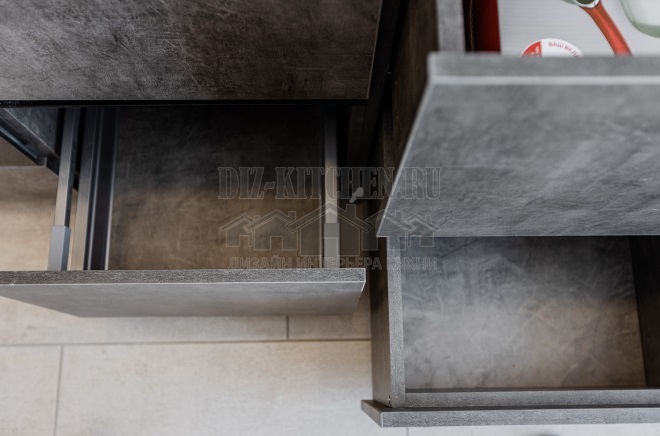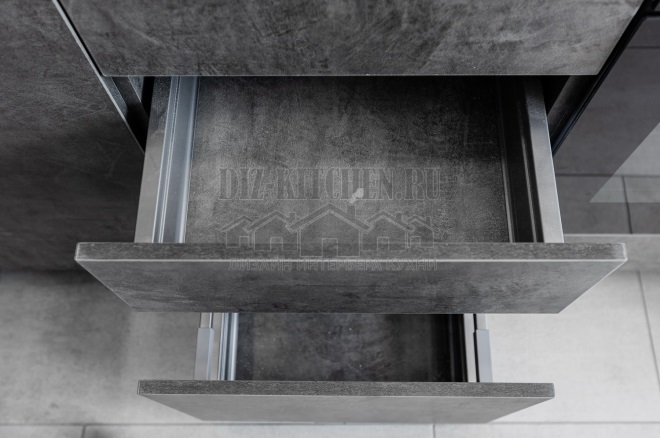 The box and the exhaust pipe were removed behind the frame made of chipboard. Opening the wardrobe, we see not a metal pipe, but neat shelves and a beautiful furniture surface.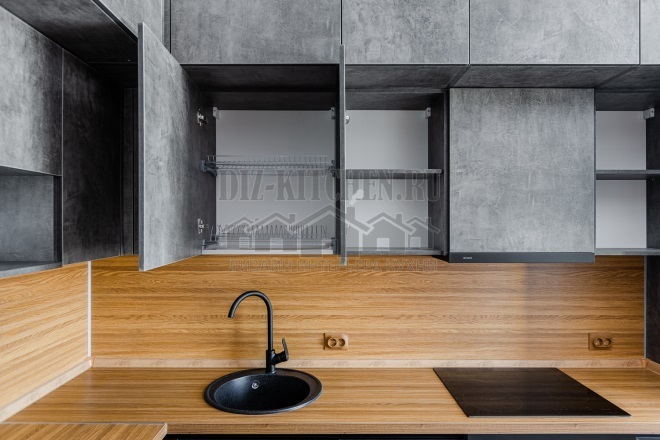 Apron and top in moisture-resistant HPL, shade Gold Oak. Wood has become a kind of decor in the interior, remarkably softening the hard concrete surfaces.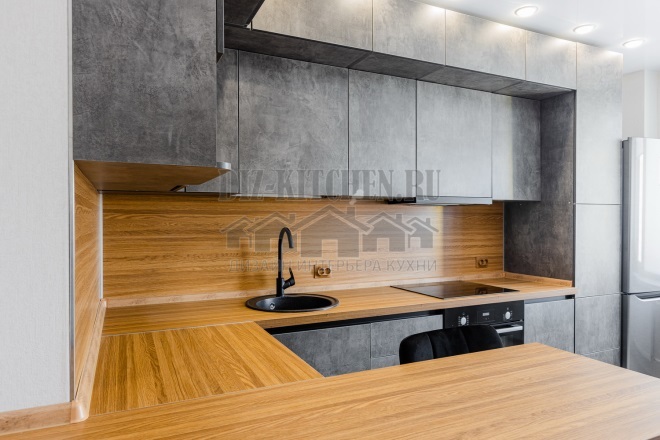 All Hettich fittings: runners in the lower drawers, hinges with door closers.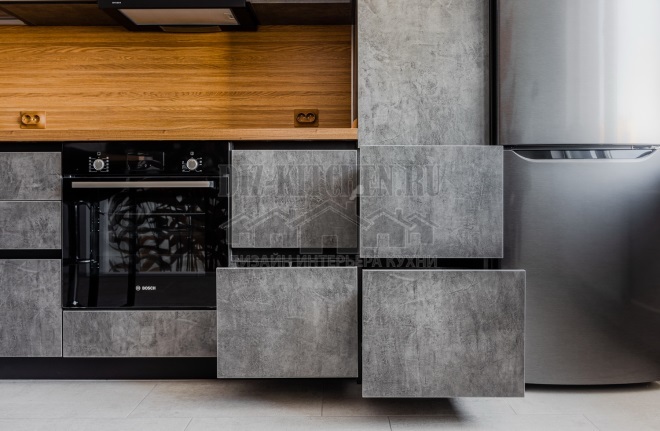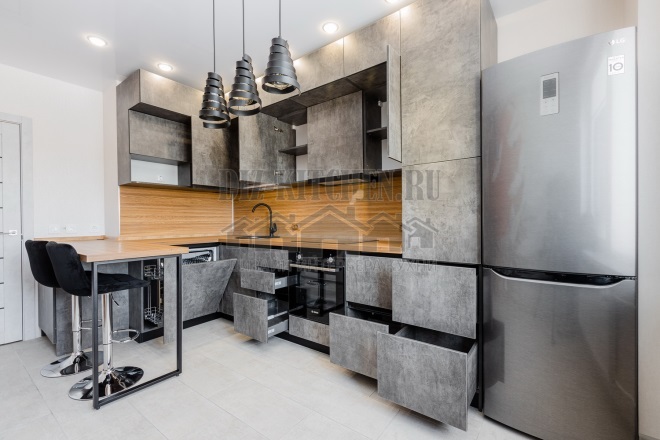 A dishwasher also fits in the lower tier.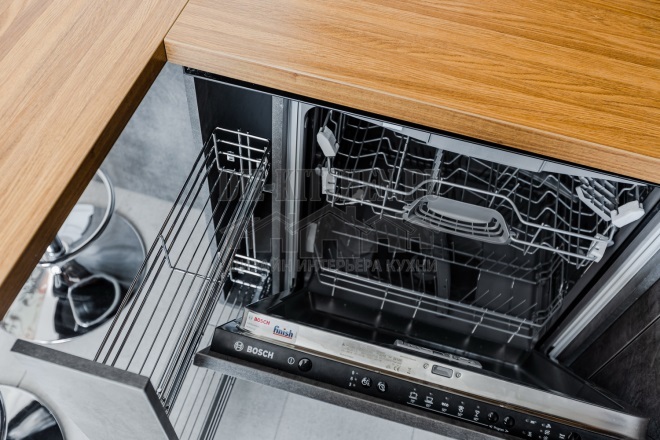 The elegant interior, in which there is nothing superfluous, makes an incredible impression. It is very cozy in it, despite the dominant gray color, since the balance of wood and concrete is observed to the smallest detail.