This small kitchen is installed in a studio apartment. We chose a white set for its lightness, cleanliness and the feeling of freshness it gives. The second argument in favor of white is that it expands the space, which means that not the largest room will seem larger. A bright apron with photo printing added its own special character to the whole interior.
Made in the company  Formica,
formika.tomsk.ru
G. Tomsk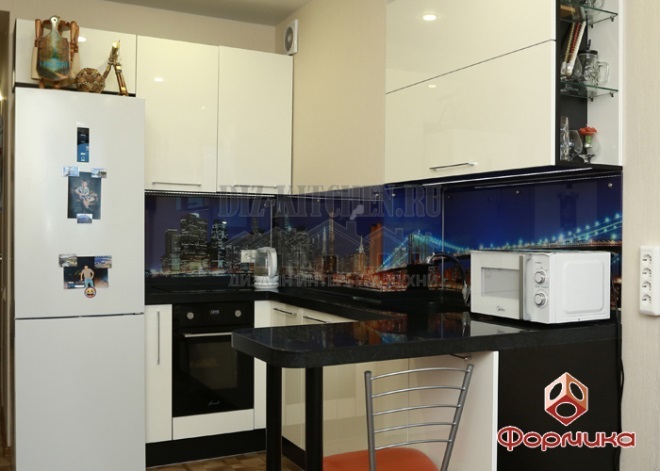 Attention! Earned on our website kitchen designer. You can familiarize yourself with it and design your dream kitchen for free! May also come in handy wardrobes designer.
The size of the room is 3 x 6 meters. Corner set with parameters 2520 x 1530 x 2180 mm. It starts with a refrigerator with a small mezzanine and ends with an open shelf in the upper tier and a small bar counter in the lower one, which can also serve as a small dining table.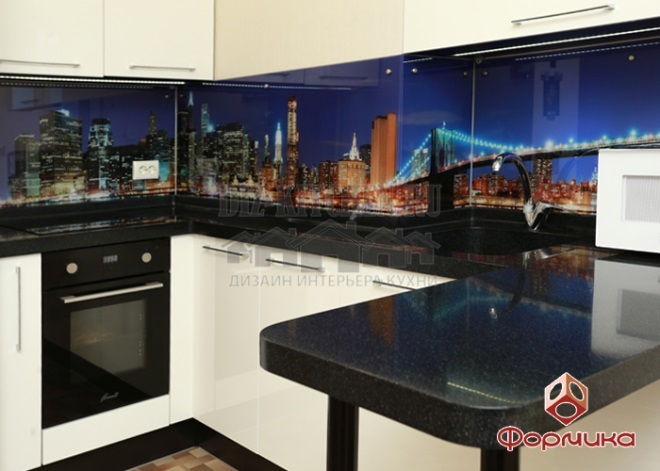 Our body is made of laminated chipboard, 16 mm thick. Facades - acrylic plastic. Perfectly flat and glossy surfaces of the facades liven up a small interior well, reflecting light and visually enlarging the room. Such panels do not fade at all and are distinguished by high mechanical strength - they cannot be cleaved.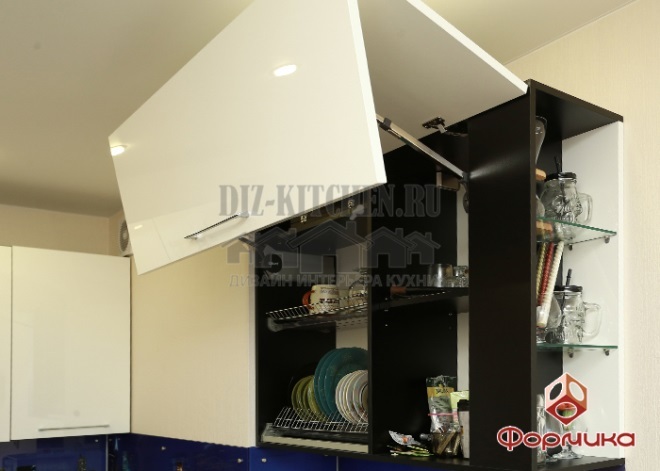 The apron, which is a wall top (photo printing on glass), has become a cool accent throughout the kitchen. The idea of ​​combining monochrome facades and a photo of the city at night turned out to be great. At the same time, the spots are practically invisible in the contrasting and dark drawing of the city. In addition, it is beautiful and a perspective with a projection extending into the depths is formed.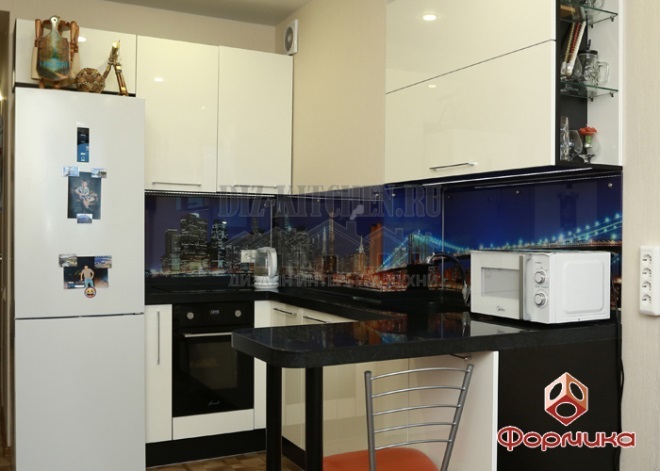 The worktop 50 mm thick from the Staron company goes into a bar counter made of artificial acrylic stone (color Sanded Onyx SO423), with dimensions 740 x 500 mm. The black surface is dotted with many snow-white sparkles. Due to the heterogeneity of the pattern and contrasting white blotches, the tabletop resembles the radiance of the starry sky.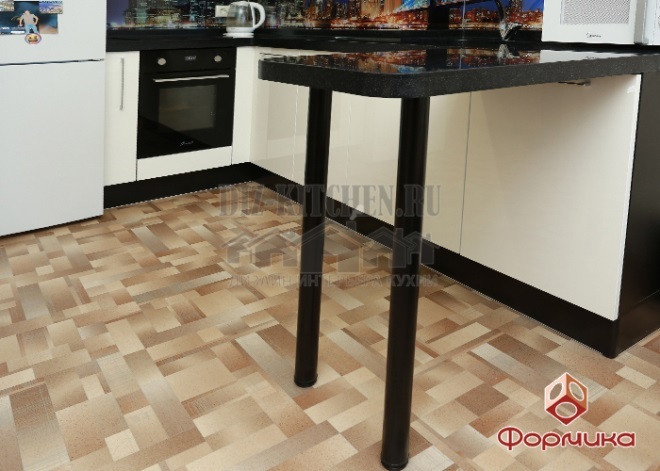 The black surface of the countertop continues imperceptibly into the drawing of the city at night. This deep texture looks great with backlighting.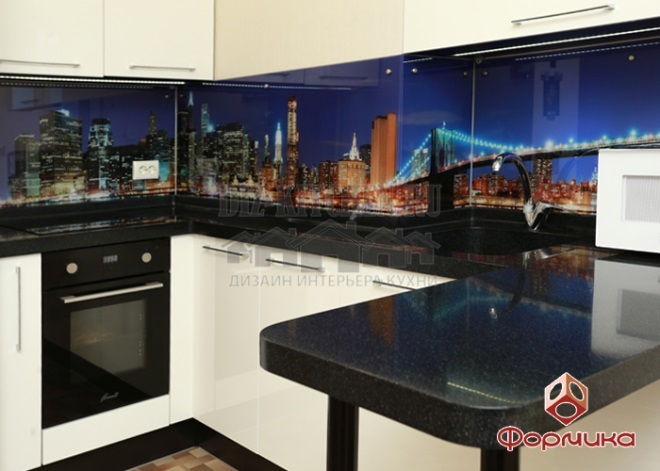 The top row contains the AVENTOS HF lifting mechanism (folding). It opens access to a fairly spacious closet, inside which a two-tier dryer fits and there is still space left.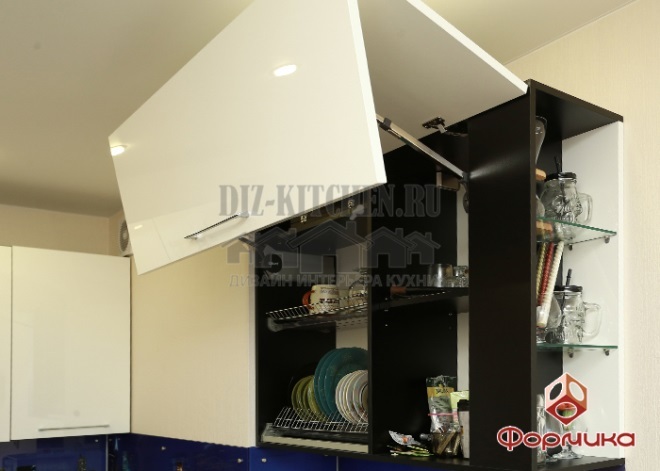 Integrated sink (artificial stone), exactly the same as the countertop.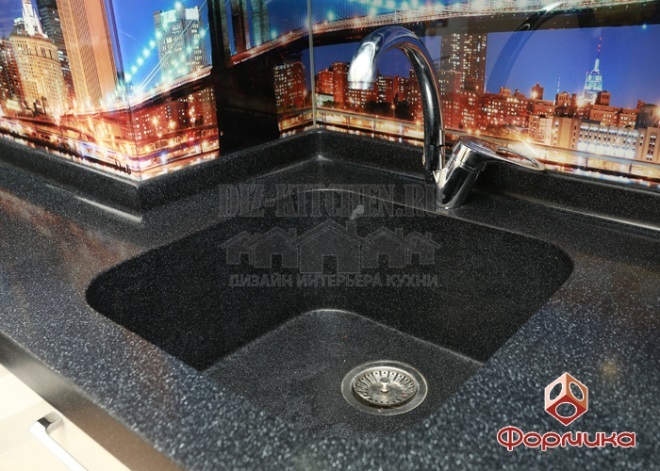 In the bottom row, a KVADRO 1 bottle holder with a width of 150 mm was installed. It can easily withstand a load of up to 30 kg and allows you to conveniently store tall bottles and cans.
average rating 0 / 5. Number of ratings: 0
No ratings yet. Be the first to rate.