Sooner or later, everyone comes across the selection of this furniture. This question is especially relevant for small kitchens. If the dining area is spacious, style and taste are prioritized when choosing. When the kitchen space is very limited in space, we first of all select the most convenient and compact options, pushing the aesthetics into the background. In this article you will find how to choose the right kitchen tables and chairs, photos of successful combinations.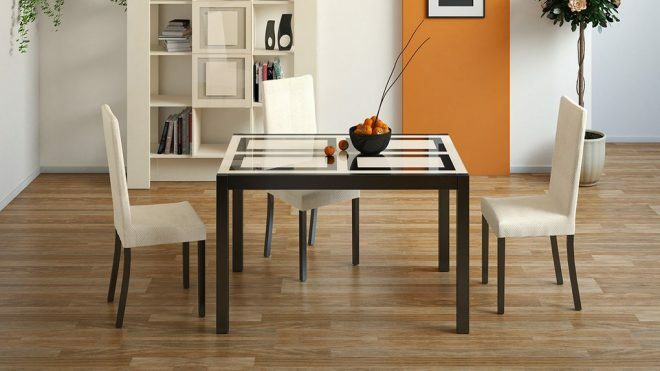 The main criteria for the selection of furniture for a dining group
When purchasing furniture, you must be 100% sure that you will be satisfied. In order not to be mistaken with the choice, there are at least 3 main criteria that you need to remember and adhere to:
Attention! Earned on our website kitchen designer. You can familiarize yourself with it and design your dream kitchen for free! May also come in handy wardrobes designer.
The dining table and chairs for the kitchen should be comfortable. Even the most expensive and beautiful furniture will disappoint if it is inconvenient to use it. By convenience, we mean, first of all, the competent use of space. For example, a table can be large, but with many drawers. Comfortable chair seats that follow the contour of the body or armrests create comfort and convenience.
Such furniture for the kitchen as tables and chairs is selected at the final stage of renovation, when the stylistic orientation of the interior has already been determined. However, this is not entirely relevant if a design project has been drawn up, according to which furniture is bought. The classic style is very popular now. It shows the beauty of natural wood. But plastic furniture doesn't go out of style either. It is characteristic of the high-tech style that is now in demand. Standard shades, rich, bright or pastel are used singly or combined (if the chosen style allows it).
The last and very important criterion is to take into account the dimensions. For one person, approximately 65 cm of dining space is sufficient for comfort. The standard parameters of the dining table for 4 persons are 120 * 75 * 80. Tables that are too bulky will create the effect of infinity. If you like round tables (or the style forces you to make a choice in their direction), then for 4 persons the optimal diameter is 90 cm, but more is better. It should be said right away that a round table with chairs for the kitchen is suitable if the area is large. If not, then it is reasonable to consider square and rectangular.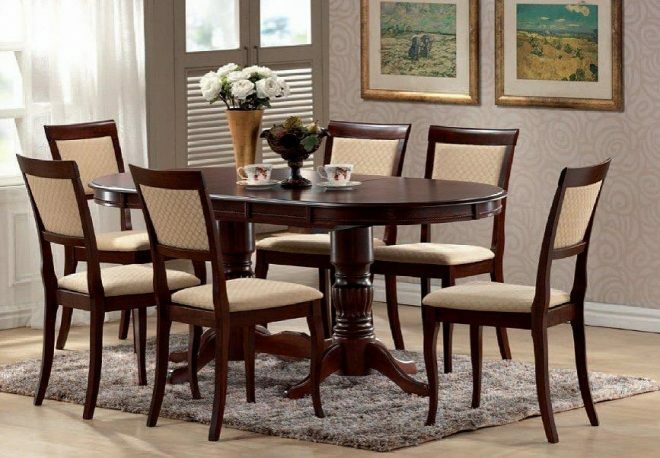 Materials (edit)
A modern kitchen is primarily about build quality and practical, durable material. Even pretty kitchen tables and chairs can be fragile. Therefore, you need to choose the right material:
Natural wood. The best option when there are difficulties with the selection of material. Wood is versatile. Especially in cases where wooden elements are traced in the interior or it is made in a traditional style (classicism). You can combine wood with any style, the main thing is to do it right. The most famous are oak, pine, alder, ash, beech. The dining group can be "harmonized" with the rest of the kitchen furniture, or it can be built in contrast.
Rattan (in a simple way, palm). This is a kind of wicker furniture. Fits perfectly into a rustic interior. Country home owners should take note of this material. He will bring with him not only comfort, but also a certain luxury. But rattan needs special care. Since this is wicker furniture, dust and dirt accumulate between the rods, you need to wipe it often. Stylish rattan kitchen tables are well complemented by textiles.
Glass. Thickness - not less than 1 cm, if it is the main material. If the glass acts as an insert - at least 8 mm. The best option is hardened triplex. This type of glass does not shatter from impacts. A glass table goes well with chairs with either metal or chrome legs. Glass finishing can be different - clean glass, frosted, painted, photo printing, glossy, mirror (separate inserts). In combination with other "cold" shades of decoration, fashionable glass tables and chairs will perfectly fit into the style of minimalism, hi-tech and loft. Of the minuses, it is worth highlighting that many people do not feel comfortable behind a glass surface. It seems fragile (although difficult to break), too cold, etc. It is even more difficult to wipe clean.
Medium density veneered boards. The appearance of MDF is very much like wood. But thanks to the smoother texture of the kitchen. tables and chairs look more laconic.
Painted MDF. Compared to other options, painted MDF wins in aesthetics. But this is a very impractical material for mechanical damage. Successfully complemented by a glass plate on top, metal chair legs.
Chipboard. Furniture made of laminated chipboard belongs to the budget class. It combines good appearance and average resistance to damage. Bubbles may appear due to moisture, and chipping is often formed.
Dimensions (edit)
Regardless of whether the space in the kitchen is severely limited, you need to use it as efficiently as possible. The size of the table and chairs should be small but comfortable. Transforming furniture is very convenient. It can be of two types: one that hides in other furniture, and one that grows as needed.
Only owners of large apartments with high ceilings or those who live in private houses can afford huge tables. An overly prominent dining group in an average apartment will look out of place.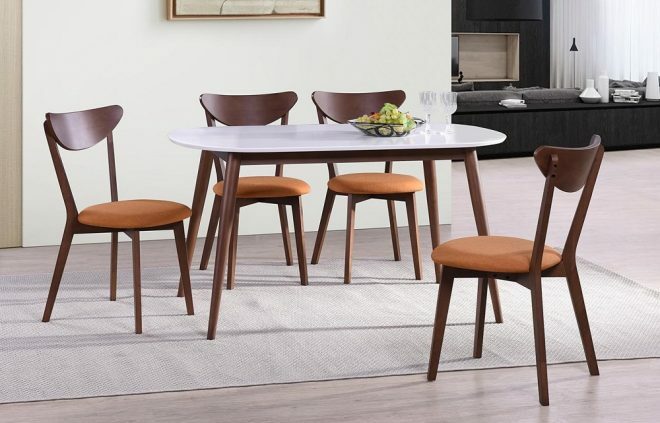 Color solutions
The color scheme of the dining table and chairs for the kitchen can be very diverse. It depends both on the general color idea of ​​the kitchen and on the material. For example, plastic or leather furniture (seat upholstery) represents a wide range of colors.
Wooden furniture has less variety - only natural shades. It is permissible to have black and white colors in certain styles: minimalism, loft. If you want something more "fun", but at the same time made of wood, then you should consider the dining group made of red wood. Some of its types contain notes of orange.
On the dining group, you can make a design accent, separate it from the rest with color. But in the rest of the interior, some minimal hints of the color of the dining group should remain in order to have a coherent composition. Photos of beautiful dining tables can be seen below.
Look at these photos, the chair and chairs in the kitchen may have the same color, but their shade should be different in order to prevent the surfaces from merging.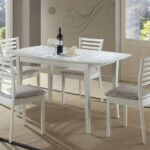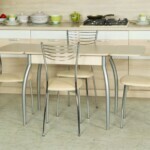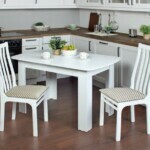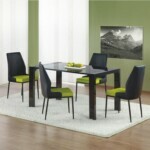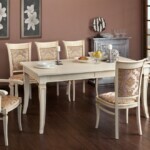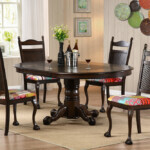 Tips for a smart choice
Look at the photos of modern kitchen tables and chairs - among them there are many design solutions with a predominance of plastic in the interior. This material benefits from price, convenience and transportation. Therefore, you should not immediately discard this option.
Wooden furniture looks bulky, even if it is a small stool. Discard wood if you have a small area.
You can save money by using the products of a domestic manufacturer. The quality is the same, but the cost is much lower. The trusted manufacturers are Stoplit, Tria, Soyuz Mebel.
average rating 0 / 5. Number of ratings: 0
No ratings yet. Be the first to rate.