Russia, Moscow region, Moscow+79041000555


It takes ~ 2 minutes to read
How to decorate your favorite kitchen on the eve of New Year and Christmas holidays? Today we are making a Christmas wreath. How beautiful they are! Our ancestors began to make them several hundred years ago, bringing this wonderful day closer. Of course, today you can buy such a wreath in any store, but how nice it is to make it yourself.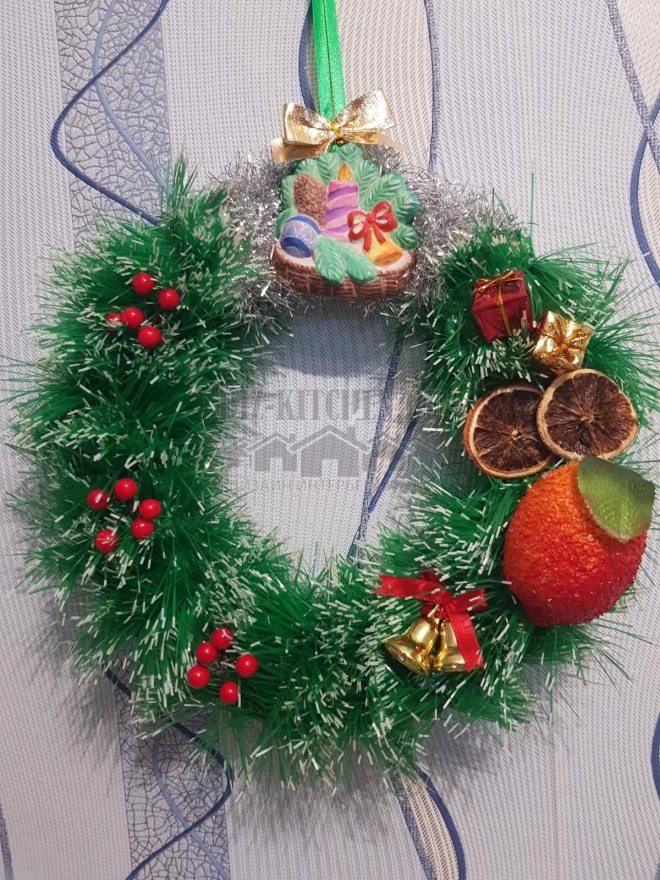 We need:
Cardboard;
Christmas tinsel;
Scissors;
Decor elements;
Glue gun;
The tape is thin.
First, let's decide on the size of the wreath. It shouldn't take up the entire width of the door or be huge. For the base, we need thick cardboard. Cut out a circle of the required size.
You can use a large plate, dish or saucepan lid as a template. Then draw a circle with a smaller diameter.
Cut out the circle with scissors and the middle with a knife. Our wreath base is ready.
We decide on the material. The resulting base can be wrapped with threads or ribbons. But since we are making a New Year's wreath, I will use Christmas tree tinsel. It imitates a snow-covered spruce very well.
Using hot glue, we attach the tip and begin to carefully and tightly wind the tinsel onto our circle.
I left a little space to attach a thin tape from which I will make a loop. Thus, our wreath can be hung on the wall.
We wrap the remaining fragment of our craft in a silvery rain. I use silver for contrast. According to my idea, at the very top, under the tape, I will have a plaster composition. You can attach anything you want here: any New Year's toy or a lump. Also for decoration I use bells, viburnum twigs and a Christmas tree decoration - an apricot.
Using hot glue, we first attach the plaster composition, and then the rest of the elements. I am doing the main load on the right side. I also add small New Year's gifts. They will look very bright and even playful.
On the left side, I glue the viburnum berries. You can use rowan. Dried berries will also look original. But I have artificial berries. The bright red color stands out very nicely against the green background.
Add dried orange slices. The kitchen immediately smelled like New Year. I wanted to have a cup of hot tea and admire the winter landscape through the window. Happy New Year everyone!
The most successful purchase for a small apartment
Casserole with handles inward
31.16%
Folding refrigerator
24.64%
Dining table that converts into a bed
44.2%
Voted: 138
In order not to lose, tell your friends
Follow us on social networks




Dear visitor!
With great interest I always read your comments to my articles. If you have any questions, do not hesitate to ask them, leave, please, Your feedback in the form below. Your opinion is very important to me. Thanks to your criticism and thanks, I can make this blog more useful and interesting.
I would be very grateful if you rate this post and share it with your friends. It's easy to do by clicking on the social media buttons above. Do not forget the article you like Add to bookmarks and subscribe to new blog posts on social networks.

Anna, editor of diz-kitchen.ru
© 2015 - 2022 | All rights reserved. At a reprint of materials the active link to the source is required. | User agreement and privacy policy
All characters and stories are fictional, and any coincidence with real or living people is accidental.