Azure sea, turquoise sky… I don't know about you, but for me the blue color evokes the most pleasant associations, it always calms and sets you in a peaceful mood. Cold shades of non-standard U-shaped headset turned the room into an elegant and more spacious one.
Made by company  Delta Furniture,
bigmebel-cherepovec.ru
G. Cherepovets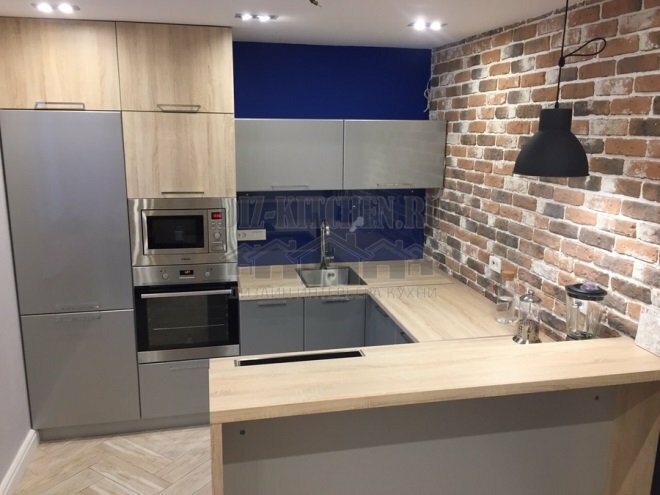 Attention! Earned on our site kitchen constructor. You can get acquainted with it and design the kitchen of your dreams for free! Also may be useful wardrobe designer.
The dimensions of the kitchen are 2550 x 2700 x 1550 mm. The asymmetrical combination of blue, gray and light wood significantly transforms the geometry of the room and gives the interior more expression. The refrigerator is removed behind the panels and exactly matches the color of the facades, and the wooden surfaces of the pencil case smoothly merge into the countertop. It turns out an interesting effect of flowing from one color to another.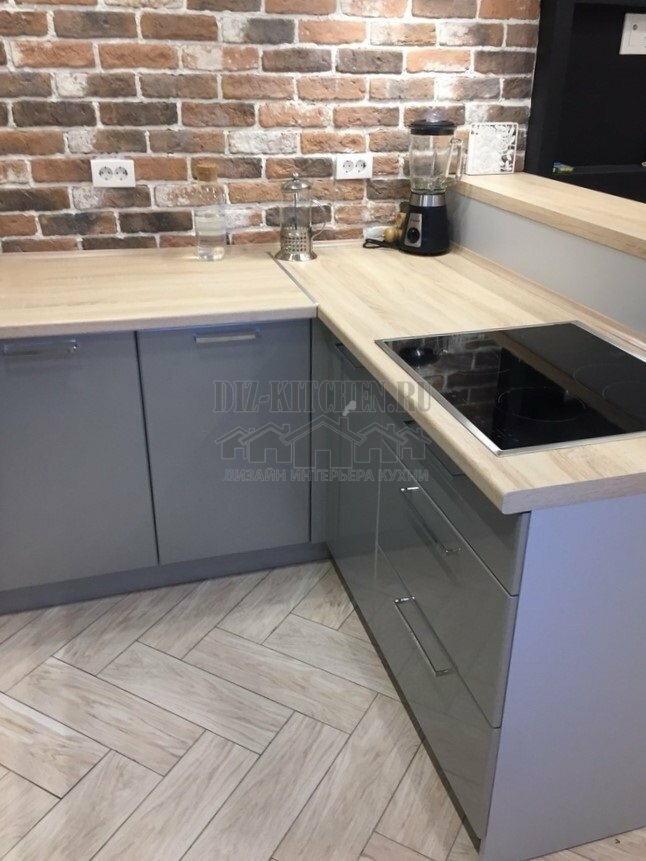 The dominant color in the room and a great accent is deep blue, presented as a wall panel. He refreshed the entire interior well, and its shades change from the angle of incidence of light, whether it is artificial or natural lighting. The glossy panel on the entire wall acts as a kind of mirror, visually expanding the room and multiplying the light reflections.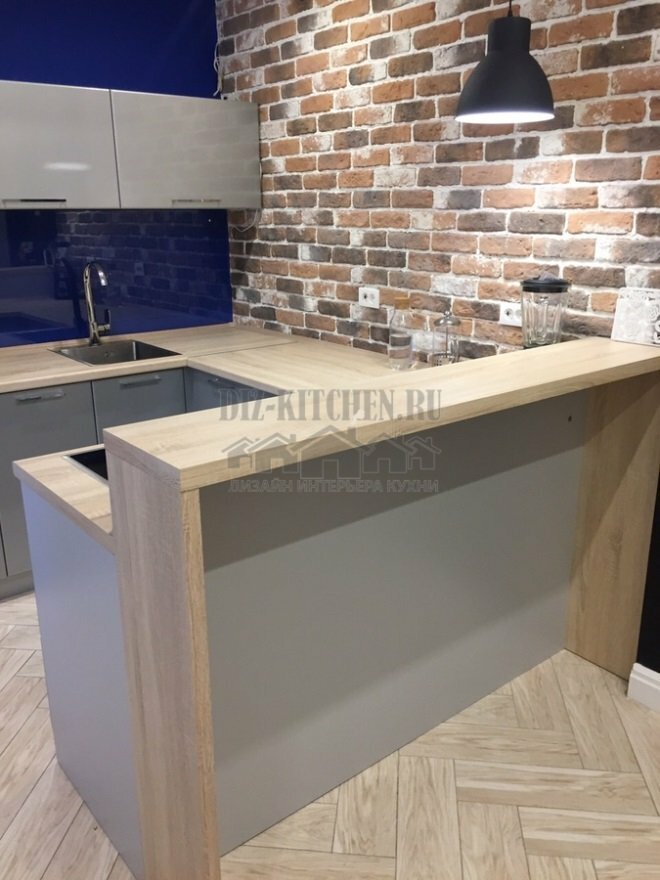 An ocher-brown apron on the entire wall brought the necessary warmth to the room with cold tones. The sandy shades of the bricks complemented the blue-gray range well.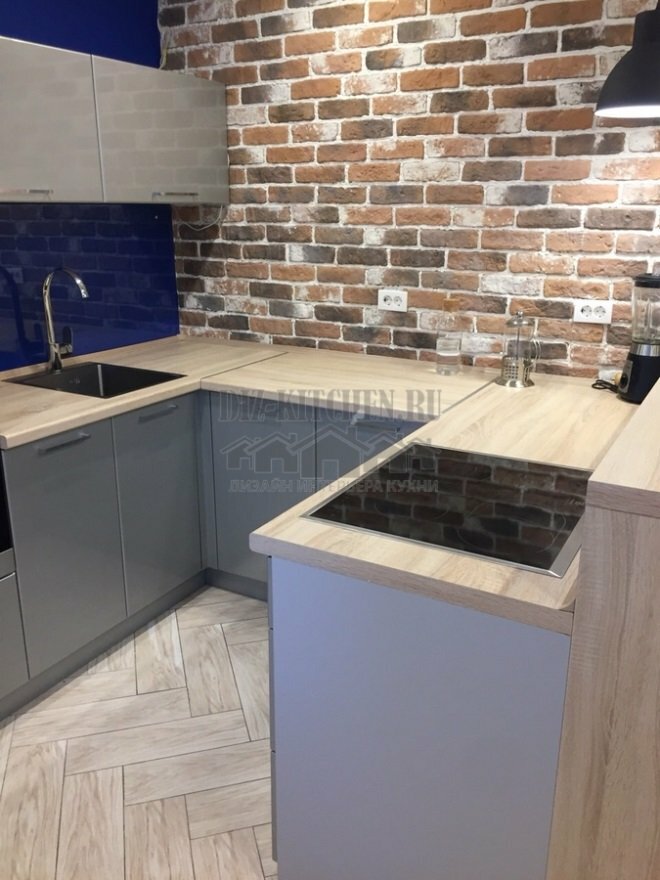 The area of ​​the countertop made of laminated chipboard (plastic on top) is large - 4.4 m2. It is light, with an imitation of wood. And together with the brick wall, they bring a warm touch to the interior, balancing the cold gray-blue shades.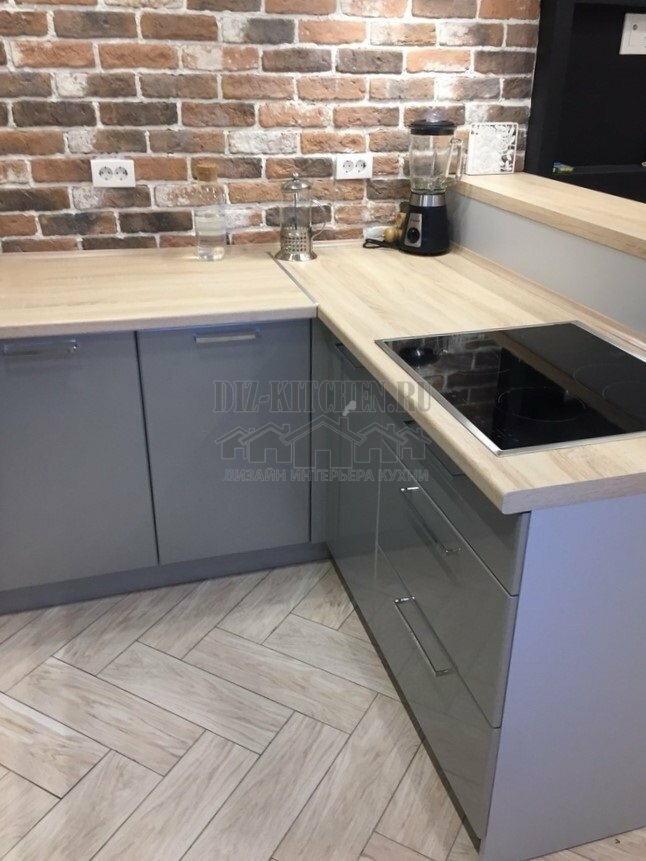 The set is U-shaped. The body is made from chipboard. Facades MDF in PVC film. The furniture row ends with a high pedestal, on one side of which a hob is installed, and on the other, you can put bar stools and not use the dining table at all.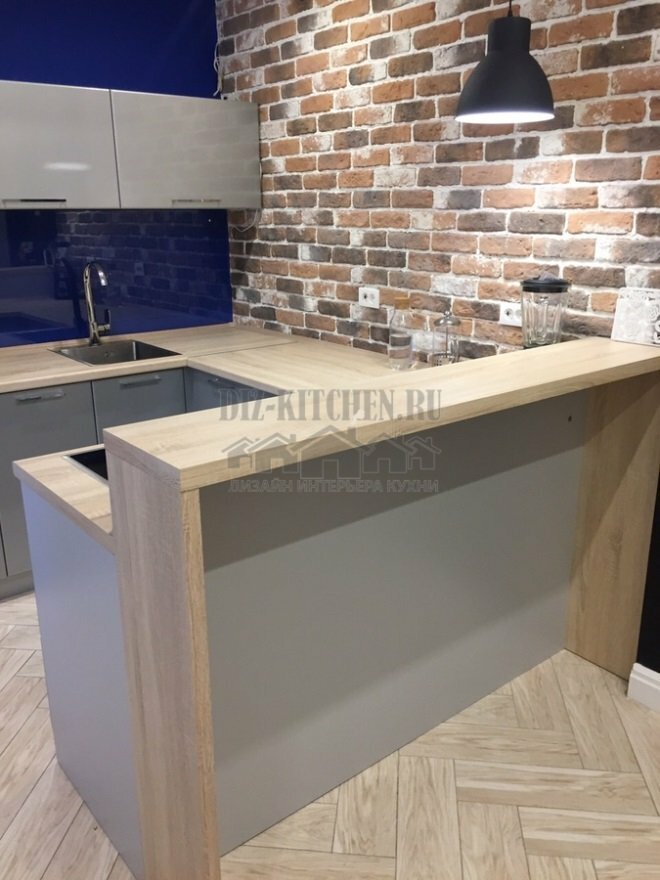 Below - hinged doors and drawers, above - doors with a lift.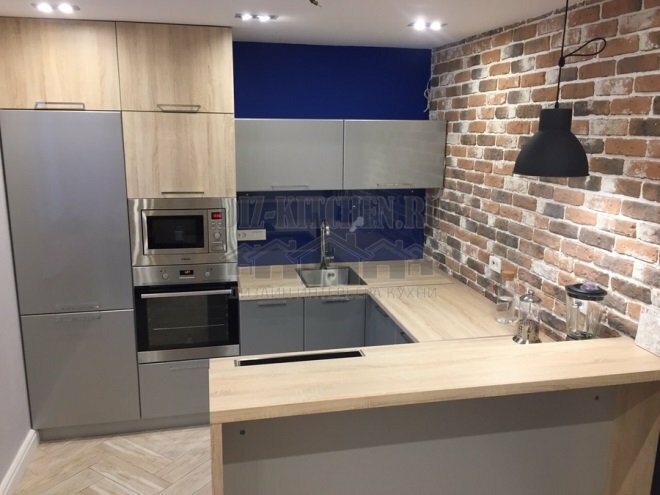 A fresh and light atmosphere always reigns in our kitchen.
Do you know what a kitchen apron is?
Fronts of kitchen cabinets
10.27%
Apron hanging on a hook next to the sink
14.83%
Wall between bottom edge of wall cabinets and countertop
74.9%
Voted: 263
Average score / 5. Number of ratings:
There are no ratings yet. Rate first.