A black and white classic combination... Immediately there is an association with something boring and banal, such as a dark bottom, a light top. But with the help of talented designers, we came up with a completely different kitchen - stylish and, I'm not afraid of the word, stunning. It's all about the right accents and well-chosen materials.
Kitchen made by:
"EGOIST-kitchens" - custom-made kitchens and furniture from the manufacturer
G. St. Petersburg
More about the company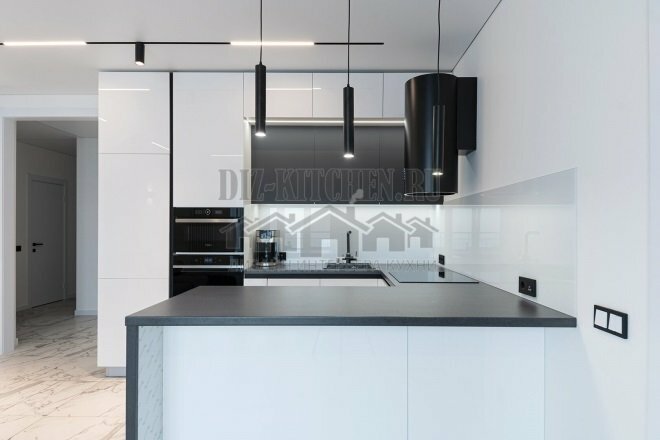 Laconic and expressive headset creates a calm and balanced atmosphere in the house. There is more white color, black is used only in details, which makes the design clear and geometric.
Attention! Earned on our site kitchen constructor. You can get acquainted with it and design the kitchen of your dreams for free! Also may be useful wardrobe designer.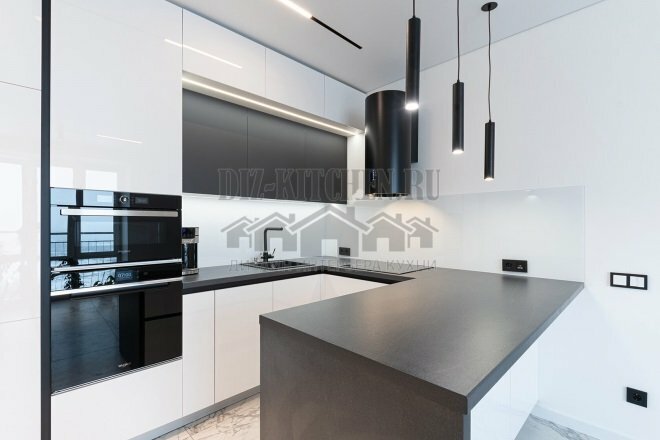 The room is combined with the living room, for the kitchen there is a place in the corner, at the entrance. For greater functionality, they preferred a U-shaped headset with a peninsula-bar counter. The peninsula additionally separates the kitchen from the living room.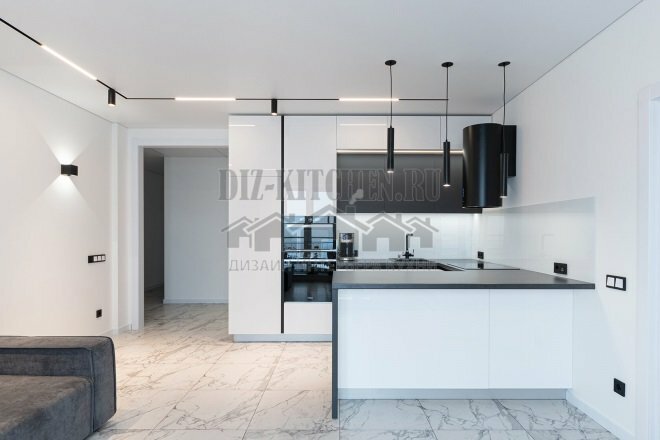 Since the upper sections are only on one side, near the entrance, a modern furniture set without decor, shelves and showcases does not seem bulky at all. On the contrary, it seems to dissolve in space, surrounded by white walls. And only contrasting matte black areas stand out against the general background.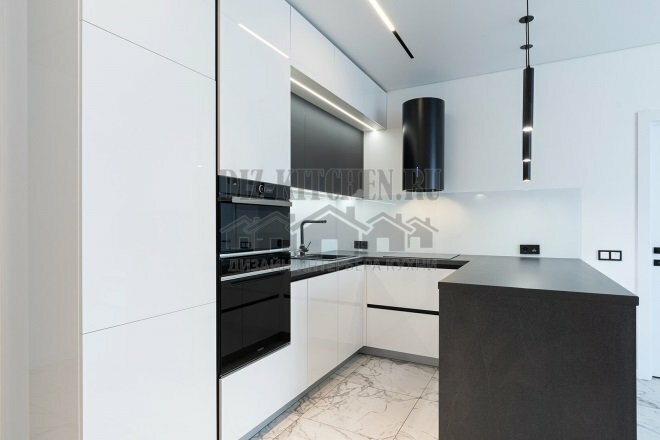 The furniture case is made of chipboard from the Austrian manufacturer Egger. Egger perfect sense white high-gloss MDF fronts reflect light, making the kitchen feel larger than it actually is.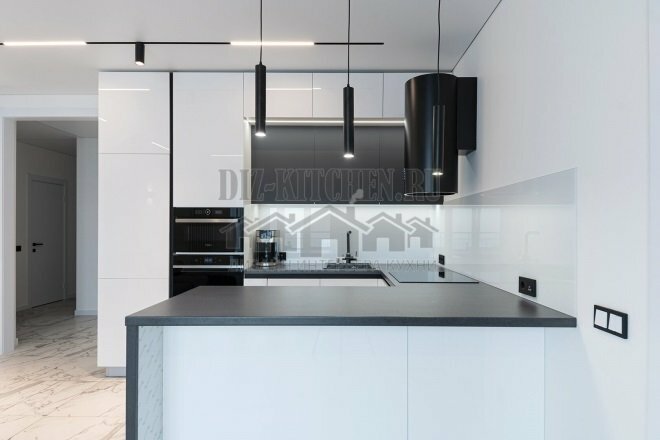 Tabletop seamless Slotex premium with eurosaw. The graphite matte tabletop drew a line between the two parallels of the cabinets, additionally highlighting the working area. The space becomes deeper and more dynamic.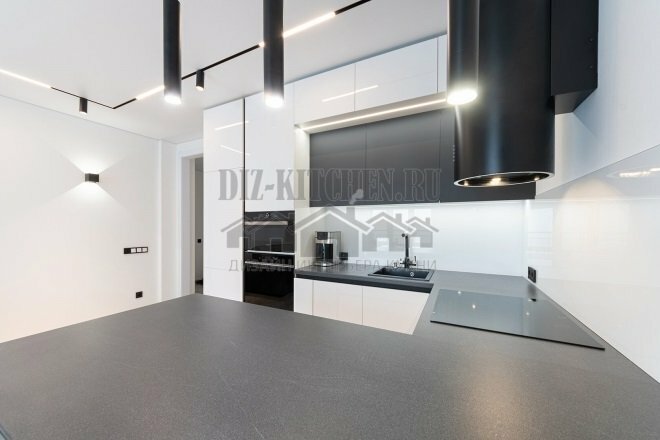 The accents were reinforced by black details - an island hood, spotlights, suspensions. The futuristic island hood has become one of the main accents. The matte faucet in the color of the sink is as original as the hood.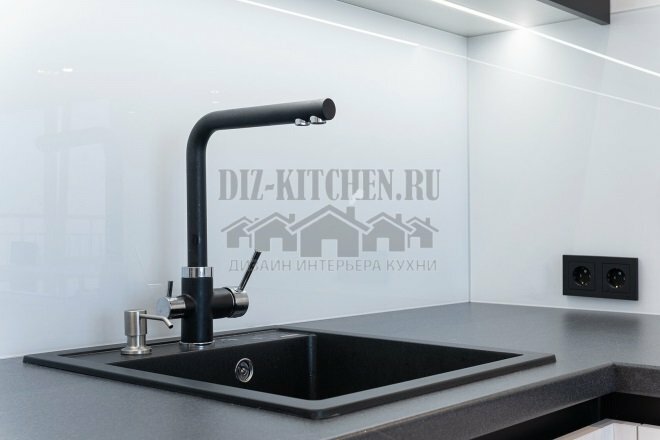 The Gola profile handles are black matte, designed to emphasize the geometric interior.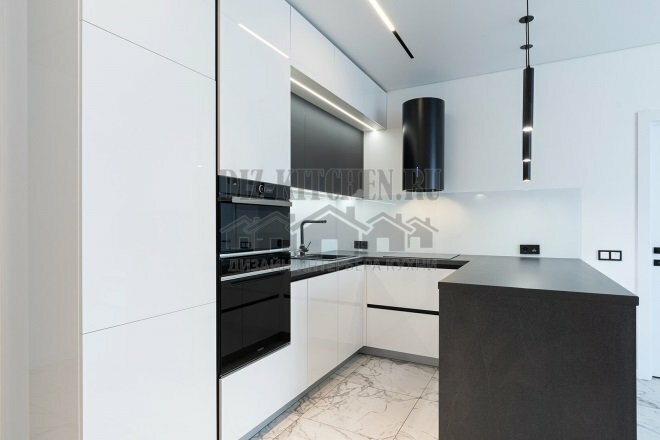 The white gloss of the apron has become a good background, shading both white and black surfaces. The wall panel is tempered lakobel glass (one side uniformly colored).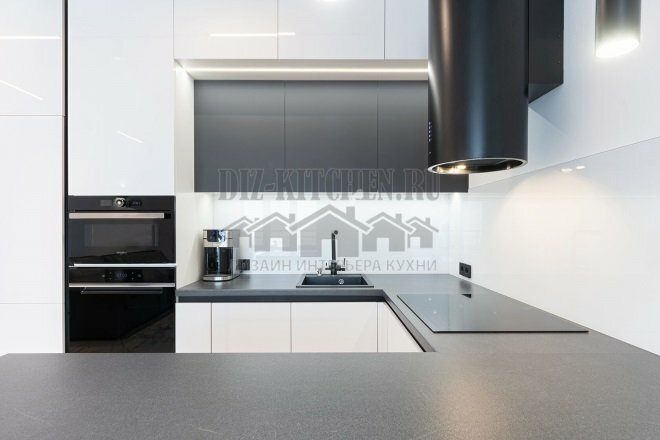 All fittings inside the cabinets are Blum with closers and the Tip-on system (opens by pressing). The lower drawers are Blum tandembox antara and there is also an additional internal module. Upper drawer lift - Blum aventos hk xs tip-on.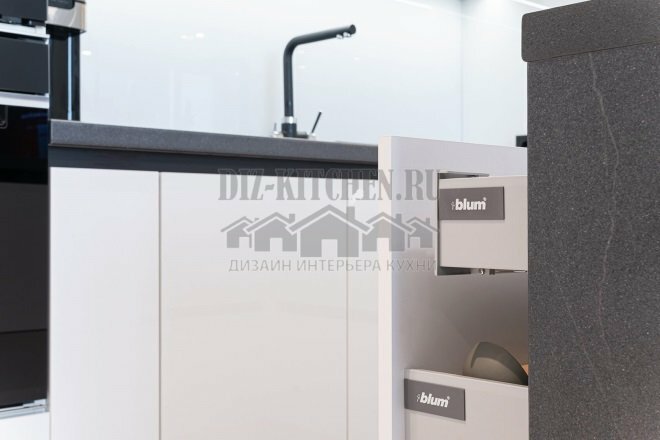 The working area is equipped with LED lighting. It looks especially original on the second level of cabinets, continuing the idea of ​​various lamps in the upper part of the kitchen.
Average score / 5. Number of ratings:
There are no ratings yet. Rate first.