Modern headsets in a minimalist style are especially popular. The most functional, with innovative technology, they are attractive with their laconic beauty. Fenix ​​matte plastic facades and natural wood look interesting and stylish.
Made by company GeosIdeal,
mos-gi.ru
G. Moscow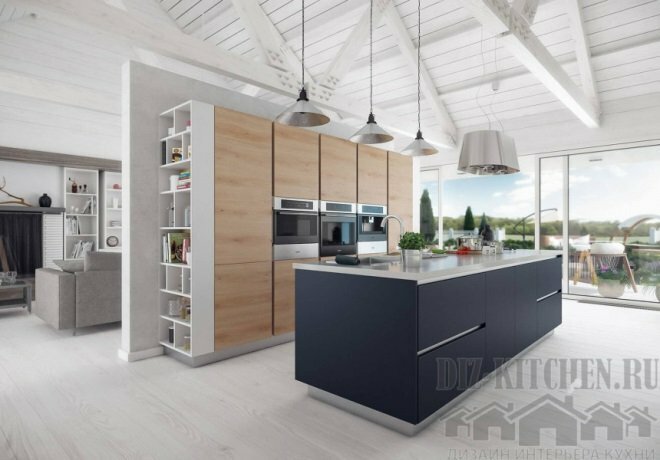 Attention! Earned on our site kitchen constructor. You can get acquainted with it and design the kitchen of your dreams for free! Also may be useful wardrobe designer.
We have a large and spacious room with panoramic windows. The vacant center needed to be filled, so a partition wall was installed to separate the kitchen from the living room.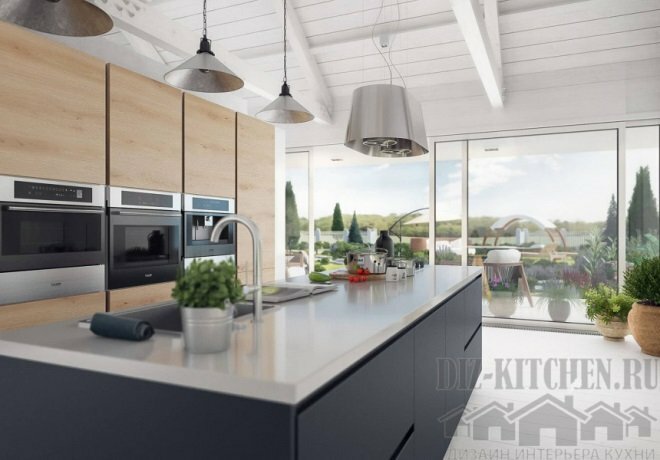 The furniture is a continuous row of wooden cases with built-in appliances and a refrigerator, and a separate island with a work surface. Colors - noble dark blue (matt Fenix) and light wood (natural veneer). Both shades, warm and cold, balance each other well, creating a stylish and harmonious combination.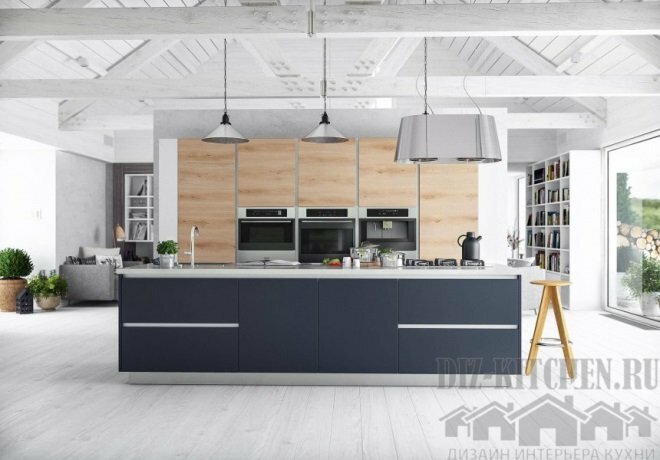 All surfaces in the room are light (floor, ceiling, walls). Neutral white countertop, light sidewalls of the shelves look very advantageous in a blue-wood tandem, emphasizing the beauty of both blue and wood.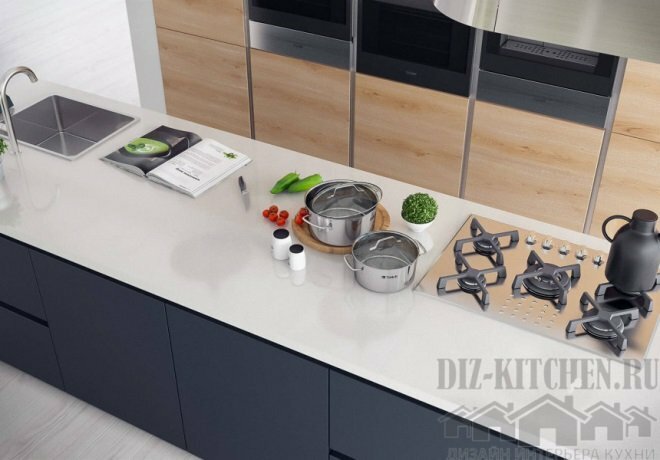 White milled handles (Gola-profile) are another color element that unites interior details.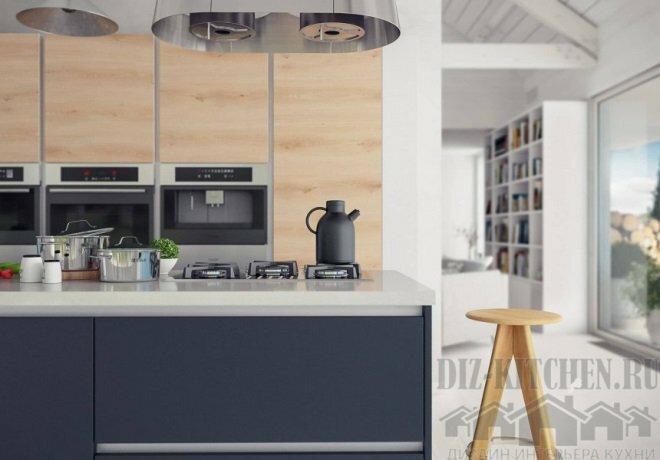 This headset has several features that make it original and interesting. The first is an island for the entire length of the main headset. In a standard apartment, such a module would certainly be inappropriate. But in a spacious room or a private house, it looks completely different.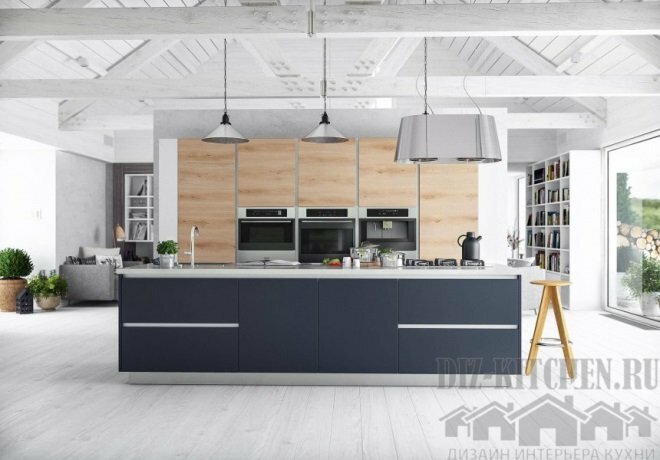 A convenient large additional work surface will not be superfluous, especially since there is access to it from all sides. On it, at different ends of the rectangle, there is a gas surface and a sink, and there is still a place in the center.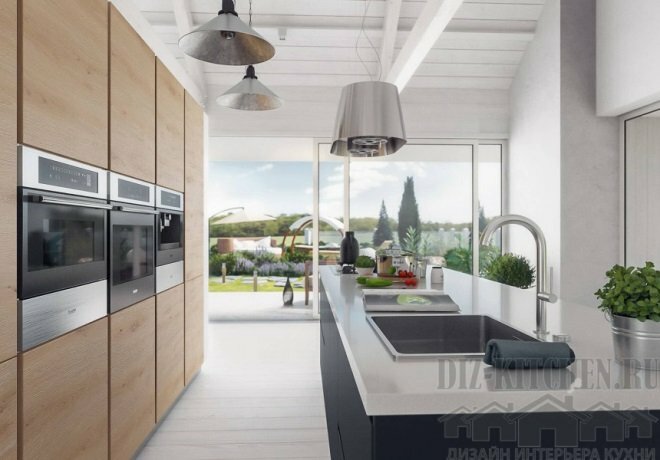 An interesting futuristic powerful hood in the form of a long cone looks like a single whole with hanging chandeliers of the same shape.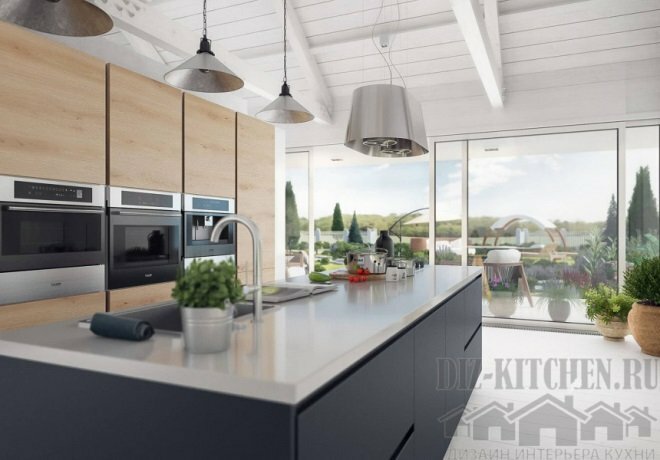 The sidewall of the main furniture module is made in the form of shelves of various sizes. Shelves have become a good tool for enlivening the interior, placing all kinds of trinkets or jars there.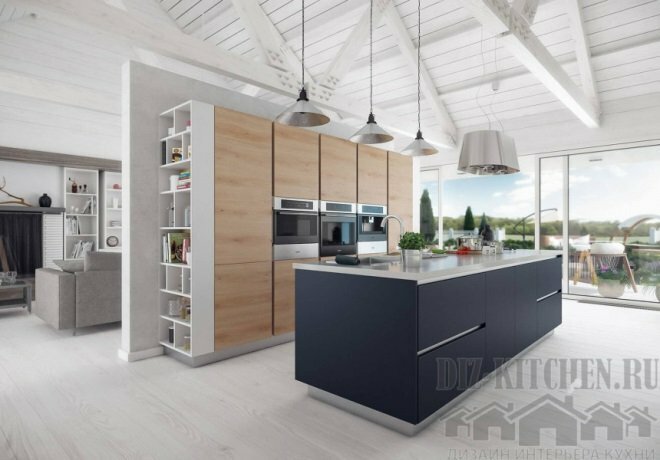 In this kitchen there is a feeling of spaciousness and calm peace, and the noble atmosphere in the most favorable way affects all households.
Average score / 5. Number of ratings:
There are no ratings yet. Rate first.