We have an interesting and unusual layout in a private house - we installed a partition between the rooms, dividing the square meters as we wish. Behind the wall we now have a living room and a free opening next to the sink turned out to be very appropriate and convenient, and most importantly, unusual.
Made by company GeosIdeal,
mos-gi.ru
G. Moscow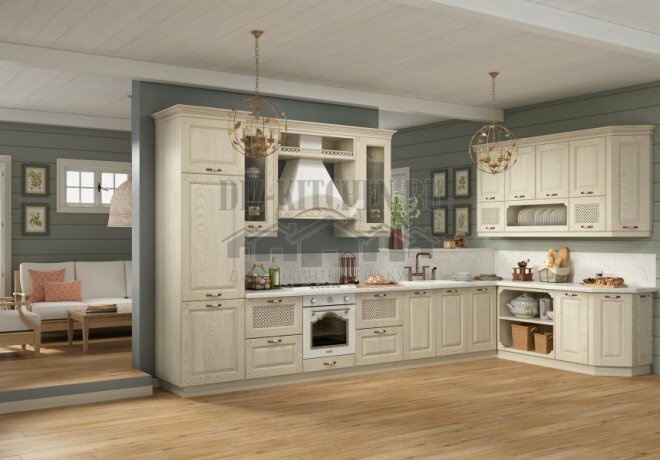 Attention! Earned on our site kitchen constructor. You can get acquainted with it and design the kitchen of your dreams for free! Also may be useful wardrobe designer.
Everything you need fit in the kitchen anyway (without the missing upper cabinet), and the niche made the interior more original and stylish.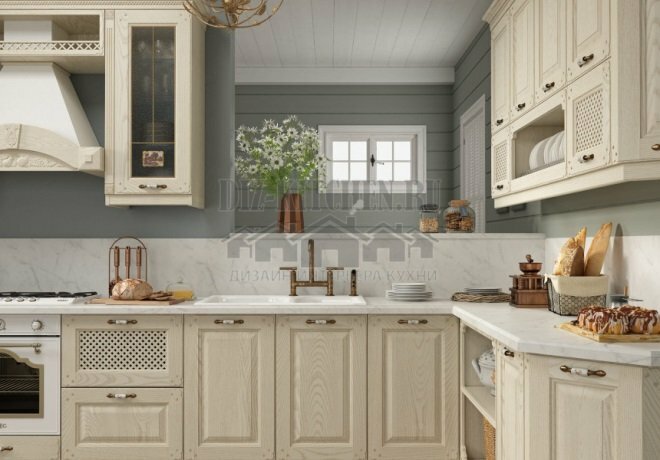 They beat the design so that both rooms seem to be part of one whole (due to the walls of the same color and other furniture). The result was a discreet and bright atmosphere, conquering with its airiness, unobtrusive and at the same time fresh.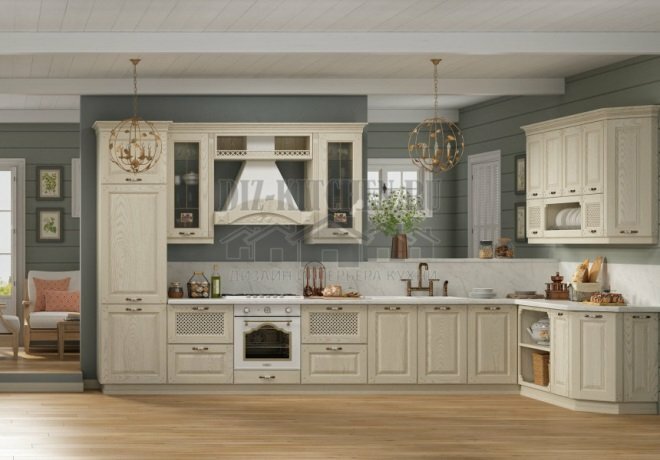 They preferred a bright kitchen made of solid ash, light and respectable. There are not very many decorative elements here (carving, balustrade, gratings), so the classic kitchen does not seem too pompous, only stylish and noble. The grate at the bottom of the upper cabinets and next to the refrigerator helps the shelves stay dry while being a decorative element.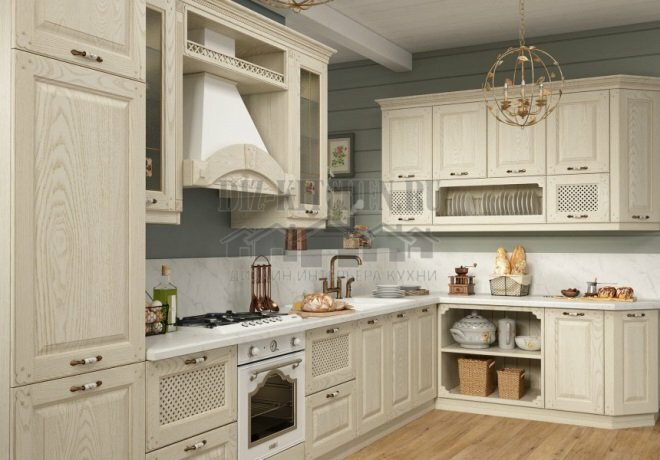 In a classic kitchen with carved solid ash elements, the designer combined 3 fashionable and popular colors - beige, gray and bronze. The set of warm light wood against the background of gray walls creates a soft contrast, and the bronze finish (handles, faucets) well sets off the beauty and texture of natural wood.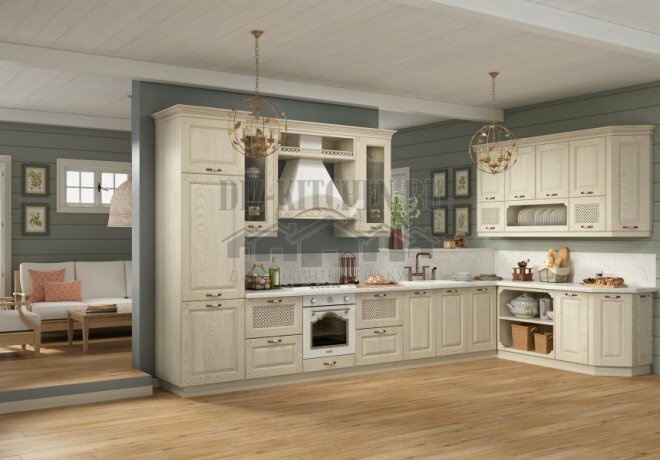 The tabletop is pure white. A two-section sink and a gas hob were matched to match. For gray walls, an abundance of white was necessary - the interior seems more concise and elegant.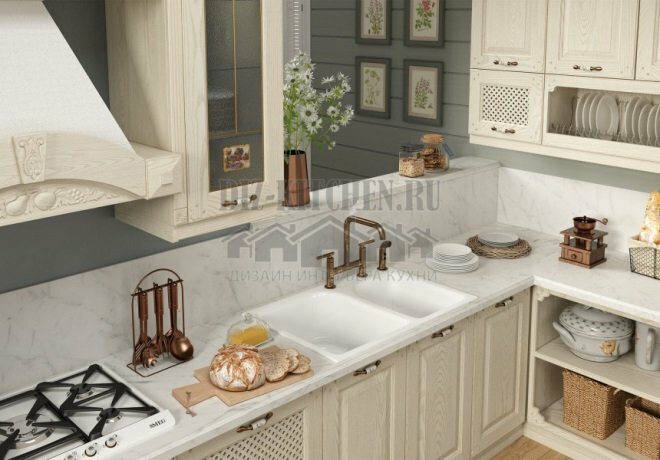 A built-in refrigerator is installed on one wall, next to it is a representative dome hood surrounded by glass sections. On the adjacent wall are solid upper and lower sections with interesting open shelves.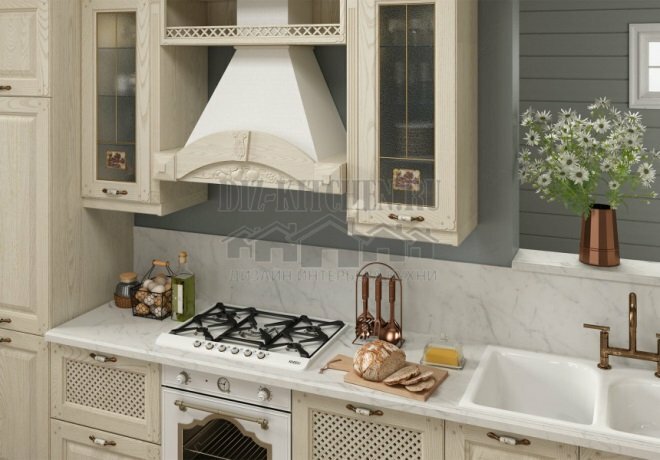 Unusual and original solutions were open shelves with decorative frames and a corner kitchen ending.
At the top, an open shelf is occupied by a dish dryer, at the bottom - by a variety of beautiful utensils. And there is no association with imperfection, since there is still a small overlay over the niches.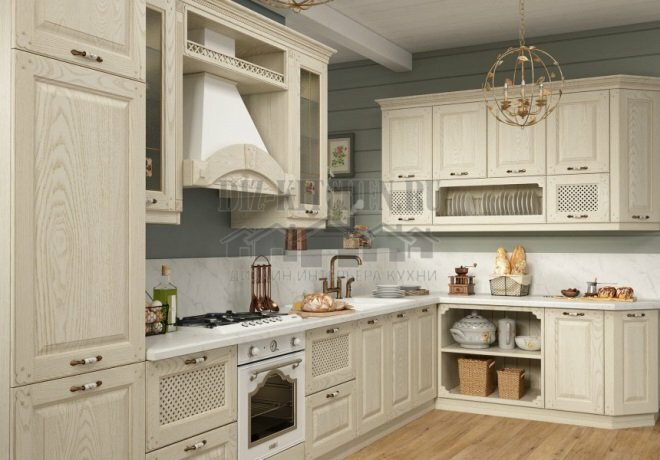 The arched ornament on the hood box (the so-called yoke) in the tone of the facades is decorated with handmade carvings in the kitchen theme.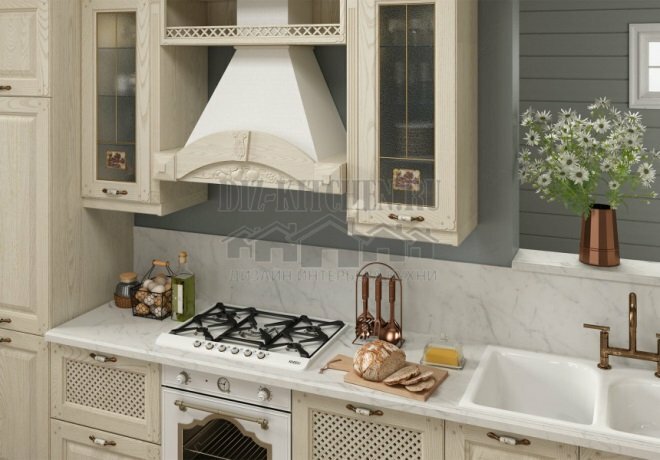 The beveled edge of the furniture is more convenient to use and looks quite interesting at the same time.
Average score / 5. Number of ratings:
There are no ratings yet. Rate first.