There is a certain category of people for whom modern solutions seem simple, and conservative classics are too decorative and pretentious. And then they give preference to other cuisines - in the spirit of discreet luxury, successfully combining tradition and modernity.
Made by company Studio Nolte Kuchen,
noltestudio.com
G. St. Petersburg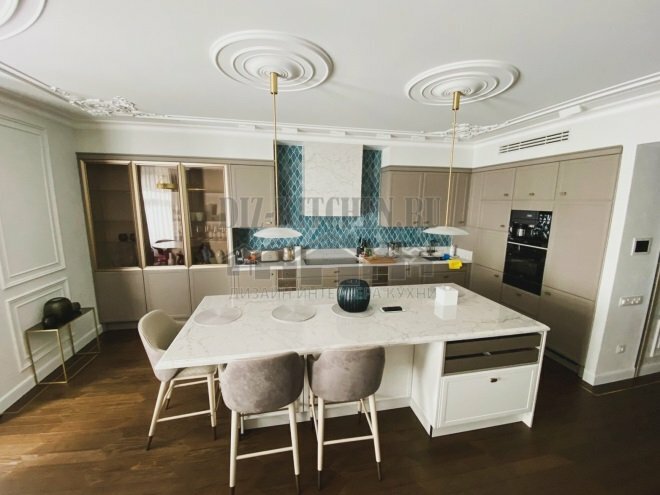 Attention! Earned on our site kitchen constructor. You can get acquainted with it and design the kitchen of your dreams for free! Also may be useful wardrobe designer.
Corner kitchen with an island, decorative showcases with lighting, an abundance of functional areas and a section for household appliances. The area of ​​the kitchen combined with the living room is 35 square meters.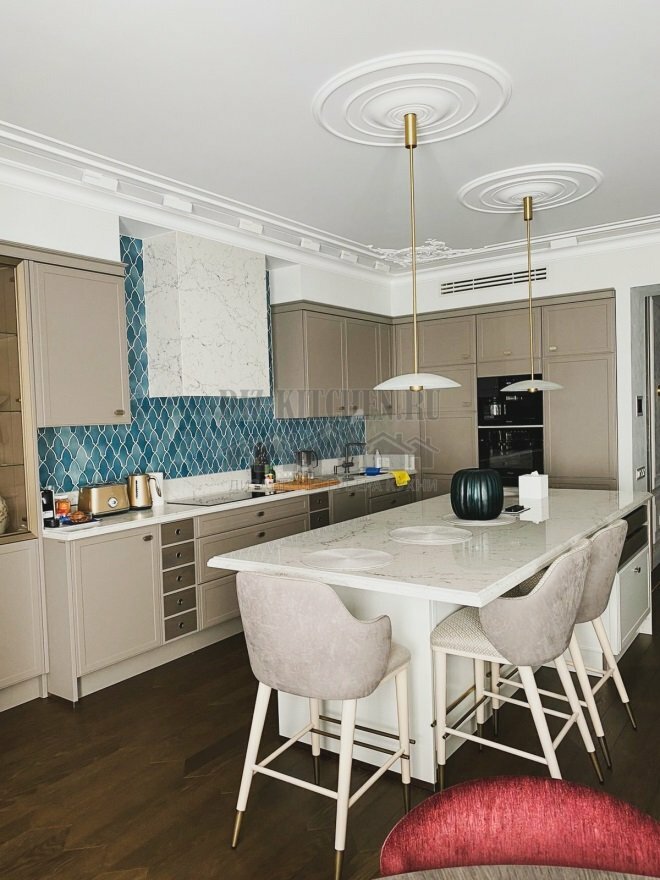 Furniture in neutral gray tones has become a good solution for a large room, especially since many people associate this color with peace and comfort, being particularly practical in everyday life. The result is a stylish interior, thought out to the smallest detail, emphasizing the harmonious atmosphere.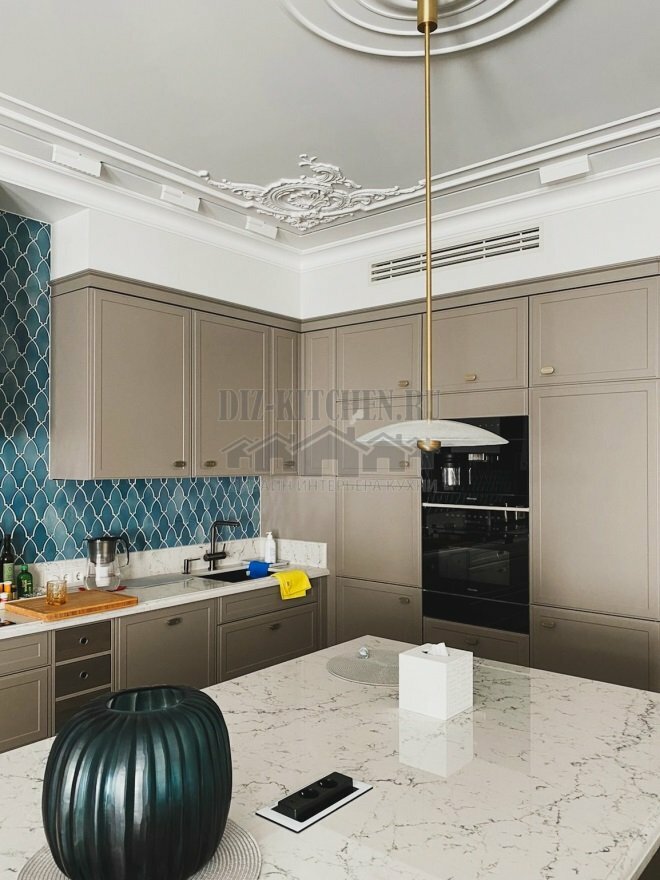 The layout strives for the symmetry of the lines, which makes the atmosphere more calm and restrained. Proportionality, soft colors, natural materials - all this creates a sense of order and harmony.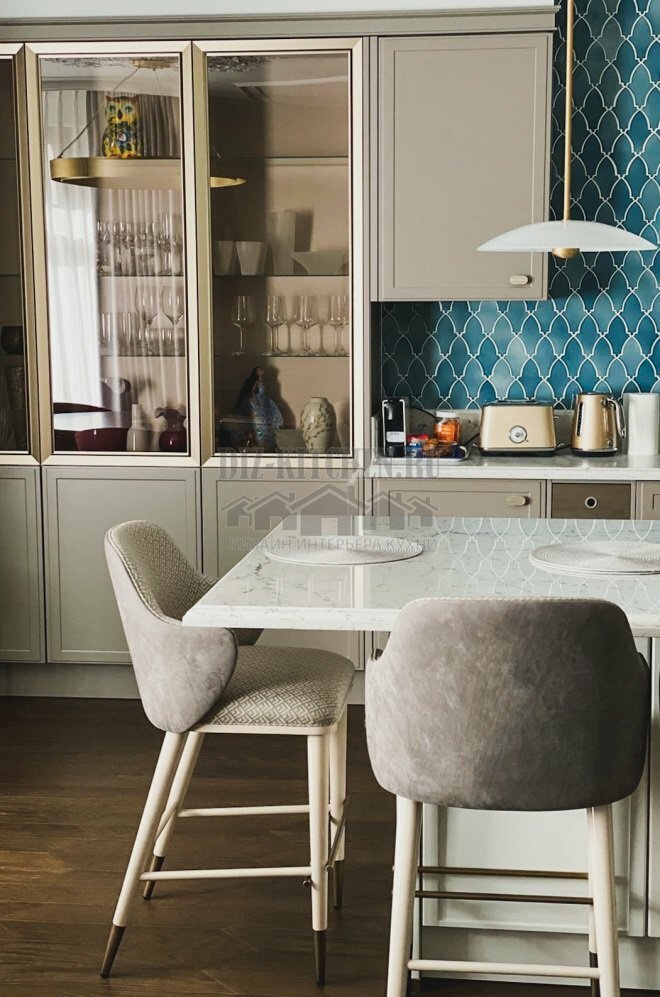 The hood is located almost in the middle of the central wall, framed by wall cabinets. On the one hand - a three-section sideboard, on the other - a number of deaf modules.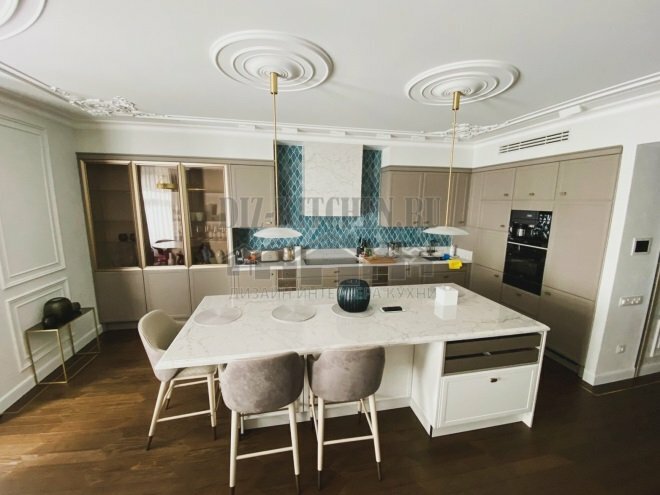 Facades have become a winning backdrop for original accents (aprons, countertops). Used facades from the Torino Lack collection - MDF with a frame, covered with matt varnish.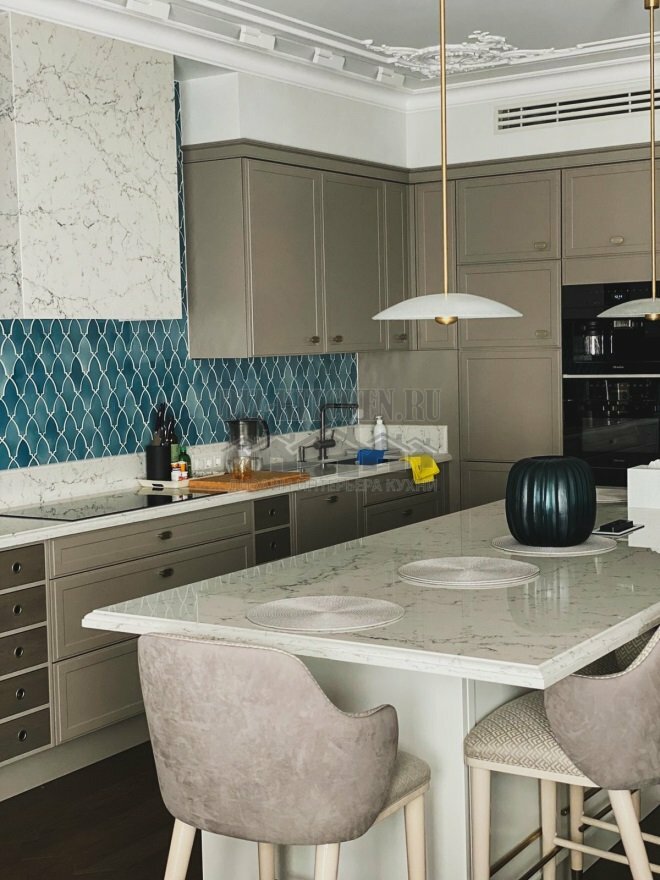 The gray texture of matte surfaces creates a noble satin sheen, the color looks deeper and more saturated. From the point of view of practicality and functionality, such surfaces also benefit - stains, traces of drops and fingers are less visible on them.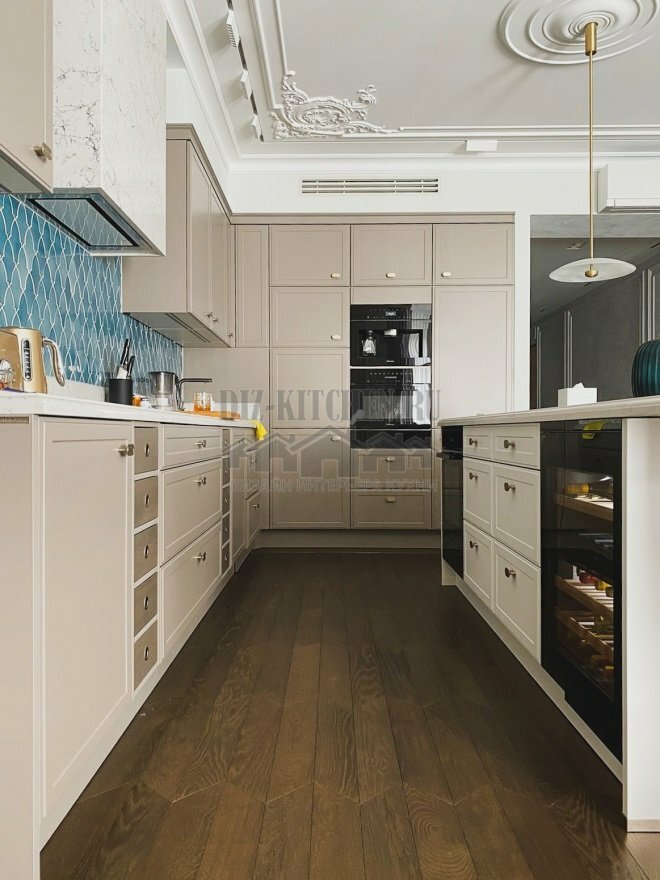 The tabletop is made of light natural stone with small marble stains. Furniture with such a luxurious countertop will never look boring, and the gray stripes fit perfectly into the gray kitchen.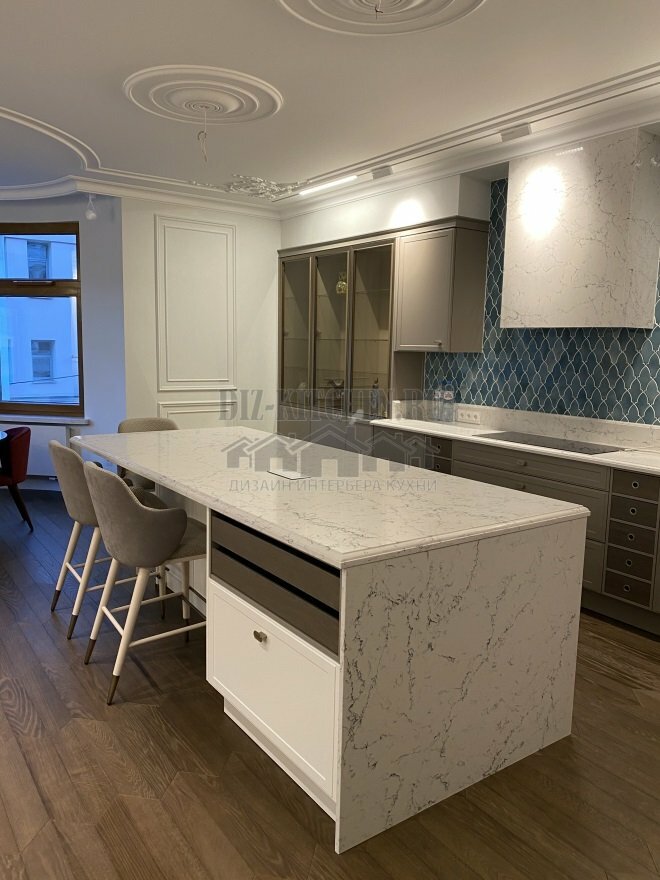 The original detail of the composition was the island hood, hidden in a box made of natural stone, to match the countertop. The opposition of blue tiles and light stone is interesting in itself, thanks to which the rectangle of the hood has become another accent detail.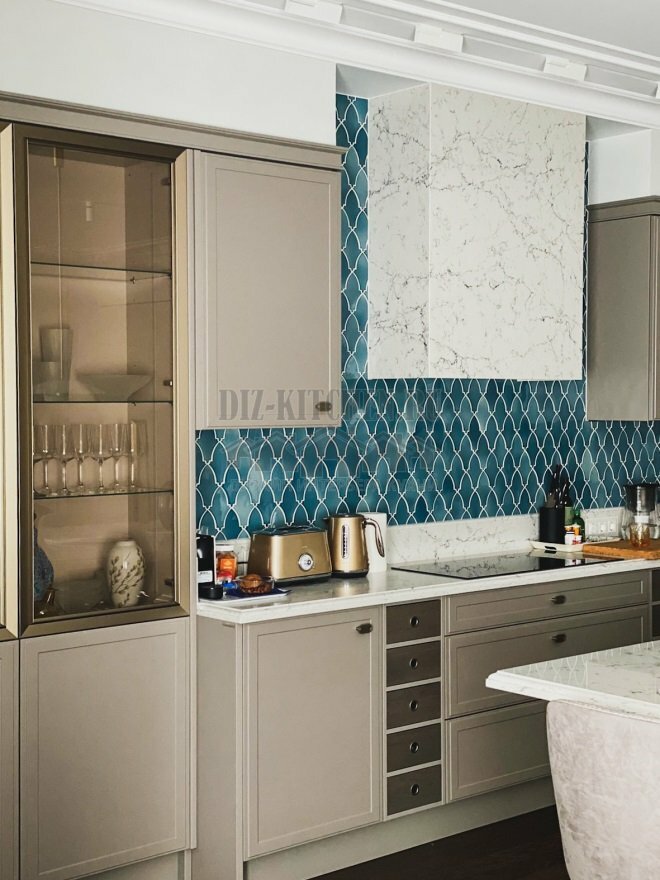 The wall panel is lined with diamond-shaped decorative tiles. A bright contrasting blue accent enlivened the gray facades, emphasizing their beauty.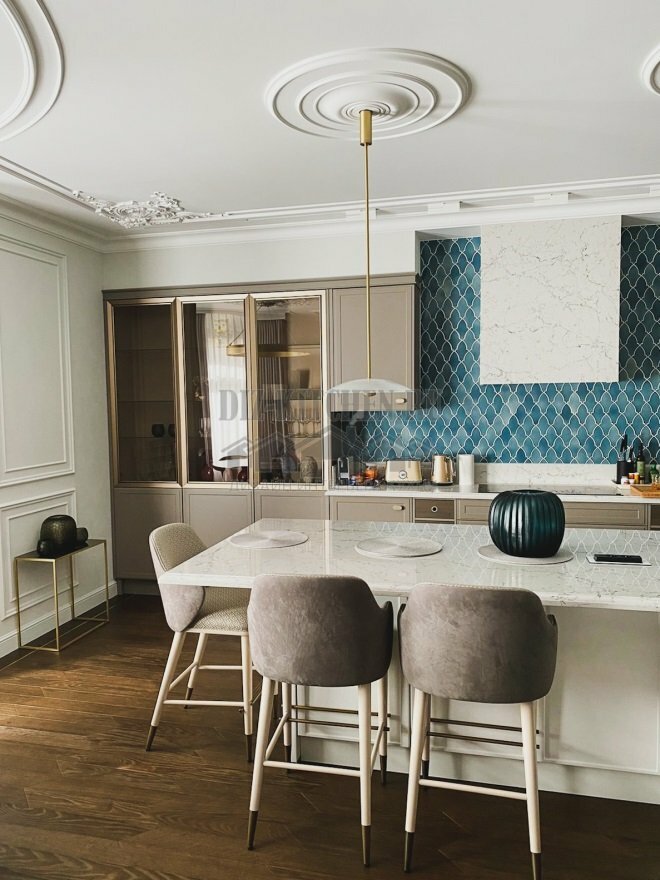 Spacious rectangular island performs many functions. These are storage sections (showcases with lighting), an oven and a dining table.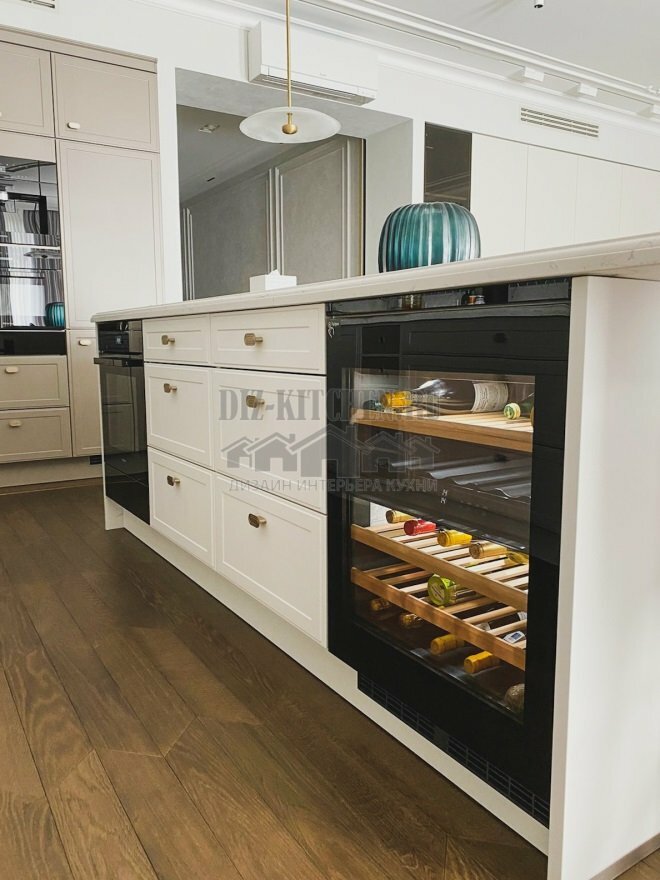 Inside the cabinets, premium fittings (hinges and guides) Premium Line from Hettich are installed with a quiet and smooth ride, providing convenient access to the contents of the cabinets.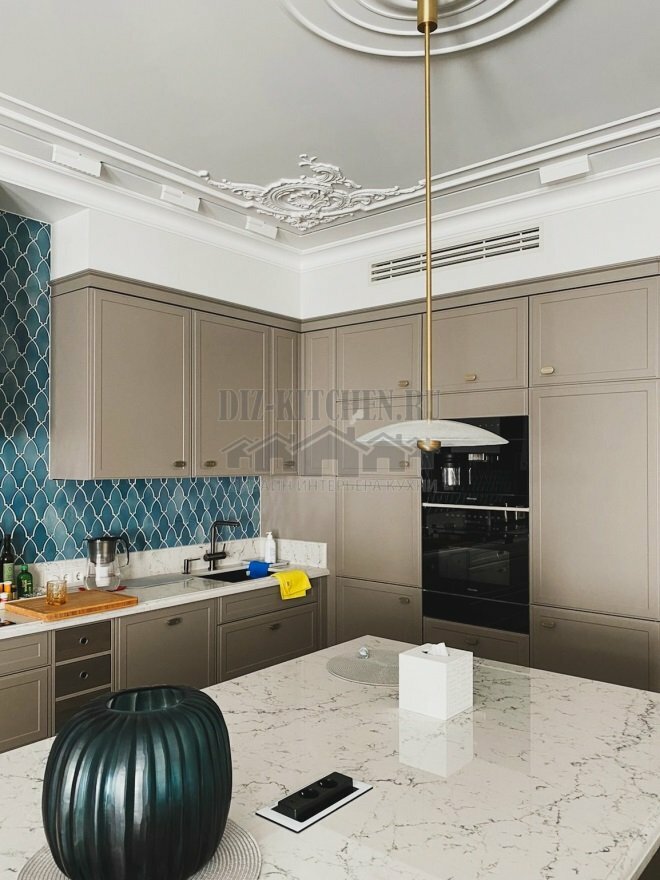 Decorative boxes are made of natural veneer. Almost everywhere in the kitchen there are pull-out modules, with convenient dividers, trays and storage boxes.
Even the corner of the kitchen is involved, it is equipped with a Le Mans roll-out mechanism - these are retractable petals, each of which can withstand a load of up to 25 kg.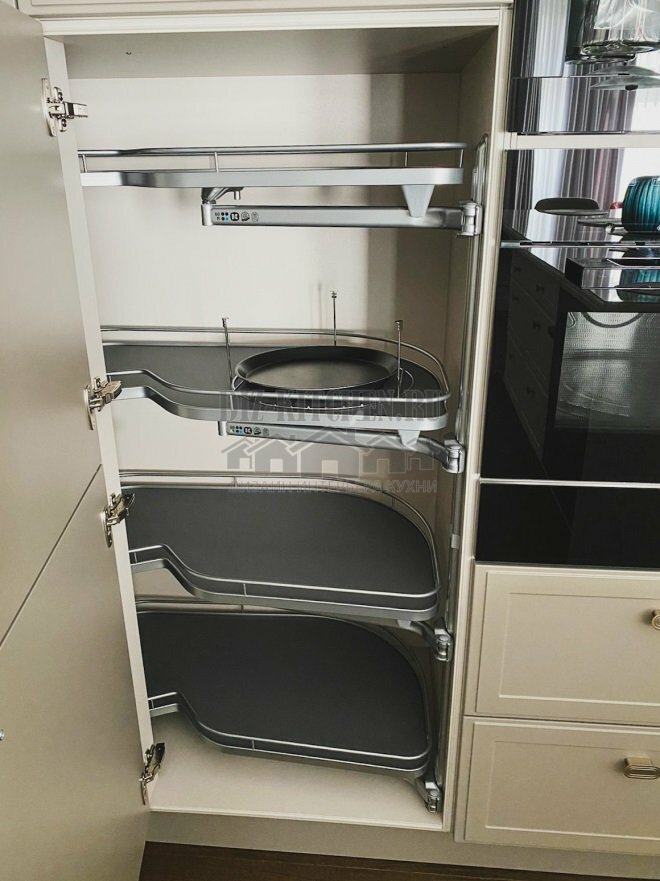 A comfortable and elegant kitchen, in line with current trends, will suit people who like the classic trend, but who want to bring newness and modern chic to their home.
Average score / 5. Number of ratings:
There are no ratings yet. Rate first.