Cork flooring is a natural floor covering. For its production, cork tree bark is used. The structure makes the coating warm, resilient and elastic. The pros and cons of the cork floor do not end there, which allows it to displace the popular linoleum or laminate.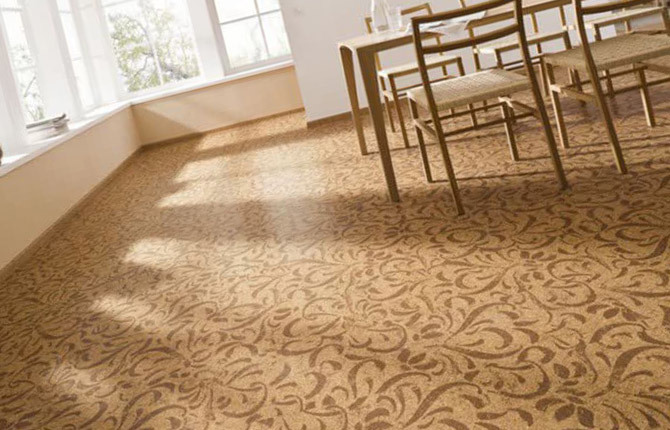 The content of the article:
What is

Advantages and disadvantages

Dispelling the myths

Brittleness of the coating

Instability with temperature changes

Suitable for residential use only

Not suitable for a home with animals

Cork does not tolerate moisture

Only suitable for children's rooms

Impracticality

High price

Cork floor only for eco-style in the interior

Monotonous look

Floor care

Laying step by step
What is
For the production of cork flooring, they take the bark of cork trees, for example, western oak. The peculiarity of the tree is that its bark can be removed, and after a few years it grows back. This procedure can be carried out up to 20 times on one plant. Each time the material becomes better.
The resulting bark is crushed into crumbs, which are subjected to high temperatures. Further, by pressing, sheets are pressed from the resulting crumb. They are glued with other layers (vinyl, reinforced, varnish).
There are 2 types of coverage:
Adhesive tiles. This option is the most environmentally friendly. It consists of veneer and agglomerate. Fully pressed tiles are available in different sizes. Their thickness is from 3 to 6 mm. For laying use a special glue. Mounted tiles are varnished. The panels are highly water resistant, so they are used to renovate the kitchen, bathroom. Since the material can withstand temperature fluctuations, it is suitable for use in non-residential premises that are not heated.
floating. Another name is the castle floor. The principle of its installation resembles the installation of a laminate. The tile consists of veneer, agglomerate and dense fibre-wood board. For some models, the cover can be made of leather or fine wood. Printing is possible. This type does not require additional processing after laying. Its use is allowed in dry rooms where there are no changes in humidity or temperature.
Castle and adhesive cork floors have a number of differences that are taken into account when choosing a material:
Terms of Use. The lock plug is suitable for dry rooms. The adhesive version is able to withstand fluctuations in humidity and temperature.
Foundation quality. Adhesive requires an even, smooth finish for installation. It is permissible to lay it on a screed. Tile, plywood, parquet or laminate as a base will not work. To prevent gaps from appearing between the sheets, it cannot be mounted if the room temperature is above 28 degrees. The lock plug can be laid on an uneven surface (with differences up to 2-3 mm). Let's allow installation on a tile, a parquet or linoleum.
Difficulty of installation. Laying the adhesive floor requires certain skills. Therefore, a beginner will not cope with this. After installation, varnish is applied on top (2-3 layers for rooms with a small load, 4-5 with an increased load on the surface). Castle option is floating. When laying it, a lock connection is used, which makes it easy and quick to mount it yourself.
Thermal insulation. Both options are characterized by a high degree of thermal insulation. But for cold rooms, it is advised to choose an adhesive option. Under it, you can mount a "warm floor".
Soundproofing. Both options have the same degree of sound insulation.
Appearance. Glue cork allows you to show creativity. The panels can be cut, tinted and then laid to create different textures, combinations of shapes or shades. It will not work to make artistic laying of the castle floor.
Period of operation. With a glue cork, it is almost unlimited, provided that it is properly cared for. The locking cork floor has a service life of 7-10 years.
Possibility of restoration. It is not difficult to replace a damaged adhesive plug sheet, and problems can arise with the lock design. During operation, its connections are able to swell from moisture or deform. Therefore, it will no longer be possible to assemble the structure again.
Price. The average price of a glue type is lower than a lock one. But for its installation, additional materials (glue, varnish) will be required. Therefore, their price will be about the same. But for laying the adhesive option, experts ask for 30% more.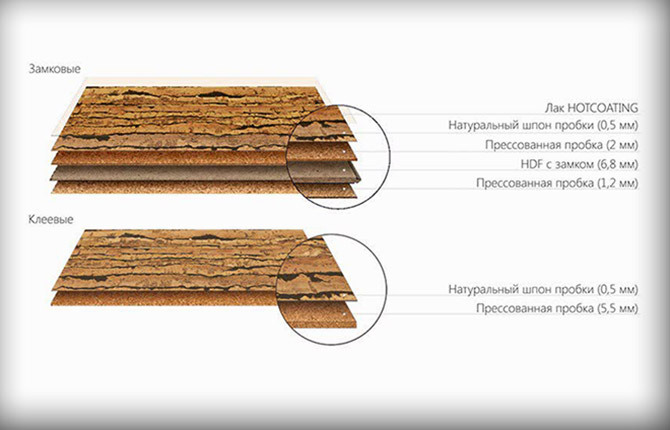 Advantages and disadvantages
Choosing a cork flooring for the floor, take into account its pros and cons. Advantages:
Warm surface. The material consists of small cells, inside of which there is air. Therefore, the cork coating has a low thermal conductivity - it always remains warm. This allows you to use it to decorate a child's room or bedroom. The surface will be warm to the touch.
Noise isolation. The porous structure absorbs sounds well. Therefore, the neighbors from the apartment below will not hear the clatter or other sounds.
The ability to use in any room (bedroom, living room, office, kitchen, bathroom). The cork floor can be laid in unheated premises (country house, balcony).
Practicality. The floor is constantly exposed to high loads, so its coating must be wear-resistant. It is elastic, can quickly restore its shape in case of its deformation.
Comfortable movement and anti-slip effect. Elasticity helps to reduce the load on the spine while walking on it. And in case of a fall, it will soften the blow.
 Environmental friendliness. This is a natural component, therefore it does not harm the health of people living in the house.
Natural look. Cork flooring has a natural look that can be boring. For such buyers, the manufacturer offers options for different shades.
Ease of maintenance. Tidying up a room with a cork floor is not difficult. It is enough to vacuum it, and then wipe it with a damp cloth to restore its cleanliness and original appearance.
Flaws:
Furniture and heavy objects leave dents on the floor.
Rough surface. Users note that when moving through it in socks, they quickly rub off. However, this applies only to the floor, varnished with the addition of ceramic chips. This material makes the coating durable. To avoid this shortcoming, it can be processed with fine sandpaper, and then varnished.
Price. According to customer reviews, cork flooring is expensive. This applies to both the material itself and the price of its installation. But, given all the pluses, it will not seem so expensive.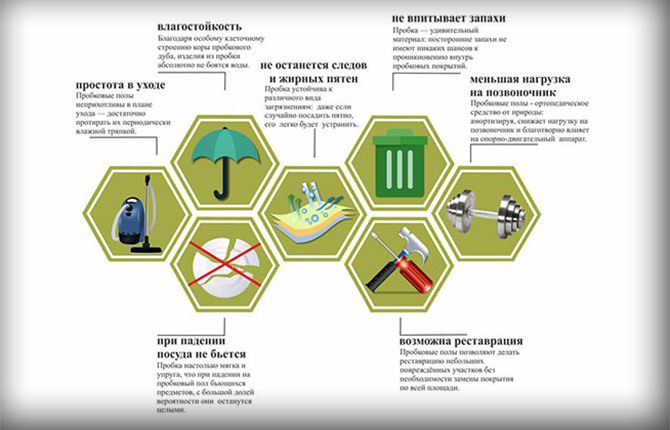 Dispelling the myths
Cork has been used as a floor covering recently. Therefore, many still have concerns about its use. Consider the most common myths to prove that all fears are in vain.
Brittleness of the coating
It is believed that the cork is fragile, so this coating does not withstand daily stress. However, this material has a honeycomb structure. Therefore, it is practically invulnerable and can retain its appearance and other qualities for decades.
Cork is able to restore its shape. But provided that the damage did not appear as a result of a sharp blow with a heavy object.
It can lose its shape with prolonged exposure to heavy furniture. To avoid this, you need to put felt under the legs of the cabinet.
Instability with temperature changes
The material can easily endure temperature fluctuations. Therefore, it is suitable for laying on a balcony or in an unheated room.
For such cases, choose the adhesive option. It is characterized by energy-saving properties, as its surface is always warm to the touch.
Suitable for residential use only
There is an opinion that the cork is fragile, so it can not be used in the design of trading floors or offices. But there are many examples when the material was used in the interiors of public buildings.
For example, the floor in public institutions in America, the interior of which has not changed for 100 years, is covered with cork. It can be seen in the decoration of many stores, gyms, hospitals and airports.
Not suitable for a home with animals
A floor made of cork, which is additionally varnished, is difficult to scratch. The advantage of cork flooring for pet owners will be the sound-absorbing properties that will make the claws click on such a cover silently.
Cork does not tolerate moisture
The cork floor well maintains the increased humidity and use of household chemicals. Therefore, it is used in the bathroom, gyms, etc. Saunas and baths will be an exception.
The advantage of the coating will be the anti-slip effect. Therefore, slipping even on a wet floor will not work. But in rooms with high humidity, it is necessary to choose a glue type, additionally varnished.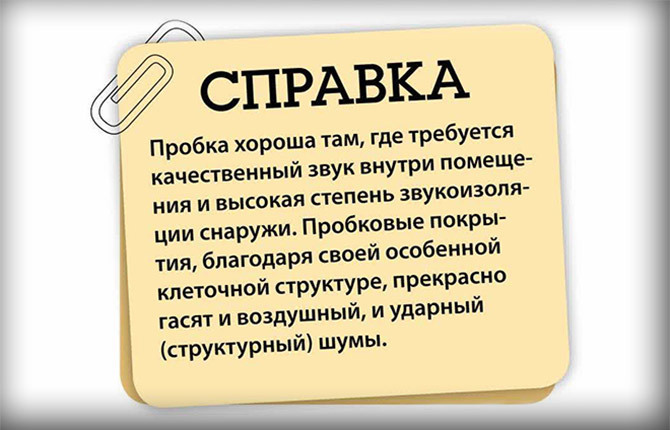 Only suitable for children's rooms
Cork flooring is hypoallergenic, hygienic, environmentally friendly. Therefore, it is chosen for children's rooms. But the designers have proven that all the positive qualities are appropriate in other rooms:
Kitchen. Walking on it while cooking is comfortable. The material does not absorb liquid and foreign odors. To make it unpretentious and more stable, use polyurethane varnish.
Bedroom, living room. Rooms will be cozier with cork flooring.
Hallway. An attractive look and practicality will be appropriate here.
The office will be more comfortable, thanks to the silence and warmth that cork will provide.
Gym. The elasticity of the product will be useful here.
Impracticality
Cork floor is called impractical. There is an opinion that it is difficult to clean it. But those who have already used this material refute such a statement:
the cork does not attract dust, as it has an antistatic effect;
the material does not absorb odors and moisture;
the floor is resistant to grease and dirt from wine, coffee;
the coating is not deformed by the action of the liquid.
For maintenance you will need a vacuum cleaner and a rag.
High price
Paul faces high pressures on a daily basis. In this case, the coating is rarely changed. Therefore, it is necessary to choose high-quality materials.
If we compare the price of cork with other floor coverings, then it almost does not differ from laminate or parquet. At the same time, it allows you to save on the installation of a "warm floor" and pay for electricity, as the material is warm and pleasant to the touch.
Cork floor only for eco-style in the interior
The coating is suitable for many interiors. Its advantage is the ability to combine with various materials. Cork has different shades and repeats different textures, filling the house with a cozy and warm atmosphere.
Monotonous look
New technologies make it possible to apply various patterns to the cork coating. Therefore, it is impossible to guess what the floor is made of. In this case, all properties are preserved.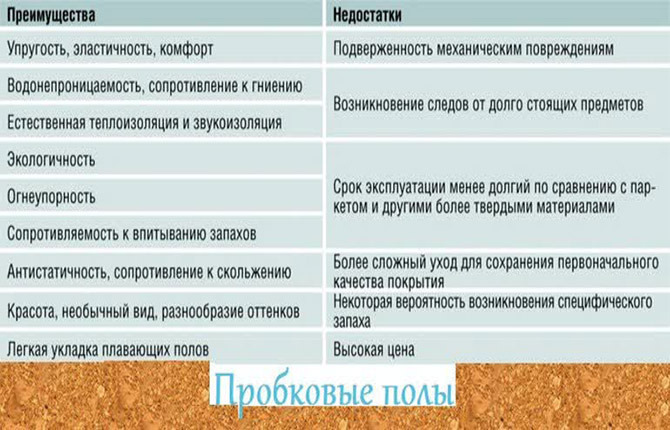 Floor care
Cork flooring has many benefits. But in order for it to last longer without losing its appearance and quality, it must be properly looked after. It's easy to do, just follow the rules:
It is necessary to start caring for the coating immediately after its installation. To improve the appearance and prevent damage, a protective composition is applied to the surface.
Best of all, the cork will be preserved at a temperature of 20-25 degrees and a humidity of about 50%. In winter, when the humidity in the room decreases, it is recommended to use room humidifiers.
For cleaning, a regular vacuum cleaner and a damp cloth are enough. If household chemicals are used, you need to make sure that they do not contain aggressive substances and that they are suitable for cork.
We do not recommend the use of hard brushes to remove dirt and stubborn dirt. You need to take a small skin. The cleaned area is opened with a layer of varnish or wax.
If there are no special cork cleaning products, contamination can be removed with an ordinary school eraser. You can also use dishwashing liquid. It is diluted with water in a ratio of 5 ml of liquid per 1 liter of water.
If food or drink contamination appears on the cork floor, it must be removed immediately. Once absorbed, getting rid of them will be more difficult.
In order for the cork not to lose its appearance, it is necessary to protect it from exposure to ultraviolet radiation.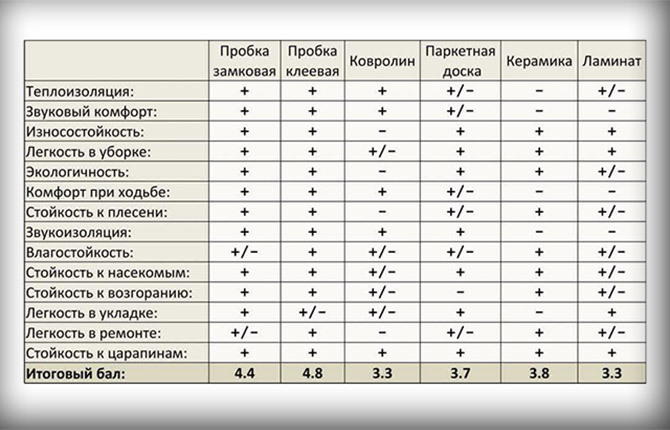 Laying step by step
Cork is an expensive material, so mistakes during installation can be costly. If you decide to save on the services of a master and install the cork floor yourself, you need to familiarize yourself with the process.
In order for the cork floor to last longer, it is necessary to adhere to the requirements for the base under the cork floor:
The base under the coating must be even. The difference can be no more than 2 mm per 1 m2.
To prevent the accumulation of condensate at the bottom, the coating must be hydrolyzed. For this, a perforated layer is laid from below.
Cork flooring must not be laid on concrete. Be sure to lay the substrate.
The following tools and accessories are required for work:
Substrate.
Glue. Only special formulations will do.
Leveling compound for creating a rough screed. If it is planned to lay on a wooden floor, it must be scraped off and plywood should be placed on top.
Reinforcement mesh, beacons, level, rule, mixer for cement work.
Roller, construction knife, spatula, mallet for installation.
Roulette, square.
To prepare the base you need:
Dismantle the old coating (if any). Cork flooring is allowed to be mounted on a wooden floor or linoleum, if they are in good condition. But it is better to do it on a concrete screed.
The concrete screed is cleaned, moistened and primed. This is necessary for a better grip with the coating.
Beacons are placed on the screed. A reinforcing mesh is laid on top. After the prepared solution is poured.
After the solution has dried, installation can begin. Before this, it is recommended to bring the material into the room for acclimatization. Installation work depends on the chosen plug shape:
The substrate is laid first. Its sheets are overlapped. For their fastening use construction tape. To compensate for possible expansion, the edges of the substrate lead over the edge of the wall.
The adhesive is mixed. It must be prepared in small portions, which are immediately used.
The castle floor is mounted starting from the far corner. Laying boards is similar to laying laminate. In this case, each panel is inserted into the next one and hammered with a mallet.
When laying a continuous cork sheet, first apply the adhesive and smooth it with a notched trowel. After that, a sheet is laid, which is tapped along the edges and in the middle part. Glue protruding at the joints is removed immediately, as it can provoke a change in shade.
Cork tiles are laid in the same way as a solid sheet. Only the installation begins to be carried out from the middle of the room, moving towards the corners in a spiral.
After laying the cork floor, it must be covered with several layers of varnish. It can be matte or glossy.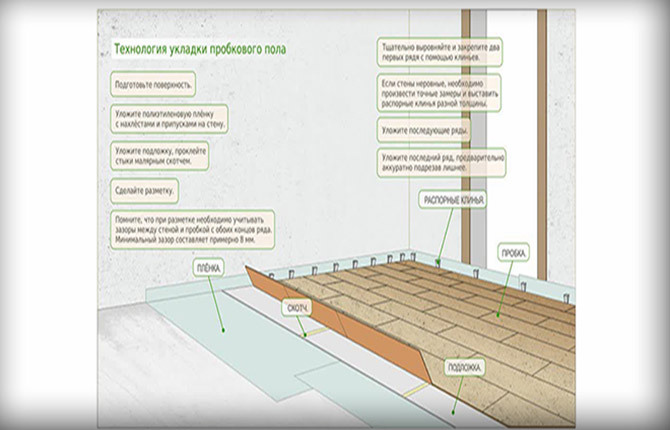 The cork floor has a beautiful appearance, high performance. In addition, reviews prove its reliability. The material is suitable for decoration of all types of premises and looks equally good in any interior.
Do you like cork flooring? Share your opinion in the comments. Bookmark the article so that useful information is not lost.