In terms of budget savings, making furniture with your own hands from pallets is a worthy alternative to the purchased one. Finished products made from unfinished, rough but durable boards can withstand a lot of weight and will be an original addition to your home or garden.
When using transport wooden pallets for furniture assembly, financial costs are minimal. All you need is imagination and some free time. And what can be made and what materials will be needed for this - we will talk about all this in our article.
The content of the article:
Features of the use of wooden pallets

Where to get pallets?

Pallet recommendations

Benefits of pallet furniture

How to prepare material?

Wooden pallet furniture in the interior

Option #1 - upholstered furniture

Option #2 - dining and coffee tables

Option # 3 - bar counter

Option #4 - Terrace Furniture

Assembling a sofa with drawers

Conclusions and useful video on the topic
Features of the use of wooden pallets
Pallets are transport containers designed for storage, warehousing and movement of goods weighing up to 1 ton. Made from wood, plastic, metal, cardboard. For the assembly of furniture, wooden pallets are used - these are two-tier structures made from untreated wood, which has high strength and durability. The weight of one unit ranges from 15 to 20 kg.
Depending on the purpose, they have the following dimensions:
europallet - 120x80x12 cm;
standard pallet - 120x100x12 cm.
Today, pallets are non-trivial interior and landscape design items. Their ability to withstand weight up to 1 ton allows the use of storage systems and cabinets as functional elements.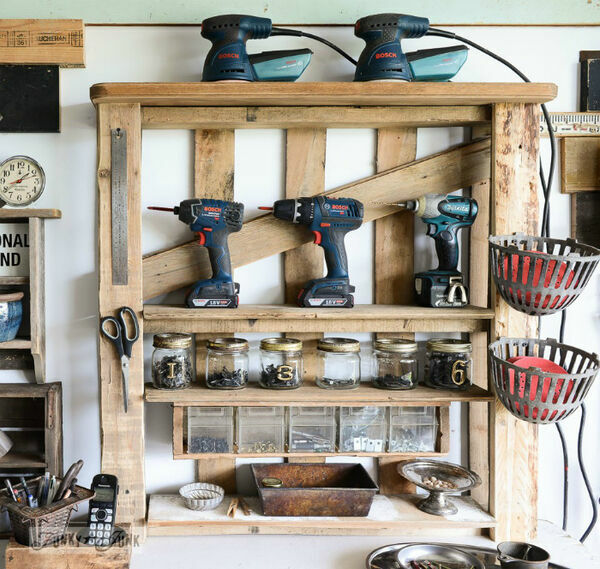 A properly assembled pallet cabinet can withstand heavy loads, so it can be used to store a tool or a set of tires
The environmental friendliness of the material and low cost have become the key to the high popularity of wooden pallets among designers. Loft, grunge or eco-interior - furniture made of wooden pallets will organically complement any of these styles.
Inspiration and interesting ideas can be drawn from collections based on pallets. Complementing and modifying ready-made solutions, you will create original and functional pieces of furniture that are distinguished by durability and strength.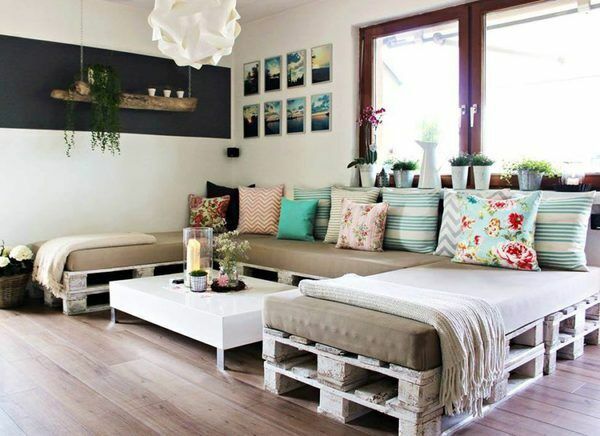 Furniture from pallets is recommended to be supplemented with soft seats and decorative pillows. So the interior will look more comfortable
Where to get pallets?
Despite the reliability of the design, wooden pallets are regarded by manufacturers as consumables. Depending on the conditions of use, pallets can be written off after one use.
You can buy pallets as follows:
Contact directly the transport company or the manufacturer. Many of them are ready to provide pallets for free, so as not to deal with their storage and disposal.
Find sellers of used pallets online. Their cost can vary from 30 to 200 rubles. for a unit.
If there is nowhere to buy a used container, you can make it yourself from boards 15-20 mm thick and bars 70x70 mm. First you need to calculate the dimensions of the future furniture element, saw the boards into blanks, fasten them to the beams.
Healthy: How to make a beautiful and durable table in the gazebo with your own hands
Pallet recommendations
When choosing used pallets, the question of quality criteria arises. There are several varieties on the market. In addition to condition, they differ in size and strength. It is recommended to purchase pallets marked with stamps EPAL or EUR. They meet all safety requirements.
Pallets made in America and Canada are more reliable due to the high quality of the wood. But with proper processing, domestic products are not inferior.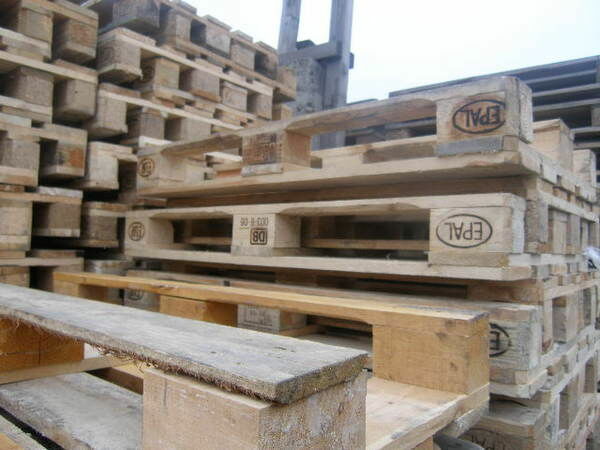 When choosing pallets, pay attention not only to the markings, but also to their condition. They should not have cracks or chips.
Benefits of pallet furniture
Do-it-yourself furniture items are an original and budget solution for arranging a country house. plot or adjacent territory, allowing you to realize your fantasies and independently create a full-fledged set.
In addition to low cost and ease of manufacture, pallet furniture has several advantages:
Reliability. Due to the high strength of solid wood, furniture made from pallets will last much longer than those made from chipboard.
Practicality. By changing the modification of the pallet, you can get any item: a table, a deck chair, an armchair, a wardrobe or a sofa.
Relevance. Eco and Loft styles actively occupy a leading position in the field of design. Massive pallet furniture will be an ideal solution for arranging housing in this direction.
Environmental friendliness. Packing pallets are not treated with synthetic mixtures and impregnations. They do not pose a risk to human health.
Things made with one's own hands are of greater value than those made in industrial conditions.
How to prepare material?
Assembly and disassembly of pallets does not require special skills. Depending on the final goal, they can be modified in shape, supplemented with other materials or equipped with roller wheels.
The preparatory process should begin with measurements and cleaning the pallets from dust and dirt. If the planned furniture has non-standard dimensions, the pallets must be dismantled, while sorting the boards by size and condition.
The next step is polishing the relief surface. The best thing to do is to use a grinder.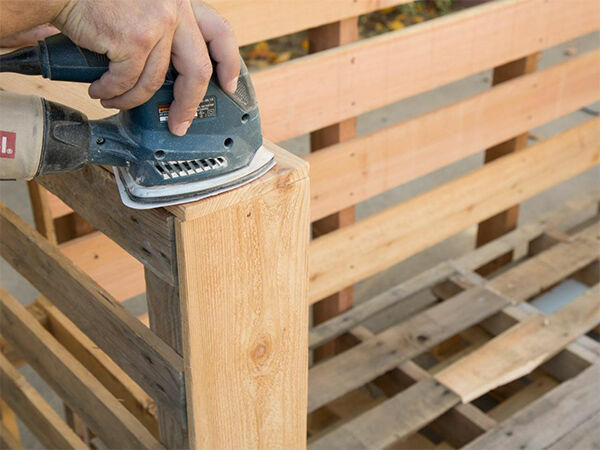 If there is no grinder, you can use sandpaper, but the process will be longer. The manual sanding process can be accelerated by choosing paper with a high degree of abrasiveness.
You need to work in a ventilated area, wearing goggles and a mask. It is not necessary to sand all surfaces. It will be enough to be limited to facial and those that will be in contact with the body.
If the furniture will be used outdoors, its components must be treated with moisture-proof compounds. You can use a water-repellent primer for outdoor use.
After that, it remains to purchase fasteners and select accessories, think over the color scheme and furniture design. Each element should organically continue the concept of the interior. Armchairs and sofas are recommended to be supplemented with soft pillows, and tables - with glass or wooden tabletops.
Wooden furniture 

pallet

 in the interior
Pallet furniture sets will always be relevant on an open terrace or backyard area. If their use is supposed to be indoors, it is worth deciding whether they are suitable for a particular interior.
Such furniture is appropriate for interiors in the style country music, loft, provence or grunge. Scandinavian and industrial styles, gravitating towards naturalness and the use of natural materials, can also be complemented by pallet elements.
The interior, designed in minimalism, hi-tech style or luxurious classics, does not allow the use of headsets made of pallet. Smooth glossy surfaces, strict lines and concise forms do not go well with untreated wood.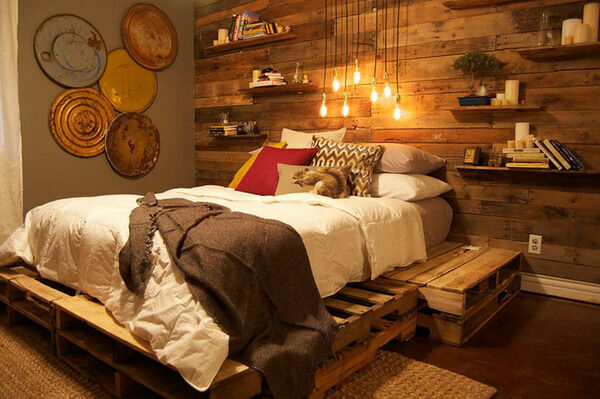 Natural materials are the best companion for wooden pallet furniture. You can make one piece of furniture or a whole set
From pallets, you can make both simple elements - bedside tables, poufs, shelves or resting places for pets, as well as more complex ones - sofas, beds, armchairs or deck chairs. The final result is limited only by imagination and the availability of free time.
Parsing wooden pallets into components, you can use them for the manufacture of accessories and decorative elements. A vase, a frame for a mirror or a frame for a picture - natural wood will be the highlight of the interior.
Option #1 - upholstered furniture
From wooden pallet you can make sofas, armchairs, ottomans, beds. For an Asian-style interior, with a characteristic low bed, you can use one tier of pallets.
Classic European version of the bed - fastened in two or three levels palletson which an orthopedic mattress is placed. Inside the base, you can equip drawers for storing linen.
A homemade bed is assembled not only from pallets. We recommend you check out the best bed making ideas at home.
Option #2 - dining and coffee tables
The easiest way to use pallets - Making a table For the base and side parts, 3-4 pallets are required. A wooden, stone or glass tabletop is laid on top of the structure. For a family dining table, you will need 6-7 units.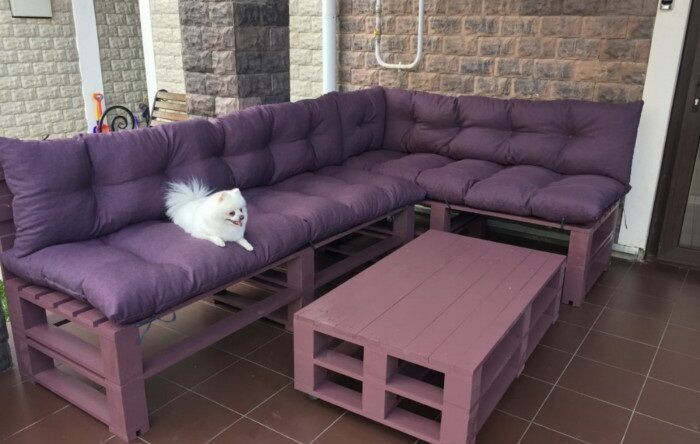 Low 2-3 tier tables are typical for the Japanese style, higher ones are Provence, country or loft
Option # 3 - bar counter
To make a small bar counter, you will need 3 pallets and material for the countertop. This option is often found in modern restaurants and bars.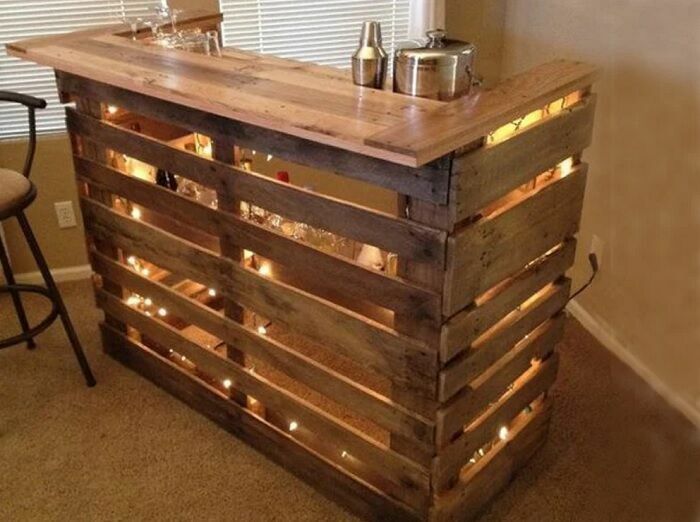 In a house or apartment, a pallet rack is suitable for kitchens or living rooms made in eco- and industrial, loft and Provence styles
Option #4 - Terrace Furniture
A summer cottage or terrace can be ennobled by installing several massive flower boxes made from pallets. If the area of ​​​​the estate allows, a great idea would be to place a barbecue area. It is important to process wooden pallets heat resistant compound.
Another option for using pallets is the arrangement of a hanging swing. Due to the strength of the material, both adults and children can use it. From above, you can place soft pillows or seats with ties.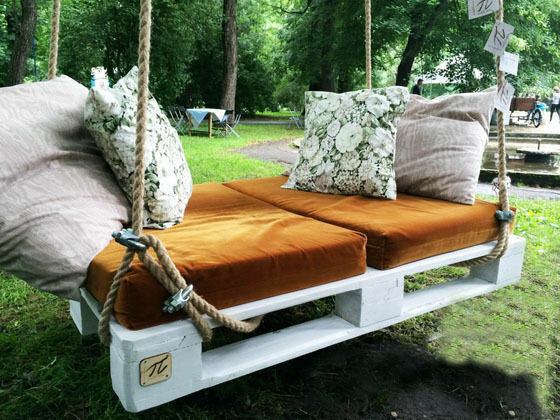 To install a garden swing, you need to purchase high-quality and durable ropes or chains. The safety of the structure depends on their reliability.
Wooden deck chairs can also be made from pallets with your own hands. They will become an indispensable attribute for sunbathing by the pool or on the patio.
Assembling a sofa with drawers
The design of pallets assumes free space between two bases. Using it, you can significantly increase the functionality of the finished product. The sofa, equipped with drawers, will provide additional storage space. Below will be a master class on manufacturing.
List of tools and materials:
pallets - 6 pcs. (recommended to have 2 spares);
plywood sheets - 2 pcs.;
grinder, if you have never used a grinder, we recommend that you familiarize yourself with

operating rules

;
drill, screwdriver;
jigsaw;
screws;
corners and boards for fastening elements;
sandpaper;
primer;
varnish or paint for wood;
roller or brushes;
accessories for boxes;
ready-made system of hidden guides (if drawers are supposed);
wheels for the product - 4 pcs.
You also have to pick up decorative elements: foam rubber pillows or special seats, textile fabric for upholstery.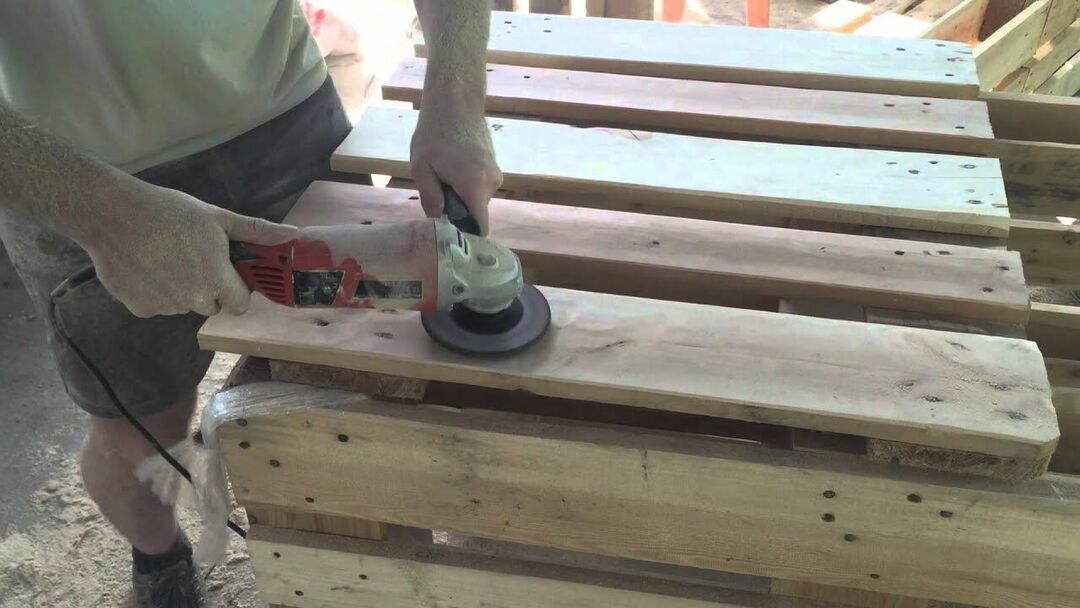 Pallets must be thoroughly cleaned and sanded. You can only work with surfaces that users will come into contact with during operation.
The initial stage of assembling a sofa on wheels with drawers:
Four pallets will be used as the base of the sofa. Two of them are placed face down, fastened with corners and boards. 2 more

pallet

fastened together in the same way.
The fifth pallet must be cut into two equal parts. The back of the product will be made from them.
The cracks in the pallet can be sealed with cut-out pieces of boards, attaching them with bars from the inside.
All prepared elements must be carefully treated with a primer. After it dries, you can start painting or varnishing. To obtain a rich color, it is recommended to paint the elements in several layers.
After final drying, it is necessary to equip the workpiece with legs or wheels. They are attached to the lower base of the sofa. It is recommended to purchase options equipped with brakes. You can find them in a hardware or furniture store. Legs can be made independently from pieces of timber.
We continue the assembly:
It is necessary to fasten together 2 previously prepared pairs of pallets. It is important to check the reliability of the connection. Applying wood glue to the joints will further strengthen the finished structure.
Parts 

pallet

, sawn for the back, must be connected with fasteners using a screwdriver.
The side parts or armrests are made of boards and attached to the base.
An alternative option is to cut the pallet into small pieces and make armrests out of them.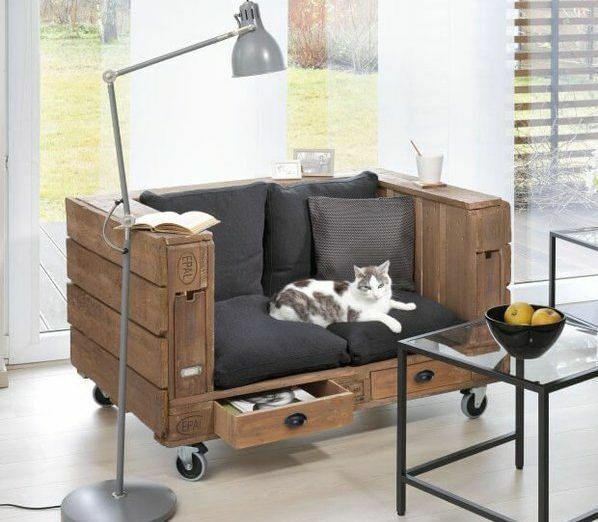 Drawers can also be arranged in the armrests of the sofa. They can be used as a minibar
To create drawers, you need to measure the free space in the pallet used for the base, leaving gaps for mounting the rail system.
Drawer assembly order:
In accordance with the measurements obtained, draw plywood sheets and cut out the elements. Connect them with glue. The bottom of the drawer can be additionally reinforced with a stiffener. If it is supposed to store heavy things, the bottom can be made of chipboard.
Mount the rail system to the drawers and the inside of the pallet base.
Attach the prepared fittings to the boxes, insert them into the holes.
An ergonomic sofa with drawers is ready. It will be an excellent option both for placement indoors and on an open terrace or balcony. At the final stage, you need to expand the soft seats and decorate it with decorative pillows.
Conclusions and useful video on the topic
Detailed parsing process pallet into constituent elements and assembling a small bench from them:
A simple option for making a double sofa from pallets:
Bar counter from pallet, necessary tools and step-by-step manufacturing technology:
Pallet furniture looks unusual and stylish. Qualitatively executed, it will become an alternative to traditional options sold in salons. Such headsets are practical, reliable and ergonomic. Decorated with decorative elements and soft pillows, they diversify the interior, create a special flavor and comfort.
Have you assembled original furniture from pallets with your own hands? Share your experience with our readers - tell us what was the most difficult for you and what other items do you plan to make? Are you satisfied with the result? Leave your comments below the article. Here you can also add original photos of homemade furniture.