The Samsung Gear S2 is a waterproof watch in a compact and durable design, weighing only 47g. Allows you to control all the basic functions of your smartphone, including listening to music, answering calls and SMS. The main characteristics of the Samsung Gear S2, as well as an overview of the objective pros and cons of this model can be found in the presented material.
The content of the article
Detailed overview

Common parameters

Display

Case and strap

Memory and processor

Battery

Additional functions

Phone Interaction

Advantages and disadvantages of the model
Detailed overview
Before buying a watch, you should study almost every characteristic - system, memory and additional features. The most important properties are detailed below.
Common parameters
It is advisable to start the review with general parameters - the main characteristics of the Samsung Gear S2 Classic are as follows:
strap and case color – grey;
Tizen operating system;
compatible with smartphones based on Android version 4.0 and higher;
compatible with iPhones - version from iOS 9;
touch type control;
bluetooth connection - version 4.1;
no headphone jack;
mobile internet connection is not provided;
wireless communication via Wi-Fi;
NFC is supported - the watch can be used for contactless payment.
Display
The watch is equipped with a liquid crystal display with the following parameters:
type Super AMOLED;
color screen;
resolution 360*360 pixels;
diagonal 1.2 inches.
Case and strap
In terms of daily use, the characteristics of the strap and case are important:
width 42 mm;
height 50 mm;
thickness 11 mm;
weight 47 g;
there is protection against particles of dust and moisture (class IP68);
body shape - circle;
metal body;
silicone strap;
strap size is adjustable.
Memory and processor
The speed and performance of the device is determined by the properties of the processor and memory:
processor type Exynos 3250;
number of cores 2;
frequency 1000 MHz;
internal memory 4 GB;
RAM 512 MB.
Battery
The battery is another important element of the watch, since the duration of the device depends on it. The main characteristics are:
capacity 250 mAh;
operating time (active mode) up to 48 hours;
wireless charging possible;
connector for the charger - cradle of a removable type.
Additional functions
Smartwatches are also equipped with additional features that make their use much easier:
the presence of sensors (determine a change in position in space, direction, degree of illumination);
the device is equipped with a timer and a stopwatch;
monitoring of sleep and calories burned;
there is a function of monitoring physical activity;
There are sensors for measuring steps and heart rate.
Phone Interaction
The watch allows you to conveniently control your smartphone by taking:
calls (there is a vibration);
SMS and MMS;
alarm signals;
notifications;
video;
audio;
voice control possible;
display of the current time and date.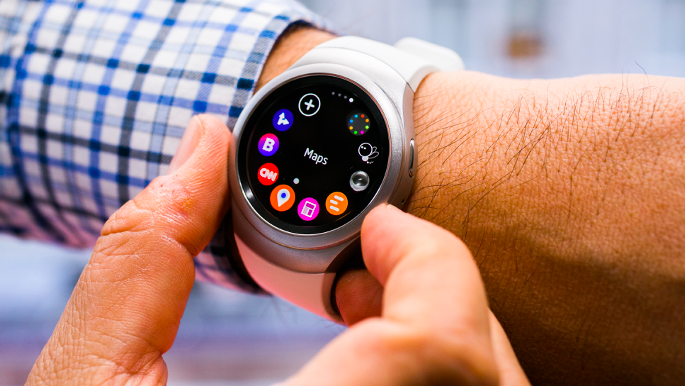 Advantages and disadvantages of the model
The considered characteristics of the Gear S2 and a review of customer reviews allow us to highlight several objective advantages of this model:
stylish design;
convenient options for measuring kcal, number of steps, heart rate;
you can answer calls, sms, notifications;
reliable protection against moisture;
full integration with all applications;
there is a bezel for easy control;
communication with any smartphones (not only Samsung).
But there are also disadvantages:
the silicone strap is not durable;
the battery does not hold a charge long enough;
bezel can be easily scratched.
In general, we can say that the Samsung Gear S2 smart watch is a fairly reliable model, although it is not without its drawbacks. Despite the claimed high battery capacity, it has to be recharged every day. However, the watch is convenient in terms of control and comes in a reliable case. Therefore, the overall score is 3.9-4.1 points out of 5.