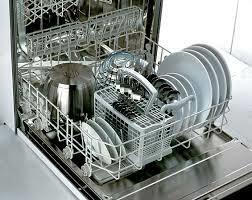 creativecommons.org
Recently, the rush has become an integral part of our lives, because of this, many do not have enough time for such simple things as washing dishes. Therefore, the popularity of dishwashers in society is constantly growing. One of the most popular brands of dishwashers in the CIS is the German brand Hansa, which appeared on the market in 1997. The brand was founded in 1957 under the name Wromet and dealt with gas-coal, gas and electric stoves. The life of the company already testifies to the quality and reliability of the devices.
If you decide to purchase a dishwasher and your choice fell on Hansa products, then read below which models of Hansa dishwashers exist and what their characteristics are.
The content of the article
 1. Hansa ZIM676H

2. Hansa ZIM628EH

3. Hansa ZIM6377EV

4. Hansa ZIM476H

5. Hansa ZWM 616 IH

6. Hansa ZWM 416 WH
 1. Hansa ZIM676H
Users fell in love with the Hansa ZIM676H dishwasher model for its functionality, affordability and spaciousness. The device holds up to 14 sets of dishes, which is why it takes up a lot of space; there are six washing programs and the ability to adjust the loading basket. Of the additional features, the dishwasher has a delay start function and an end-of-cycle indicator. The model belongs to the A-class devices.
Pros:
Complete protection
capacity
High quality wash
Minuses:
Noisy at work
The quality of the plastic fasteners
2. Hansa ZIM628EH
The peculiarity of this dishwasher is eight washing programs and a large capacity (14 sets of dishes). The model belongs to class A. There is a "Half Load" feature.
Pros:
Reliable sealing and leakage protection
Low noise
Delay start option
Great functionality (8 programs)
Minuses:
Drying and poor quality plastic parts
3. Hansa ZIM6377EV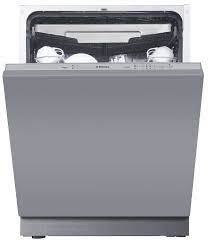 creativecommons.org
The Hansa ZIM6377EV dishwasher boasts a capacity of 14 place settings and 6 washing programs. This model is perfect for a large family; although the device does not have a display, but there is an electronic control. According to the indicators (washing, drying and energy consumption), the ZIM6377EV model is classified as an A-class.
Pros:
Leak protection
Delay start function
frugality
Capacity (14 sets)
Minuses:
Drying quality and plastic materials
4. Hansa ZIM476H
Like its predecessors, Hansa ZIM476H belongs to the premium A-class. This narrow model holds up to 10 place settings, and the loading baskets can be adjusted, which is very convenient when washing pans, pots and small baking sheets. The dishwasher has 6 standard washing programs.
Pros:
Convenient management
Adjustable basket
Low noise
low cost
Minuses:
Drying quality
No delay start or child lock
5. Hansa ZWM 616 IH
The capacity of this model is 12 sets of dishes, enough to serve four people. From the characteristics of the machine: width 60 cm, consumption 0.91 kW / h, water consumption 11 l, 6 washing programs, 5 temperature control modes.
Pros:
economy
Adjustable basket
small cost
Minuses:
No timer and display
Noisy operation
6. Hansa ZWM 416 WH
The ZWM 416 WH model has been on the domestic market since 2016, during which time it has been called a high-quality budget dishwasher.
The device holds 9 sets of dishes, enough to serve three people; its energy efficiency class A ++, and water consumption - 9 liters. The machine has a standard set for loading dishes: two main compartments, additionally there are holders for glasses and a compartment for cutlery.
Pros:
economy
Wash quality
Sufficient capacity
Leak protection
Reasonable cost
Minuses:
No mechanical door lock
No delay start function
No network indicator