Spanish lentil soup recipe Nowadays you'll hardly surprise anyone with everyday soup. But the hostess comes to the aid of a very simple lentil soup. It is incredibly tasty, nourishing and healthy. In addition, it is very light, so especially the ladies who watch their figure will like it.
Lentils are the smallest species in the legume family. It contains a huge amount of vegetable protein, iron, folic acid. Due to this, the dishes from it are warmed in cold weather and refresh in the hot. And all the nutrients remain in the soup during cooking.
Lentil soup is a very exotic dish for our cuisine. Basically it is in great demand in Turkish countries. Despite this, even Russian mistresses are not against pleasing themselves and their loved ones with them. In more detail about how to cook soup from lentils - we will tell further.
A simple option for lentil soup
To prepare a lentil soup, we need the following ingredients:
1 cup red lentils;
2 tablespoons rice;
1 onion;
2 small tomatoes;
1700 ml of water or broth;
half a teaspoon of ground jira and dried mint;
vegetable oil;
optional salt and black pepper can be added.
Next, we consider the stages of cooking red lentil soup with a photo. This:
Initially, we need to clean the rice and lentils beans from dirt and husk and rinse.
Next, take the onion, clean it and cut into small cubes.
Then you must remove the peel from the tomato. To do this, lower it into a container with hot water. It should be cut into two halves and remove all the seeds from them. Because of this, the soup will not taste bitter. Next, it is cut into small cubes.
Pour vegetable oil into a deep saucepan and pour in finely chopped onion. Stew it on low heat until soft.
Put sliced ​​tomatoes into the pan and continue to simmer.
Next, add all the lentils and rice. We continue to simmer the mixture on a quiet fire for 5 minutes. Do not forget, at the same time, constantly stir it.
Add broth or water to the pan and continue to cook the soup over low heat until the cereal is soft. It usually takes 20 to 30 minutes.
Remove the soup from the heat and chop the vegetables thoroughly. This is easy to do with an immersion blender.
The resulting slurry with water again put on the stove, waiting for a boil. If the finished soup is too thick, then add hot broth or boiled water to it.
Before serving, lemon juice, crackers and various spices are added to the soup.
For greater spice, coarse red pepper is added to the soup. It is recommended to fry it in advance in a pan with butter.
Read also:
The best recipes for soup from fresh champignons with potatoes
Turkish lentil soup called "Merdimiek chorba"
It is prepared using the same technology as above. For spiciness, red pepper, cumin and thyme, flour, tomato or its paste are usually added to Turkish soup. All ingredients are added when frying in the vegetable mixture. Before serving, lemon is put in the plate, and the soup is sprinkled with paprika.
For a vegetarian lentil soup in addition to the basic ingredients: potatoes, carrots and onions, also used zucchini. The technology of cooking soup does not differ from that described above: the vegetables are cut and stewed on the stove. Washed lentils are boiled in broth, sliced ​​potatoes, zucchini and fried vegetables are added to it. Broth salt, add spices to taste. If you find such a recipe too boring, you can diversify it. For this you can use chicken and then get soup with lentils and chicken. Its difference from the previous one is that at the end of cooking, turmeric is added to the soup, and lentils, which are boiled separately for about 30-40 minutes, before being put into the pan.
This soup will especially appeal to women who watch their diet and young children. Before serving, you can decorate the soup with your favorite herbs.
For real men, the recipe for lentil soup with meat
For the preparation of lentil soup on the bone, we need the following ingredients:
250 grams of lentils;
200-250 grams of meat, preferably on the bone;
water - 2 liters;
2 bell peppers;
2 carrots;
butter - 50 grams;
two spoons of refined oil;
a small pinch of cumin, salt and pepper.
Next, we consider a step-by-step recipe for lentil soup with a photo. It consists of the following steps:
Initially, we put the meat in a thick pan. Fill with cold water, put salt and put on the stove. It should be cooked for about half an hour.
Onions are peeled and cut. Carrots - cleaned and rubbed on a fine grater.
Put the sliced ​​vegetables on a pre-heated frying pan and pour in vegetable oil. Stew vegetables until onions become transparent.
Pull out the meat from the pan and separate it from the bone. The flesh is cut into pieces and laid back into the pan again.
Take lentils and wash them well under water.
Next, it should be added to the boiling future soup with lentils and pork. Boil lentils require at least 30 minutes.
Add cumin, butter and fried vegetables to the broth. Vegetable dressing languish for about 5 minutes.
Next, it should be removed and well chop the blender into mush. Vegetables return to the soup.
Before serving, it is advisable to add garlic croutons to the table.
Read also:
All the details of cooking crispy tartlets with mushrooms
And if you replace the meat with smoked meat, you get a completely new soup.
Recipe for lentils and smoked soup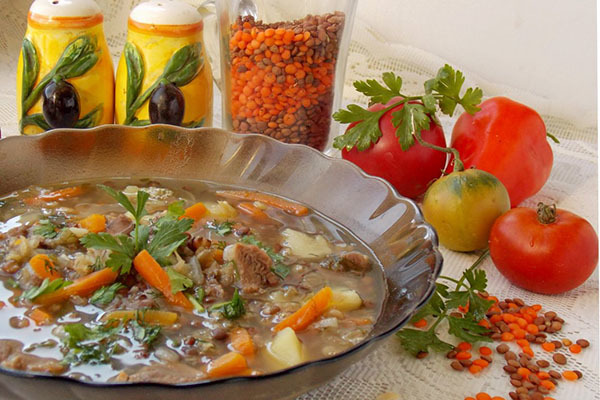 For the soup we need:
1 cup of lentils;
one and a half liters of broth;
200 grams of smoked chicken or beef;
1 small tomato, carrot, onion, bell pepper;
2 tablespoons of olive oil;
3 black peppercorns;
Lavrushka, greens, crackers.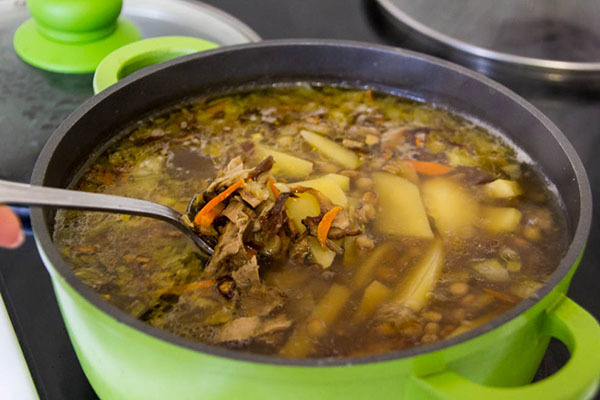 Soup cooked in several stages:
Initially, lentils should be soaked in liquid. If the soup is made from green lentils, then it is soaked overnight. If orange groats are used, it is enough to soak for 3 hours.
Next, pour the prepared grits into the pre-cooked broth. If pork smoked meats are put in the soup, the broth is boiled pork. If put beef smoked, then cooked beef broth. You can also use ready-made bouillon cubes.
Put the pan with the broth on the stove. Before boiling the grits will release a large amount of foam that needs to be removed.
When the soup boils, it should be salted. If this is done in advance, the croup will be loose.
After the broth has boiled, the temperature should be reduced to a minimum. So, it should languish for about 20 minutes.
In this recipe of lentil mashed soup you can put several types of smoked meat. Beef and chicken are well combined. All meat should be chopped.
Onions cleaned and cut into small cubes. Carrots should be washed, peeled and grated. Pepper - mine, cut, remove seeds and internal partitions, finely cut. Tomato wash and remove the skin from it, remove the seeds. It can be replaced by tomato paste.
In the pan, pour 2 tablespoons of olive oil. It is advisable to use dishes with a thick bottom, as in another container - the mixture will start to burn quickly. Remember also that the oil should not heat up more than 180 degrees, so it smokes.
Add vegetables, black pepper to the butter and simmer the mixture for 10 minutes. It must be stirred.
After the lentils have been boiled for 20 minutes, smoked meats and roasted vegetables are added to it. The broth should boil for another 15 minutes.
We put a clean skillet on a strong fire and pour wheat flour into it. Constantly stirring, bring it to a light brown color. The main thing is not to overdo it, otherwise the flour will burn.
Broth begin to interfere and add a thin stream of flour into it. After the flour is added, mix the soup thoroughly.
Next, a bay leaf is added to it.
The soup should stew for another 15 minutes and then it can be removed from the stove.
The finished soup is covered with a towel and set aside for 2 hours.
Before serving, you can add greens to taste and white croutons.
If you add potatoes to the technology described above, you get a recipe for soup with lentils and potatoes. However, it is not necessary to put potatoes in the original soup recipe.
Often, in life it happens that guests unexpectedly rushed into the house. Virtually every hostess was in such a situation. What to do when you want to surprise guests, but there is no time for cooking. Such useful object as the multicooker will come to the rescue.
Read also:
Tender Pumpkin Puree - Best Preparations for the Winter
A quick recipe for cooking lentil soup in a multi-cooker
The cooking technology for this soup is almost the same as the basic one:
All vegetables are prepared, they are roasted for about 10 minutes in the Frying mode.
Add water or ready stock to them.
At the crock-pot, the "Soup" mode is set and finely chopped potatoes are added to the vegetables.
Last washed washed lentils.
Next, the red lentil soup should boil. After that all spices are added to it.
Turn on the mode "Quenching" and set the time: 1 hour 30 minutes.
5-10 minutes before the end of time, the device opens and greens are added.
Ready lentils - soft. If so, then turn off the soup. It turns out rich, thick and satisfying.
Video recipe of Spanish lentil soup
Thanks to the above recipes, every hostess can quickly and effortlessly make an easy and healthy soup and surprise their loved ones who cannot resist this dish.