Not everyone in the house has a screen, but it will certainly be useful in every apartment. You can use it to isolate the room, hang it on something or to hide things that do not necessarily see the prying eyes.
It is not necessary to understand how many advantages in this subject run to the store. Make your own screen is a snap and does not require large amounts of additional materials. In this article you will learn how to perform the work from which it can make such a necessary thing, and how to avoid annoying errors, because of which will have to redo everything.
What are the materials at hand, you can make the screen
The content of the article
What are the materials at hand, you can make the screen

Screen made of cardboard with their hands

Materials and tools

We produce base

The final stage

How to decorate the screen from scrap materials
In order to make a beautiful and interesting thing, which undoubtedly complements any interior, it is possible to use different materials already in your home. For example:
If you have any special skills, but at home there are unnecessary boards, it is possible to appeal to the traditional version. Wooden screens used successfully for quite a long time and were a sign of good taste and noble owners of the house.
Another, more complex, it is metal material. In most cases, it is made frames for the screen. They can also be made different ornaments and other decorative elements that fit exactly to your interior.
Plastic pipes - this screen, of course, will look not so luxurious as the previous, but will retain all the advantages. In addition, it is easy to disassemble and then reassembled and moved around the apartment or house. In hot weather you can make it into the yard and take shelter from the scorching sun.
Plastic panels - an excellent and incredibly easy option. You can select multiple identical panels, and connect the screen is ready! It is also able to withstand any kind of weather, so is suitable for the street.
Another extremely simple and cheap option - cardboard, but it is necessary to take into account that it is not suitable for the street, and durable rarely at home. He will approach, if the screen is required for a short time, for example, on a night when the house will come other people's children, who are anything to spoil.
Branch: bamboo or reed, branches never go out of fashion. They are in perfect harmony with the majority of styles and looks simple, but at the same time is not boring.
Screen made of cardboard with their hands
The easiest and fastest way to make your own screen will make it out of cardboard. Certainly in every home there are several unnecessary sheets of this material, for example, bought for the children to school, but never used. In addition, such a screen can decorate their own taste and desire, so that it is not only suited to the atmosphere of the room, but you liked it, and was the original.
Materials and tools
Besides cardboard, need more such materials and tools:
Scotch;
scissors or a stationery knife;
paint or fabric for decoration.
As a basis for the cardboard box can be taken from the refrigerator or other major appliances. controlled easiest with such material, besides it is very thick cardboard, which is relatively durable. In order to screen look more interesting, you can paint it, paste application, or simply attach to it pieces of beautiful cloth.
We produce base
The first thing to be cut the box top and bottom so that there were only big sidewall. Paired parts must be cut mirror and be exactly the same, otherwise the screen will turn out lopsided and will not stand properly.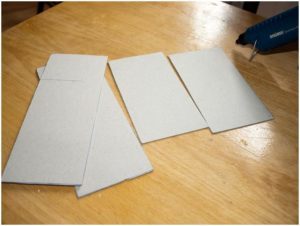 If you decide to add a pattern, its coils must be repeated, but to start with the one and then the second edge. Then drawing to obtain a uniform and neat.
With the usual cardboard as well - cut bases and, where necessary, pattern subsequently to connect parts. Be careful and pre-determine the size of each part, so as not to make mistakes. It is better to check everything several times than later rework and waste material and time.
The final stage
Now you need to attach a workpiece to each other in one piece and glue the sides with tape. The number of parts will always be 1 higher than the number of stitches. For example, if you have two blank, the seam will be one, if three - two and so on.
IMPORTANT! Note that the details you need to glue only the back side, then the screen will stick together better and easier.
How to decorate the screen from scrap materials
In order to decorate the resulting product, there are many different ideas. Here you need to show imagination and use all that is available at home: fabric, colored paper, paint, or even rhinestones.
For those who know how to draw, there is nothing easier than to decorate anything - to show their talent. Do not paint the screen in a single tone, add brightness and funny drawings.
You can also use self-adhesive tape, colored tape and other materials.
Now that you know how to make a useful smokescreen for their own home, and that this will require!