Today, there are many ways to create a stylish and original interior. One of the convenient and affordable techniques is the extraordinary design of the walls. For this, designers recommend using photo wallpaper, which have been successfully competing with decorative plaster over the past few years.
If you're planning a renovation, try decorating your home with beautiful canvases. The result will certainly delight you. You just need to take a responsible approach to the process of doing the work or entrust it to professionals. With the right approach, self-gluing photowall-paper will not cause difficulties. How to cope with this task and do everything efficiently?
The content of the article:
Main selection criteria

How to glue photomurals during renovation

What is needed from inventory and materials

Surface preparation
Main selection criteria
First you need to choose the right wallpaper. At this critical stage, it is necessary to take into account the base material of the canvases (it can be paper, vinyl, non-woven or textile). It is also important to pay attention to the textured features, the presence of decorative elements and choose a wallpaper that matches the overall style of the interior. Natural motives, images of animals, imitations of famous paintings, photographs of cars or cities are popular.
How to glue photomurals during renovation
If the work is done correctly, a solid picture will form on the wall without bubbles and noticeable joints. The result of the repair using photo wallpaper largely depends on the availability of special tools and materials.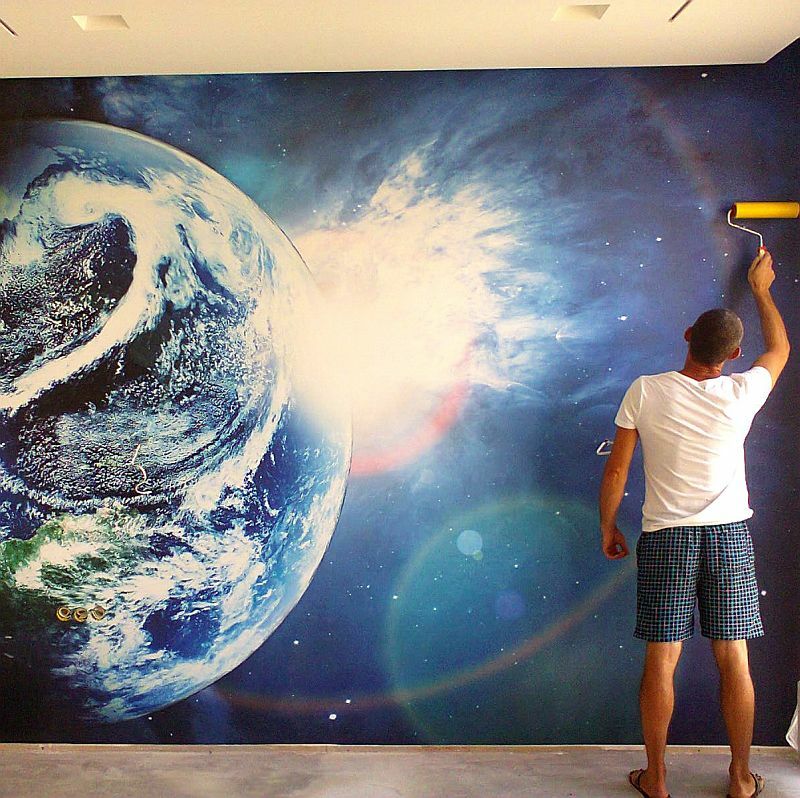 What is needed from inventory and materials
For pasting the wall with photo wallpaper, you will need:
putty and putty knife;
plaster solution;
a primer for wallpaper;
a container in which it is convenient to dilute the glue (as well as the glue solution itself of a suitable type);
brush and roller;
scissors (it is convenient to cut the fields) and a stationery knife;
narrow rubber roller for smoothing joints;
clean rags;
ladder.
You also need to prepare useful little things that ensure the accuracy of the work: a building level, a pencil, a ruler, a tape measure, a plumb line, a square.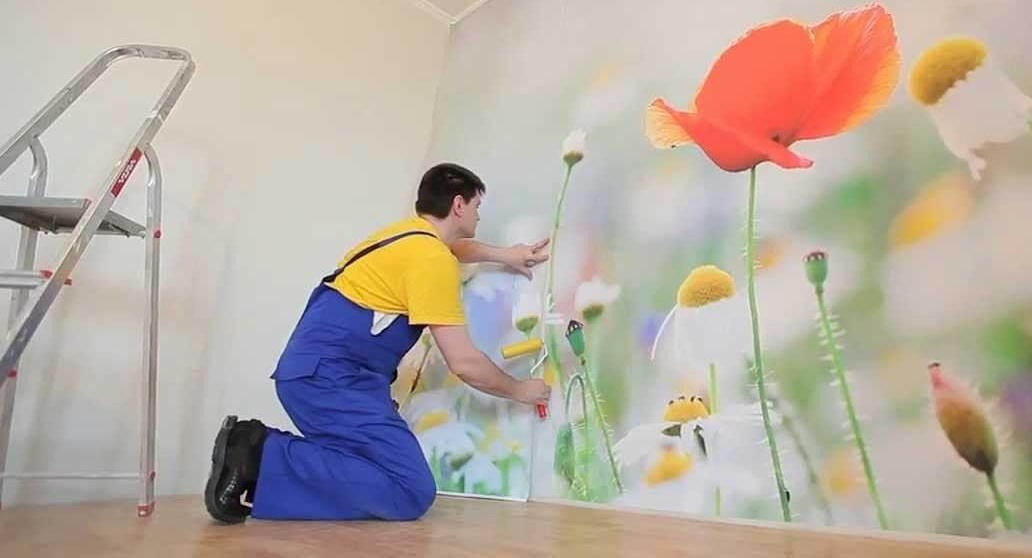 Surface preparation
In order for the result of the repair with the use of photowall-paper to be completely satisfied, it is important to properly prepare the walls. For this you need:
remove plaster and other types of coating;
dismantle the skirting board;
remove sockets and electrical switches;
carefully level the surface of the wall and apply a primer to it.
It is important to eliminate all irregularities. For the treatment of corners and places near windows (against fungus and mold), it is recommended to use a fungicidal solution.