Thanks to the contrasting surfaces, we have a dynamic and relaxed interior. Wooden shades, being practical and non-marking, have brought reliability and stability to the atmosphere of the house. There is no clutter of furniture and accessories in the room, there is a lot of free space, and a large and spacious room with high ceilings seems even larger.
Made in the company  Furniture Comfort ,
mebel-mk.ru
G. Anapa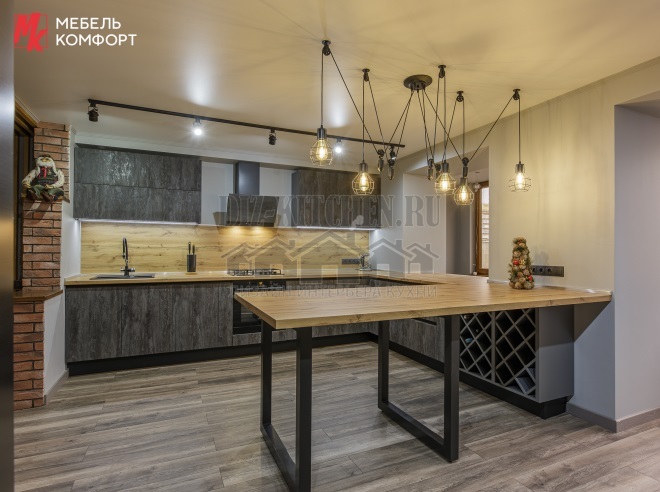 Attention! Earned on our website kitchen designer. You can familiarize yourself with it and design your dream kitchen for free! May also come in handy wardrobes designer.
Usually the loft style involves brickwork, white or brown. It is found in almost all interiors. Here the brick is only marked along the side of the wall, separating the next zone.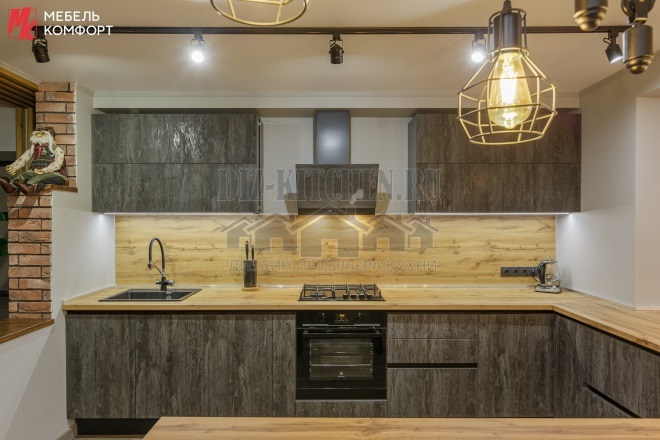 The dimensions of the headset are 3550 x 2453 cm, height - 2230 cm. The area of ​​the entire premises is 22.22 sq. M, of which the kitchen is 8.71 sq. M.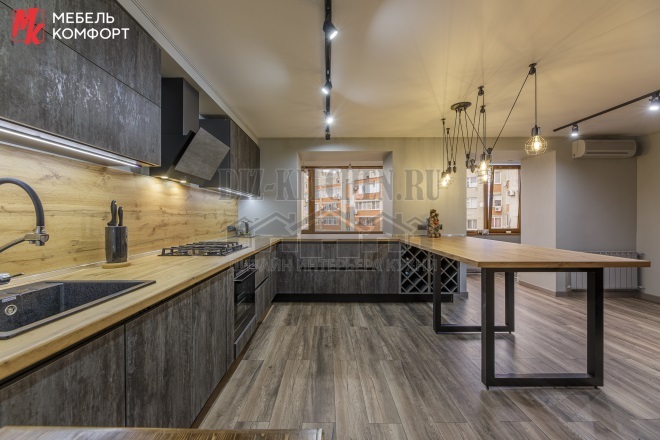 The furniture body is made of laminated chipboard Gray graphite. Opening the cabinets, one gets the impression that the section is completely made of one material. Facades - ALVIC SYNCRON Ice Cream-4, gray untreated wood. Gray wood imitations do not always look good, but not in our case. Straight laconic surfaces look brutal and original, and deep embossing makes them indistinguishable from a natural breed.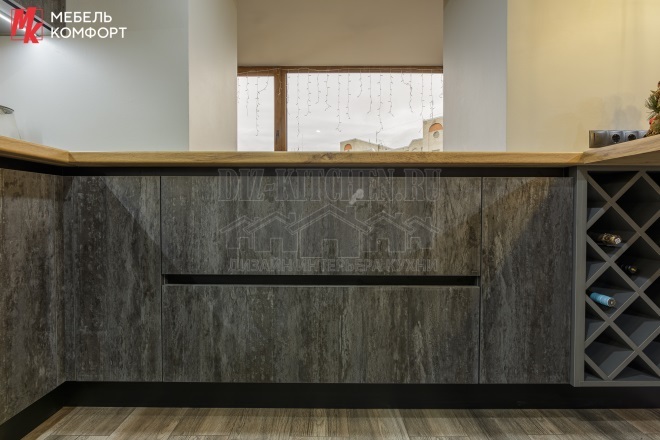 The rich gray contrasts well with the warm wood, as does the color of the floor. Worktop and wall panel in light wood, Wotan Oak. The black sink Granfest GF - Q560 is built into the worktop.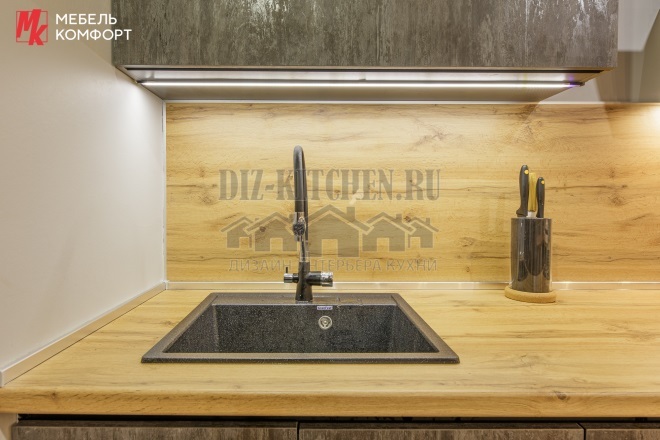 There are many sources of varied and multi-level artificial light in the room: spotlights over the working area, bright loft-style lamps in the form of a metal lampshade above the bar.
Fittings from the FIRMAX company. GOLA FIRMAX handles black. Lift - Blum Aventos.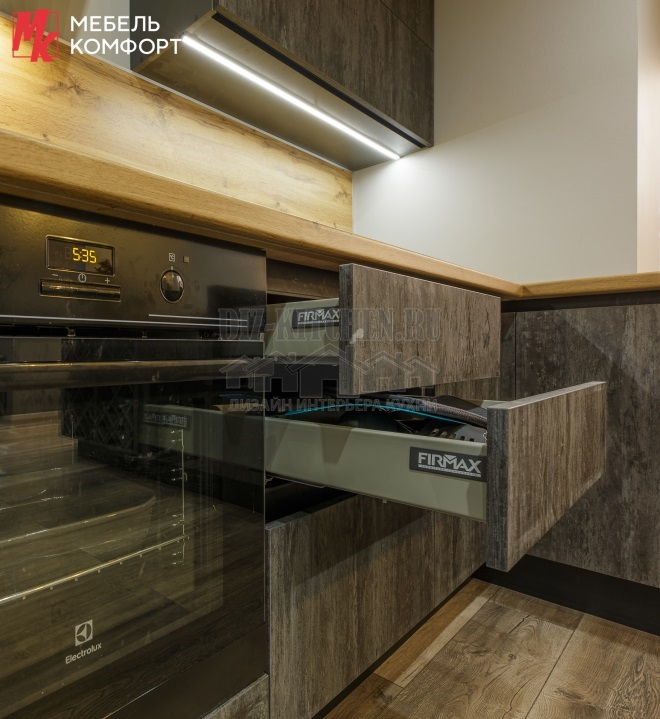 The straight bar metal leg is painted black according to RAL 6008. There are many black metal and glass elements in the interior, but all of them are organic with wood surfaces. The PVC base is also black.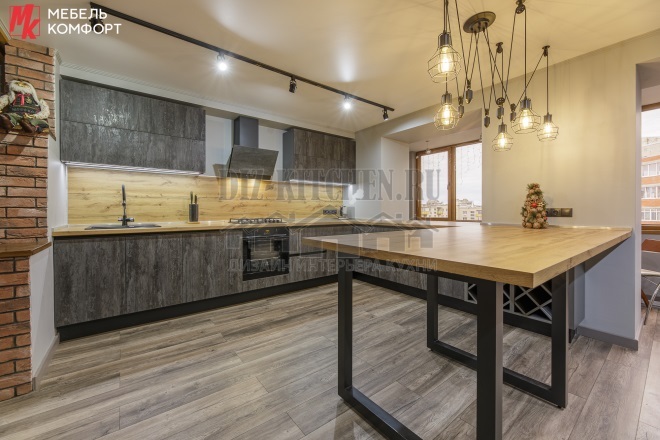 ELECTROLUX oven and hob.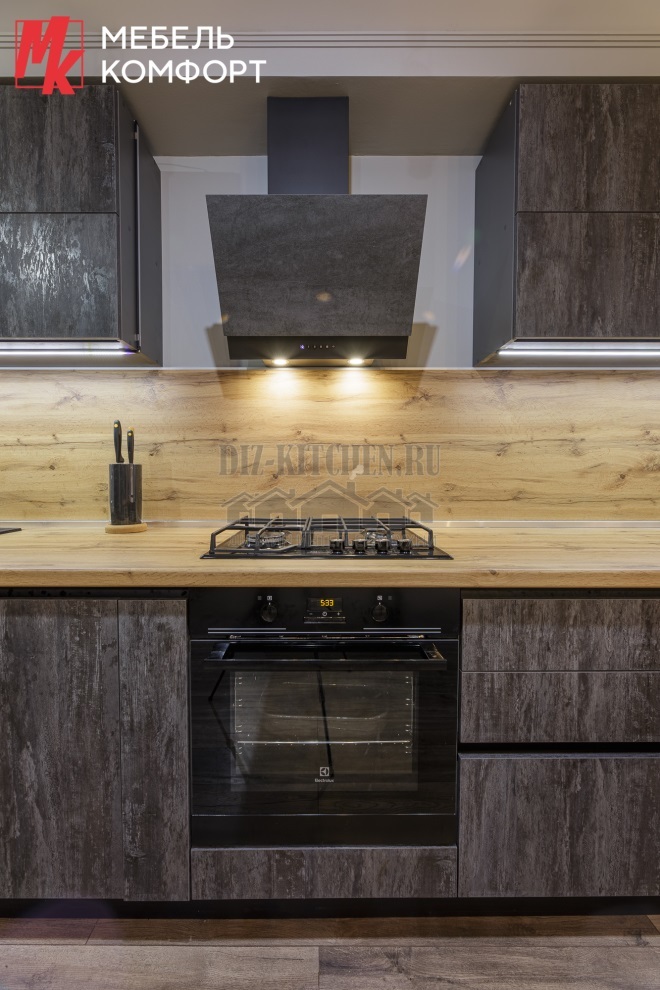 The lower tier has a built-in dishwasher.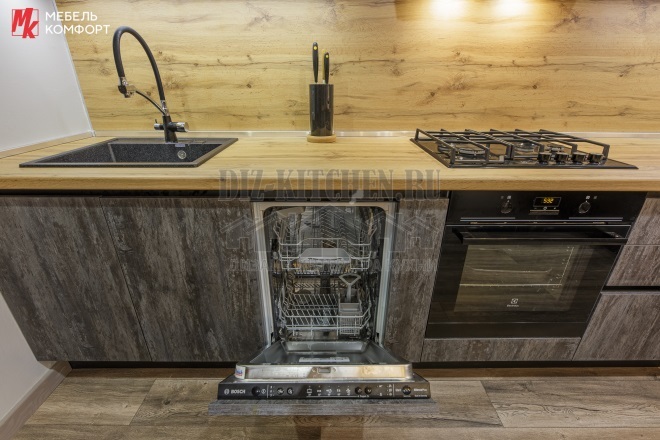 Vinnytsia is made of laminated chipboard in PVC film, anthracite color. It is installed under the bar counter. Thus, they filled in the empty space, which is not accessed very often.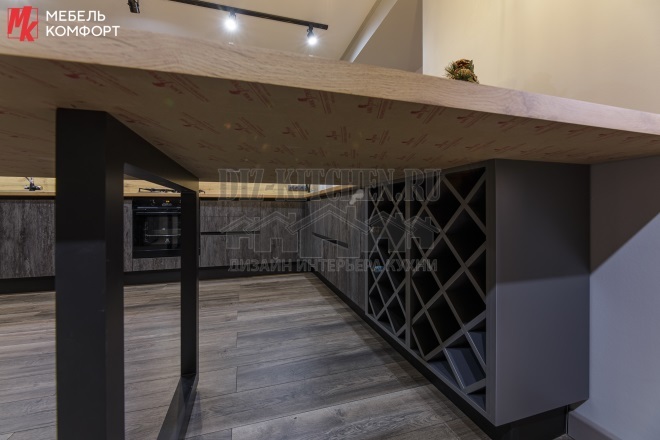 Dish dryer 800 mm wide made of stainless steel. Cutlery tray in metallic base, 600-650 mm wide, with an anti-slip mat inside.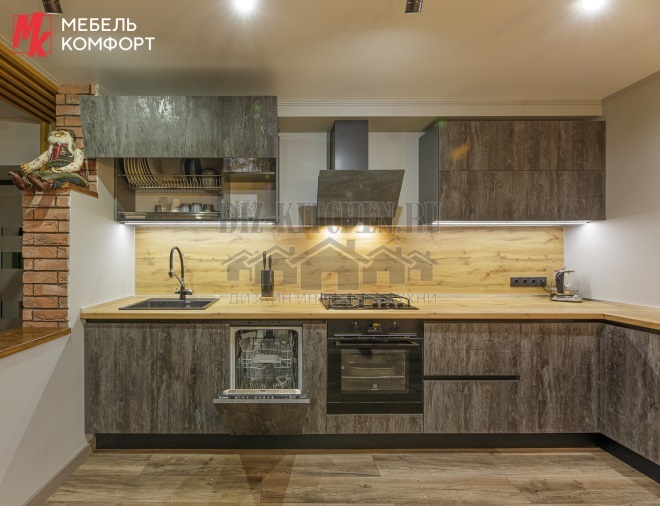 Unusual, bold and modern cuisine creates a unique atmosphere in the room, emphasizing the individuality of the owners.
average rating 0 / 5. Number of ratings: 0
No ratings yet. Be the first to rate.