The apartment is a small size Lithuanian project. Headset dimensions - 208 * 140 cm. The height of the furniture is 230 cm. This is an economical option, which nevertheless turned out to be interesting and attractive.
Made in the company  Sura Elite,
suraelit.ru
G. Saransk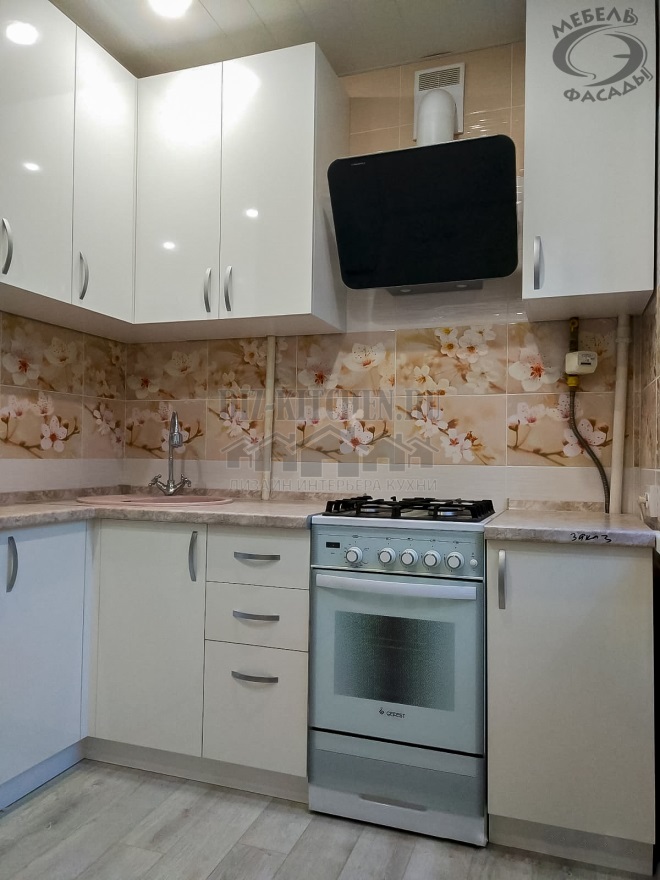 Attention! Earned on our website kitchen designer. You can familiarize yourself with it and design your dream kitchen for free! May also come in handy wardrobes designer.
It is clear that for a small room the choice is unambiguous - only light surfaces so that the interior does not seem gloomy and dark. The light gloss of the facades made the room more spacious. The furniture looks quite impressive, because the shine of the facades visually facilitated the deaf furniture sections.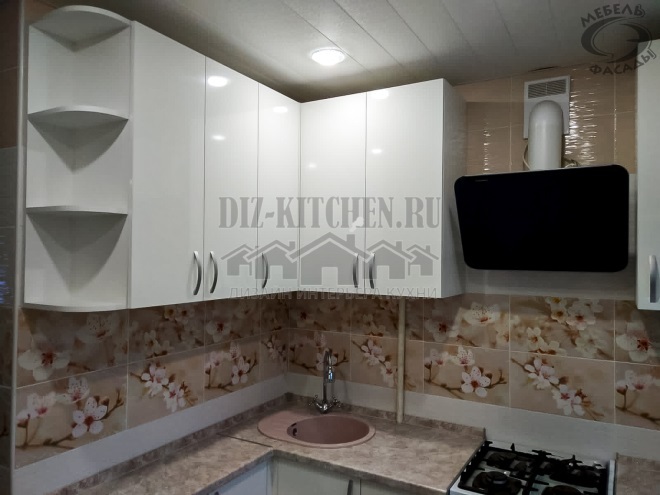 The body is made of laminated chipboard Uvadrev, white. Facades - glossy plastic, from Arpa, article 0028. Such sections are not afraid of moisture and mechanical damage. The reflective surfaces have enhanced the lighting in the room, as these materials have a very high gloss level.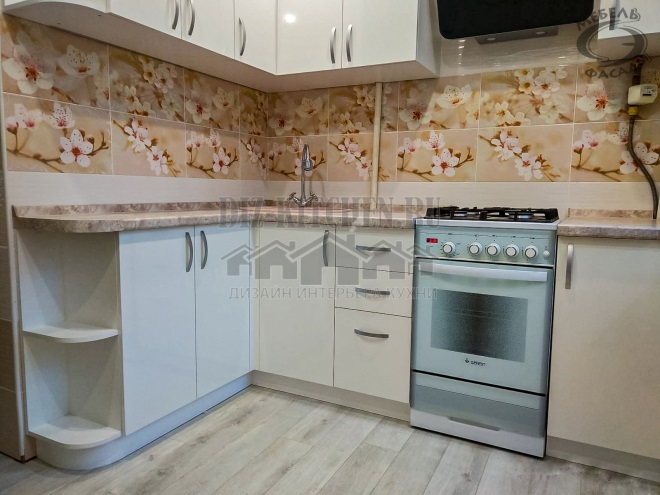 The furniture set is the simplest, designed for a typical apartment. At the entrance, above and below, we have open shelves with a small radius. So the furniture does not interfere with the passage at all, but at the same time, you can put all kinds of decor on the shelves and the room will immediately transform.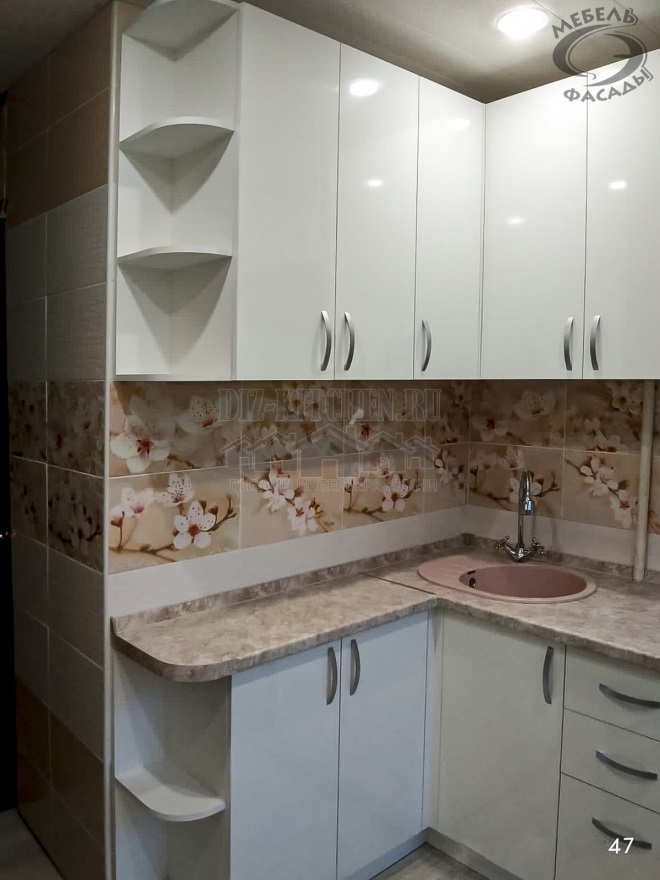 A tiled apron with a floral pattern has become a real decoration of the kitchen. The image of cherry blossoms revived the austere framed facades without any decor. Together with the beige and brown countertop, it creates a dark center that creates depth and changes the geometry of the room.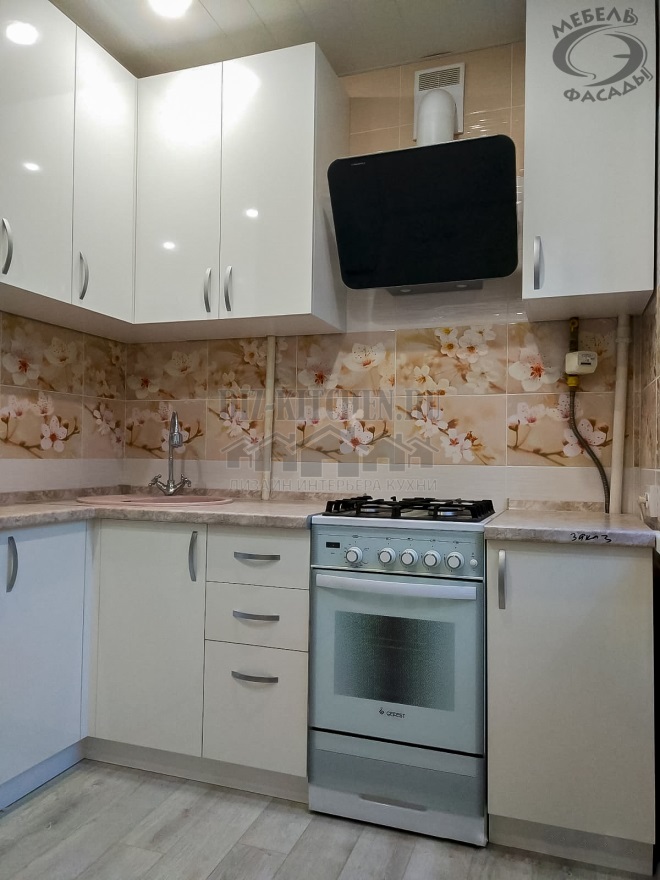 Matt table top Skif malaga, beige and brown. The stains imitate stone and such a surface contrasts wonderfully with the glossy facades. Round stone sink, matching the facades and apron.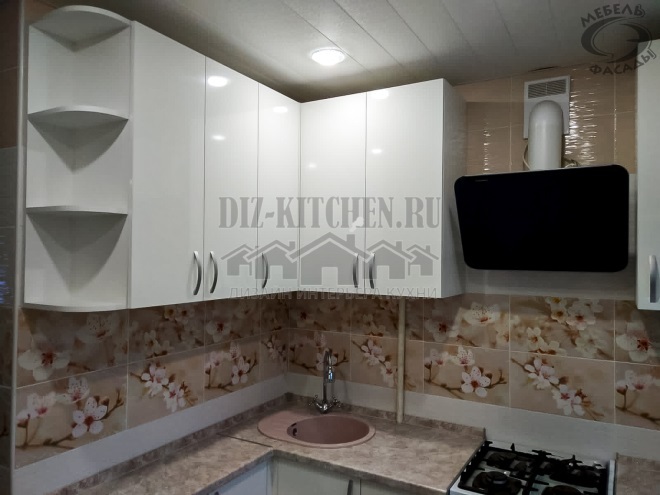 Kerron handles matt. All Blum fittings. It provided smooth movement and quiet door movement, as well as full access to content.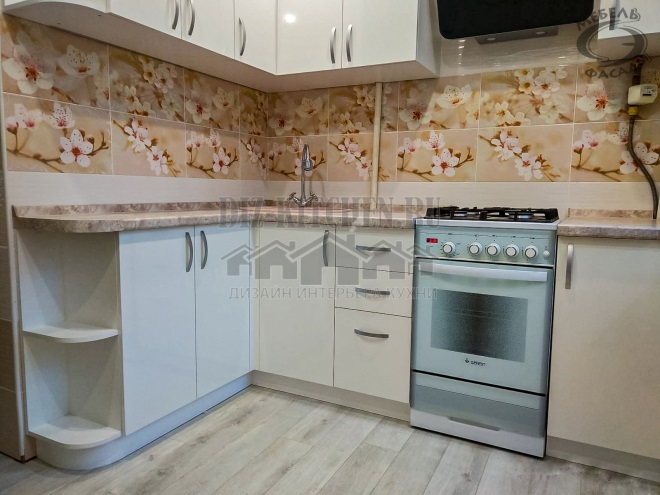 The graceful shine of the facades and the bright apron attract attention. The modern bright kitchen is not lost at all against the background of the walls. In addition to its attractiveness, it is also very functional. And it has everything for fruitful work and rest.
average rating 0 / 5. Number of ratings: 0
No ratings yet. Be the first to rate.