Stylish, elegant, sophisticated - this is all about our cuisine. It is made in the neoclassical style, in a light cream shade that is actual today. The classic style, of course, gravitates towards tradition, but no one dares to call this kitchen boring and impersonal. But the original and unique is often called.
The kitchen is made in the company:
Furniture studio "Tandem"
G. Kursk
More about the company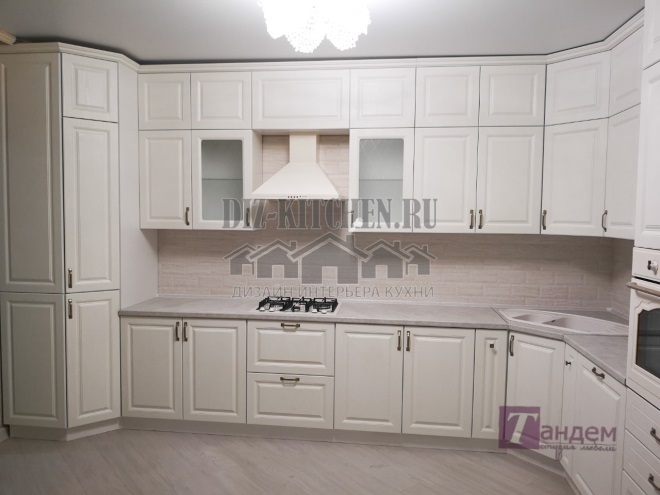 Such monochromatic interiors are beautiful when there are no bright details, everything is harmoniously added to a coherent picture. Graceful handles-staples in combination with small, neat buttons - look very organic on light facades. Furniture case made of Austrian laminated chipboard from Egger. MDF facades are covered with a silky-matte film. Since the upper cabinets are made to the very ceiling, they just had to be diluted with a couple of glass showcases. around the domed hood and open shelves, so that the entire kitchen structure does not look bulky and monolithic.
Attention! Earned on our website

kitchen designer

. You can familiarize yourself with it and design your dream kitchen for free! May also come in handy

wardrobes designer

.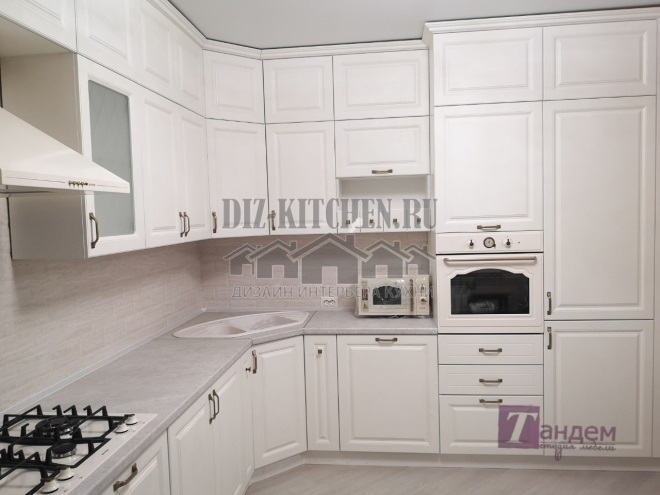 The corner set is large enough - 4150 * 2950 mm. It managed to hide household appliances - a refrigerator, a dishwasher and a washing machine, as well as pipes, a boiler and meters. The refrigerator is housed in a high separate tall cabinet, along with an oven.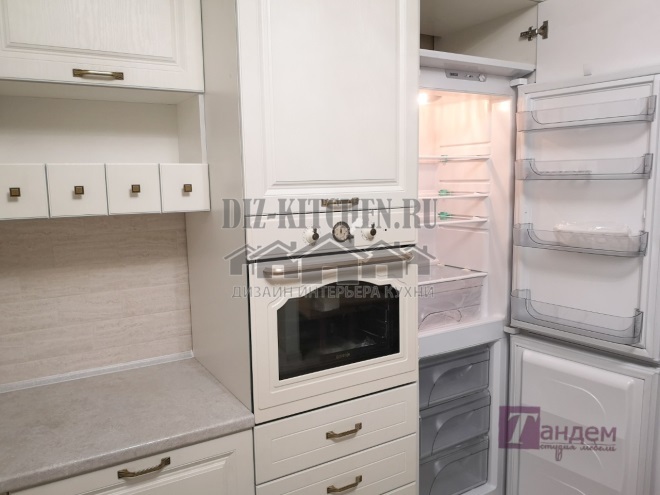 All communications are located closer to the window (boiler and meters), and in order to hide them, we designed a cabinet that protrudes slightly forward, in which all the devices fit. And now the whole interior looks holistic and harmonious.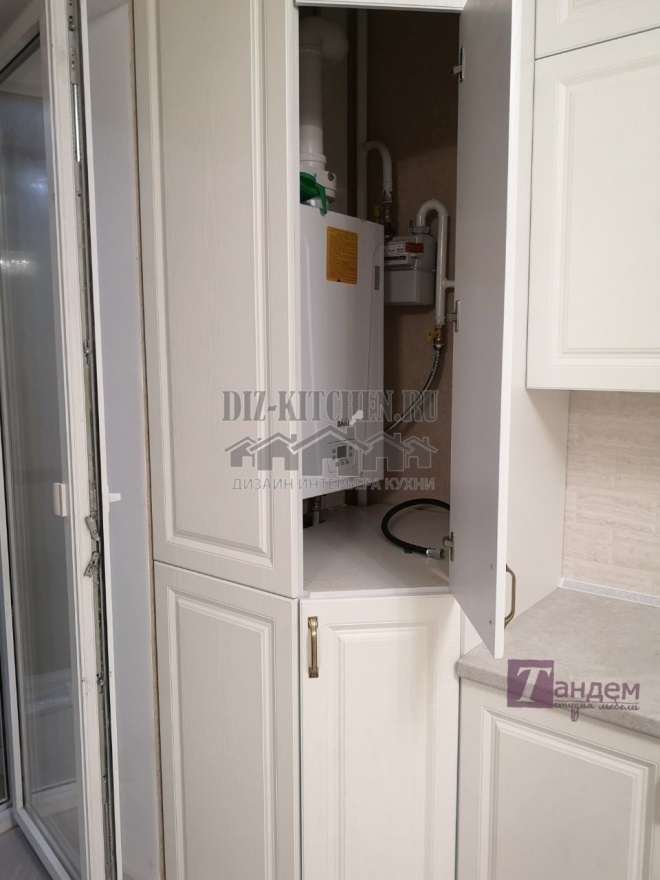 Kitchen space optimized to the maximum: corner sink in the color of the fronts with additional bowl located in a very convenient place - trapezoidal cabinet, which provides a convenient approach during washing utensils.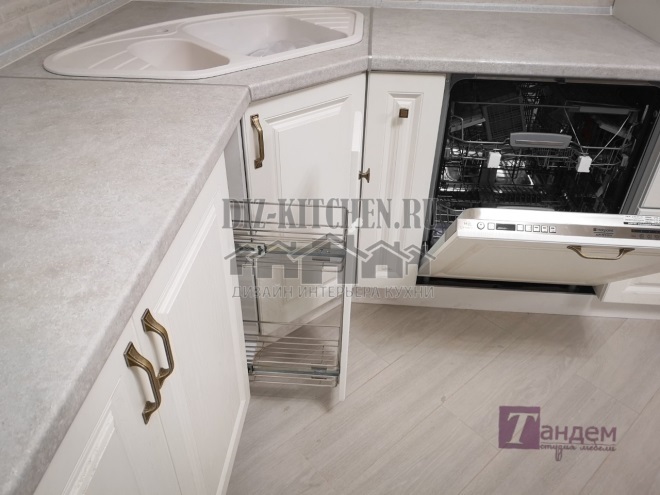 Light gray stone-look countertop from Egger. It is made of moisture-resistant chipboard coated with paper-laminated plastic, is not afraid of high temperatures, acids, moisture, and can withstand heavy loads.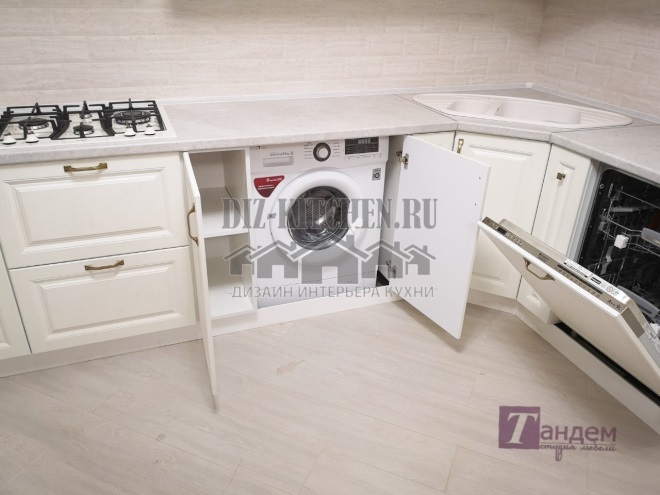 The headset used reliable fittings from Blum. These are guides in the lower drawers and hinges with door closers in the upper ones. The small space that remained free between the drawers was filled with a chrome-plated bottle holder with a door closer, which can be extended up to 90% of its entire length.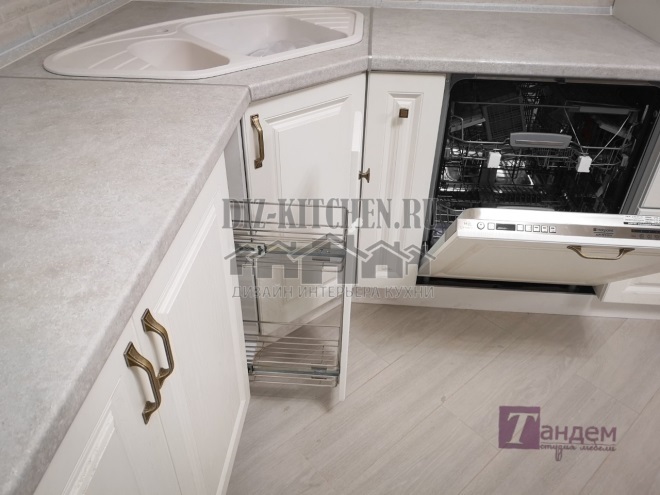 We have tried to make the kitchen as elegant and comfortable as possible, in which all the decor elements are combined with each other.
average rating 0 / 5. Number of ratings: 0
No ratings yet. Be the first to rate.