Many people choose bright kitchens for a reason. In small rooms, corner furniture occupies an optimal area, because of the color it does not seem bulky and space-consuming. For a furniture set measuring 146 x 345 cm and a height of 269 cm, we have chosen a contrast of textures. Several monochromatic shades and different textures look very interesting, while remaining an elegant and graceful interior.
Made in the company  Sura Elite,
suraelit.ru
G. Saransk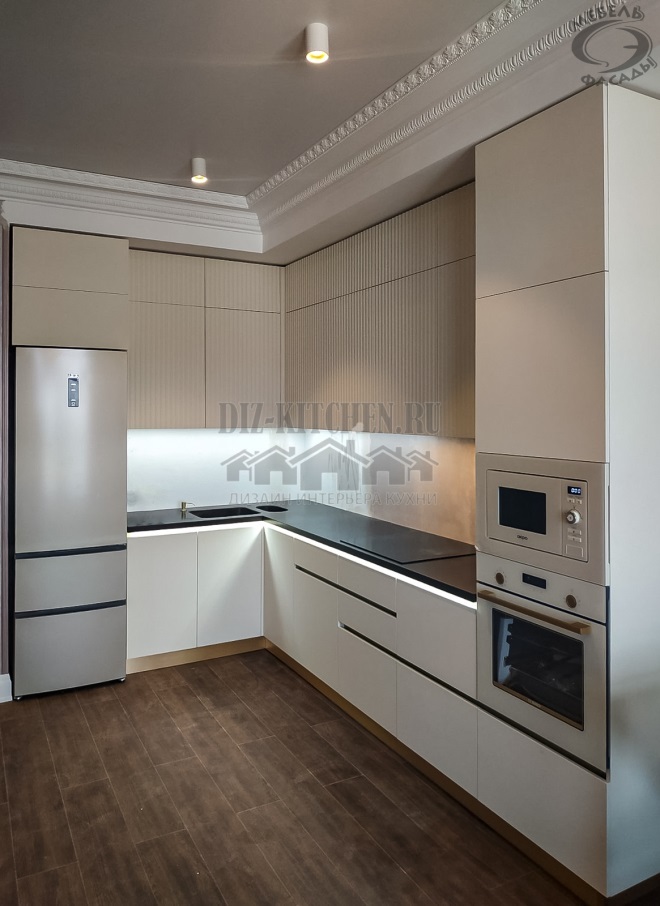 Attention! Earned on our website kitchen designer. You can familiarize yourself with it and design your dream kitchen for free! May also come in handy wardrobes designer.
Mother-of-pearl furniture body is made of laminated chipboard Uvadrev. The facades are covered with PVC film from Decoline, Panna Cotta color. Matte surfaces with a soft coating, a color somewhere between milk and ivory, have a velvety structure that is pleasant to touch.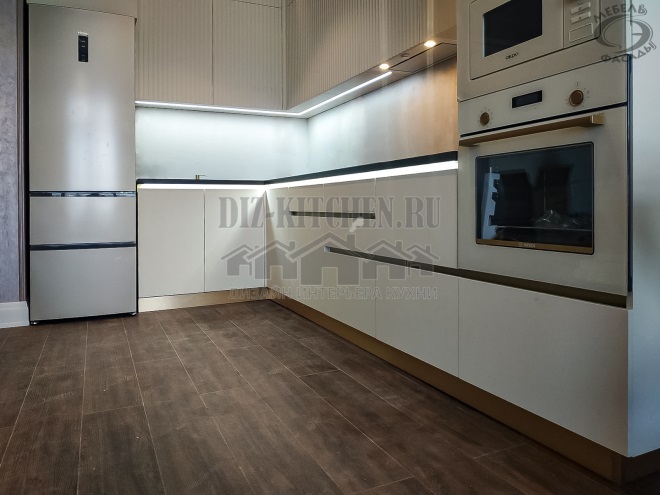 The milling of the upper facades is called "The Sea with the Gull". The curved line along the entire top row has brought to life the solid, straight sections, a real highlight of the interior. The lower fronts are milled differently. They look straight and even, but there is still a slight bevel around the edges (soap milling).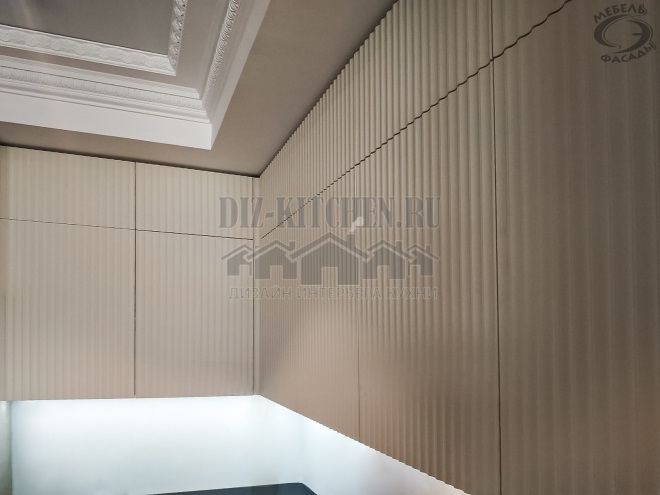 Black countertop from graniStone poured stone Vizantiya Corsair collection. A dark stone work surface is very practical. In addition, against the background of light facades, a black stripe additionally visually divided the furniture into top and bottom.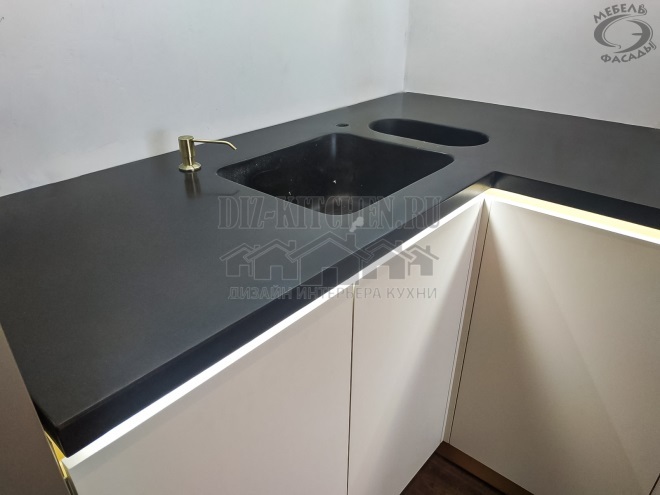 Cut-in handles - Gola matt gold. Gold handles give the light surfaces a special charm. Facades with such edging look much more interesting than if they were solid white surfaces. The golden touches of the cut-in handles, along with the dark refrigerator handles and black countertop, gave the solid white surfaces some liveliness.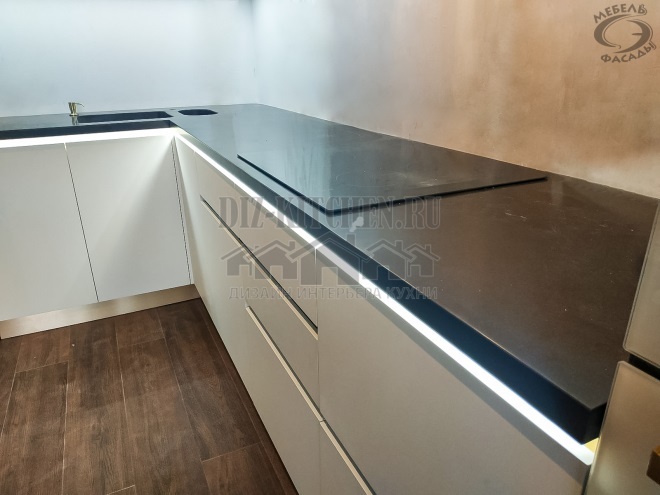 Base - MAKMART brand, matt gold color. Together with gold handles, it enhances the beauty of matte white cabinets.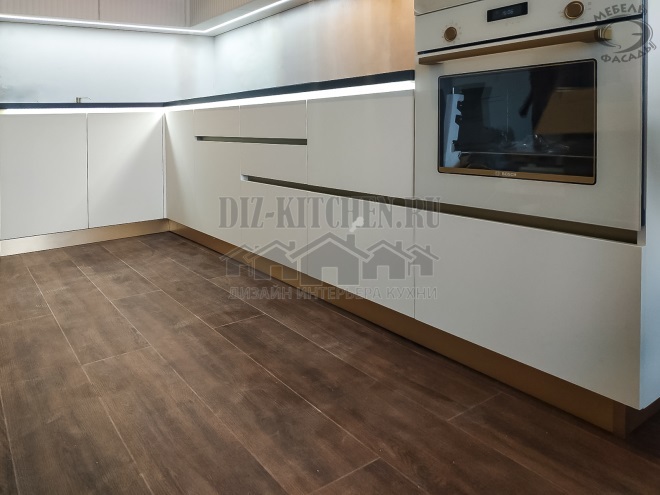 The mother-of-pearl cream fridge goes well with both matte fronts and gold details on the plinth and handles.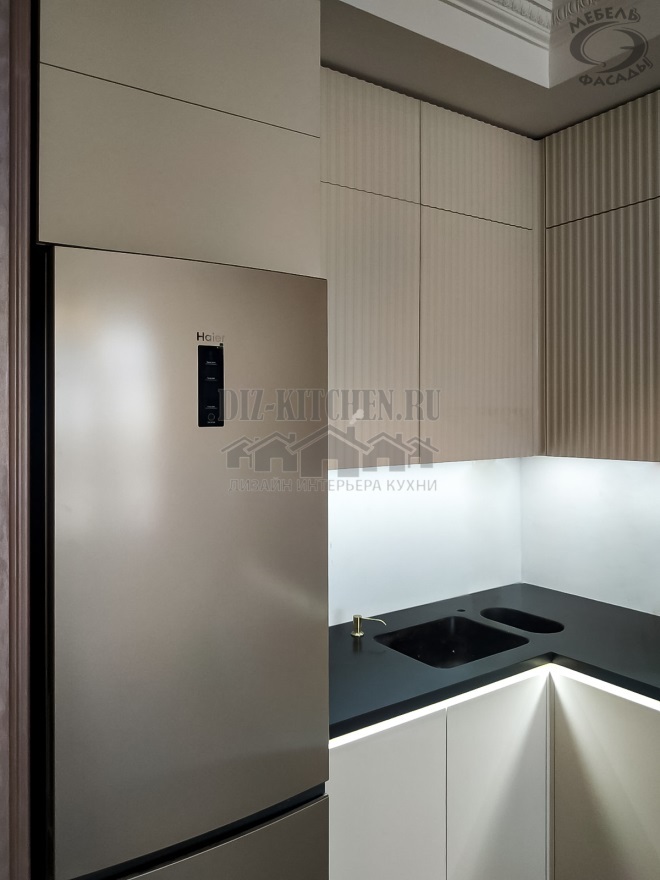 LED lighting is built into the worktop and the lower base of the wall cabinets. When turned on, part of the upper facades located in the depths acquires a different, deeper shade. And under-counter lighting gives the modules the appearance of floating above the ground.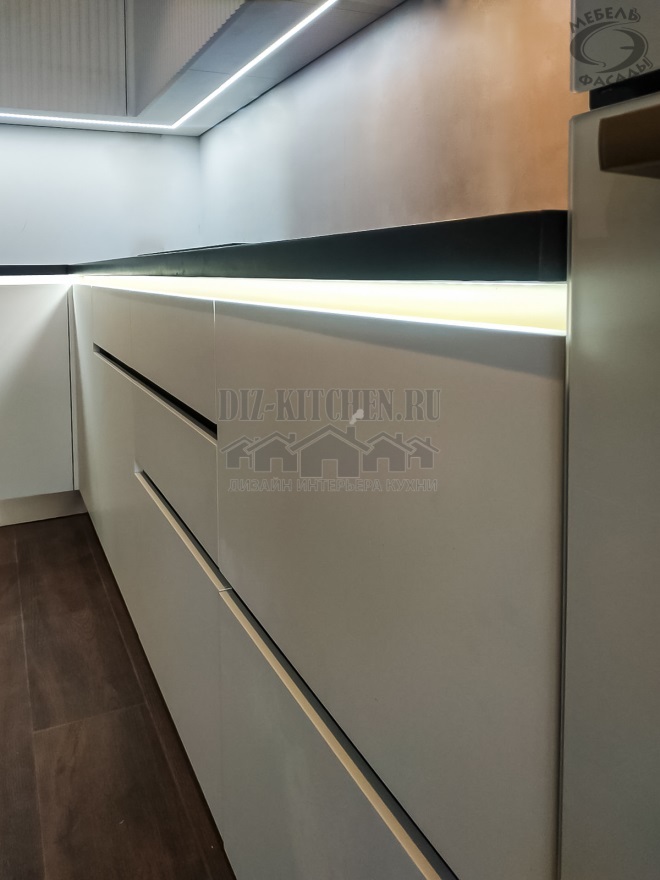 A cabinet for household appliances is an excellent solution that allows you to conveniently place household appliances vertically, saving space. Moreover, the built-in oven and microwave are at a comfortable height and you no longer need to bend over to the oven.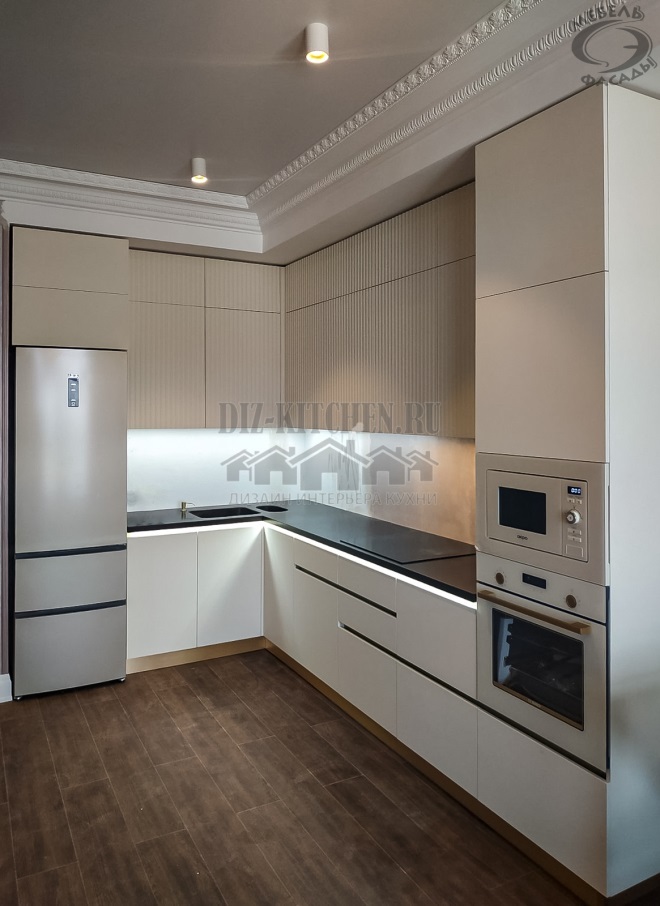 Fittings - Blum. These are high-quality and multifunctional mechanisms, comfortable to use, with a long service life.