Often, kitchen design looks monotonous and meager. Being in such a room, for example, in the morning, we will not get a charge of positive emotions for the whole day. Photo wallpaper for the kitchen will decorate the photo only if the image is correctly selected.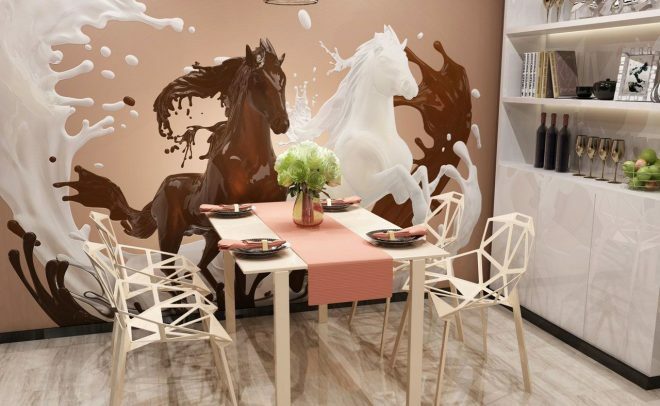 A couple of decades ago, in Soviet times, this type of decoration did not look very presentable. Much has changed over time. Now the material used is more resistant to temperature extremes and moisture. Also, there were more new ideas, textures, colors. In a word, all the conditions have been created that allow you to create a kitchen design with photo wallpaper on the wall, in harmony with the surrounding furniture as much as possible.
Attention! Earned on our website kitchen designer. You can familiarize yourself with it and design your dream kitchen for free! May also come in handy wardrobes designer.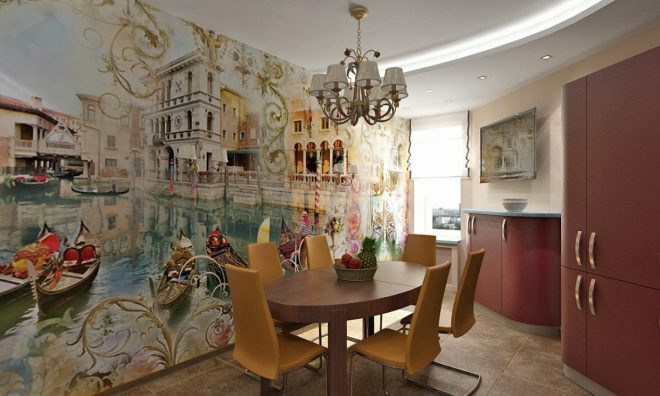 Features and properties
Before choosing the material and pattern of photo wallpaper, you need to learn about their main properties and characteristic features.
Moisture resistance. The kitchen is always humid due to regular cleaning and evaporation of water during cooking. Photo wallpaper manufacturers took this into account, so the material is often moisture resistant.
Lightfastness. The kitchen is a well-lit area in the apartment. For this reason, kitchen wallpaper must be resistant to direct sunlight to prevent fading.
Strength. The quality, durability and reliability of wall cladding depend on it.
Vapor permeability - an indispensable factor that ensures the maintenance of a normal microclimate due to the soon drying out of the walls.
In addition to physical characteristics, wallpaper in the interior of the kitchen must be combined. Therefore, you should be very scrupulous in choosing a photo. An image of a city at night, etc. is hardly suitable. For the kitchen, it is better to choose a photo of light colors and textures. Of course, there are exceptions - a kitchen in dark colors will not accept light wallpaper.
Types of materials
The main classification of wallpaper is according to the material used. The finishing material, including the photopanel for the kitchen, must meet all the parameters described in the previous paragraph. Next, let's take a look at which types of wallpaper are a good option and which are not.
Washable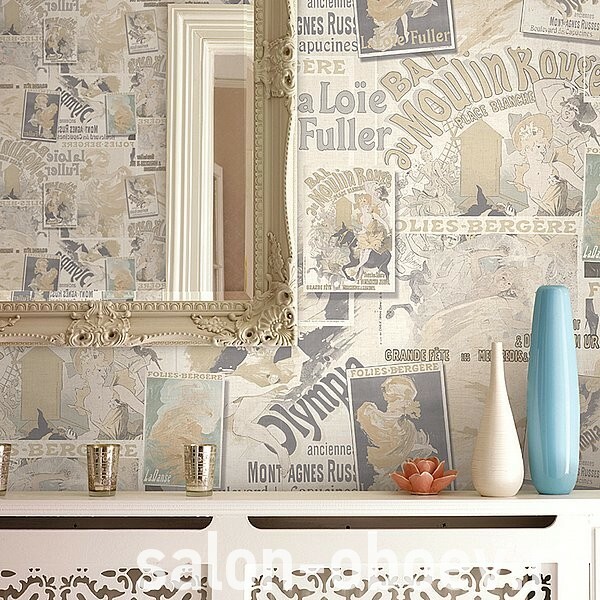 This type of wallpaper is made of waterproof material. They finish off the walls in rooms where the humidity is stable or where it is often necessary to carry out wet cleaning. Washable wallpaper is not a separate type, but the general name of several varieties: vinyl, acrylic, glass wallpaper, metal wallpaper, cork with a wax coating... These materials are moisture resistant, resistant to mechanical damage and pollution.
Non-woven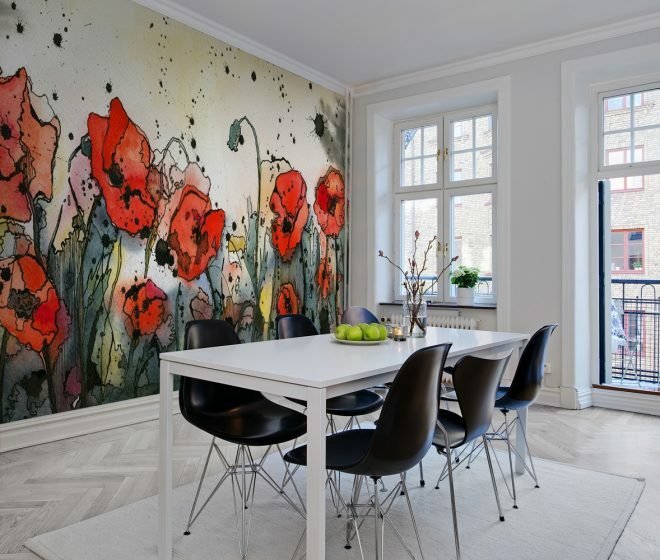 The second name is "improved paper". They are called so because they are based on cellulose fibers bonded with strong polymers. The difference from ordinary paper lies in the higher parameters of wear resistance and fire safety. Such wallpapers are often chosen for painting. You can apply the paint several times. For coloring, choose acrylic or water-dispersion. Sometimes vinyl wallpaper can have a non-woven backing. This is a transparent material, therefore, before gluing the wallpaper, you need to take care of a high-quality wall decoration.
Paper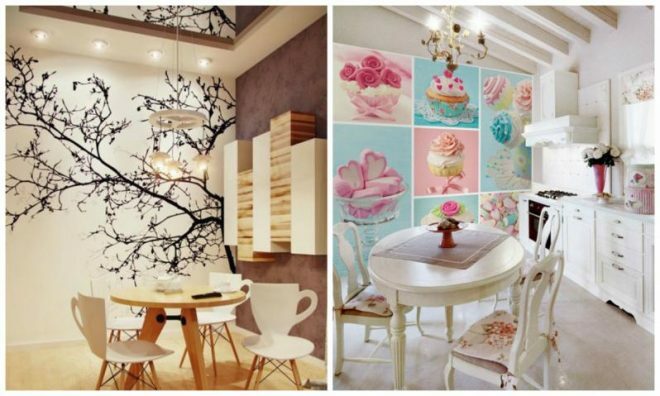 Popular for their low price. The base consists of paper and is covered with a vinyl PVC layer. This coating can withstand several cleanings. Of the minuses, it should be noted a short service life, which is less than a year and sensitivity to temperature extremes.
Vinyl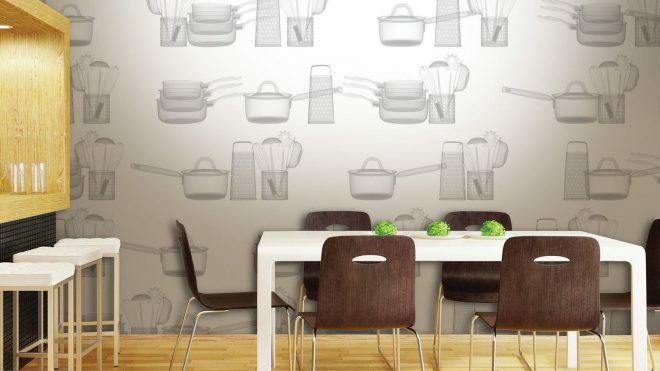 This type consists of 2 layers. One of which is either paper or non-woven. Foamed or silk-screened material is chosen as the second. Vinyl wall murals are considered the most reliable, durable and easy-to-use at the moment. Among the shortcomings, one should highlight their toxicity (studies confirm that vinyl evaporates harmful substances), poor vapor permeability. Thus, moisture can linger under the wallpaper and give rise to mold. But if you treat the walls with a primer, then you will not face such a problem. The most popular option is foamed vinyl. It is best breathable, but has low water resistance. Silk-screen vinyl wallpapers are considered the most attractive. The most varied and effective ones consist of glossy materials.
Choosing a plot
It is not difficult to choose the right picture if you initially know for what purpose it is needed. For example, you can choose images of fruits, vegetables, or other foods in red tones to whet the appetite of household members. Losing weight people need shades of blue. It can be nature, landscapes, flowers, abstract and geometric images.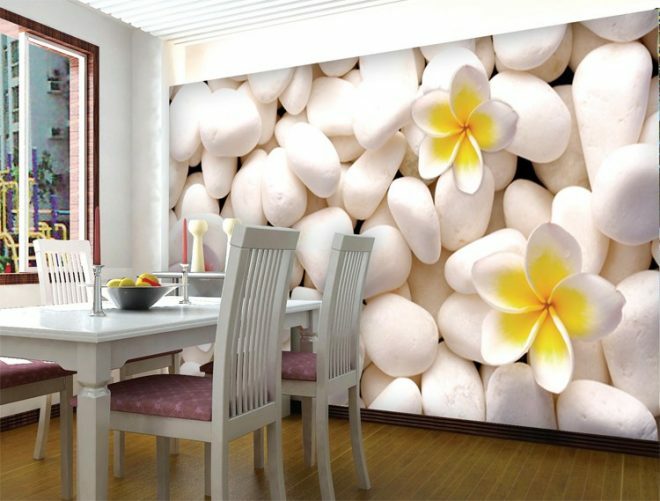 The color can be chosen based on the interior of the kitchen. For the classic, light, pastel shades are suitable. As a plot, you can choose vases with flowers, a marina, miniature gazebos, etc. Modern style demands contrast and clarity. Examples include bright patterns on a black and white background, metropolis, geometric shapes, 3D images. The Provence-style dining room will be decorated with countryside landscapes, flower fields.
Photo wallpaper for the kitchen near the table can emphasize this area with the image of a cup of coffee, kitchen utensils. In general, everything associated with eating.
Ideas for a small kitchen: how to expand the space
The color should be chosen from light colors. This will visually expand the space of a small kitchen, add light and lightness to it. The following shades should be preferred:
peach;
coffee;
light yellow;
pink;
beige.
I must say that dark, bright, large drawings are not suitable for a small kitchen.
The motives for photowall-paper can be varied. It is advisable to choose pictures without clear boundaries and with the effect of horizontal stretching of the walls.
Beautiful photo wallpaper on the wall, photos for the kitchen can significantly transform, if you approach it correctly to its choice.
How to combine with regular wallpaper
There are just a few guidelines here:
Wallpaper and wallpaper should be in harmony not only with itself, but also with surrounding furniture and decorative elements.
The photo must be complete, not distorted or cut off.
Wallpaper can use as a framing of cabinets, bedside tables etc.
Looks very nice color combination of photo wallpaper and bed linenthat contrast with the main background.
Designer tips for selection
The design of a kitchen with wallpaper on the wall can be entrusted to the best experts in Moscow. But if you want to decorate the room yourself, we recommend that you familiarize yourself with the following tips:
To make the interior more interesting, make the wallpaper the main element, choose a large area for pasting. Place the wallpaper on the main wall in the room, remove all unnecessary things that may interfere with the drawing.
Better to buy animated and hand-drawn pictures. Do not overuse photographs, especially large format ones, because they look unaesthetic.
The combination of color schemes, style between wallpaper and any element of the kitchen (whether it be a dining table or small vase) is a mandatory requirement, without which it is not possible to decorate a room with high quality it will work out.
Photo gallery: photo wallpaper for the kitchen in the interior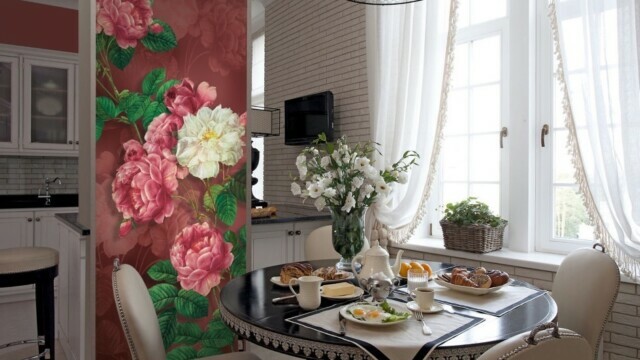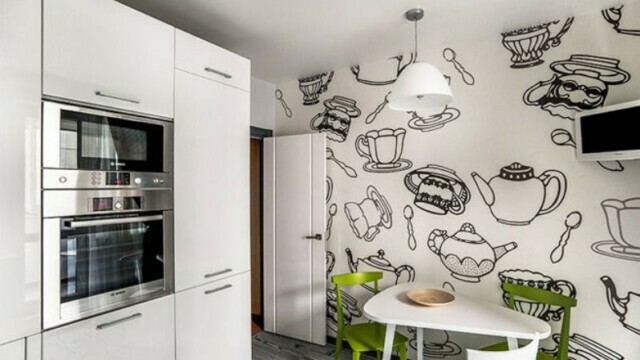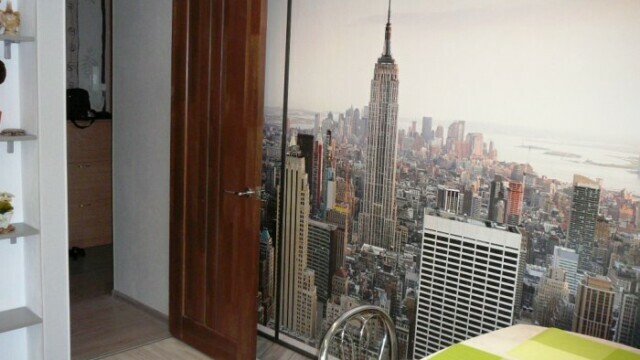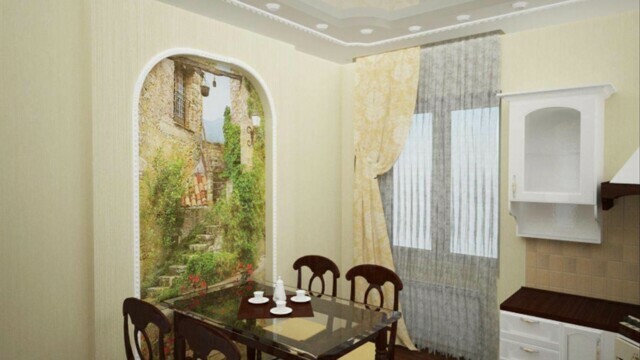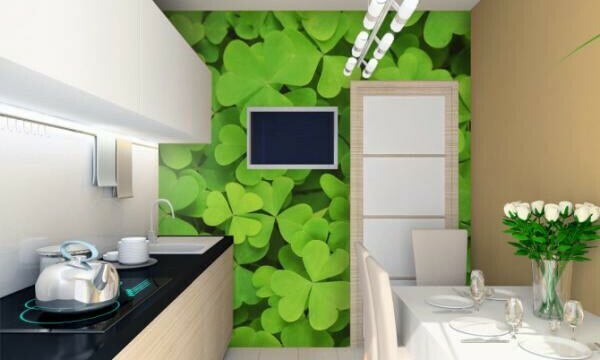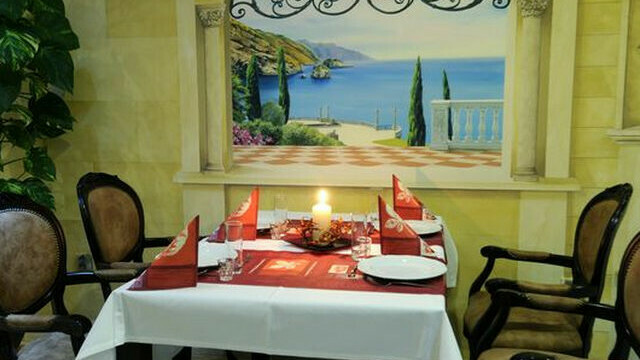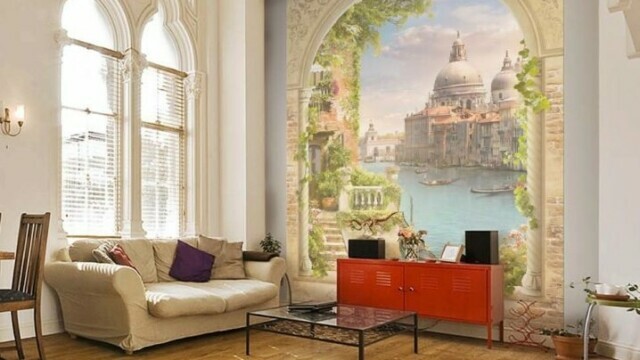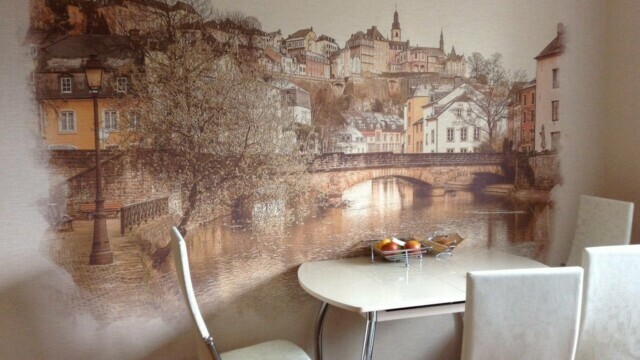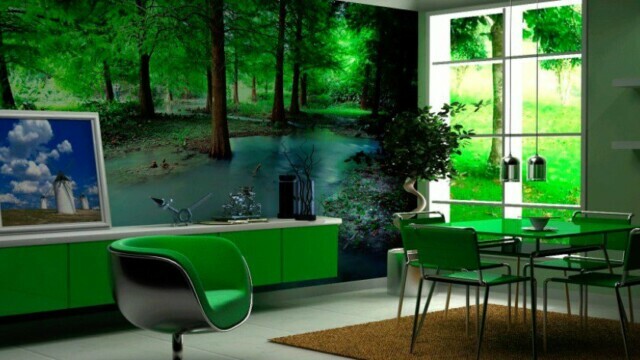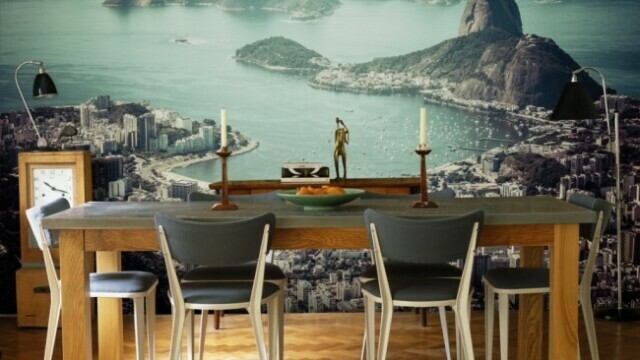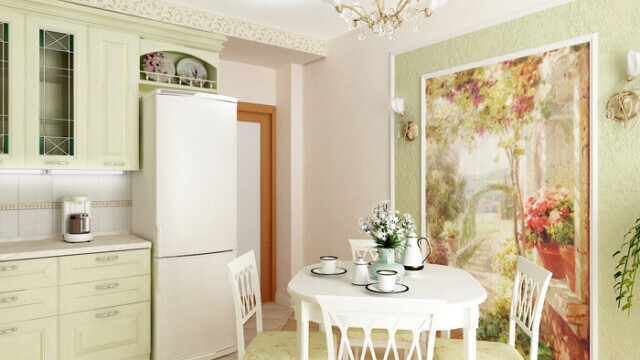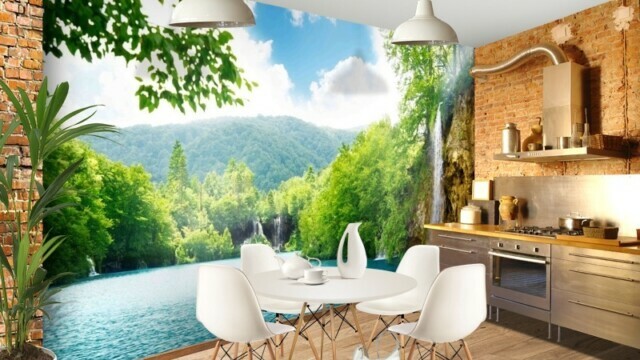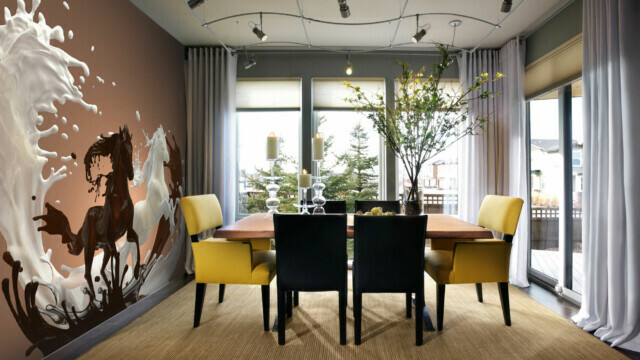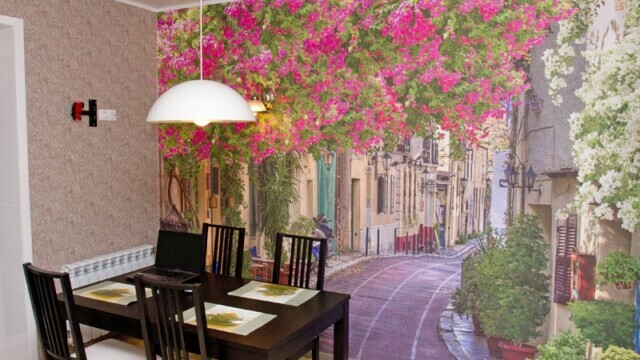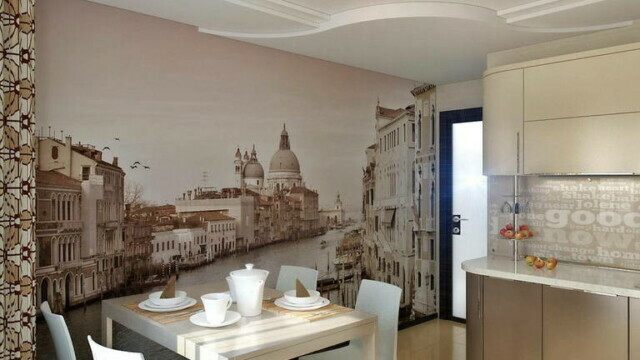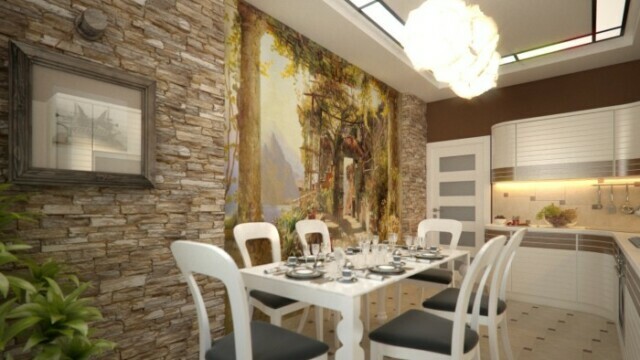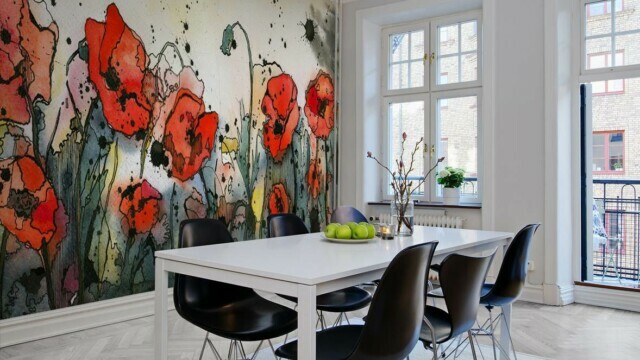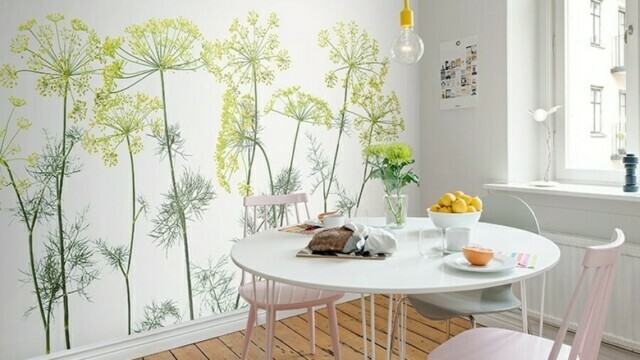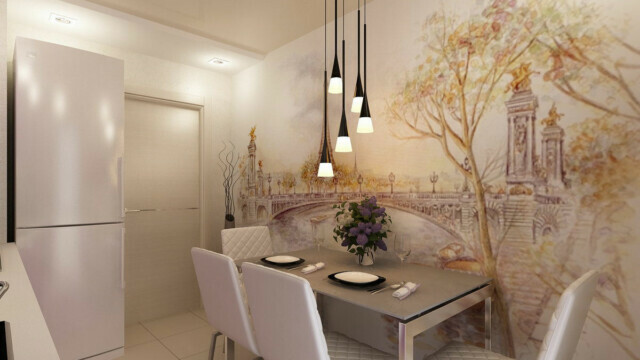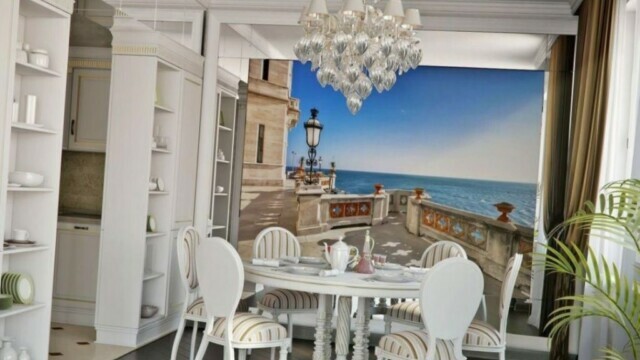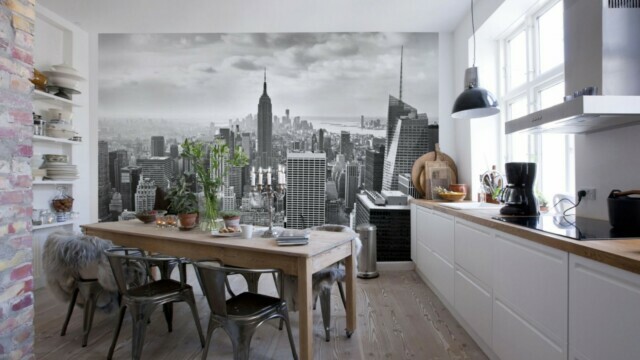 average rating 0 / 5. Number of ratings: 0
No ratings yet. Be the first to rate.