Our kitchen is probably the most compact option of all. The new apartment turned out to be not as much square meters as we would like. Therefore, they chose furniture so that all things were behind the facades. A single style is present throughout the house - a wardrobe, furniture sections and an island table harmoniously echo each other.
The kitchen is made in the company:
Furniture company "Katrin"
G. Saint Petersburg
More about the company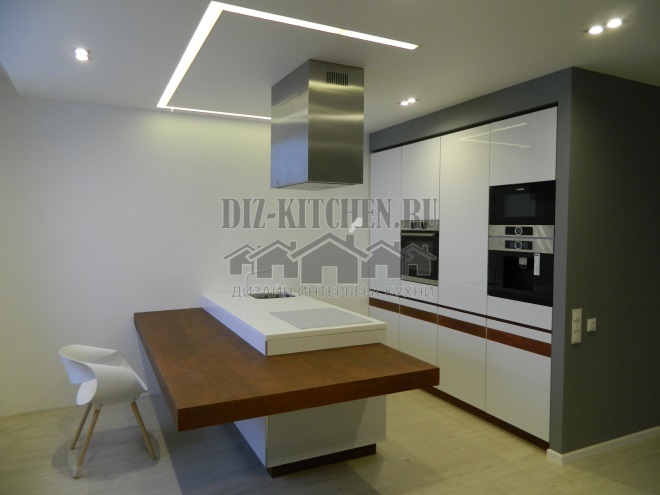 Approval of the project took quite a long time: they clarified the color of the veneer on the facades and countertops, made several paints, selected samples of the facades, joined all the gaps. But on the other hand, the interior turned out to be impressive and interesting, with clear laconic lines. And most importantly, there is a lot of space in the room.
Attention! Earned on our website kitchen designer. You can familiarize yourself with it and design your dream kitchen for free! May also come in handy wardrobes designer.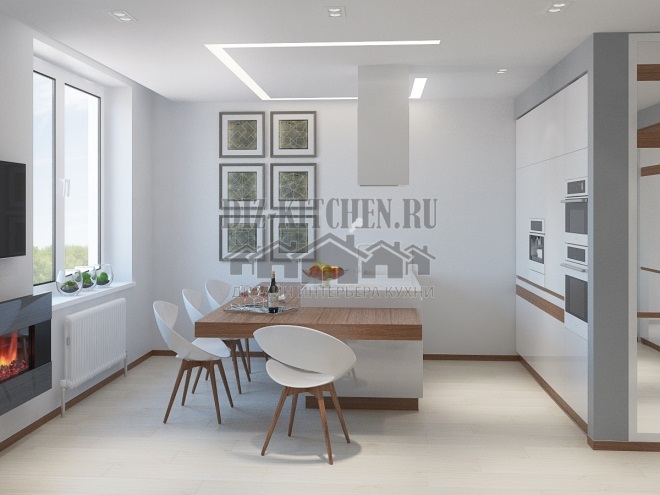 Our apartment is dominated by minimalism - three contrasting colors (white, gray and brown wood), a minimum of decoration, built-in appliances. The brown insert on white gloss is the main design accent designed to dilute the monochrome interior.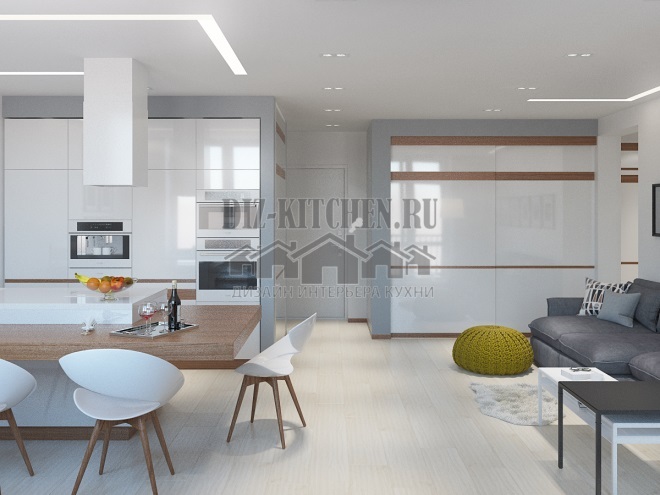 The material of the kitchen body is white laminated chipboard from Egger. MDF facades are painted in gloss. For the manufacture of sections with veneer inserts, the company developed its own technology, in which it was possible to ensure that the veneer matched perfectly to the MDF and was painted.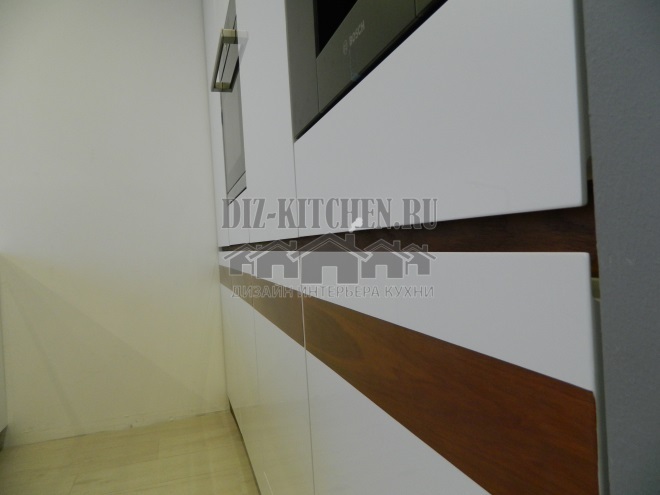 In the kitchen, there is no apron in the solid furniture sections, and all work takes place on the island. Built-in appliances took the place of the apron.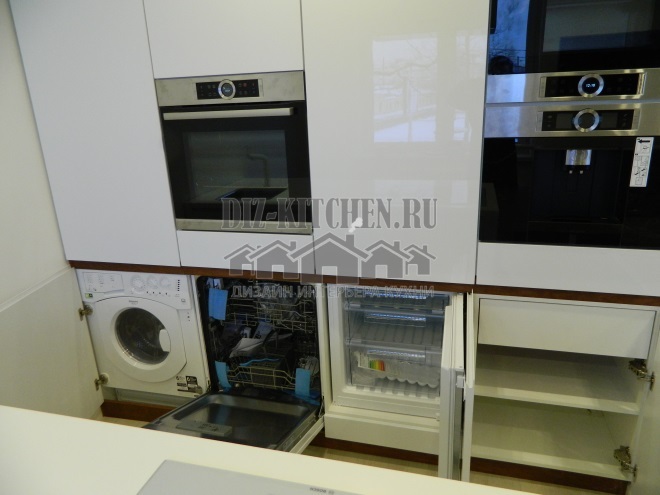 In our case, we perform the usual actions (washing dishes and cooking) in the middle of the room, but in this way we managed to save a lot of free space. Indeed, in the section to the ceiling, not only kitchen accessories are removed, but also things from all over the apartment.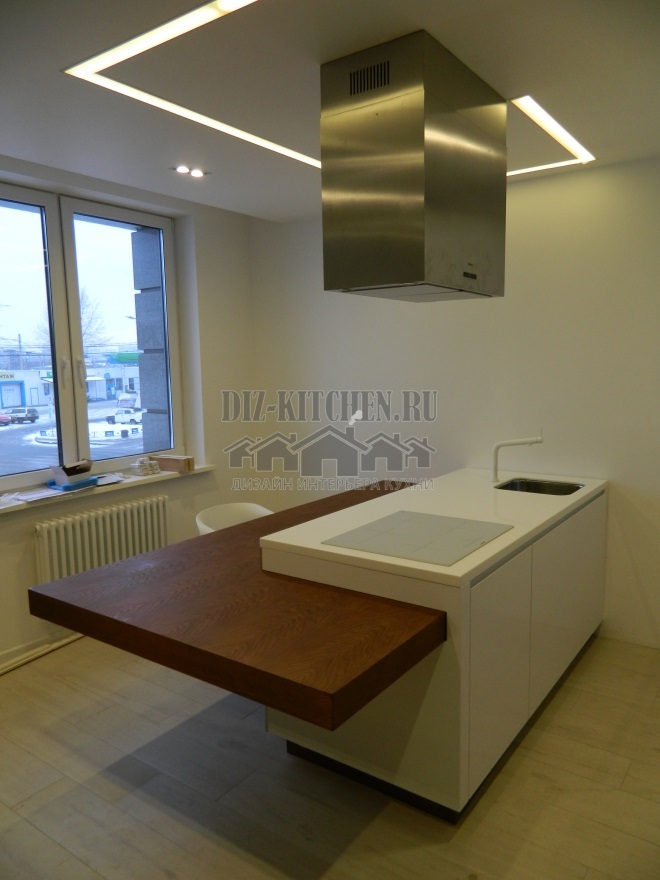 The size of the kitchen panel is 1800 * 2400, the size of the islands is 2500 * 1400. The island is the most functional thing in the kitchen. This is a work surface, a washing and cooking area, a bar counter, a dining table and a few more cabinets below. It also contains retractable sockets.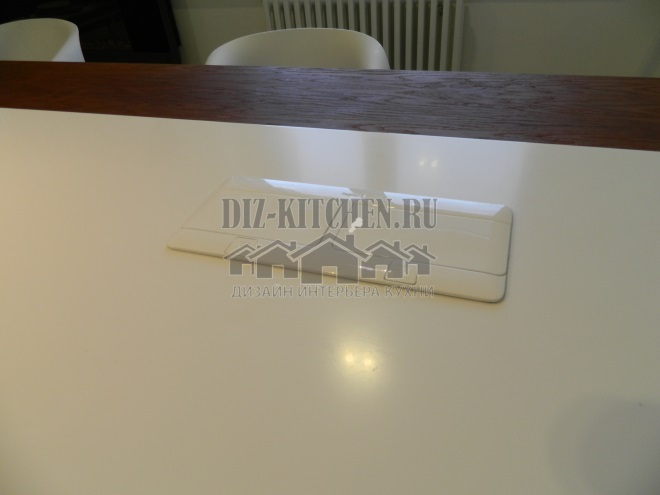 The countertop on the island consists of two layers: artificial stone and MDF veneered with oak, painted with matte paint. A large island hood was placed above the hob.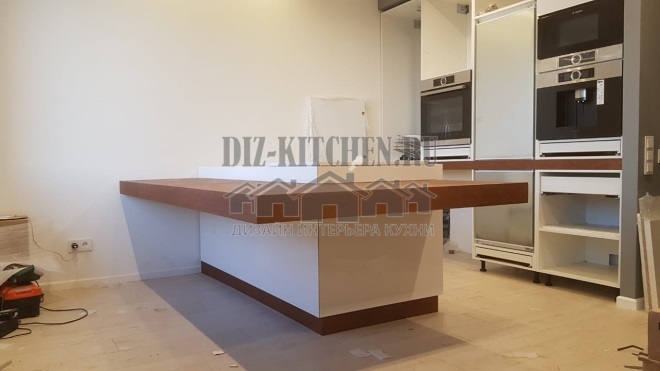 There is a smart door from the German manufacturer Vauth Sagel in the pencil case. These are two pull-out chrome-plated baskets with a door closer and a spacer bar that allows you not to touch the door hinges.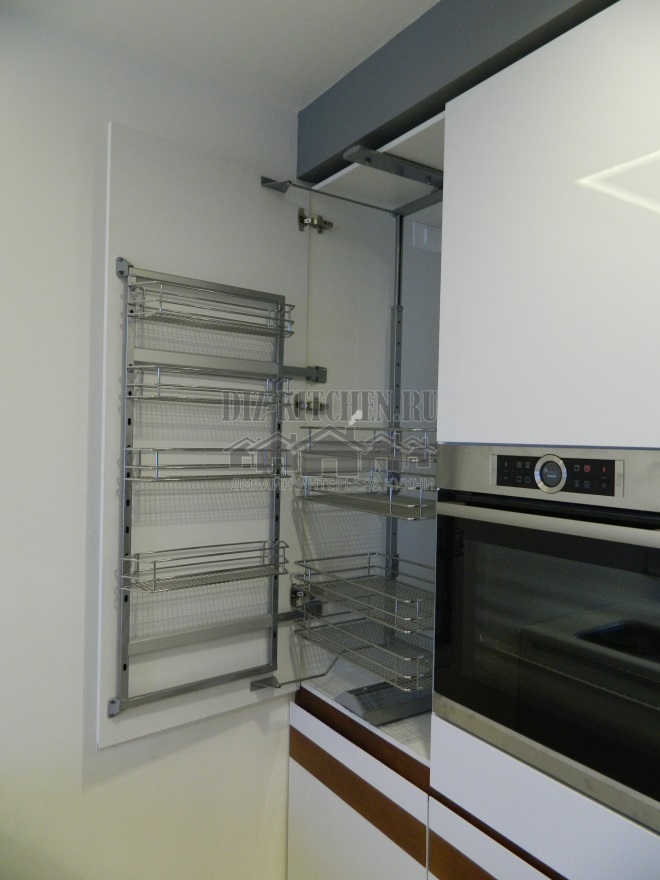 The rest of the fittings are concealed hinges and guides from the German brand Hettich. They provide smooth movement, reliability, comfort and durability.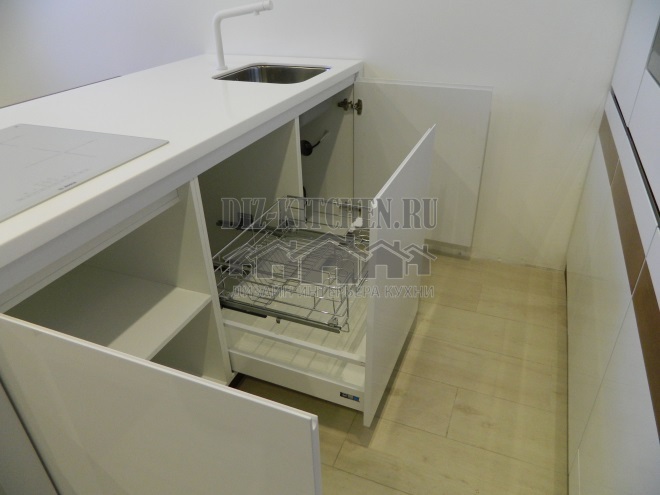 average rating 0 / 5. Number of ratings: 0
No ratings yet. Be the first to rate.