No modern piping system is complete without control elements. After all, without pipe fittings, the flow of liquid or gas becomes uncontrollable. Selecting controls is not so difficult if you have a sketch, diagram or project with characteristics on hand. It is impossible to buy pipeline fittings "by eye".
The content of the article:
What to look for when buying pipe fittings

Types of pipeline fittings

Shut-off

Regulatory

Protective

Safety

Distribution-mixing

phase separating

Pipe fittings depending on the type of pipes

For polyethylene pipes

For polypropylene pipes

For metal-plastic pipes

What are pipe fittings made of?
What to look for when buying pipe fittings
The components used in the laying of plastic pipes are produced for a specific type of line, its characteristics. The body of polypropylene fittings has annular mounting grooves, more often internal, to which the pipe is soldered. The difference between the fitting diameter and the outer size of the pipe billet is clearly regulated by GOST standards.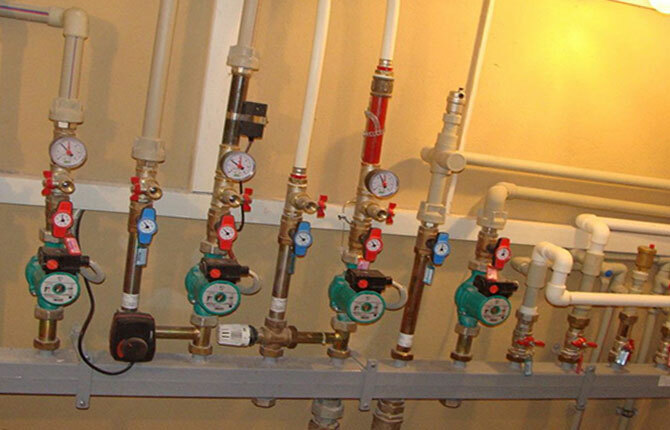 Similar requirements apply to the fitting diameters of pipeline fittings for polyethylene and metal-plastic lines. The only difference is that the fastening at the joint is carried out by crimping or compression using sealing gaskets. Therefore, when choosing, first of all, we pay attention to compliance with the landing dimensions.
In addition to diameters, it is necessary to look at such as a part of pipeline fittings, as the performance characteristics of the pumped liquid medium:
Maximum and minimum liquid temperature. The manufacturer sets the upper and lower thresholds for heating or cooling pipe fittings, at which the part still remains operational. All this is in the passport for the product.
Operating pressure. Its value, as a rule, is included in the marking of pipes and fittings. Indicate the maximum water pressure (bar) at room temperature at which a valve or valve can operate indefinitely.
In the description of the fittings, one can also find such parameters as conditional pressure and throughput of the internal section of the pipeline part. For practice, they have no special value.
Nominal pressure determines the maximum pressure in the process of testing pipe fittings at room temperature. temperature at which a valve or valve is able to operate for a specified period of time, usually 1000 hours.
By this indicator, one can indirectly judge the theoretical quality of the product. The maximum flow rate is required only for the design of heating systems and high power water pumps.
The most important criterion that you need to pay attention to when choosing is the possibility of repairing individual elements with your own hands, preferably without dismantling.
Certain parts of pipeline valves, especially seals, are subjected to crushing and abrasion loads, so they often fail prematurely. Some models allow you to repair pipe fittings by replacing a damaged element, or at least compensate for production. But many cranes are non-separable in their design - this also needs to be paid attention to.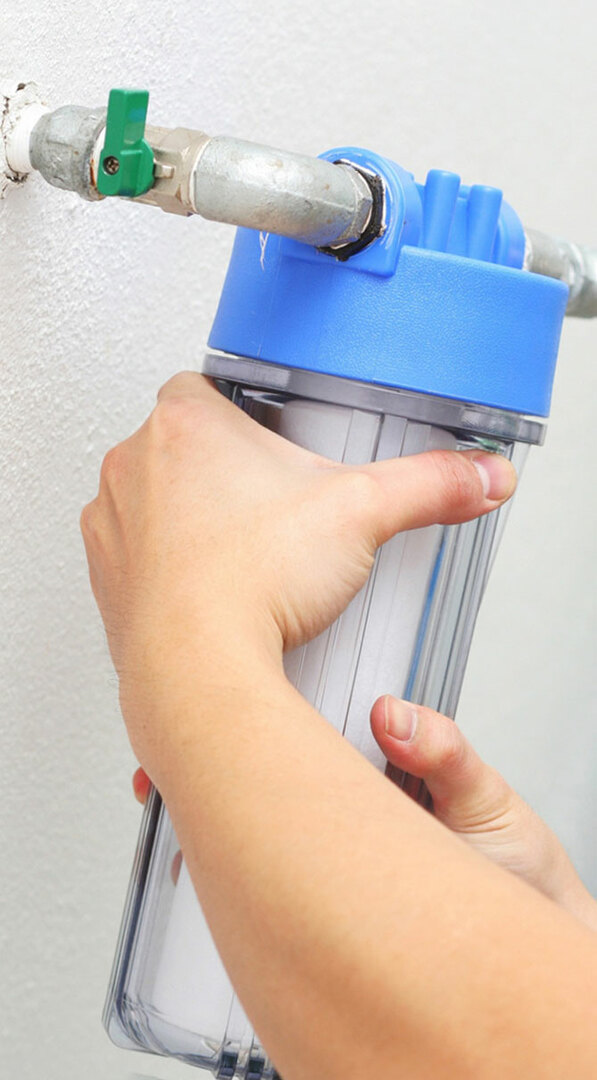 Types of pipeline fittings
The use of additional parts and assemblies on pipes is taken as a necessary, forced measure. The operation of an air duct, water supply or heating system without pipe fittings would be more unsafe for people's lives. In addition, the system must be controlled, often in automatic or semi-automatic mode.
The main functions of pipeline fittings:
locking or regulating - fittings must be present in cold or hot water supply systems;
cut-off or safety - the control system is used mainly in steam pipelines, in heating circuits;
separating - used to trap contaminants inside pipeline lines, remove one of the phases of the steam-water mixture.
Regardless of the assigned functions, the elements of pipeline fittings are always carried out in a housing with ready-made inlets, which simplify the installation-insertion of the assembly into a pipe of a certain type. The selected valve model must match the type and material of the pipeline. Handicraft fastening is not allowed.
Shut-off
This type includes all cranes, ball and valve type, except for mixing. Also, dampers and gates with a transverse curtain, a rotary membrane damper, designed to drain water from heating and irrigation tanks, are also classified as shutoff valves.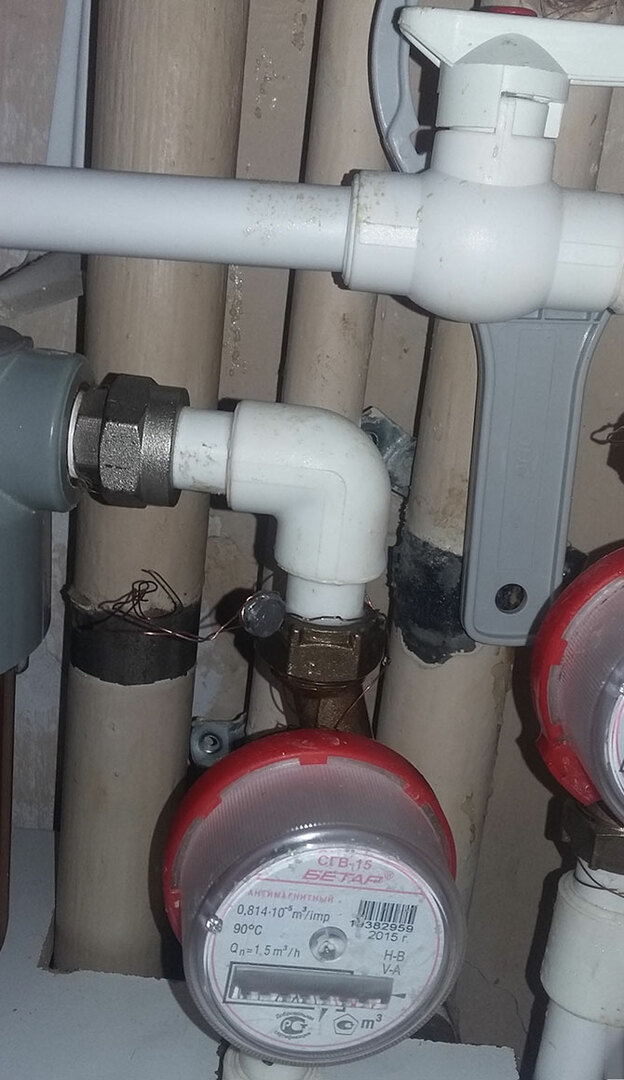 Shut-off valves also include blocking valves that ensure the movement of fluid in one direction. Most often, this type of pipeline fittings is used complete with water pumps.
Regulatory
This group includes devices with control functions. Typically, these include valves with manual lifting of the poppet damper, ball valves that regulate the flow of coolant through a radiator or heat exchanger.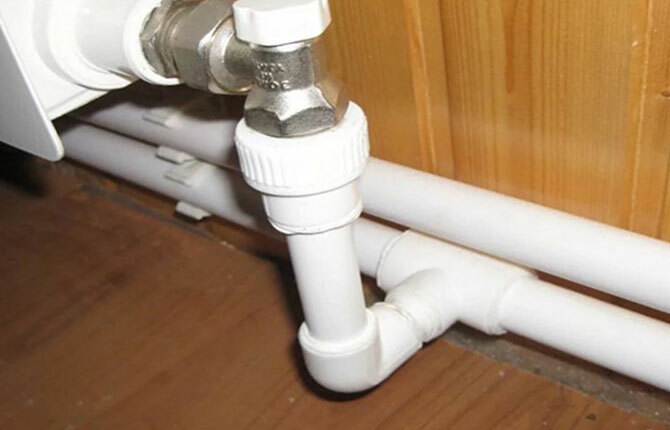 Pipe fittings with manually adjustable flow rates can be used in heating systems water, as well as semi-automatic valve cocks that regulate the flow depending on the temperature water.
A ball valve can only be used as a control valve if the water flow rate does not exceed 30 cm/s. At higher speeds, temperatures and pressures, the ball element is subjected to intense wear and quickly fails.
Protective
Protective type pipeline fittings include valves for relieving excess water pressure, mud filters used to trap fibers and solid particles, and magnetic traps. The latter type of fittings is used on steel water pipes and pipes. They effectively retain rust or scale from cast iron heat exchangers, which allows you to extend the life of pumps and valves several times.
Safety
Usually, the elements of the boiler safety group are included in the list. These include emergency steam release valves, bimetal thermostats and hot water blockers for shower faucets.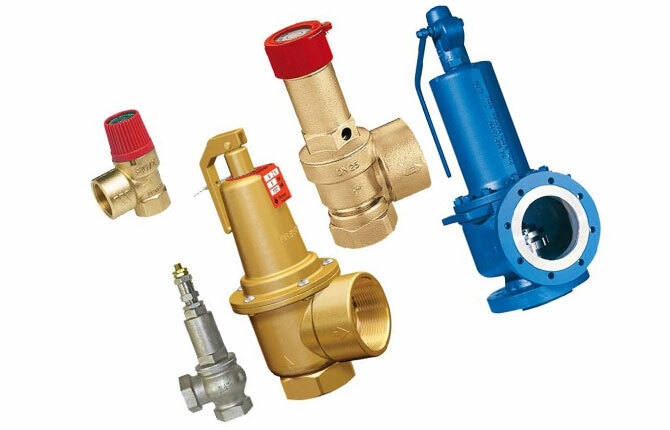 This type of fitting is activated when steam appears in the heating system or when the safe water temperature is exceeded. The first type can be controlled by the pressure of the vapor phase. The second type of pipeline protection is activated and resets automatically.
Distribution-mixing
There are two types of control devices - manual and automatic. Taps on radiators are not taken into account, since in this case only the flow of hot water is regulated. Mixing and distribution of flows does not occur.
An example of a manual device is a mixer tap installed in a shower or bathtub, on a kitchen sink. The simplest models are two taps with gate valves, by rotating which you can select the optimal water flow through a common pipe.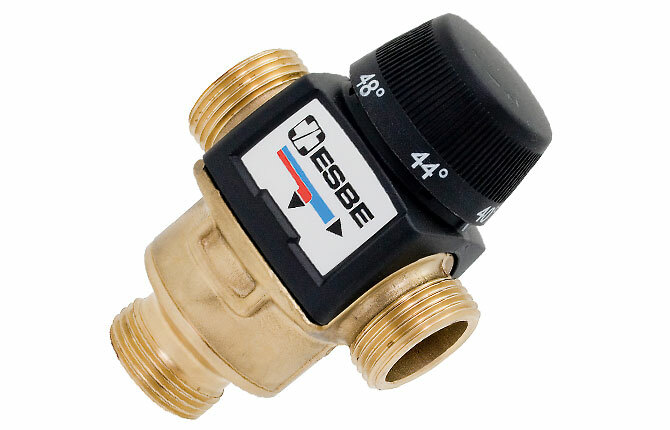 Automatic and semi-automatic piping systems are mainly used for underfloor heating. A semi-automatic two-way valve is installed at the outlet of the common manifold. Boiling water and cold water from the return line are supplied at the inlet.
Depending on the position of the pipeline regulator valve, the amount of hot and cold water is different. In this way, it is possible to regulate the degree of heating of the warm floor, regardless of the temperature of the radiators and hot water for the bathroom or kitchen.
phase separating
This group includes three types of devices - air separators, water condensate collectors, oil separators. The first option is used in heating systems, for example, the Mayevsky faucet.
With its help, most of the air pockets inside the pipes are bled. A device similar in function is installed in double-circuit gas heating boilers.
Condensate collectors are used in ventilation or air conditioning systems. Oil separators are used at the outlet of the compressor units.
And what types of pipeline fittings did you have to install?
Condensate collector.
100%
Voted: 1
Pipe fittings depending on the type of pipes
The design of shut-off and control devices directly depends on the material and dimensions, the method of inserting parts into pipeline lines. For modern household water pipelines mainly used are polypropylene with copolymers, cross-linked polyethylene, metal-plastic. Fittings made of steel or bronze are used only on boilers, industrial high-pressure pipelines.
For polyethylene pipes
There are two types of polyethylene pipelines:
PVD - from a high-pressure polyethylene matrix. For water pipes, pipes are usually black with a blue or blue longitudinal stripe;
PEX - made of cross-linked low-pressure polyethylene. Elastic, colored or colorless tubes, soft to the touch at room temperature.
For pipeline lines made of LDPE, cast fittings made of high-density polyethylene are used.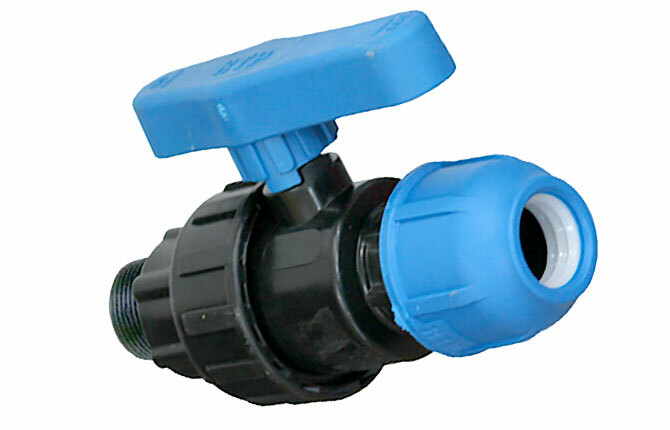 Docking is carried out by screwing the compression nut on the thread with over the ring cracker and the rubber gasket. According to the same scheme, docking with locking, diverting, control valves is performed. For large pipe diameters, pipeline couplings, valves are made of metal.
All components, including fittings, for PEX pipes are made of metal. The connection is made with metal compression nuts on the union built into the body.
For polypropylene pipes
Pipe fittings for water pipelines made of polypropylene are made by hot stamping in the form of a cast body for soldering or with a metal fitting - an insert. Such products operate at low pressure or temperatures up to 60 ℃.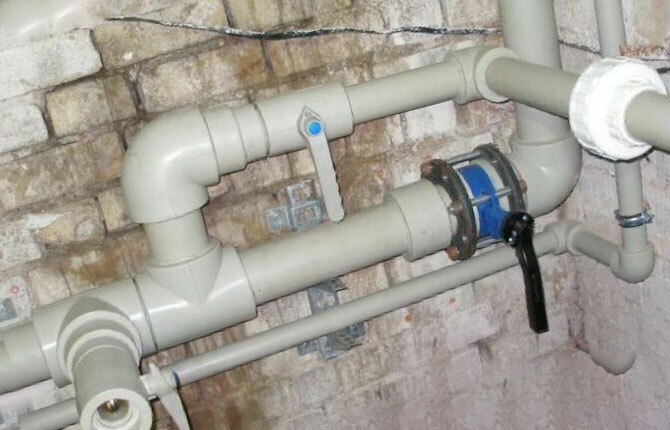 The most important sections of the heating system are completed with metal fittings with adapters.
For metal-plastic pipes
For pipeline lines made of metal-plastic, components and fittings made of metal are used. Docking with taps, gate valves, filters, safety devices is carried out using a threaded adapter.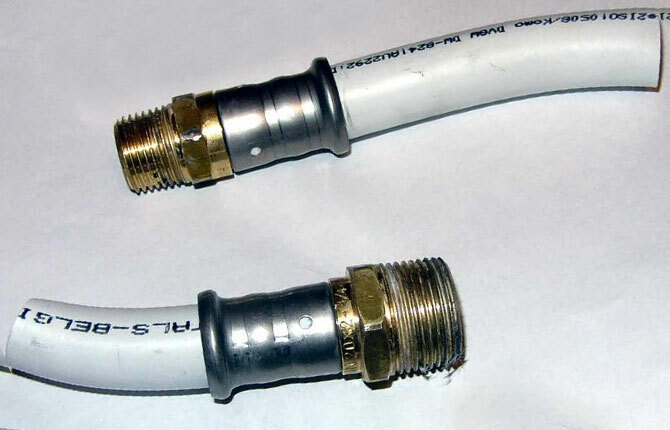 Pay attention to the models of filters, valves, taps designed for insertion into the line of metal-plastic pipes. In appearance, the designs of compression fittings are similar to products designed for installation on pipes made of cross-linked polyethylene PEX.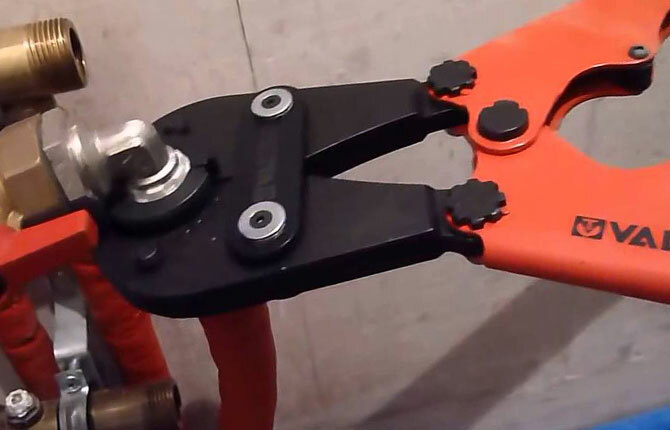 With all the external similarity, fittings for PEX pipes and metal-plastic are not interchangeable, so you need to clarify the information in the product passport and check the markings on the centering rim of the body.
What are pipe fittings made of?
For polypropylene PPR pipes and polyethylene LDPE pipes, taps, mixer bodies, filters can be made of the same material as pipeline lines. For water pipes of large diameters, as well as for the most critical elements - valves, pressure regulators, only products in a metal case are used.
All pipeline fittings for metal-plastic pipes are made of lead brass CW614N, CW617N, CW602N or domestic brand LS59.
Alloy grade
Content

Cu, %

Content

Sn,%

Content

Fe,%

Content

Al,%

Content

Pb,%

Content

Ni,%

Content

Zn

CW627N
57-59
0,3
0,3
0,05
1,6-2,6
0,3
rest
LS59-2
57-59
0,3
0,4
0,1
1,5-2,5
0,4
rest
CW614N
57-59
0,3
0,3
0,05
2,6-3,5
0,3
rest
LS58-3
57-59
0,4
0,4
0,1
2,5-3,5
0,5
rest
Cheap faucets, faucets, filters are often made of zinc-aluminum alloy TsAM. It is better not to use such products, since their actual service life usually does not exceed one or two years.
Pipe fittings require increased attention when choosing, since how correctly the part is selected or skillfully installed on the pipe, the level of comfort depends, and often safety users.
Work on the installation of valves on the gas pipeline Du300mm: video.
Share your impressions - have you had to install, repair or change the control parts of water pipes? What problems arose? Write in the comments. Bookmark the article, share it on social networks.