Everyone has different preferences when buying a kitchen. Someone wants a trendy model, someone needs a mega-functional one, for someone an abundance of decorative elements, pomp and pretentiousness are important. I wanted a beautiful and comfortable set, an interior that would be comfortable to be in.
Made by company furniture empire,
imperiamari.ru
G. Murino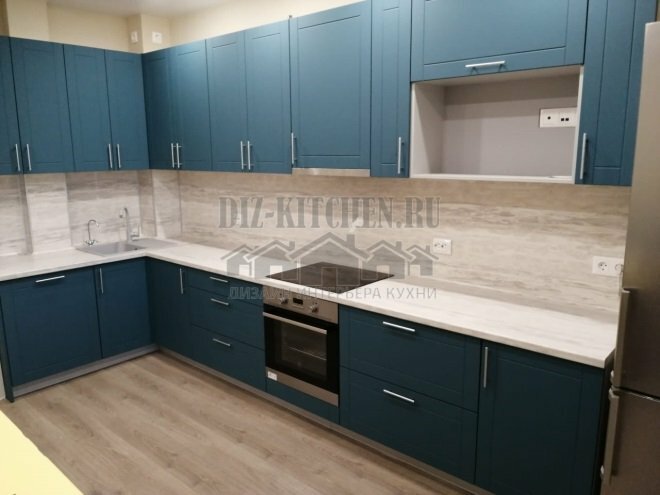 Attention! Earned on our site kitchen constructor. You can get acquainted with it and design the kitchen of your dreams for free! Also may be useful wardrobe designer.
The color is interesting and unusual - dark blue-green. The shade is very rich, immediately attracts attention. He does not need any additional decor, the tone is self-sufficient, elegant and solemn.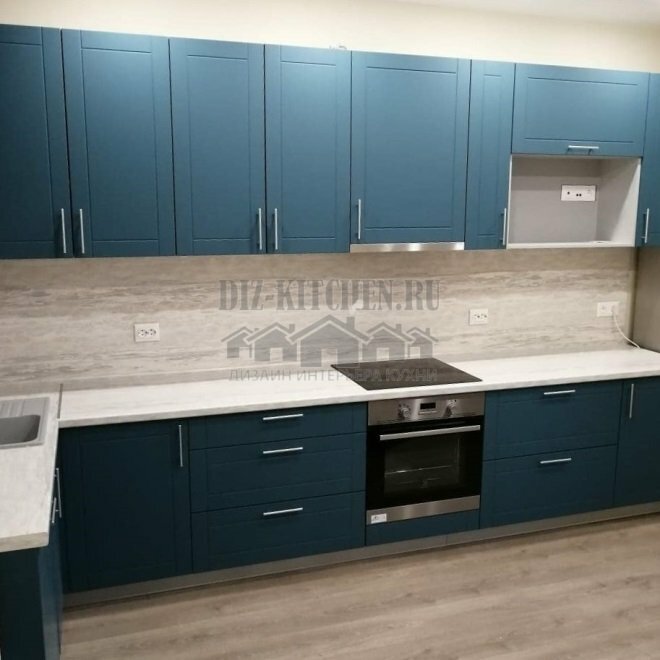 Despite the fact that the interior is dark, the design turned out to be very calm and light. In combination with a light wooden floor, an apron and a tabletop, the effect of balance was observed, when the earth texture (stone and wood) balanced the air-water element. And it turned out to be quite a boring combination.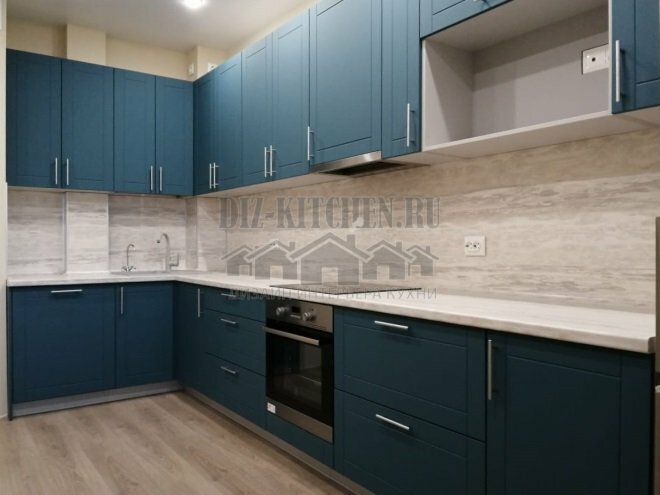 We chose a neoclassical corner kitchen with dimensions of 1600 x 3700 cm. The body is made of laminated chipboard Lamarti (premium class). Facades made of MDF with a super matt film on top and barely visible milling.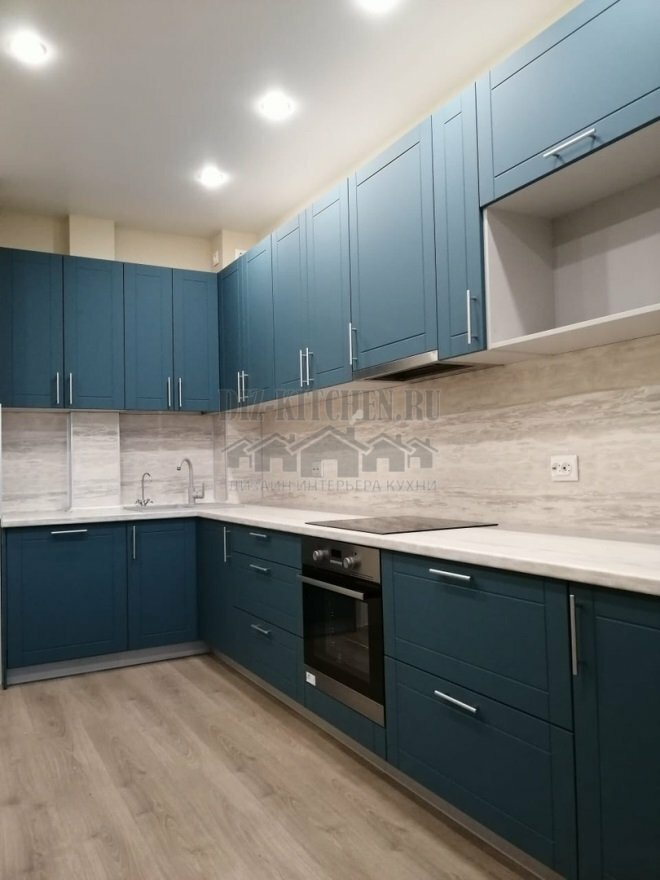 On the side wall there is a ledge and a ventilation duct. Under both ledges, special recesses are made in the cabinets, which would be impossible to implement in standard furniture.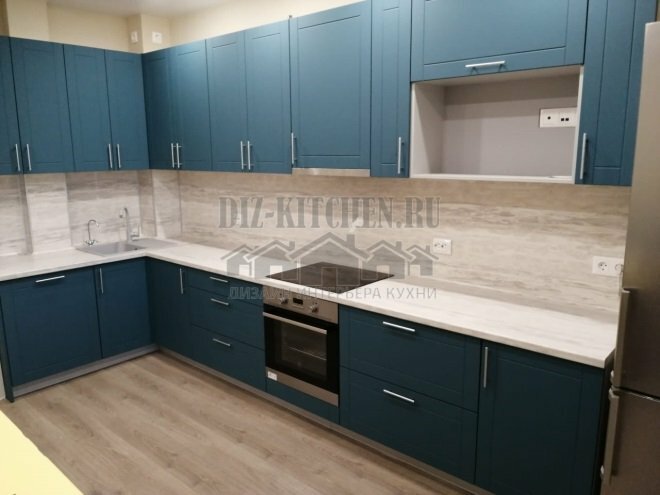 White countertop and wall panel from TM Kedr. The light center was necessary for dark furniture, it created perspective and additional volume.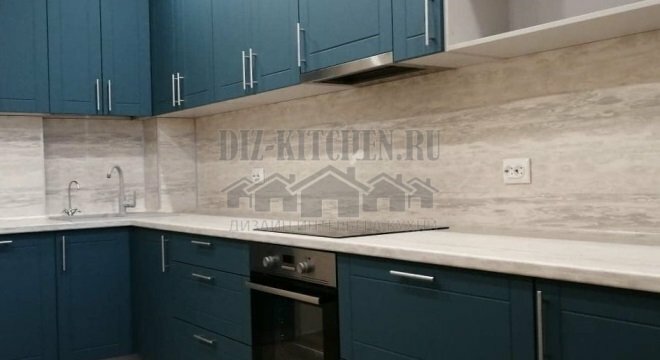 The railing handles are quite long, which is done for convenience in the first place. Their steel shade echoes the surface of the oven, the edge of the built-in hood and the same texture of the refrigerator. Silvery metal harmonizes best with the cold tone of furniture facades.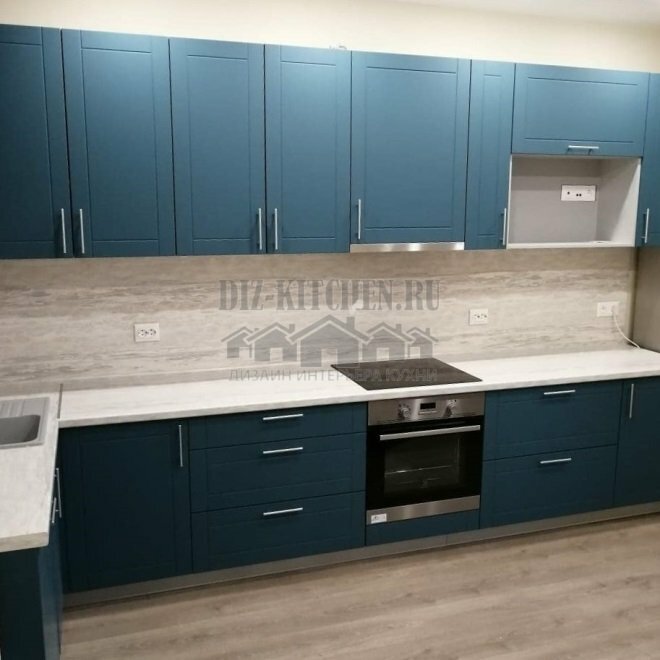 Inside - Hettich fittings with closers. These are durable and smooth mechanisms that add practicality to the interior.
Average score / 5. Number of ratings:
There are no ratings yet. Rate first.