Couplings, tees, pipe elbows are the main elements with which pipe blanks can be easily assembled into a single pipeline. Thanks to the corners, the number of joints on communications is reduced, the reliability of the water supply or sewerage system is high.
The only exceptions are gas pipelines. Here the requirements are more stringent. There should be no welds or elements weakening the pipe walls at the corners.
The content of the article:
Why do you need a corner for a pipe

What corners for heating pipes and pipelines of other systems are on sale

Polypropylene Corner Fittings

Corner fittings for plastic sewerage

Fittings for polyethylene pipes

Corners for metal-plastic communications

Copper pipes

Cast iron
Why do you need a corner for a pipe
Even 20-25 years ago, when laying water pipes, corner fittings were used to a limited extent. Despite the fact that the pipes were predominantly steel, seam, and the corners were cast iron, brass or bronze.
An angle adapter or a fitting for a steel water pipe is a part of a complex shape, with thin walls. Therefore, it was made by casting in metal molds. Previously, the reliability of angles for metal pipes was low.
One wrong move, excessive force when assembling steel communications, and a crack appeared in the cast-iron or bronze wall, which was almost impossible to eliminate. Therefore, gas welders and fitters preferred to bend pipe blanks after heating with an acetylene flame.
This method had the following advantages:
The absence of joints and seams ensured the high strength of the water pipeline at the corners of rotation.
A turn on a tubular billet could be done in minutes.
The probability of damage to the pipe at the turning section of the water pipeline was practically equal to zero.
Whereas the use of a cast-iron corner on a thread with winding in the future could cause water leakage. Approximately the same situation was with the cast-iron sewer. It was impossible to assemble a system for drains without the use of tees and corners.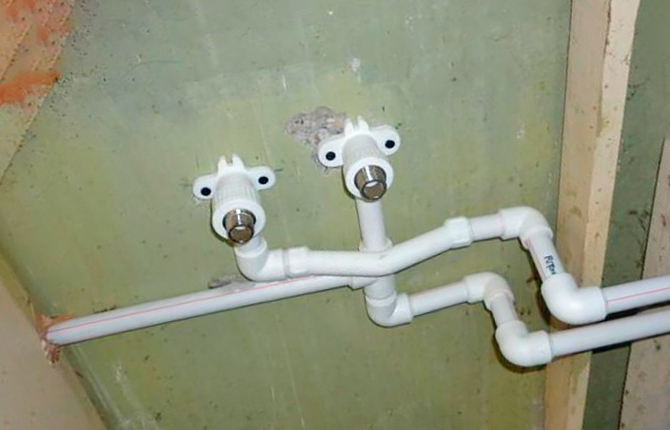 With the advent of communications based on plastic, metal-plastic, thin-walled copper or sewer pipes, welding methods for assembling water pipes had to be abandoned. Perform a 90 angle turn from polypropylene or copper pipeabout complicated.
You can try to heat the polymer blank and bend it, but in 90% of cases the walls are deformed and overlap the section. Get a marriage. So it's easier to use corners for polypropylene pipesthan to experiment with complex material. The same situation with thin-walled copper. You can bend the workpiece on a spring, but the turning radius will be large.
In addition to turning communications, corners for PP pipes are used for auxiliary purposes:
as adapters for connecting flexible pipes at the end of the pipe;
to build compensation loops;
for the manufacture of pipe bypass.
In the latter case, the corners are bought with a margin of several models. This is done on purpose, since it is difficult to determine in advance which options will be needed.
What remains is usually used to assemble crafts and frame structures from polypropylene blanks. Thanks to a large number of models of corners, it is possible to assemble complex-shaped products, sometimes even garden furniture and elements of a country interior.
What corners for heating pipes and pipelines of other systems are on sale
Almost all modern pipe materials used to assemble water pipes, a heating circuit or a sewer system are designed to use angle fittings.
Corners are used almost everywhere. The only exception is metal-plastic pipes. If the turn is performed in the plane of the wall (in the vertical plane), then bending in an arc with a radius of curvature of at least 8 diameters of a metal-plastic pipe is allowed.
Polypropylene Corner Fittings
The range of PP-corners is one of the largest. This is due to the popularity of polypropylene communications, so manufacturing companies, in parallel with pipe blanks, produce many models of corner fittings.
PP-corners can be divided into several groups:
classic corner-couplings with an angle of rotation of 90about;
30 degree elbow fittingsabout, 45about, 60about;
transitional corners for pipes of different diameters;
models with metal threaded inserts, fitting or union nut;
water sockets.
The last version of the PP-corners was singled out as a separate type, since, in addition to the metal threaded insert or fitting, on the body there are special tides - "ears", through which it is convenient to mount the fitting on wall.
In the classic version, the polypropylene corner looks like a coupling, the outlet of which is rotated 90about.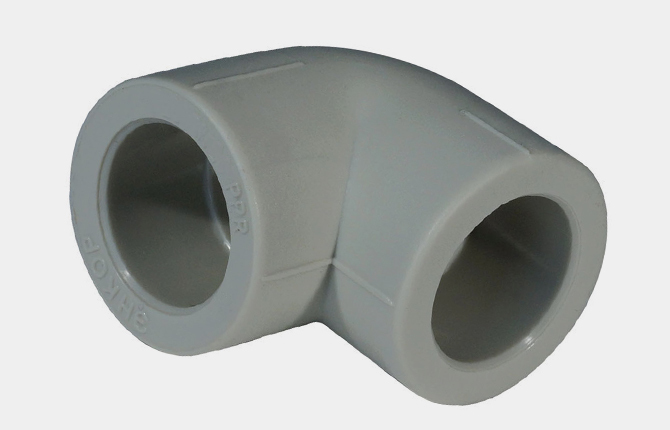 Inlet and outlet diameters may be different. On sale you can also find unusual models, for example, the angular transition "coupling - pipe".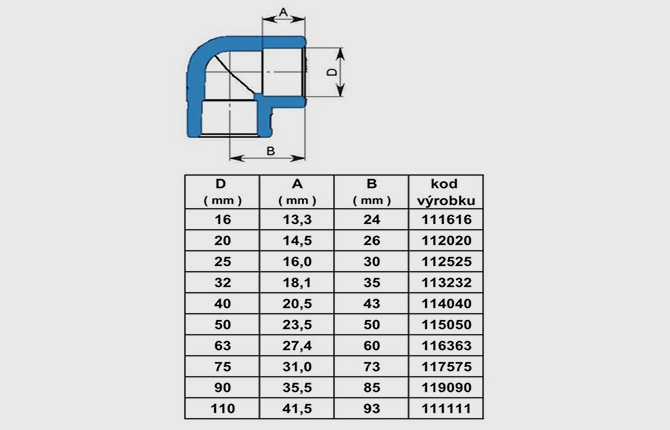 PP corners with a turn of 30about or 45about differ from the classic version only in the exit angle.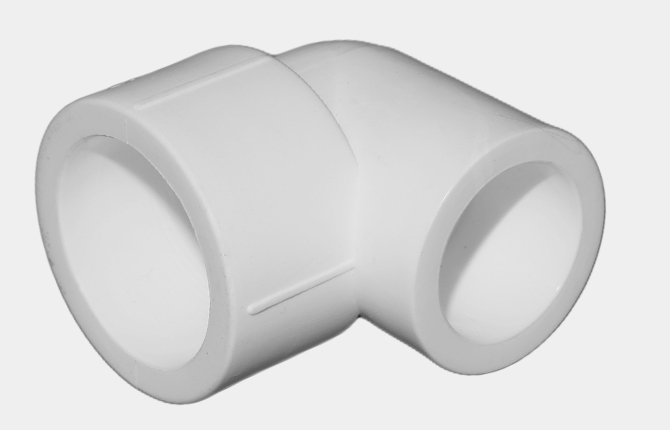 Fittings with metal inserts are used as adapters for pipes made of other materials, for connecting water meters, flexible pipes or connecting to heating radiators.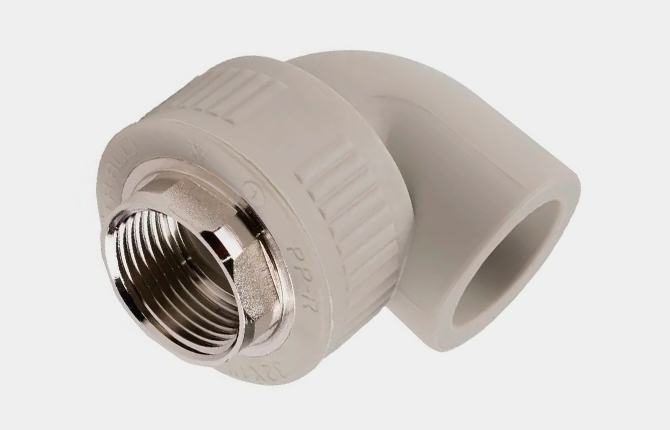 The corner material is PPR100 polypropylene, the metal insert is usually brass, grade CW617N, nickel-plated. Most manufacturing companies produce water outlet corners according to the PN25 class with a maximum water temperature of +95about.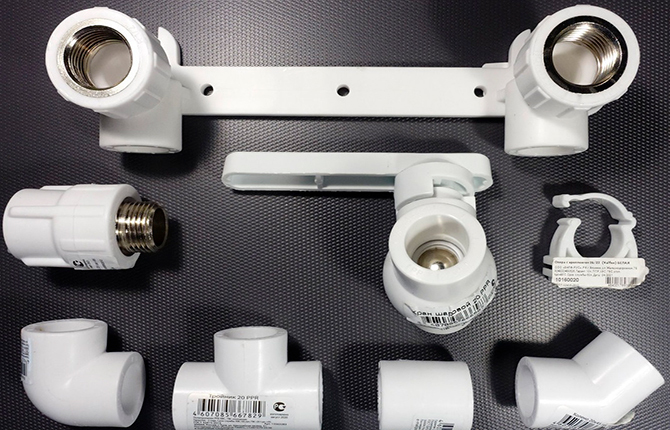 Corner fittings for plastic sewerage
Corner elements can be made of PVC or stabilized polypropylene. There are not as many varieties of corners for sewerage as for water pipes. This is not necessary, since sewer pipes are laid in a relatively simple pattern, without complex turns or cascades.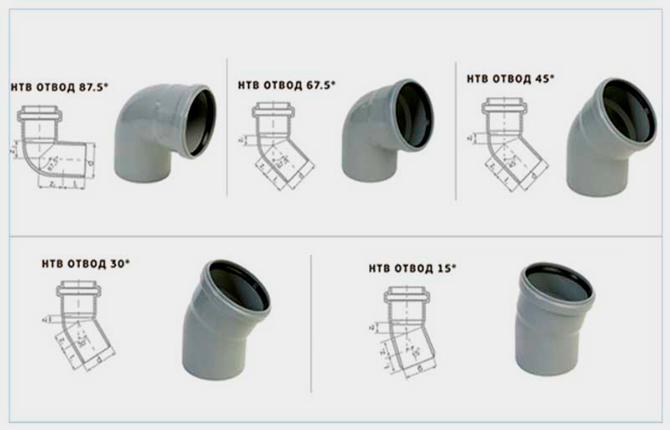 For home sewage, five types of corners are used:
Direct tap - 87.5about. Marked 90/87 or 50/87, depending on the diameter of the pipe.
Fitting with 67 turnabout. Marking - 90/67 or 50/67.
Corner with 45 turnabout. Marking - 90/45 and 50/45.
Rotate 30about. Marked 90/30 or 50/30.
Withdrawal at 15about. Marking 90/15, 50/15.
They are used to turn a pipe in a corner zone, connect a bathtub, distribute a bundle of communications, connect a sewer riser to a tee. All listed additional elements are of the same type in terms of wall thickness.
When assembling, the length of the sections has to be adjusted in such a way that the outlet from the siphon of the washbasin or sink does not fall into the corner. If it is not possible to solve the problem in another way, then a tee corner can be used.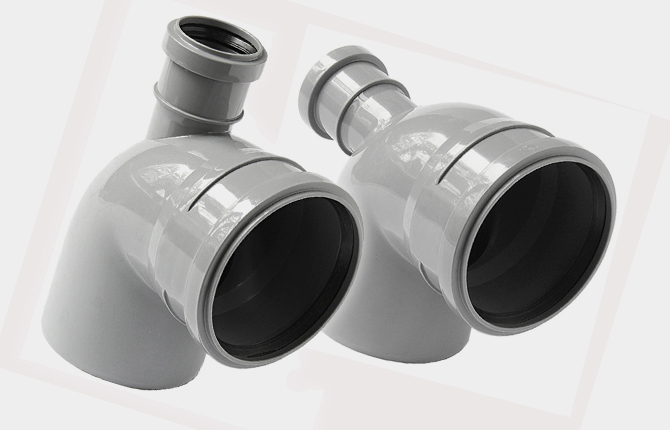 The range with an additional 50 mm spigot includes tee elbows with the same outlet angles as for the simple models.
Fittings for polyethylene pipes
Corner additional elements for communications from HDPE are produced with a tap of 90about and 45about. In addition, the corners differ in the way they are connected to pipes:
Both nozzles are joined using a crimp outer nut.
Combined version - on one side a nut, on the other - an external thread for a coupling.
Corners with a crimping nut and an internal thread under the union.
In the latter case, the outer edge is reinforced by pressing on a metal ring that protects the pipe from being crushed by internal water pressure. Internal sealing is provided by rubber cuffs. Such a corner is designed for operation in cold water supply systems with a working pressure of up to 8 bar.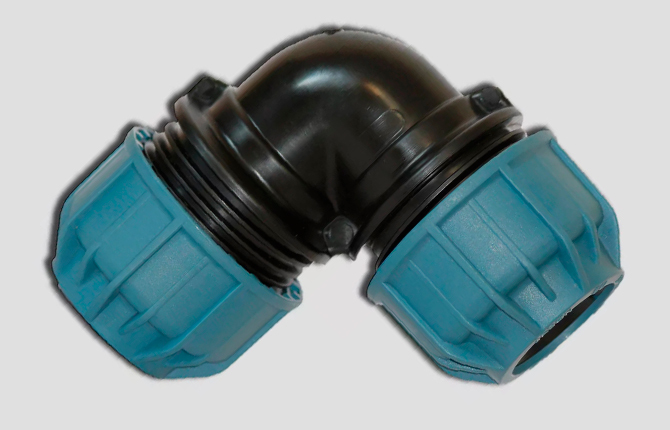 For drinking water pipelines, angle fittings are equipped with blue outer nuts, for technical liquids - green or black. For HDPE pipes, you can buy a water outlet corner with tides on the body, which simplifies wall mounting.
Corners for metal-plastic communications
For the assembly of water pipes based on metal-plastic, nickel-plated brass elbows are most often used. But if you wish, you can buy models made of polypropylene.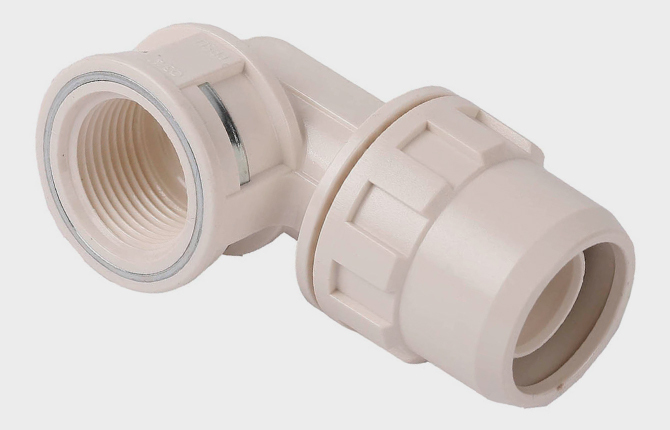 In heating systems, fittings with two union nuts are often installed to compress pipes. Sealing is provided by an EPDM rubber ring and a PTFE 4 gasket.
Operating pressure up to 16 bar, water temperature up to 115 ℃. This collet mount is interesting in that no special tool is required to install the elbow fitting. It is enough to have a pipe or adjustable wrench.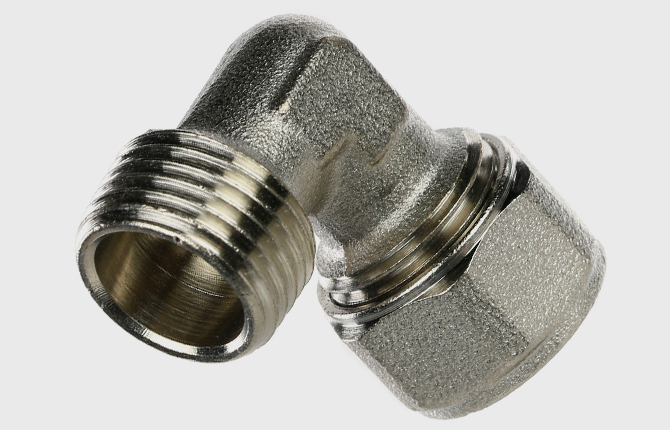 Before making a choice in favor of a sleeve or collet angle, try on its position at the installation site in the corner of the room. Corners on hot water or heating pipes will need to be tightened once a year to compensate for gasket deformation.
Often homeowners buy metal-plastic pipes, angles and fittings from an authorized sales representative. You can get a water supply warranty.
In this case, water supply or heating systems are made on the corners with sleeve fastening. Corners and sleeve crimp fittings are massively used in collector circuits - it's cheaper that way.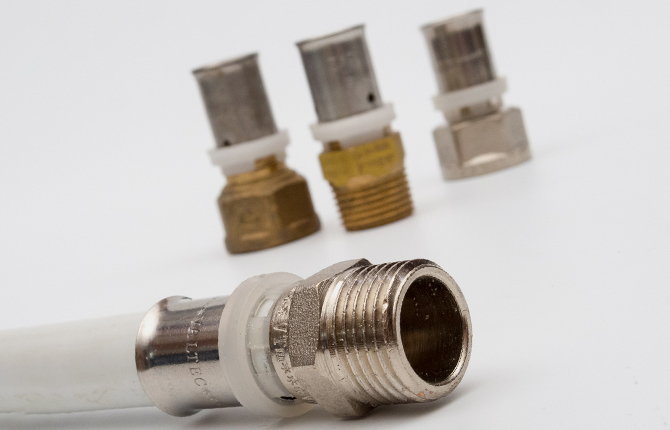 Water outlets are installed for faucets in the bathroom.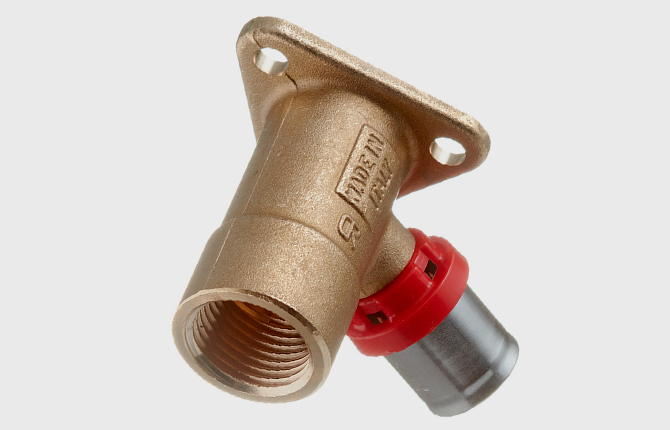 Copper pipes
It is believed that heating systems on copper pipes are the most efficient and reliable. This is true, but only if the thin-walled pipe blanks are properly joined.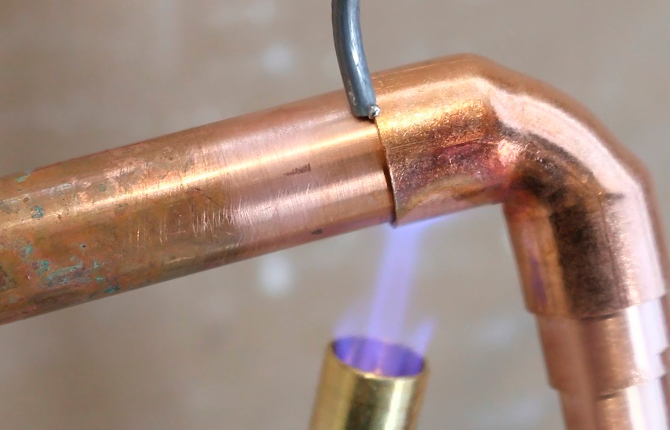 Copper communications can be connected by capillary soldering with a solder torch, or joined using fittings or mechanical crimping of the edges.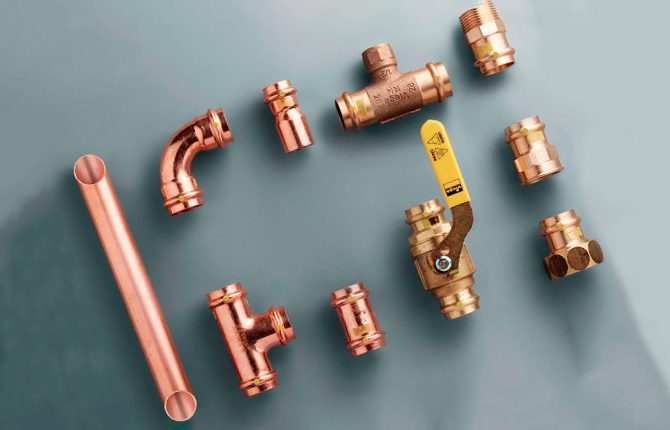 In the first case, copper corners with 90 degree bends are used.about and 45about. One or two sockets can be made at the ends of the fitting.
When connected, the end of the water pipe is inserted into the socket of the corner and heated by a gas burner.
Second view copper corners for pipes is the same thin-walled square, at the ends of which cavities for sealing rings are flared.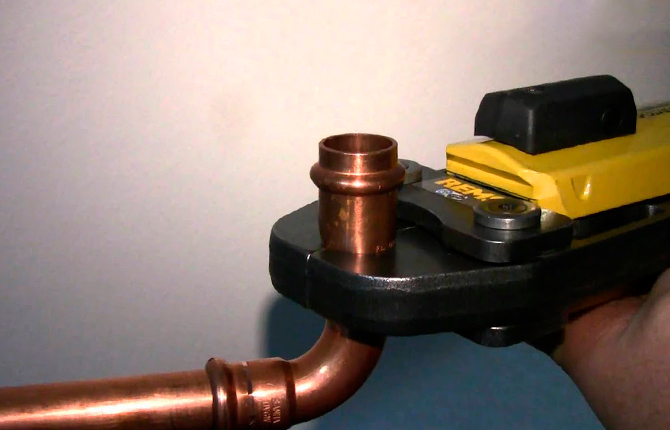 In this case, during assembly, an EPDM rubber ring is placed inside the elbow, the end of the pipe blank is inserted and crimped with tongs.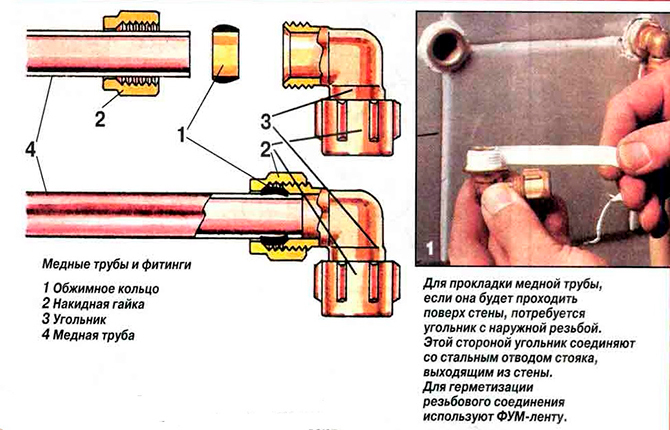 The third option for elbow fittings is crimp fittings. This is a brass elbow with an external thread on the outlets.
Inside each of them there is a support platform of a conical shape. Before docking, a nut, a split ring are put on the workpiece, and the edge is flared into a socket with a special tool.
After tightening the nut, the ring tightly presses the socket to the site, providing a reliable tight connection.
Collapsible elbows are mainly used in high-pressure copper pipes with a wall thickness of at least 1.5 mm, with a diameter of up to 12 mm.
Cast iron
For water pipes based on steel pipes, several types of squares are produced, cast from ductile iron. On sale there are classic models D20 or D25 for pipes ¾" 1", with an angle of rotation of 45about and 90aboutboth with external and internal threads.
For introductory steel communications, squares with a diameter of 50-75 mm are used. Most cast iron angles come with a phosphate or zinc finish, so newer pieces are considered to be more resistant to corrosion than older ones. Warranty for the corner - up to 10 years.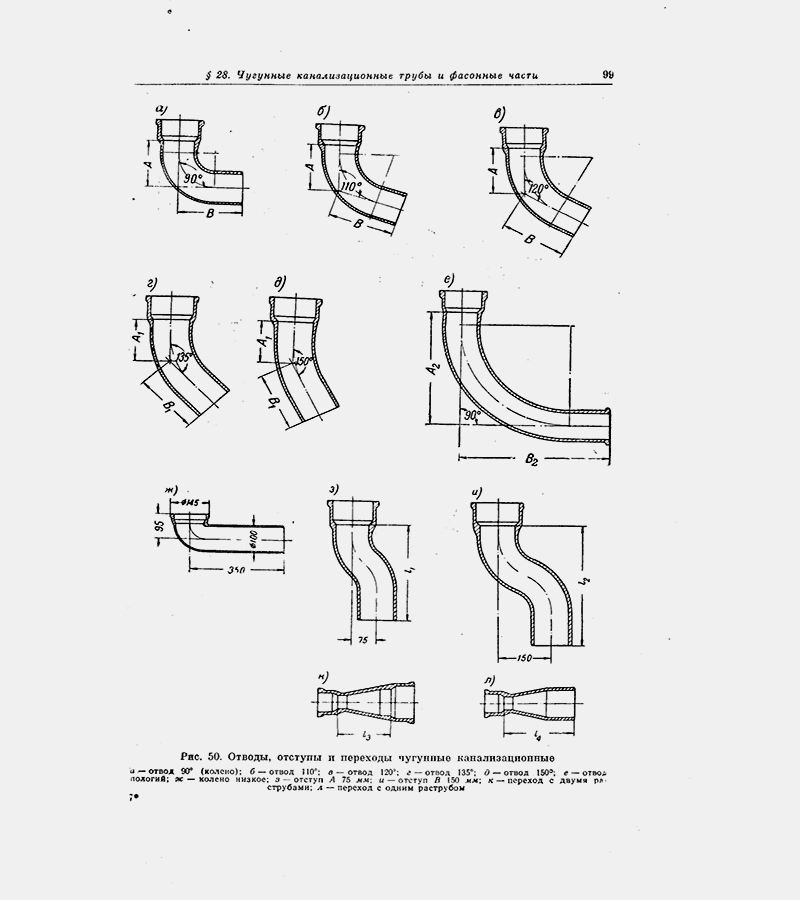 In addition to water pipes, cast iron triangles are used in old sewer systems. It is difficult to find new parts, since additional elements for cast iron sewerage are practically not produced due to low demand.
You can buy triangles at the dismantling for the demolition of old high-rise buildings, but the price of any parts made of old cast iron is higher than for adapters for polypropylene or PVC pipes.
The range of corners for pipes is large, therefore, when planning communications, it is necessary to repeatedly specify the dimensions and configuration for each corner fitting. The best source of information for choosing elbows is the catalogs of manufacturers of sanitary fittings and fittings for manufactured pipes.
Tell us about your experience with the selection of squares. Which options turned out to be more successful, and which ones did you have to tinker with when installing on plumbing or heating your home? Save the material as bookmarks so that you can return to it at any time.