We have a kitchen in a country house, in a large area, with spacious windows and high ceilings. The floor and walls are lined with gray clapboard, because outside the city you want to relax from artificial materials, to be closer to nature.
Made by company GeosIdeal,
mos-gi.ru
G. Moscow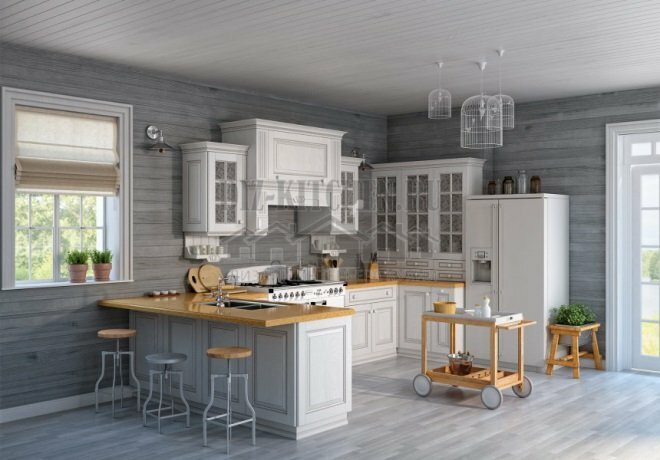 Attention! Earned on our site kitchen constructor. You can get acquainted with it and design the kitchen of your dreams for free! Also may be useful wardrobe designer.
We picked Simone Nice's kitchen to match the whole house - from solid wood, natural shades, calm and unobtrusive.
The interior is made in a cozy Scandinavian style. The finishes on the fronts are simple and discreet, without patina, best suited to the classic Scandinavian style. The kitchen is very comfortable.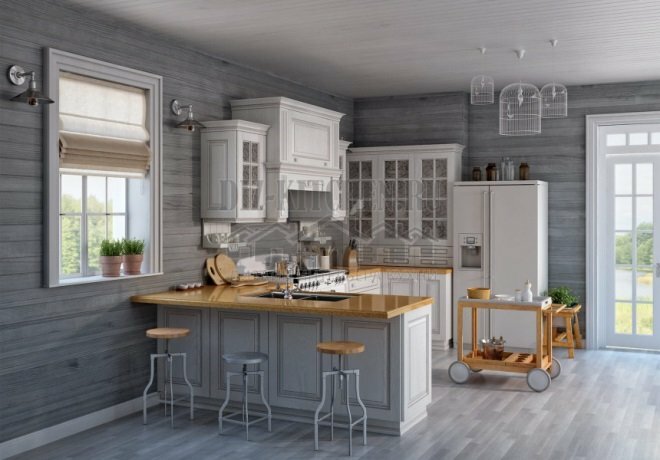 Gray walls retained the feeling of a light interior, but did not allow the furniture to get lost against the background of the walls. Decor - noble milling on the facades, overlays and cornice.
The kitchen is classic white from solid ash. The set is a U-shaped furniture, with a clear center. Strict symmetry did not work out (they preferred functionality), but the furniture range still looks organic and balanced.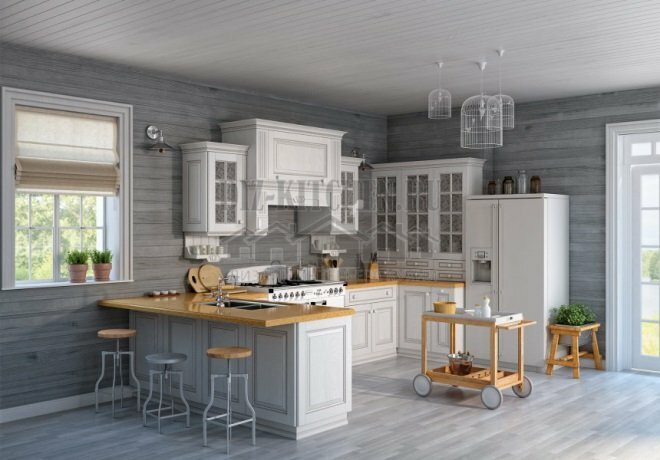 In the center of the headset there is a representative carved portal, a real symbol of the hearth. It is framed by elegant display cabinets. The showcases have frosted glass with a delicate pattern.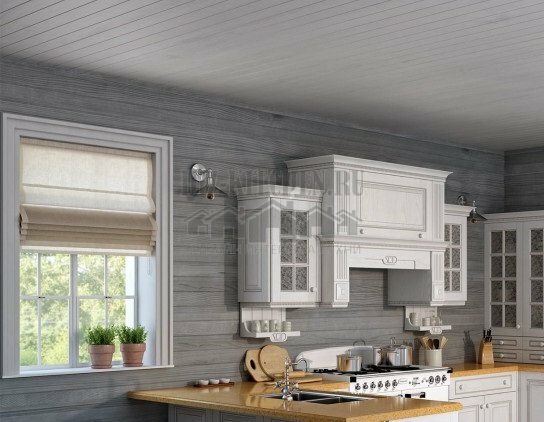 From the side of the door there is a white refrigerator to match the color of the furniture, and above the countertop there is a spacious three-leaf sideboard-showcase. Downstairs there are several small rectangular cabinets for small things, like a bureau, which, as for the kitchen, looks very original.
On the opposite side, by the window, there is a pedestal-bar counter. We extended the countertop to the side and it turned out to be a wonderful replacement for the dining table. Sitting near the window and enjoying the views of nature is a great pleasure. And below are functional furniture cabinets. There is also a two-section sink on the countertop, but there is enough space to perform all the actions.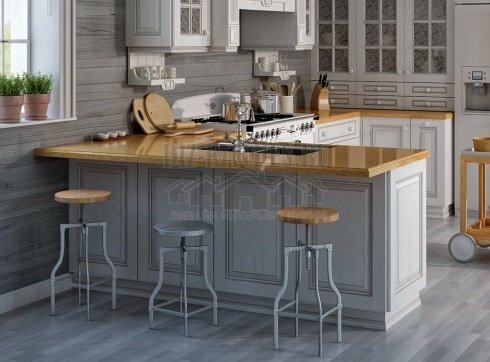 The wooden tabletop is the only contrasting accent element that emphasizes the whiteness of the natural rock, separating the set into top and bottom.
The kitchen does not leave a feeling of lightness and conciseness. And all thanks to the maximum of natural light and warm natural colors and materials.
Average score / 5. Number of ratings:
There are no ratings yet. Rate first.