A clamp is a tool with which you can fix the necessary elements when sawing, welding, gluing, etc. Beginners do not always know how to choose the best fixture suitable for specific tasks. To make your search easier, we have compiled an overview of the best clamps, taking into account all the factors that are important in operation.
The content of the article:
How to choose a clamp

Types of clamps and their features

Classic U-shaped clamps

Tape clamps

F clamp

Angle clamps

T-clamp

What to look for when choosing

The best corner clamps

Bailey Stanley 0-83-122

ZUBR USM-80

Fit 59275

The best quick clamps

Kraftool 32019-75-300

Gross 20717

Bison 32246-210

The best F-clamps

Sparta 204235

Matrix 20562

The best G-clamps

Sibrtech 20586

Santool 032401-075

The best pipe clamps
How to choose a clamp
In demand among experienced furniture makers and other workers use clamps designed for plumbing, carpentry or welding. To understand how to choose a device, you need to understand the purpose and main features of the device.
They capture and fix details so that it is convenient to interact with them. The advantage of the tool is that after installation, the specialist is left with 2 free hands and can perform other assigned tasks.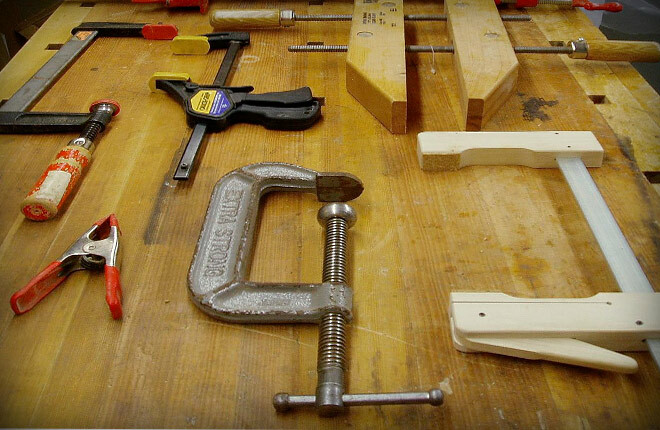 Joiner's clamps are made of metal, wood. The simplest options consist of a frame and elements that have the ability to move. These parts are either screw or in the form of a lever. This mobility is needed to fix an unstable surface and adjust the force with which the clamp is compressed.
If the element is of a lever type, then some models consist of an additional axis and the lever itself. They are used when you need to quickly fix the workpiece. They do not require the use of force, because the lever easily moves to the desired area, giving sufficient pressure in a matter of moments.
Types of clamps and their features
The best clamp has its own advantages, it can be of a certain type, but the main thing is that it facilitates the work of the master. When choosing before buying, you need to study all that are available.
Classic U-shaped clamps
The frame of such devices is made in the shape of the letter "P". The role of the clamp is performed by the moving parts located on the side of it. The most common models are those in which it is a screw element, on the one hand with a special handle, to unscrew and tighten the clamp, and on the other hand with a flat part that presses parts, workpieces and other.
They are made of plastic or metal. Sometimes wooden components are partially added. Different types can be attributed to this type of clamps, for example, G-shaped. In everyday life they are called "screw".
The advantage of a classic clamp is the price. Budget is associated with simplicity of design. They have different characteristics, weight and size. For example, plastic devices are used for light workpieces, while metal devices are suitable for more complex tasks.
These clamps are also not deprived of shortcomings. The main time is considered to be the time spent on unscrewing and tightening the screw. With frequent replacement of blanks, this figure increases, which upsets the craftsmen. Another disadvantage is the risk of damaging parts made of soft materials. To reduce it, choose models that have a large flat part. You can also find its other name - "heel".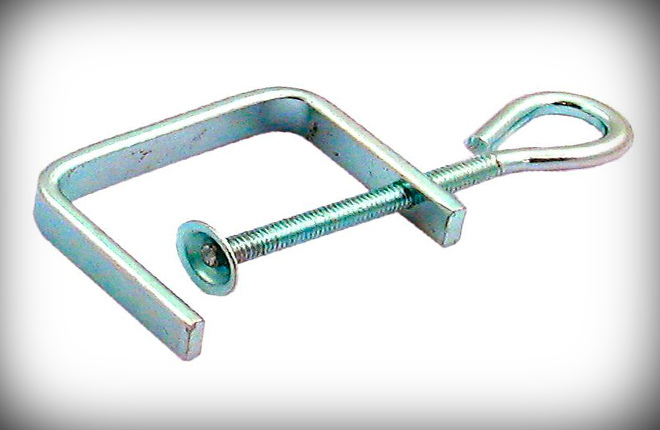 Tape clamps
This is a specialized type of tool in which fixation is carried out by a rigid tape or a belt made of nylon. This mechanism allows you to tighten the clamp on the workpiece, thereby securing it in one position.
The advantage is the uniform distribution of pressure on the parts, but even with it, such devices are not very functional for widespread use. Convenient for assembling round barrels, frames, countertops or chairs of this shape.
Disadvantage - tapes without corners. They can damage the edges of any part, workpiece. To avoid this, craftsmen are forced to purchase additional angles in order to increase the functionality of the clamp.
Article for you: Rating of the best locksmith and machine vices: characteristics, pros, cons, price
F clamp
Another relatively inexpensive type of clamp. It is not as reliable as the classic one, but it also has a plus. Deep throat helps to fix any part located far from the edge.
The design may have a screw or a lever to adjust it. Clamps of this type of clamps are both weaker, intended for soft materials, and heavy, massive, which are suitable for complex tasks.
The tool is also relatively inexpensive given the number of features it has. But the difficulty of operation is that it must be held with both hands and at the same time twisted.
Angle clamps
There are screw and magnetic types. It differs from others in design. This clamp has 2 clamps for the workpiece. The basis of the fixture is not a frame, like the previous species, but a cast body. Their purpose is simple: the craftsmen use them to fasten wooden blanks at an angle of 90 °. Holes in the body help attach the clamp to a table or workbench. This is a low-functional option, because it is impossible to work without the correct installation, but it performs its task with high quality.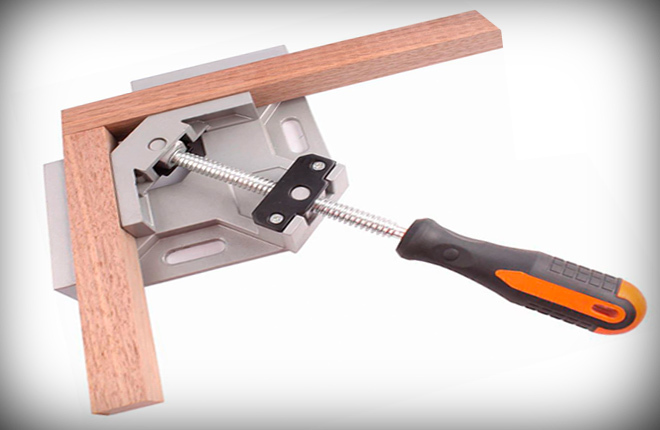 T-clamp
This is one of the main and common types. It is suitable for the production and assembly of furniture. The length of the profile is more than one meter. It has 2 sponges that can move. Due to them and the screw that must be tightened, a reliable clamping of any workpiece is ensured. Before work, the clamp must be installed.
 There are types that are used less often in work, but they are also useful:
pipe;

magnetic;

vacuum;

quick-clamping, which are automatic;

hydraulic, etc.
It is necessary to choose the type of clamp, based on the tasks and scope of activity. For example, when gluing parts, you need one type, but when making furniture, it is completely unsuitable, so you need to purchase another.
When choosing, pay attention to the material from which the clamp is made. Among workers using this device, the following are common:
Plastic. Polymer materials are inferior in strength to others, but this does not mean that they are brittle. Suitable for fixing light objects, but plastic clamps are not suitable for heavy workpieces.

Tree. More often serves as a material for homemade clamps than for mass production, but they can be found on sale. Devices from it are convenient for soft elements.

Metal. The basis for such clamps is steel. More expensive price due to high strength. A special coating protects them from corrosion. The longer it remains on the tool, the longer it will last in operation. Even with the worst outcome, the service life of the device is long.

Cast iron. Forged clamps are endowed with strength and durability. Often this is a classic type of device, in which only a lot of weight is noted among the shortcomings, but it does not differ too much from other types.

Rarely made from aluminium.
Mixing of materials is also used. So one part of the elements can be made of metal, and the other, for example, will be plastic.
What to look for when choosing
You need to choose a clamp based on the objects and their dimensions, as well as the material. It is advisable to pay attention to the size of the fixture, because this will affect the operation. Due to the fact that there is no universal clamp, craftsmen need to buy 2-3 varieties at once in order to cope with any task. Sometimes they are made by hand. This is not particularly difficult, but you need to find all the materials and details.
In most cases, a clamp is needed to fix wooden blanks. There are many suitable models for this material, so choosing the right one is not difficult. In some situations, for a tree, you will have to choose not this tool, but a vise.
The main selection criterion is the clamping force, as well as the ability to regulate and control this pressure. It will be better if the screw has a fine thread, because then there is less risk of damaging the material. Some models have additional options. For example, a clamp serves not only as a fixing mechanism, but also as a spacer.
Overview of the best clamps start angled. For convenience, each model presents both advantages and disadvantages, if any. The rating of the best is compiled taking into account the opinion of the masters, based on reviews and prices.
Bailey Stanley 0-83-122
Angle clamp designed for carpentry work. Withstands heavy loads. Its hinged design is capable of fixing parts of different or the same thickness at an angle of 90°. Made from aluminium. The weight of the tool is just over one kilogram.
Advantages

Flaws

quality

Made from durable metal

Clamps workpieces well

The handle is ergonomic

The tool is quickly fixed without scratching the workpiece

Powerful screw

Uncomfortable during use

Thread made of plastic

Construction is weak
The price is 1,396 rubles.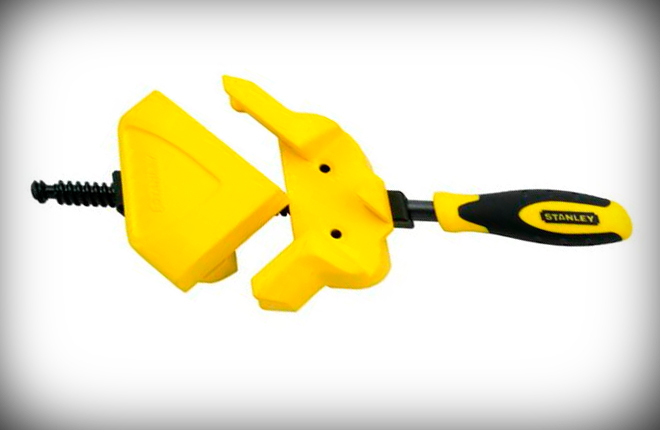 ZUBR USM-80
Professional device from the ZUBR brand. It is made of aluminum, but at the same time on the manufacturer's website it is declared as durable and easy to use. Designed for different types of work, in particular, for materials such as metal and wood. In economic tasks it is also convenient. For example, for gluing different objects. Its weight is 720 grams, but in the packaging for transportation it weighs a little more - 900.
Advantages

Flaws

Practicality, reliability

Convenient for woodworking

Clamps well and holds the required right angle

Not always suitable for welding, because it can burst
Price - 1,045 rubles.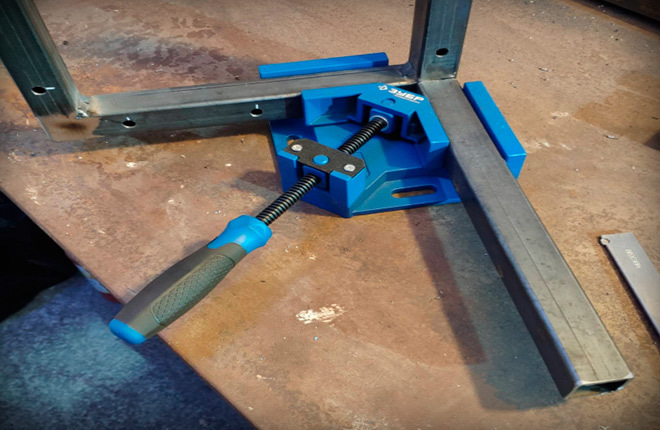 Fit 59275
Fixes glass, wood and metal. Coated with a special powder paint that provides protection against corrosion. The wide size clamp is suitable for handling thick logs or heavy metal objects. Weight approximately 150 grams.
Advantages

Flaws

Budget. This is one of the cheap devices with decent quality.

Light weight contributes to ease of use

Screws are made of stainless steel

Small size allows the tool to take up less storage space

Rotating propellers endowed with thin handles

Small gap on lips
Price - 380 rubles.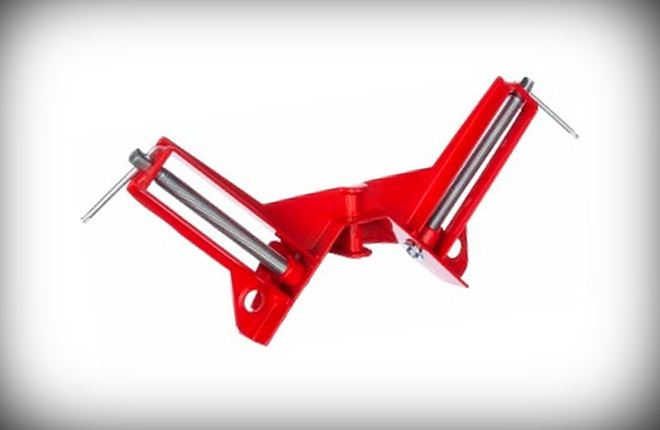 This is a clamp with an automatic mechanism. This greatly simplifies the work, because it requires less effort. It is comfortable to work with her at high altitude. Three models were included in the rating, but they, like others, have both advantages and disadvantages.
Kraftool 32019-75-300
F-shaped clamp. The device is durable because there are no plastic areas in it, it is completely made of metal. You can work even at +30°C. Multifunctionality allows you to fix different objects, for example, made of plastic, metal and boards. Due to the automatic mechanism, squeezing and unclenching is faster.
Advantages

Flaws

The handle of the device is wide, so it fits comfortably in the hand

Clamp clamping depth - 7.5 cm

Ratchet mechanism and large clamping force

Not prone to deformation

Expensive fixture
Price - from 2,300 rubles.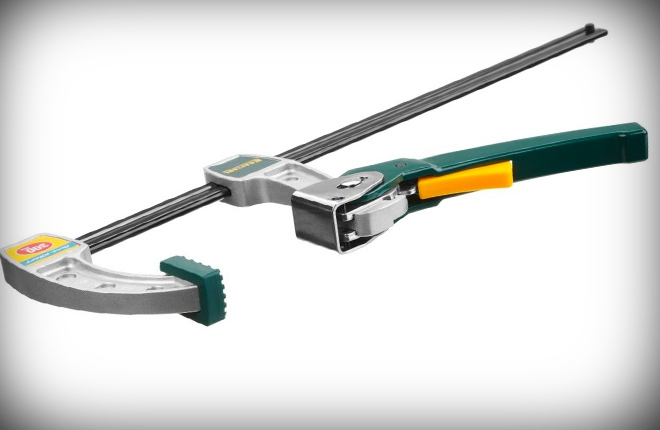 Gross 20717
This model of quick-clamping clamp is made of metal and impact-resistant plastic. It has a steel bar and a ratchet that can be adjusted with one hand. Installation on the workpiece or release is completed in 2-3 seconds. The details that she can hold reach 10 centimeters. There is a rubber pad on the area that presses the object. It protects the surface of this workpiece from various scratches.
Advantages

Flaws

Workpiece securely fixed

Good grip and ergonomics

The high price repels the purchase.

Not designed for use in a narrow space, because it will be inconvenient to use
Price - from 2,200 rubles.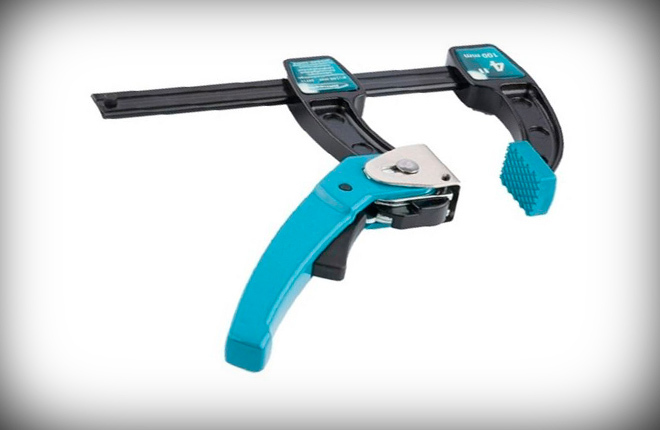 Bison 32246-210
Quick clamp in compact size. The nylon construction is reinforced with fiberglass, so it is very durable. The diameter of the details that it is able to fix reaches 7.7 cm. The movable jaws do not get dirty and do not damage the object. Reliable fixation does not depend on the evenness of the object. Weight about 150 grams.
Advantages

Flaws

Budget, ease of use

hardened spring

The handles are made of 2 components, so they fit comfortably in the hand and do not slip out of them.

Available almost everywhere

Hands get tired quickly, so long-term work is impossible
Price - 600 rubles.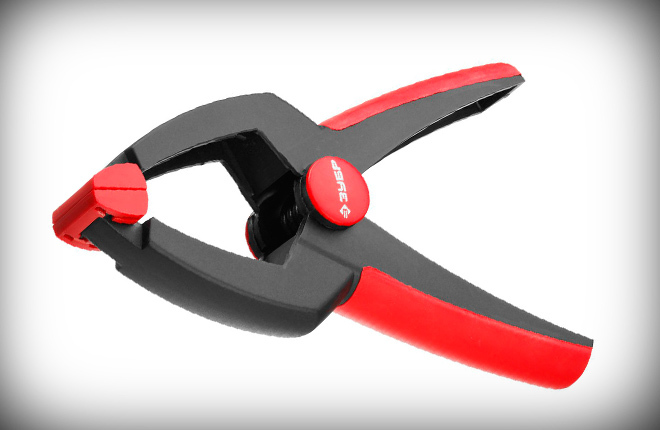 When choosing the best F-clamps, the width of the object they grip and what material they are made of is important. Used to glue things together and loved for their durability. Here are 2 reliable devices.
Sparta 204235
A fairly budget model of the F-shaped clamp, which is suitable not only for carpentry, but also for home use. The compression force is enough to fix small and medium objects. To operate for welding work, it is necessary to close the thread from possible splashes, because the power of the structure allows this. Plastic overlays protect objects from damage.
Advantages

Flaws

Budget price and availability in many stores

The device is convenient to use, because the wooden handle does not slip

Screw clamp and reliable

Multifunctional

Pads don't stick well
Price - 200 rubles.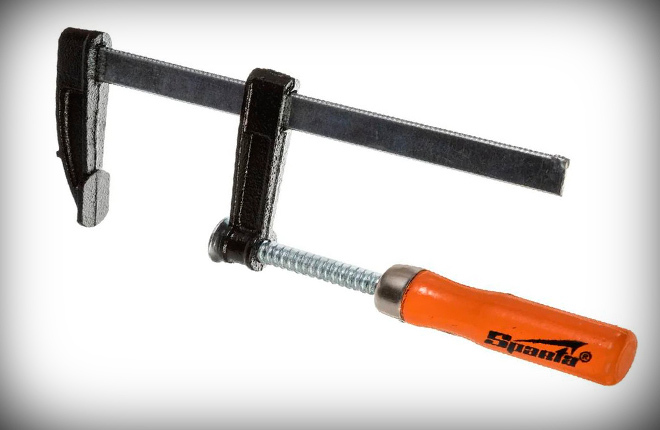 Matrix 20562
This model from the Matrix brand is compact in size. One of the best clamps for various small jobs. The clamping system is designed in such a way that it is easy to operate with one hand.
The device has an impact-resistant plastic case. Used to glue small parts. There is an additional function - if you turn the jaws of the clamp, it will start working as a spreader.
Advantages

Flaws

Does not deform, does not arch

Inexpensive and can be found in many stores

Movable lower part with a pleasant soft ride

Wear resistant tool

Not designed to work with large objects
The price is about 500 rubles.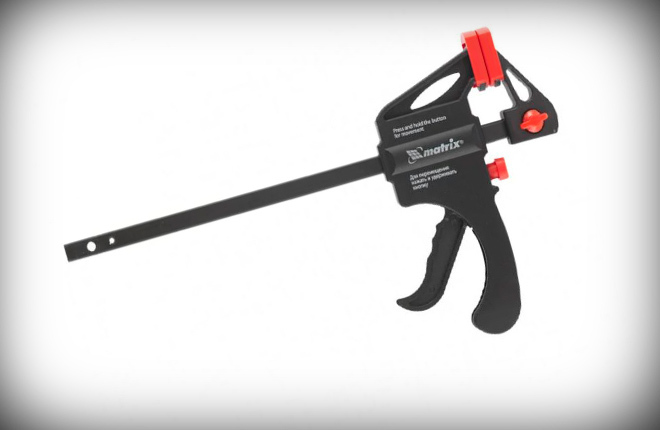 This type of clamp is used by carpenters and locksmiths. When choosing the best of them, you need to focus on the width of the grip, which is needed for the desired tasks, and on the strength of the frame. Based on feedback, two leading models were selected.
Sibrtech 20586
Clamp capable of clasping thick wooden beams, pipeline or metal products. It has a large width - 15 cm and an impressive depth - 8.7 cm. The frame is made of ductile iron.
Advantages

Flaws

The clamping element does not slip due to the large thread

Holds objects firmly

Durable construction that is powder coated for corrosion resistance

The threaded rod also has a coating - zinc

heavy

High price
Price - 600 rubles.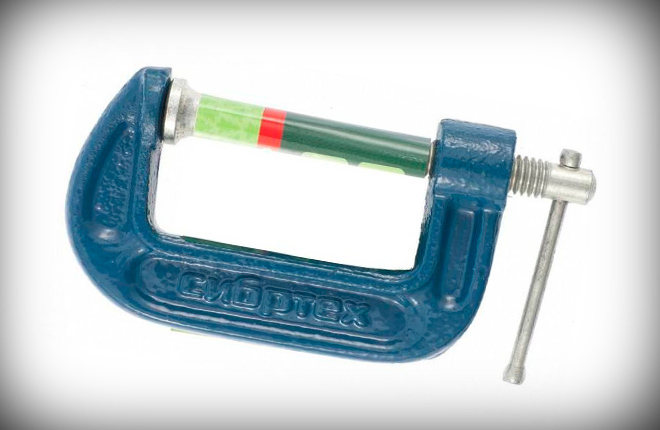 Santool 032401-075
G-shaped clamp, steel body of which is covered with a bright varnish. This protection helps prevent corrosion. Reliable screw clamps secure objects. The thread is large, so the process is fast. The design does not break, because it is simply arranged. It is used not only for carpentry, but also for gluing or processing objects.
Advantages

Flaws

Lightness - 200 grams

The tool is small in size, but with a large working width - 7.5 cm

budget model

They sell out fast so it's hard to buy.
Price - 170 rubles.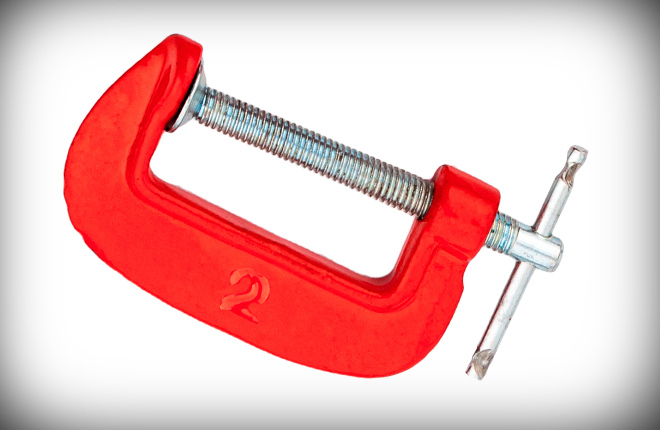 This device is divided into 2 separate parts. The best pipe clamp is matched to the workpiece, length, and pipe size. After analyzing the market, reviewing reviews and careful selection, one model was identified.
Cobalt 246-074
Convenient model for gluing objects together, for example, for furniture boards. With it, you can quickly fix any large objects. Due to the fact that there is no plastic in the design, it is suitable for welding.
Advantages

Flaws

Corrosion protected

Clamp width is not limited by length

There is a strong clamping screw and a cast iron body

The compression force is average, but it is enough for the tasks

No rail included
Price - 1,500 rubles.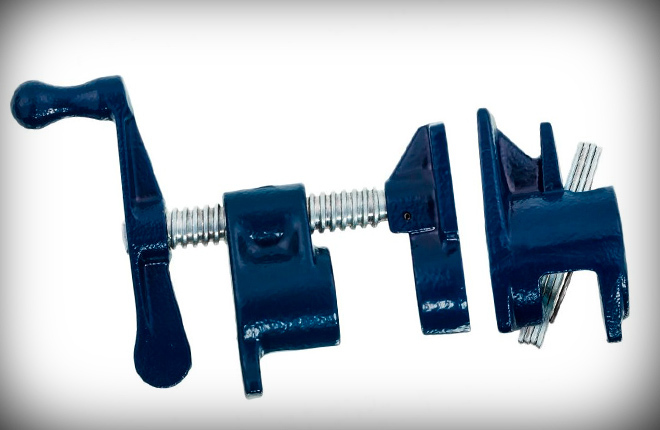 Choose well-known brands and clamps for work that will be suitable for your purposes. It is a simple design tool that is easy to handle. Share your opinion in the comments and save useful information so as not to make unnecessary expenses!