Paving slabs Brick is a popular and convenient material used to cover the local area, footpaths, marketplaces and even highways. Demanded it makes a variety of sizes, shades, textures.
Varieties and benefits
Feature of paving slabs the Brick is imitation of a brick brick. It is produced in the form of rectangular blocks with a thickness of 40-80 mm. Products with a thickness of 100 mm are used to cover transport highways.
Various options for this material differ in the following parameters:
Size. When choosing this indicator, they are guided by the further application of the coating.
Hue. The most common blocks are red, white or gray. Although manufacturers offer more interesting options (blue, purple, etc.).
Invoice. From above, the product may resemble natural stone. Its surface is smooth, rough, matte.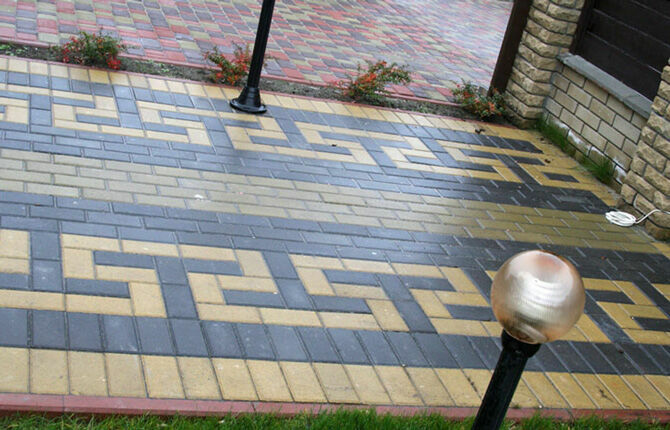 Paving slabs Brick is widely used in the arrangement of suburban areas, trading floors, pedestrian areas. She owes this to the following virtues:
ability to withstand heavy loads;
resistance to abrasion, chemicals, ultraviolet;
significant service life, subject to the technology of laying paving slabs Brick;
frost resistance, the ability to withstand fluctuations in humidity, temperature;
ease of installation and maintenance;
suitability for any surface;
the possibility of dismantling blocks with re-laying in the future;
convenience of visual zoning of space due to the shape of the product;
compatibility with various architectural styles;
safety (when heating the material from which the brick paving slabs are made, no harmful substances are emitted).
The weight of paving slabs Brick depends on its size. For example, a block with a size of 200 * 100 * 60 mm weighs 2.6 kg, and a block of eight with a size of 400 * 400 * 40 weighs 18.3 kg.
Paving slabs "English cobblestone" - characteristics, features and method of laying in the article Here.
Laying methods
There are various options for laying out paving slabs Brick:
Herringbone. The stacking angle of the blocks is 45/90 degrees.
Chaos. In this case, there is no specific stacking sequence, everything is done arbitrarily, elements of different sizes and shades can be used, which are randomly laid out on the surface. The result is unique.
Network. This option resembles a Christmas tree. It involves the alternation of transverse masonry with longitudinal. The result is a kind of weaving.
Chess. This option involves the use of paving slabs Brick in two shades. As a result of their alternation, a kind of board for playing chess is obtained.
Parquet. The layout is carried out in such a way that the result resembles the location of parquet boards. This method is called the most "homemade", therefore it is often used when arranging the courtyard of a country house.
Circle. It belongs to the most difficult, but the result is extraordinary. Blocks are laid out in a circle.
Pattern. This method consists in the use of tiles of different colors in combination with other materials. The result may be a work of art, but it does not always become practical.
When choosing a styling method, you should pay attention not only to your preferences, but also to the practicality of the option you like. For example, Herringbone can withstand the maximum load, and Parquet does not need to be chosen for places that are under a lot of pressure.
After choosing a pattern, you need to consider the installation method:
Wet

sand

. This option is simple and suitable for arranging garden paths or areas that do not have a large load.
For cement-sand mortar. This method is considered more reliable. To prepare the mortar, use 1 part of cement with 5 parts of sand. The mixture is applied in an even layer, 3-4 cm high. To prevent moisture from accumulating on the surface, make a slight slope.
On a dry mixture of sand and cement. Before starting the laying, the cement-sand mixture is moistened with water.
Below are a few more photos of brick paving slabs laid in various ways.
Paving slabs in the form of bricks are a popular material used for finishing sidewalks, house adjoining and other areas. It is distinguished by aesthetics, functionality and the ability to withstand significant loads.
Which styling option do you prefer? Share the link to the article on social networks and bookmark it so as not to lose interesting and useful information.
Paving slabs "Brick". The best laying patterns in the video.
How to make paving slabs with your own hands - instructions, equipment and supplies in the article link.
Source:
https://protrotuarnujuplitku.ru/trotuarnaya-plitka/kirpichik.html
https://keramokub.ru/plitka/trotuarnaya-plitka-kirpichikom.html
https://nuz.uz/interesnaya-informaciya/39628-preimushchestva-i-osobennosti-trotuarnoy-plitki-kirpichik.html