The pile foundation is usually insulated with polystyrene foam or liquid foam insulation. Other materials with good thermal insulation properties are available, such as foam. There are 2 options for technology - the construction of a brick basement and decorative panels. Both instructions are provided in the article.
The content of the article
The choice of insulation and waterproofing

Step-by-step instructions for warming

brick plinth

Plinth with decorative panels
The choice of insulation and waterproofing
Before starting the insulation of the pile foundation of a wooden house, you need to choose the material. This is a very responsible decision, which largely determines the effectiveness of frost protection. There are several options:
Polyfoam - durable, resistant to pests, mold, easy to install and very affordable. Differs in small weight, small density and at the same time good thermal insulation. However, it is not very durable, so it needs a reliable layer of external protection.
Another way to insulate the pile foundation of a wooden house is with liquid penoizol. The basis of this material is carbamide resin, the composition also includes a hardener and a foaming agent. The liquid mixture is poured directly into the formwork, where it quickly hardens. The material is very high quality, can withstand almost any temperature and humidity.
When studying how to insulate the basement of a house on screw piles, you need to consider the option with foamed glass blocks. It is light, very durable, completely waterproof. In addition, it is resistant to decay, chemicals and fire. Serves more than 50 years.
Insulation of a pile-screw foundation can be performed using extruded raw materials - these are foam plastic and expanded polystyrene. Unlike polystyrene, they are much denser, practically do not absorb moisture and at the same time are lightweight. Resistant to decay, not afraid of rodents. However, they deteriorate due to the rays of the sun, so it is important to create reliable external protection.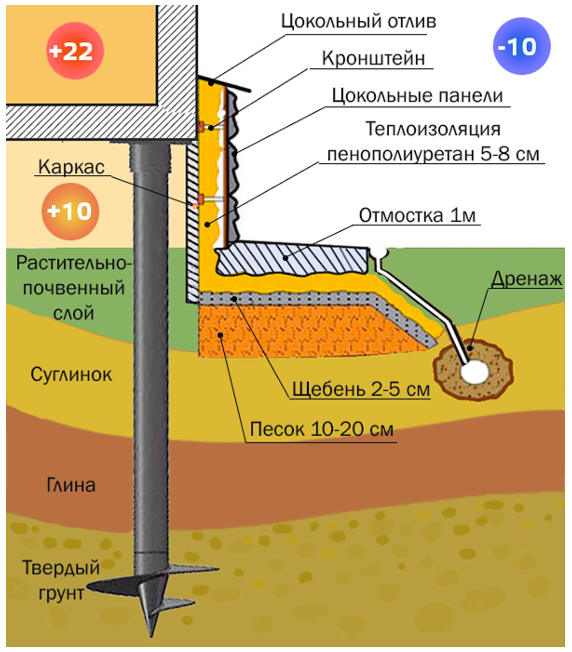 When studying how to insulate a pile foundation, it is worth taking care of high-quality waterproofing. In fact, any insulation can suffer from moisture. Water can also provoke corrosion of the screw pile head. Therefore, it will not be superfluous to carry out processing with such types of hydroprotection:
Coating - bitumen-based mastics with or without rubber.
Roll - film or bituminous material, for example, classic roofing felt, glassine.
Painting - compositions with hydrophobic substances, bituminous primer.
Impregnation - bitumen-based resin or liquid glass, suitable for any concrete surfaces.
Actually mastic based on polymers, bitumen, rubber and combinations of these components. It is applied using hot or cold technology.
Step-by-step instructions for warming
Warming the basement of a house on screw piles always involves the construction of a false base. In fact, this is an additional external trim, a small wall that completely covers the piles, reaching the first floor. You can make it out of brick - you get a capital structure.
Also, the insulation of the basement on screw piles can be performed using sheet materials that are attached to the crate. It is easier to install and is optimally suited for heaving soil, on which it is impractical to build a brick wall (may deform). Both options are described sequentially below.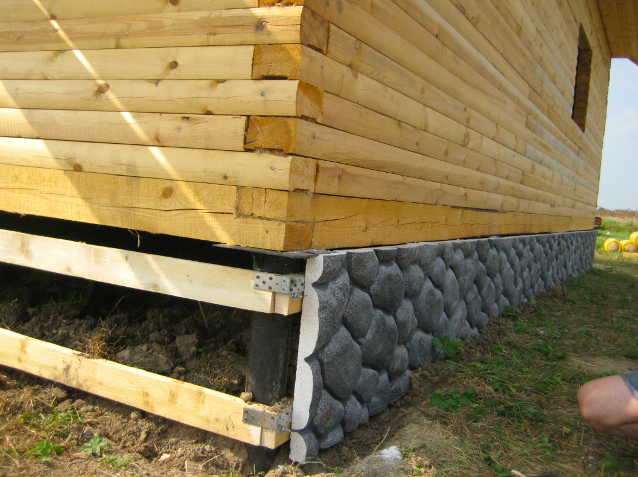 brick plinth
If you perform the insulation of the basement of a pile-screw foundation using this technology, you will get the most reliable design that will last several decades without complaints.
The main stages of construction are as follows:
A trench 25 cm deep and 40 cm wide is dug along the perimeter of the building.
Formwork from boards is installed in it. Mount the frame from the bars of the reinforcement.
When the structure is ready, the concrete is mixed and poured into the formwork.
Warming the foundation on piles takes more than one week, because the concrete must be allowed to completely harden. After that, the formwork can be dismantled.
Now cover the concrete with a layer of waterproofing. It can be roofing material or mastic based on polymers, bitumen.
Brickwork is laid on concrete in fragments of 1.5 m. Gaps are left so that later it is possible to put insulation from the inside.
Next, you need to go through the plaster and primer.
After that, lining is done using any material, for example, lining or siding.
Insulation of the foundation on screw piles involves the use of foam or other material. Be sure to install a vapor barrier membrane, fix it with glue, for example, "Ceresit ST83".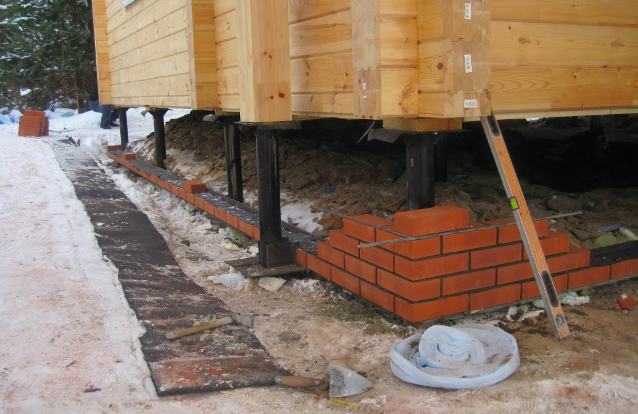 Plinth with decorative panels
This way, how to insulate the pile foundation of a frame house, takes less time, and the materials are more affordable. You need to act like this:
The piles are treated with mastic with an antiseptic.
Several rows (usually 3) are mounted horizontally with steel profile guides.
Panels are fixed to them, on the reverse side of which there is already insulation material. Instead, you can use DSP plates.
If the soil is heaving, you should leave a gap from the ground at a height of 5-10 cm.
In order to properly insulate the pile foundation of a wooden house from the outside, air is performed.
Then finish finishing, cover the gap with decorative strips.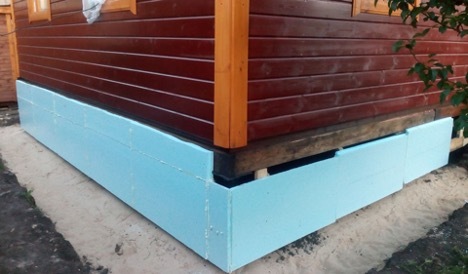 Further work is reduced to the installation of thermal insulation outside and inside. For work from the side of the street, expanded polystyrene is usually used, since it is resistant to any weather conditions, temperature extremes and humidity.
It is worth considering that the insulation of the pile foundation grillage also involves the thermal insulation of the blind area. Special attention is paid to the floor - from the inside or outside it is also insulated with polystyrene foam. At the same time, it is better to carry out work on internal insulation even during construction.