An iron with automatic shut-off stops heating when idle. If you put it vertically, it will turn off after 2-3 minutes. If left without movement in a horizontal position, the shutdown will work in a matter of seconds. How such tools work, as well as how to choose the right model, is described in detail in the article.
The content of the article
Principle of operation, pros and cons

How powerful should an iron be?

Sole cover type

Other criteria
Principle of operation, pros and cons
Unlike conventional devices, the iron with auto-off is equipped with a special sensor. He reacts to the lack of movement. If the tool is in a stationary state for 10-15 seconds, it will automatically turn off. And it does not matter how exactly the device stands - horizontally or vertically.
An iron with an auto-off function usually gives a sound or light signal. After the desired idle time has elapsed, the heating element will turn off, even if the tool is connected to the mains through a wall outlet.
Moreover, if you put it in a vertical position, the self-switching iron will give a signal later - after about 2-3 minutes. Therefore, during ironing and breaks, it is better to put it vertically, as is done in normal cases.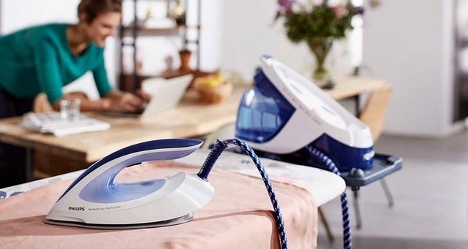 Some models are more convenient because they give a short beep at first and only turn off after 30 seconds. If you want to continue ironing, simply place the appliance in a horizontal position.
This device has a lot of advantages:
an iron with a shut-off function is safer than a classic model;
it allows you to protect the fabric from burning;
convenient to use, because it first gives a signal, and then turns off.
There are no disadvantages of such devices. But if you need to leave the house even for a few minutes, the device should be turned off and unplugged. Even an iron with auto-shut off can sometimes not work, so such cases should be excluded.
How powerful should an iron be?
An automatic iron has several important technical and consumer characteristics. Moreover, the main parameter is power. It is she who determines how well and quickly the sole heats up. It depends on the type of fabric with which you can work:
Within 1500 W - road-type irons, suitable for working only with underwear, bedding, as well as with clothes made from loose fabrics, for example, for T-shirts.
From 1600 to 2000 W - household appliances. These are universal models that process almost any fabric, even a little overdried.
From 2000 W - professional devices and steam stations. Commonly used in ateliers and dry cleaners.
In connection with the power, it must be said about the eco mode in the iron, that this is an important function that allows you to spend electricity. If the tool can work in this mode, it will use the minimum amount of energy possible at maximum power.
Sole cover type
Philips auto-shutoff irons and other models must meet other requirements for comfortable and safe ironing. First of all, you need to consider the material of the sole:
Aluminum is cheaper, but sticks to the fabric, so this option is better not to consider.
Stainless steel is much better than aluminium, does not stick to materials. In this case, the weight of the device increases significantly.
Ceramic coating is the best sole option, it is perfectly smooth and does not stick to any fabrics even at high temperatures.
There is also an iron with automatic shutdown, which has a non-stick coating. It is also quite high quality, but it scratches, so it is more prone to wear.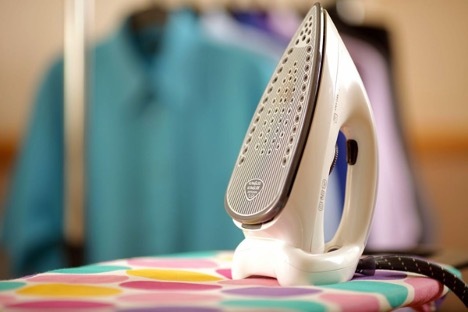 Other criteria
There are other criteria that are not noticeable at first glance, but also matter:
Weight - it is better to choose not too heavy, but not too light devices. A mass of 1.5-1.7 kg is enough to press clothes well against the ironing board. From an iron of 2 kg or more, the hand will quickly get tired.
The length of the cord is preferably at least 1.5 m. Although if the wire gets in the way, you can also purchase a non-contact iron. It is placed on a stand, on which it warms up and is then ready for continuous ironing.
An iron with a self-shutoff function should have a very comfortable handle with an anti-slip rubberized coating. You can check it right in the store.
The water tank should be translucent so that you can see the level while ironing. The optimal volume for normal home use is 200-300 ml.
Finally, you should pay attention to the price. An inexpensive auto-shutoff iron can be purchased at a reasonable cost even from a well-known brand. At the same time, it is worth considering reviews so as not to buy a clearly low-quality device.
An iron with automatic shut-off is very convenient and also safe. It turns off after a few seconds or minutes of inactivity (depending on the position), which saves tissue and eliminates the risk of fire.