We can say about the half load dishwasher that this is a convenient option, thanks to which you can put about half the dishes in the unit and run a short cycle. And it saves not only time, but also resources. These and other advantages of the function, its correct use are described in the presented article.
The content of the article
Advantages and disadvantages of half load

How to use half load

Overview of half-load dishwashers
Advantages and disadvantages of half load
Understanding what a half load means in a dishwasher is easy. This is the name of a special option that allows you to save water and electricity due to the incomplete load of dishes. For example, many models can hold 10 sets of dishes. If you put only 5 sets and select the appropriate half-load dishwasher, the cycle will go much faster.
Advantages
As a result, users receive several benefits at once:
less water is used;
less electricity is consumed;
you can once again not overload the unit;
the program works in an accelerated mode - you can get clean dishes in less time;
there is no need to stockpile as many dishes as possible to fully load the machine.
Considering what a half load is in a dishwasher, it should be noted that many models do not have such a function. However, this does not mean that they cannot be loaded halfway. In fact, you can put as many dishes as you like. But if there is no way to turn on half load, you will not be able to save water and electricity. In addition, the unit will work just as long as when fully loaded.
The use of half load has become possible thanks to special sensors that evaluate the quantity and weight of the delivered dishes. They send a signal to the electronic control module, which selects and starts the optimal program.
In this regard, we can say about the third load level in the dishwasher that this is a very convenient insert into which forks, spoons and other utensils are placed. It is a horizontal pull-out box for small items. It allows you to use all the available space so that as many dishes as possible, including overall ones, enter the chamber itself.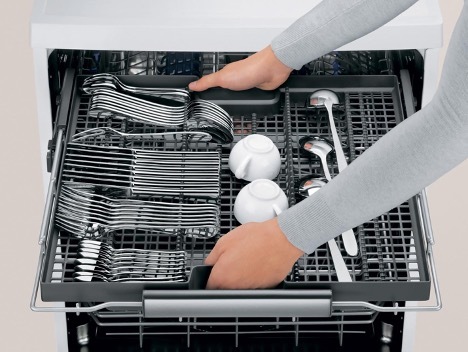 Flaws
Such a useful addition as a half-load Bosch dishwasher has quite a few advantages. But there are some disadvantages associated with the peculiarities of the use of detergents. Tablets and powder, especially with different components ("3 in 1"), are more difficult to divide. Therefore, you have to do this either "by eye", or with the help of scales.
If the product is available in powder, measuring a half dose is quite simple. If you need to add a tablet to a half-load dishwasher, proceed as follows:
Wrap it in a small piece of paper or polyethylene.
Using a knife, carefully cut in half.
Put one half into the tray.
Leave the second for storage in paper or polyethylene.
How to use half load
Loading the dishwasher halfway, at first glance, is easy. But this procedure has its own characteristics, which are useful to know in advance. For half load to work as efficiently as possible, you need to read the instructions for a particular model. There may be different options:
In many cases, underloading the dishwasher means that only the upper basket is filled with dishes.
In some models, only the lower basket can be loaded.
If there is a third loading level in the form of a drawer, forks, spoons and other utensils are evenly distributed into it.
If there is no such level, small items are evenly distributed among 2 baskets.
The half load function in the dishwasher will be beneficial, but only subject to simple rules:
It is better to place long items, such as a ladle, a spatula, horizontally in the front zone of the basket, where the dishes are laid.
Spoons, knives, forks are distributed in special cells.
All fragile products are fixed and laid so that they do not come into contact with other objects, because the unit vibrates during operation.
If there are not so many dishes, they distribute them as freely as possible, evenly filling the empty parts.
Overview of half-load dishwashers
There is no doubt about whether a half load is needed in the dishwasher. This is a very useful option that allows you to save resources, and most importantly - time. Therefore, when buying a unit, it is better to pay attention to modern models that already have this function:
Bosch SMS 53N12 - Spacious dishwasher with half load. During one cycle, it can process up to 13 sets of dishes. It has 5 programs, has a full protection system in case of a possible leak.
Hotpoint-Ariston HSIO 3O23 WFE - Another model that implements the half load mode. It can process up to 10 sets at the same time, it has an additional third-level tray for all kinds of devices. The upper basket can be adjusted in height, adapted, for example, for wine glasses.
Beko AquaIntense DIN 28420 has several advantages, including the half load mode in the dishwasher. Allows you to choose among 8 programs, processes dishes of any degree of contamination. If necessary, you can turn on the accelerated wash (30 minutes).
Weissgauff BDW 6138 D - Another model that has a half load function. Very roomy, can process up to 14 sets in one cycle. Thanks to the electronic system, the device automatically selects both the temperature and the intensity level of the process.
MAUNFELD MLP-08B – compact dishwasher with half load. Works in 6 modes, including fast processing within 30 minutes at a temperature of 50 degrees. Up to 10 sets can be processed in one cycle.
Thus, half load is a rather important and convenient feature. Instead of waiting for a lot of dishes to accumulate, you can load them in small batches and wash them in less time. As a result, less water, electricity and detergents are used.