The Asus Zenfon 1 smartphone has been produced since 2015. This is a budget model with a fairly powerful processor and a large screen. However, it does not have a large memory, and due to the card it can only be increased up to 64 GB. The main characteristics of Asus ZenFone 2, as well as the pros and cons of this model are described in the presented material.
The content of the article
Model overview

Communication parameters

Screen

Camera

Processor and Memory

System and multimedia options

Nutrition

Housing and sensors

Phone pros and cons
Model overview
Considering the characteristics of Asus Zenfon 2, it will not be superfluous to mention the configuration. Along with the new phone, buyers receive:
adapter for charging;
wired headphones;
documentation;
standard USB cable.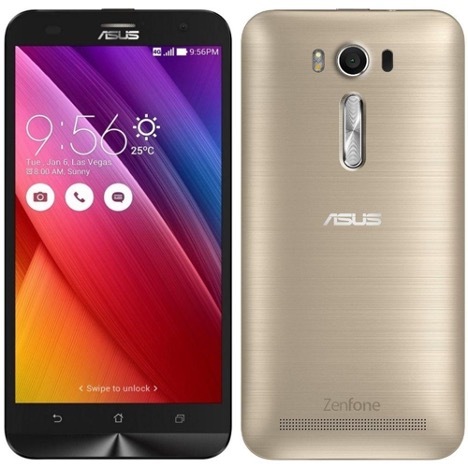 Communication parameters
The release date of Asus ZenFone 2 falls on 2015. And literally six months later, in January 2016, an advanced Laser model was released. Despite the fact that the first phones appeared 8 years ago, the characteristics of Asus ZenFone 2 even then allowed them to be used for mobile and Internet communications with the following parameters:
3G, 4G and GPRS Internet connection standard;
connection via Bluetooth 4.0;
Wi-Fi operating speed reaches 1.3 Gbps;
there is a connection to the Google Pay service;
contactless payment possible thanks to NFC;
mobile communication standard GSM and 3G.
Screen
The parameters of Asus Zenfon 2, which describe the properties of the display, are of great importance:
image quality 1920*1080p;
IPS type;
can be controlled with several fingers or one;
diagonal 5.5 inches, that is, 14 cm.
Camera
An equally important role is played by the technical specifications of ZenFone 2, which describe the camera:
resolution of the main device 13 MP;
5 MP selfie camera;
it is possible to record video quality 1920 * 1080p;
frame rate 30;
the flash is powered by a dual LED;
auto focus is provided.
Processor and Memory
As mentioned above, the screen size of Asus Zenfone 2 is quite large, which makes it convenient to watch videos. Although this is not enough in the sense that the gadget must be sufficiently productive, quickly respond to commands. These requirements are provided by the processor and memory. ZenFone 2 features related to these critical elements are listed below:
the number of cores that the processor is equipped with - 4;
operating frequency 2300 MHz;
own stock of memory 32 GB;
processor type Intel Atom Z3580;
video processor type PowerVR G6430;
RAM 4 GB;
You can insert a memory card up to 64 GB.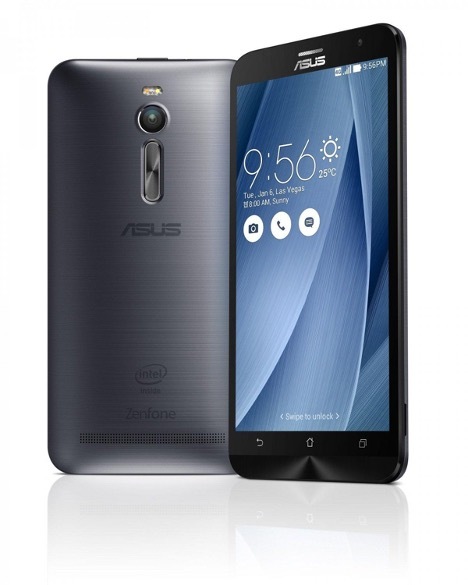 System and multimedia options
The screen size of Asus ZenFone 2 is almost 14 cm. This allows you to comfortably listen to music and play other files. For comfortable work, the gadget is provided with multimedia:
music player;
video player;
mp3 call;
has its own FM radio;
3.5mm wired headphone jack.
The Asus ZenFone 2 models work on the 5th generation Android system. Geopositioning is available via GPS and GLONASS. Designed to work 2 sim cards, type micro.
Nutrition
An Asus ZenFone 2 review would be incomplete without a description of the battery properties:
lithium polymer battery;
capacity 3000 mAh;
enough for watching video up to 8 hours or for talking up to 29 hours;
during downtime, activity is maintained up to 315 hours.
Housing and sensors
Users are also interested in the dimensions of Asus Zenfon 2:
length 15.2 cm;
width 7.7 cm;
thickness 1.1 cm;
weight 170 g.
If we consider the additional characteristics of the Asus Zenfon 2 phone, we can mention sensors that measure illumination, proximity to an object, and other parameters. All devices work as standard, so the gadget has all the necessary functionality.
Phone pros and cons
As you can see in the photo, Asus ZenFone 2 is quite large, although it fits well in the hand and does not have too much weight. If you carefully study user reviews, you can find several more advantages of this model, for example:
speed;
fast charging in 60-80 minutes (100%);
affordable price;
quality assembly;
large screen with excellent color reproduction;
good quality camera and flash
you can take panoramic selfies;
very high quality sound;
a good indicator for 4 GB of RAM.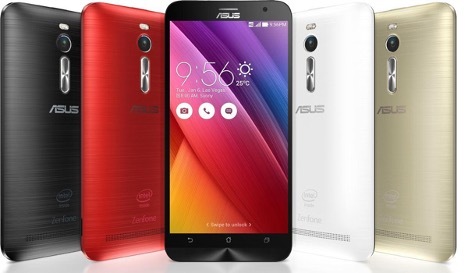 Although there are also disadvantages, they are associated both with the characteristics of Asus ZenFone 2, 32Gb, and with subjective feelings:
buttons for volume control are not very conveniently located;
the amount of memory is small, while you can use a memory card only up to 64 GB;
the battery is not very capacious - sometimes it is not enough for the whole day;
In bright sunlight, the screen becomes difficult to see.
Thus, the characteristics of the Asus ZenFone 2 phone allow us to conclude that this is a fairly high-quality model for its money. In this case, the value for money is really on top. Although the battery capacity, insufficient memory for many users are significant drawbacks. Therefore, the average customer rating is 3.7 points out of 5.