There are different types of drills, and they are mainly divided into household and professional. The first are used only at home and are designed for irregular loads. Understanding how to choose a drill is quite simple. To do this, take into account the power, number of revolutions and other characteristics described in the article.
The content of the article
Types of drills for home

According to what characteristics to choose a tool

Additional options
Types of drills for home
The drilling machine for the home is available in different versions. One of the main classifications is related to the purpose of the tool:
Household appliances are designed for irregular and relatively small loads. They can work up to 4 hours a day (in total), and in continuous mode - up to 25 minutes. After that, a break is made for about the same time, and you can continue to work.
If we talk about which drill to buy for home use, you can consider more powerful tools. These are semi-professional devices, which, unlike household ones, can work up to 5 hours a day in total. They are more durable, since the gearbox is enclosed in a metal case. Therefore, heat is removed more efficiently during operation.
There are also professional tools with a powerful motor. Usually, when learning how to choose a drill for the home, buyers do not consider such models. They are expensive and have characteristics that are redundant for domestic use.
It is also possible to distinguish 2 types of devices, depending on the presence of a percussion mechanism. If it is, then the unit is called shock. It works like a regular drill and partly like a hammer drill. This allows you to drill and, if necessary, make holes in high density material.
But if we consider which drill to choose for home use, it is better to focus on unstressed models. They are more affordable. In addition, for domestic purposes, the shock function, as a rule, is not needed, so you should not give extra money. But if you plan to do a major overhaul, it is better to stop on a percussion instrument.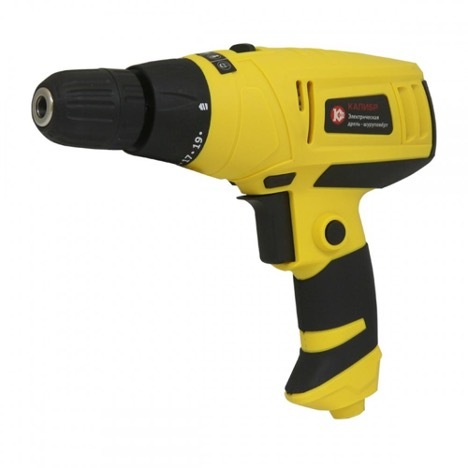 There is also another classification according to the purpose of the device. Analyzing how to choose a drill for home use, you can consider 2 more groups:
Drill mixer - with its help you can not only drill, but also mix cement, tile adhesive and other solutions. There are handles on the case with which it is convenient to hold the device in your hands.
Angle drilling machines - they are used in hard-to-reach places. The tool is equipped with a rotating shaft, and it is located at right angles to the body. This is a less powerful model. And if you think about which drill to choose for your home, it is better to use a mixer or a classic medium-power device.
Finally, there is a classification depending on the type of power tool:
Network - with a cable cord going to a 220 V socket. Such devices do not need to be constantly recharged, but they are non-mobile, require an electrical outlet.
Rechargeable - a more convenient option, can be used everywhere, including in the country. Moreover, the power of the drill for the house is quite enough. But the battery needs to be constantly recharged. There is one more minus - in 2-3 years the battery develops its resource, replacement is required.
There are also pneumatic tools with maximum power. They are used only for professional purposes, they are expensive. Therefore, it would be wrong to choose a drill of this type for domestic work.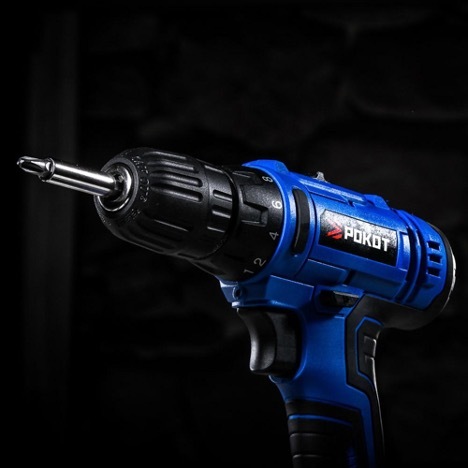 According to what characteristics to choose a tool
Now it's clear what drills are. It remains to deal with the technical characteristics of the devices. The most important ones include:
Power is the main parameter that is always taken into account when buying. If you choose a device for domestic purposes, a drilling machine with a power of 800 watts is suitable. This is quite enough to work not only with wood of different species and drywall. But for brick and concrete, more powerful units will be needed - up to 1500 watts.
The rotation speed is determined by the number of revolutions per minute. If the drill for the home will be used as a screwdriver, 500 revolutions is enough. If you work with dense material, the indicator should be at least 1200 revolutions.
Torque is the force load that is applied to the motor during use. Considering which drill to buy for the home, it is worth stopping at models with a parameter of 30 N * m or more.
Drilling diameter, that is, the maximum width of the hole that is formed during operation. For domestic purposes, 10-12 mm is enough. But at the same time, the power of the device should be sufficient. For example, if it is 400 W, such a device will still not be able to make a 10 mm hole in dense materials - metal, concrete, brick. Therefore, it is important to figure out in advance how to choose the right drill.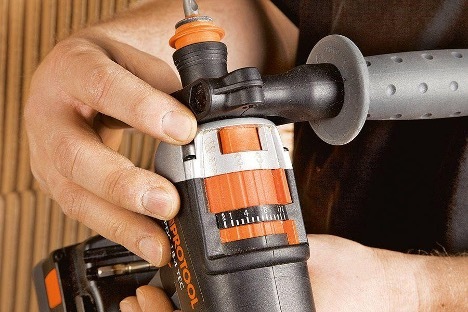 Additional options
If you describe how to choose an electric drill, you need to mention additional options. We are talking about functional features that allow you to use the tool for different types of work, as well as use it comfortably:
Smooth start - The power of an electric drill can be quite large, but it will be better if the speed does not pick up too quickly. Thanks to the smooth start, jerks of the mechanism and voltage drops are prevented.
Impact mode is available for tools with 2 ratchets. If you need to understand how to choose an electric drill for working with dense materials, for example, a thickness of concrete, these models should be considered.
Another way to choose an electric drill for the home is related to the presence of a reverse. Thanks to this function, the drill can work in 2 directions - clockwise and counterclockwise. This helps with loosening screws. Also, thanks to the reverse, you can easily remove the stuck drill from the thickness of concrete, brick.
If you understand how to choose the right drill for your home, you need to take into account the features of the chuck. It can be changed with or without a key (quick-clamp type). In the latter case, the drill is not fixed so securely, but additional tools are not needed for replacement.
To figure out which electric drill to choose for homework, you need to make sure that it has the option to maintain speed at a stable level. It allows you to maintain approximately the same speed of rotation, regardless of what the load will be.
Usually, the device is chosen based on how much power the drill is needed for the home. This is correct, but along with this indicator, it should be understood whether there is a speed controller function. It is useful if you need to work with materials of different densities - from wood to concrete.
Also speaking about which electric drill to choose, you can take into account convenient additions. This is the backlight and latch of the start button.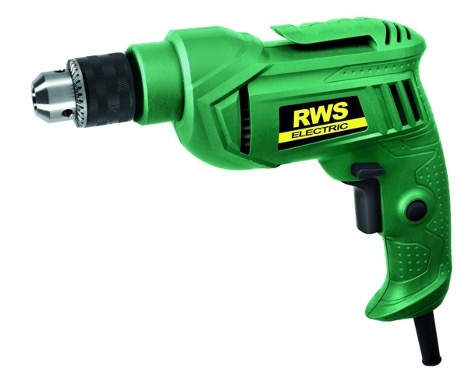 Thus, there are different types of tools, but the main classification of drills is related to the purpose. If you choose a device exclusively for home purposes, you can stop at inexpensive models of medium power. In this case, it is desirable that the number of revolutions be at least 1200 per minute. It is useful to take into account the presence of additional options - backlight, latch, reverse and others.