A garden wheelbarrow is an important tool in a gardener's work. If you spend a lot of time in the garden, constantly doing planting and cleaning territory, then this item is necessary. With the help of a mobile wheelbarrow, a person is able to independently move soil, seedlings, materials and stones for decorative design of flower beds, without the help of third parties. At the same time, the load on the body's support system is greatly reduced. The main thing is to buy the instrument wisely.
The content of the article
Which garden wheelbarrow is better: two-wheeled or one-wheeled?

Material and shape

Volume

Frame

Wheels

Load capacity

Pens
Which garden wheelbarrow is better: two-wheeled or one-wheeled?
The shape and dimensions are almost always identical. The item is a capacious trough made of a metal alloy, firmly placed on one or more wheels.
It is more convenient to use a device with two wheels, as it is more stable and requires less physical effort from the gardener.
Several parameters that will help you choose the right garden wheelbarrow:
Specific tasks that the device will perform.
Place of use.
Human physical capabilities.
Also pay attention to the dimensions, load capacity, frame, comfort of the handles and other parameters that the seller will tell you about.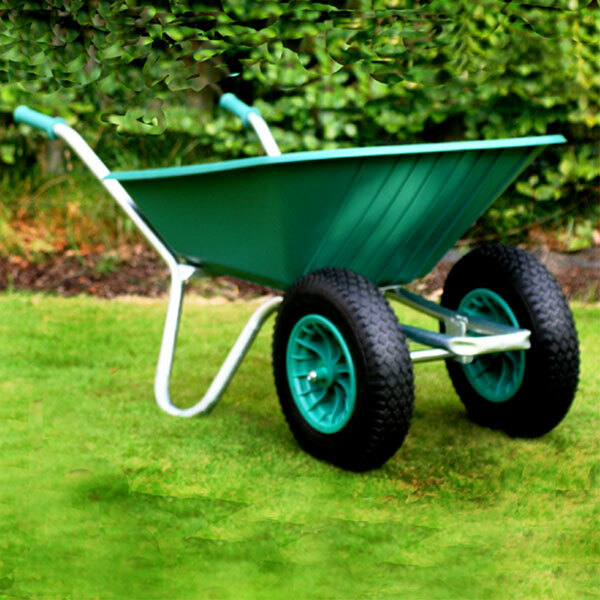 @wheelbarrowcn.ru
Material and shape
Two options are on sale:
a square trough involves the transportation of non-bulk goods of the correct shape;
in the form of a trapezoid, it copes well with moving and unloading bulk materials.
The trough itself is made of steel alloy, coated with zinc or powder paint for stability, because it is regularly exposed to adverse environmental conditions.
The wall thickness is 0.08 mm.
There are wheelbarrows with wooden or metal troughs, but they are not designed for heavy loads. They are used to transport lightweight materials that are not capable of damaging the structure.
Volume
This parameter is important, since garden tools require high capacity. Typically, 50-65 liter wheelbarrows are offered for light work and moving small amounts of materials. This is a lightweight tool that maneuvers perfectly between beds.
The second option is up to 100 liters, designed for transporting bulk cargo and not only bulk materials. It is heavier and has less maneuverability. By the way, construction wheelbarrows can hold 120 liters of cargo, but they are clumsy.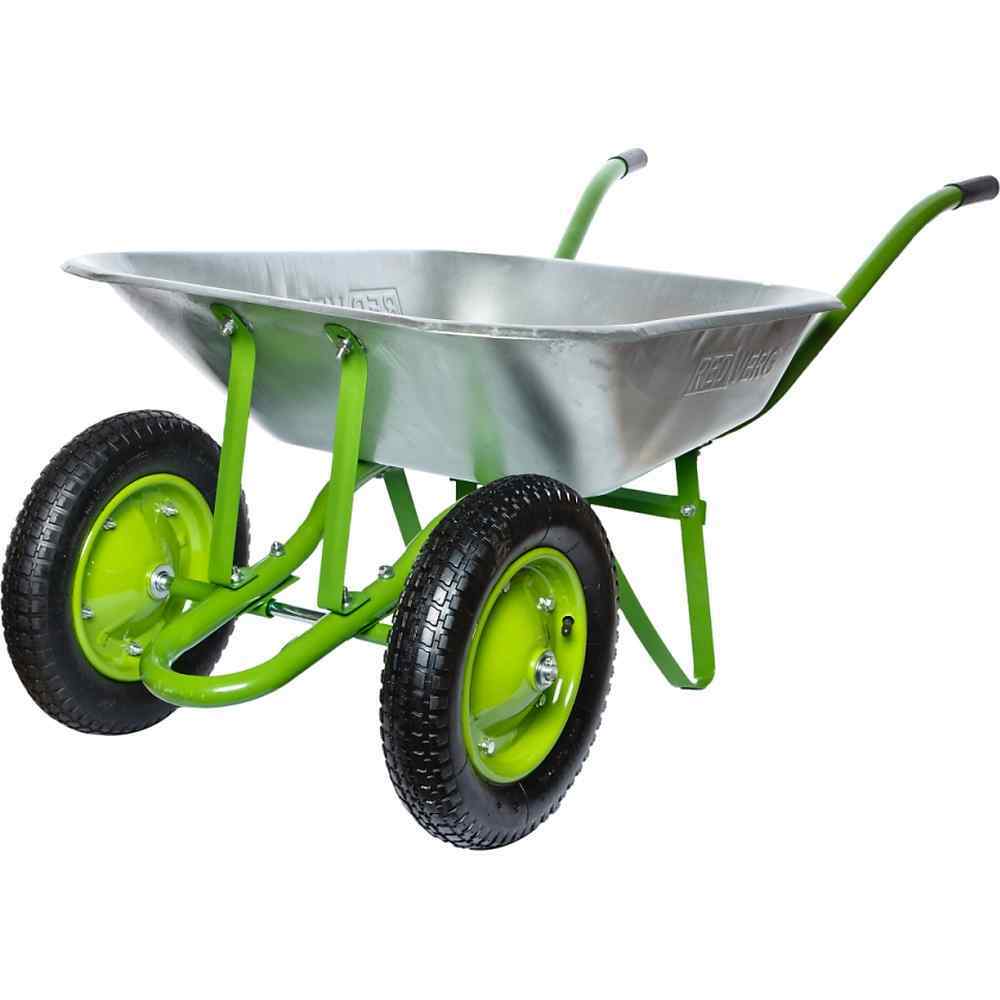 @wheelbarrowcn.ru
Frame
An equally important element, since it is responsible for supporting the trough and unloading materials. As a rule, a one-piece structure is made from a profile pipe 25–40 mm thick. It holds the weight of the load and ensures easy unloading.
For heavy models, a frame consisting of several elements is assumed. Its task is to make the operator's work easier.
Wheels
There are models with one and two wheels. In the first case, the garden wheelbarrow is more maneuverable, in the second it is stable. The gardener will have to choose, depending on the type of materials being transported, the nature of the soil and the degree to which the site is filled with plantings.
The diameter of the tire is also important, because the larger it is, the wider the tires are installed. This option is suitable for soft ground.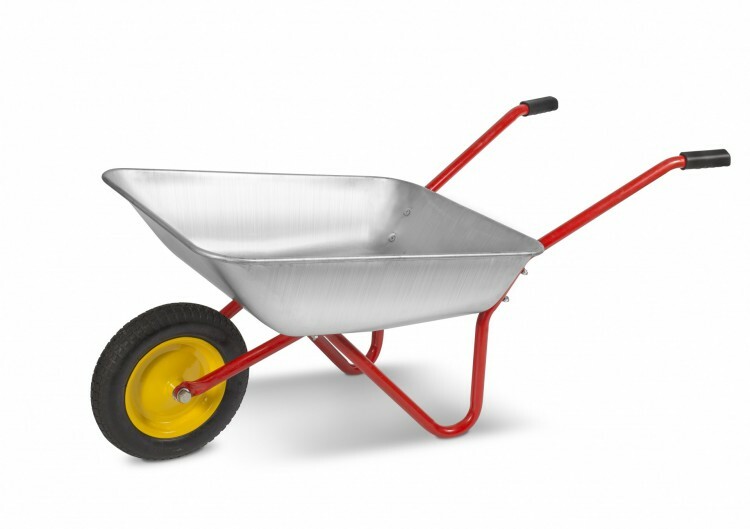 @wheelbarrowcn.ru
Load capacity
There are models on sale with weights from 70 to 130 kg. Of course, manufacturers make a reserve, but it only works on new cars. Over time, the connecting nodes wear out and garden tools can easily break if they are overloaded with materials.
Pens
Long metal handles should be equipped with rubber or plastic pads that prevent your hands from slipping. Models with two parallel handles are more convenient.
Having paid attention to the specified parameters and having decided in advance on the nature of the work, a person cannot it will be difficult to choose a garden wheelbarrow and make a profitable purchase necessary for working at the dacha plot.