Not all objects invented for home and kitchen become popular and useful. But in most cases, creative solutions find their place, and the housewives can no longer imagine life without them.
Thus, knives, forks, a microwave, a refrigerator and other appliances appeared in the kitchen, without which it is difficult to imagine the life of a modern person.
In the selection of creative and unusual devices below, everyone can find the right device for themselves.
Useful accessories for creative tea drinking
The content of the article
Useful accessories for creative tea drinking

Measuring spoon with digital display

Spray for lemon

Oil spray

Pasta Casserole

Measure for pasta

Portable USB mug heater

Washing pan

Pot float

Trash bin with cooling option

Defrosting tray

Salad bowl on ice

Keeper of freshness for greens

Meat mariner

The device for cleansing greens

Wall-mounted washing machine

Packet sealer

A carafe reporting that the milk is spoiled

The device for vigor

Lamps with a bed

Wine cork with artificial ice

Cutting board with waste container

Cutting board with integrated scales

Product temperature measuring device

The device for the manufacture of caviar

Grocery safe

Auto spaghetti fork

Ice tray with buttons

Fat Magnet

Beer Frother
Tea lovers can please themselves with several unusual items that will make the tea drinking process not only convenient, but also unusual:
Device for maintaining water temperature. This device will be especially useful for those who like long gatherings over a mug of fragrant hot tea. It is intended to maintain the required water temperature for a given amount of time.
Special design spoon. An unusual teaspoon will be indispensable for those who prefer to drink tea bags. Thanks to its special shape, it will hold the bag and eliminate the need to catch it. Some models of spoons have a latch, thanks to which they can be fixed on the wall of the mug.
Teapot in the form of a man. The silicone figure of the man is designed in such a way that allows you to brew tea, and then remove the tea leaves from the mug.
Measuring spoon with digital display
An indispensable device for fans of cooking and baking. A small device will become a complete replacement for a kitchen scale and a measuring cup.
Spray for lemon
An original and useful device in the form of a compact spray gun. It is inserted directly into the pulp of citrus fruits and easily extracts juice. The product has a filter, so the juice will always be clean.
Oil spray
The product is indispensable in every kitchen, because it allows you to not only add the right amount of oil with a spray, but also to preserve its aroma.
Pasta Casserole
For a pasta lover, a special pan will become a real lifesaver. The main feature is an unusual shape cover. It has holes and serves as a colander. In addition, thanks to the latches, the lid is tightly fixed to the pan.
Measure for pasta
The original device is a plate with slots made in the form of a horse figure and several figures of men. Each of the slots allows you to measure the required amount of spaghetti. A horse figurine will help to measure spaghetti in four servings, each subsequent slot is designed for less pasta.
Portable USB mug heater
How many times did each of us come across the fact that hot tea or coffee cooled down while we were distracted by pressing matters? Thanks to the compact mug heater, this problem no longer exists. You only need to connect the device using a USB cable to a laptop or computer and enjoy a hot drink. The device has no limitations in operation, so you can warm up tea or coffee for any length of time.
Washing pan
Unusual and practical pan has a special nozzle. With its help, you can easily wash any vegetables and fruits, while all products will remain inside the tank. If necessary, the device can be used to drain excess fat.
Pot float
Each housewife was faced with a situation when the water put to boil or the broth boils: whirling in a heap of household chores, it is easy to forget about the saucepan standing on the stove.
Returning to the kitchen, the hostess discovers not only boiled water, but also a dirty stove - the contents often splash out onto the hob, leaving spots. To avoid this, a special float will help. He will notify with a loud whistle when the water in the saucepan boils.
Trash bin with cooling option
As a rule, everyone hides the bin under the sink. After all, it not only looks unaesthetic, but also is a source of unpleasant odor. Thanks to the original bucket with cooling function, you can forget about the garbage "darling". The device cools the contents, which prevents the formation of bacteria. In addition, the products have built-in UV lamps - to combat microorganisms.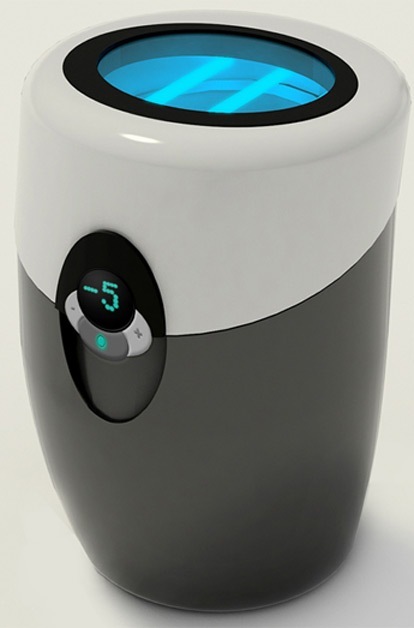 Attention! Buying any of these unusual interesting devices can make the life of the hostess much easier.
Defrosting tray
Situations when it is urgently necessary to defrost meat often occur. If you put it in boiling water, the meat will lose all juiciness. A special tray for defrosting comes to the rescue. It does not need to be connected to the mains or preheated. It is only necessary to lay out pieces of meat and wait a bit.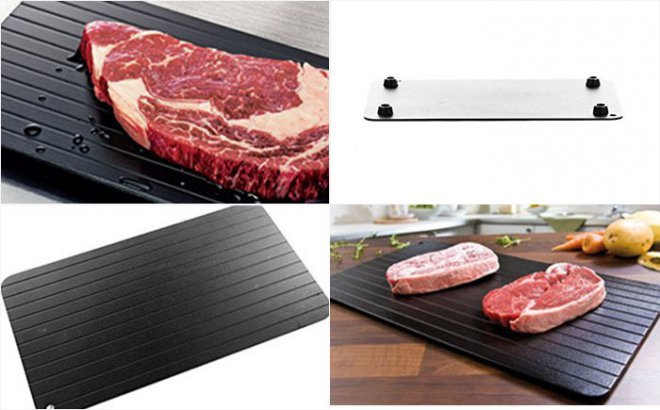 Salad bowl on ice
The product will become indispensable if you need to prepare salads or vegetable slices for receiving guests. Thanks to ice, the products will not begin to deteriorate and will retain their original appearance on the festive table. In addition, the device has dividers, which allows you to cut several different products at once.
Keeper of freshness for greens
Every housewife, who often uses fresh herbs, should think about buying a convenient and practical keeper for herbs. The device is a glass flask in which you must place pre-moistened herbs. The manufacturer guarantees that the greens will remain fresh for three weeks.
Meat mariner
A vacuum appliance is a real lifesaver for any lover of grilled meat. It allows you to make marinade and pickle meat in a matter of minutes. The device can not only cook perfectly pickled meat, but also save time. EIf usually meat is marinated for several hours, this device only needs 30 minutes.
The device for cleansing greens
Many people like greens in a salad. But no one likes green stalks, preferring leaflets. Pinching usually takes a long time. A special device can do this in seconds. It is enough to place the stem in the necessary slot and gently pull it. As a result, all the leaves will remain in the bowl.
Wall-mounted washing machine
A modern device will become indispensable for owners of small apartments, where there is no room left for a standard washing machine. The compact product has a depth of only 29 cm and is mounted on the wall.
Reference! Despite its small size, the machine has all the basic functions: "cold wash", "baby clothes", "spin" and others.
Packet sealer
Exposed corn flakes or chips are quickly soaked in moisture and lose crispness. A packet sealer will help to avoid this. The device is easy to use: you only need to press on the lever, which glows the wire. As a result, the package begins to stick together. For convenience, the product has a magnet, so it can be placed anywhere, for example, on the refrigerator door.
A carafe reporting that the milk is spoiled
A stylish glass carafe will in time notify that the milk has become unusable. This is possible thanks to a small sensor that measures pH.
The device for vigor
With the onset of autumn, most of Europe and Russia are plunging into darkness: rainy and cloudy weather replaces sunny days. Lack of sunshine negatively affects mood. Therefore, Philips has released a special device that simulates a blue sky. It is enough to install a compact device on the window and you can enjoy the view of the summer sky.
Lamps with a bed
An interesting lamp with a bed is suitable not only for lovers of greenery. It will become an original decoration for any room.
Wine cork with artificial ice
Not a single party can do without a bottle of good wine. Well, if it was chilled in advance. But if this is not so, a cork with artificial ice will help to cope with the situation. Just put it in a bottle for a few minutes.
Cutting board with waste container
Often when cutting products, a large amount of waste is produced that interferes with the work. This forces you to periodically switch from cooking to waste disposal. With a special cutting board you can forget about it. The board has a slot and a compact tray in which all the waste falls.
Cutting board with integrated scales
Cutting board is available in any kitchen. However, the modern version of the device will help not only grind the products, but also weigh them. This is not only convenient, but also saves space and money, because you do not need to additionally purchase a kitchen scale.
Product temperature measuring device
The device is indispensable for cooking meat. With it, you can achieve the perfect roasting of meat, preserving its juiciness and taste.
The device for the manufacture of caviar
Black and red caviar are not only tasty, but also a healthy dish. However, not everyone can afford it. An interesting device comes to the rescue, which allows you to turn ordinary products into a kind of caviar. The product can be converted to liquid form.
Grocery safe
The product is useful for families with a sweet tooth who cannot control the craving for sweets. Thanks to a safe with a built-in timer, none of the households will get access to sweets and cookies. The minimum timer is one minute, the maximum is ten days. In addition to sweets, you can put other products in it, for example, alcohol.
Auto spaghetti fork
A twist fork is a great solution for every spaghetti lover. No longer need to be afraid to drop the cutlery or put a greasy stain on your clothes.
Ice tray with buttons
Ice cubes are indispensable in the hot season, because it is so nice to sip chilled tea or juice. However, removing cubes from a mold can be quite difficult. Therefore, it is worth using a special tray. Using the buttons makes this easy.
Fat Magnet
The device is useful not only to supporters of a healthy lifestyle. A magnet will remove all excess fat from food. Before this, the magnet must be placed in the refrigerator so that the droplets of fat freeze reliably to the device.
Beer Frother
Every beer lover will appreciate the ultrasonic device, because the foam of the drink quickly settles. It is enough to press one button to "refresh" the beer and return it to a fluffy froth.
Any of these devices will become not only an unusual decoration in the kitchen, but also an excellent assistant in cooking. But it is worth remembering that they are not able to replace the correct recipes and adherence to cooking technology. After all, all devices are created only for convenience.