Russia, Moscow region, Moscow+79041000555


It takes ~ 1 minute to read
Simple geometric shapes, when properly arranged and color-matched, can also look impressive and stylish. Our three-meter straight kitchen, without any decor, impresses with its interesting design and color contrast.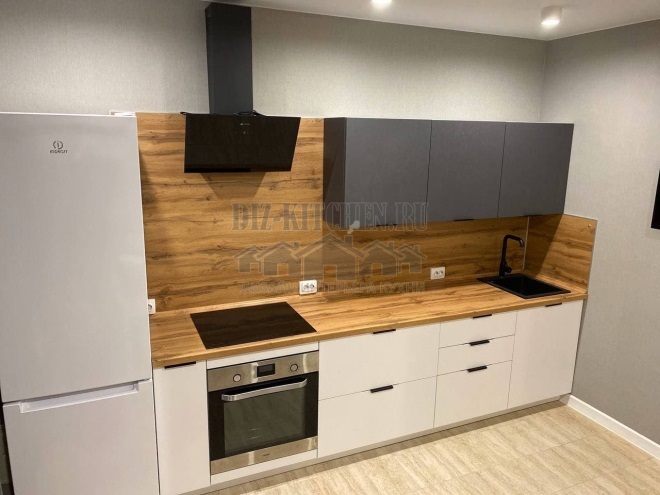 The interior has skillfully combined 3 colors: gray-black, white and warm wood. White is the main tone. This is the bottom row of facades, floor and walls. For a small room, a light background is best suited, expanding the space.
Attention! Earned on our website kitchen designer. You can get acquainted with it and design your dream kitchen for free! May also come in handy wardrobes designer.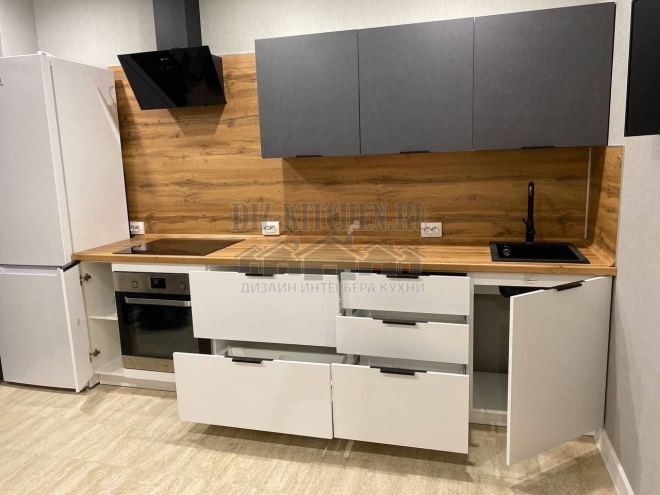 Dark gray concrete cabinets and a wooden center look more expressive on a light one. The white refrigerator to match the lower facades easily became an extension of the furniture set.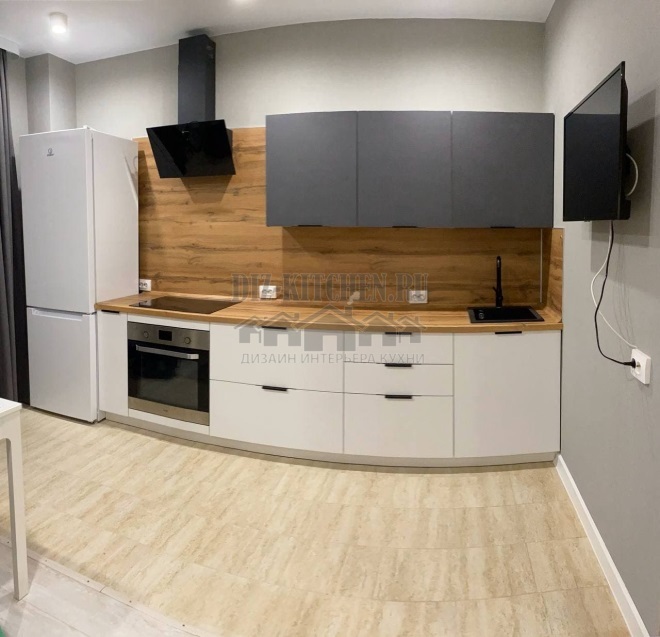 Black household appliances in contrast to light surroundings attract attention. The sink and faucet are also black, continuing the idea of ​​a stylish contrasting interior.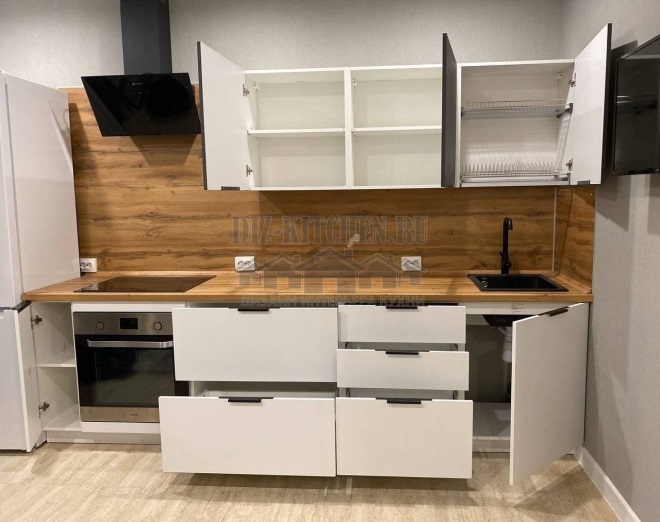 The two gray top cabinets look good with both light walls and wood paneling. A beautiful and deep expressive gray brings a cool feeling to the interior. Black household appliances do not seem like a foreign body thanks to the gray cabinets.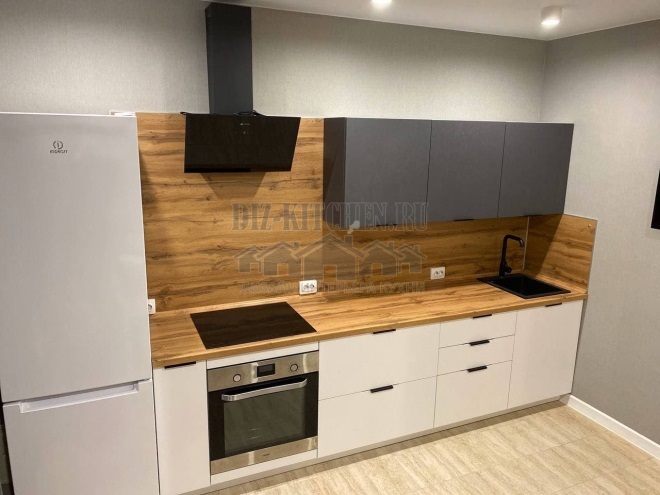 The body is made of laminated chipboard. Facades - MDF in PVC thermoplastic. Plastic table top for wood, 38 mm thick. The color goes to the wall side. The side wall near the sink was protected with a panel, also in the color of the countertop.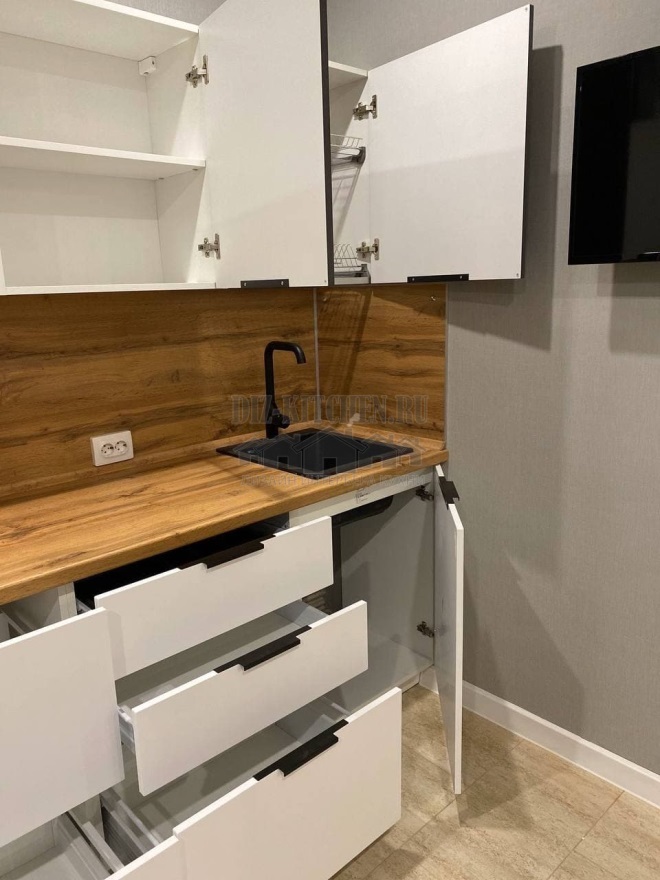 The plastic plinth at the bottom gave the cabinets a monolithic look. Inside the gray modules there is a drying mesh for storing dishes.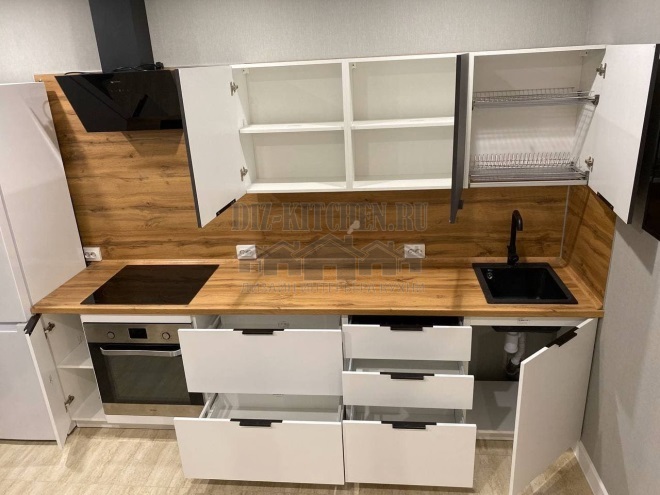 Drawers - Hettich MultiTech. These are single-wall metal structures, simple, lightweight and durable.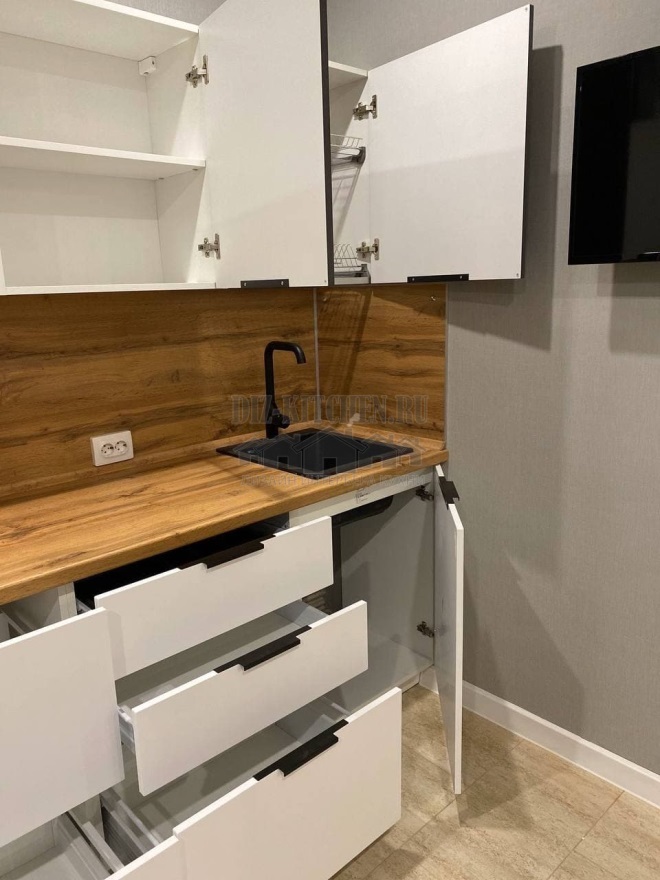 The dark overhead handles are small and neat, just right for a minimalist interior.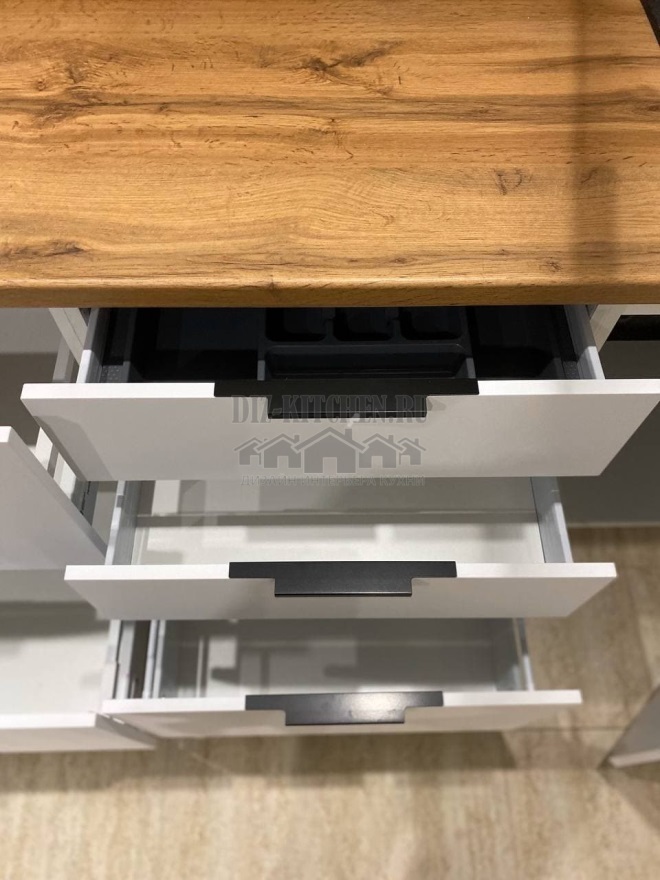 The modern design looks interesting and laconic. This was achieved with a very small budget.
A quality dining table is simply a must ...
Endure an electrician with a new chandelier
44.62%
Voted: 65
In order not to lose, tell your friends
Follow us on social networks




Dear visitor!
With great interest I always read your comments to my articles. If you have any questions, do not hesitate to ask them, leave, please, Your feedback in the form below. Your opinion is very important to me. Thanks to your criticism and thanks, I can make this blog more useful and interesting.
I would be very grateful if you rate this post and share it with your friends. It's easy to do by clicking on the social media buttons above. Do not forget the article you like Add to bookmarks and subscribe to new blog posts on social networks.

Anna, editor of diz-kitchen.ru
© 2015 - 2021 | All rights reserved. At a reprint of materials the active link to the source is required. | User agreement and privacy policy
All characters and stories are fictional, and any coincidence with real or living people is accidental.