The hostess wanted the room to become a place specially created for convenient storage of food and utensils. The cabinets cover the facades. Top structures are provided up to the ceiling. An interesting detail - there is a separate shelf for cat bowls. If it is not required, it can be easily pushed aside. The handles are integrated into the fronts. The facades below and the facades of the columns are of a pleasant brown color, the upper ones are much darker. They are in harmony with the worktop and floor. Bright accents are red details. These are candles, chairs and wires. Writes an online magazine about Minsk CityDog.by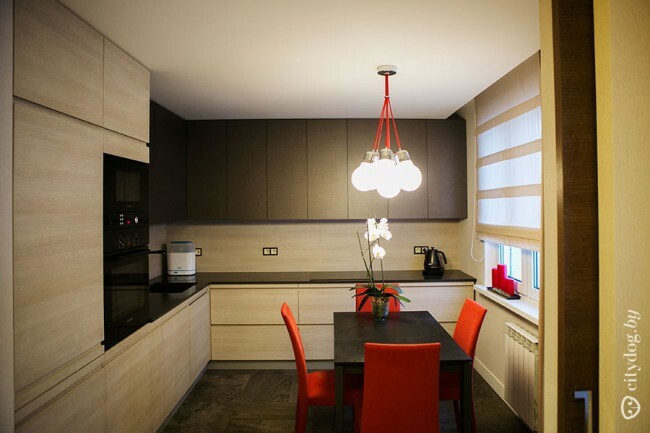 The kitchen has all the equipment that a hostess may need. Built-in refrigerator, microwave oven, dishwasher, hob are provided. The kitchen has a worktop made of quality stone. Its thickness is 2 cm. a sink is integrated into the surface. It is large, square in shape.
Attention! Earned on our website kitchen designer. You can familiarize yourself with it and design your dream kitchen for free! May also come in handy wardrobes designer.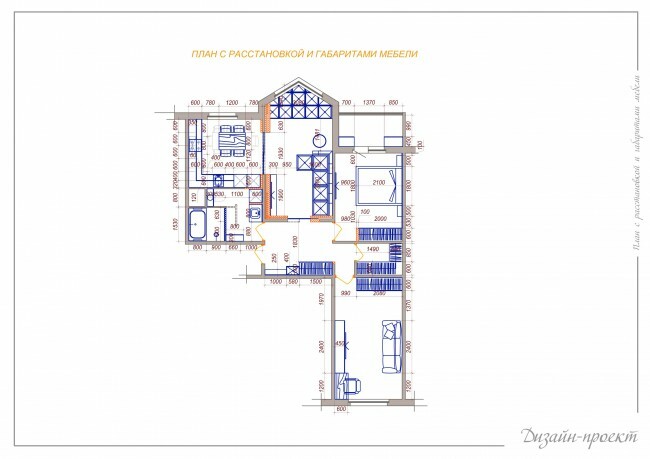 Drawers of sufficient width, ideal for storage. They are located on the wall to the right. The size of the kitchen is large. That is why column cabinets have not become an obstacle to a comfortable and spacious surface for preparing delicious meals. It is divided into three zones.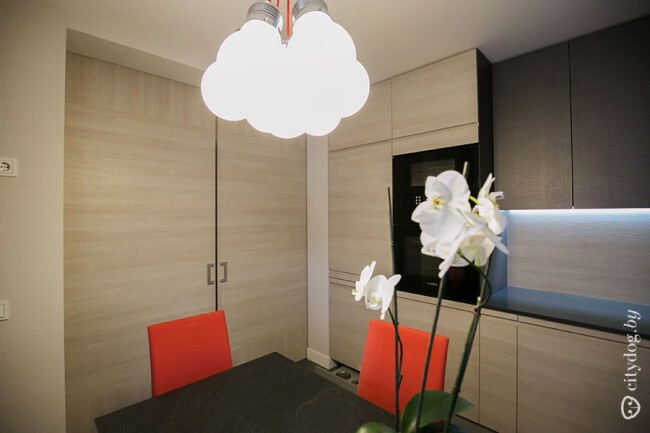 Taking care of chairs is quite problematic. But it is quite possible to clean the stains. There are a lot of dark surfaces. They look beautiful, but they require careful cleaning. The surfaces are smooth and matt. This is why they are easy enough to clean.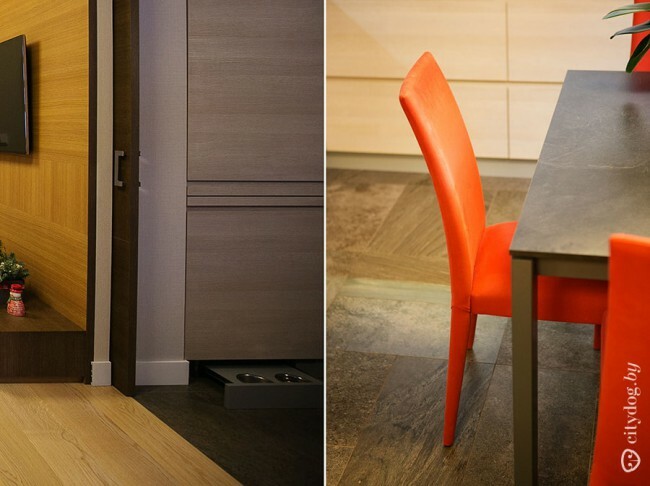 Above the table there is a bright light that attracts attention. It is complemented by built-in backlight. It is mounted under the cabinets on top. It is needed in order to illuminate the countertop when cooking. This light goes under the cabinets throughout the room. The exception is the hood. This stylish kitchen is designed for optimum comfort.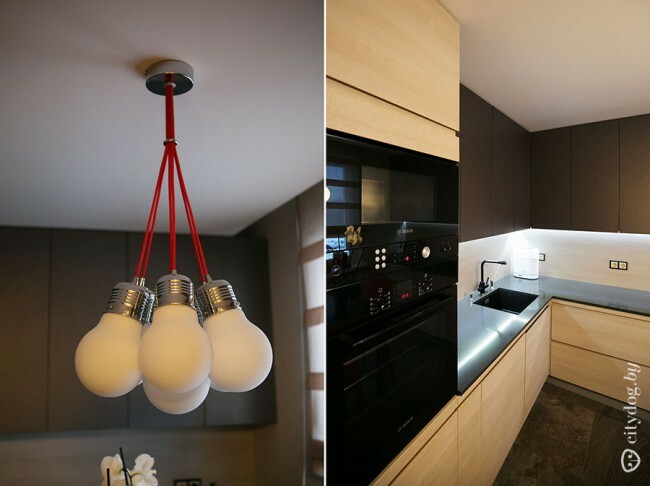 What does it mean to arrange furniture according to feng shui?
The stove (the main element of the kitchen) should not be in the corner
33.08%
Refusal from mirrors and height differences
12.78%
Harmony of balance, soothing shades, purity
33.08%
Put the refrigerator next to the TV)))
21.05%
Voted: 133
average rating 0 / 5. Number of ratings: 0
No ratings yet. Be the first to rate.