Modular kitchens are a simple and affordable solution for decorating your kitchen. Any kitchen furniture is a set of cabinets and drawers made in the same factory, in the same style and color. It will be inexpensive to buy and assemble such your own kitchen, but a certain monotony and banality will become a disadvantage. Indeed, many people throughout Moscow, the country or even the world will have the same furniture, differing only in the size of the parts. In this article we will talk about what modules for the kitchen are, and what they are.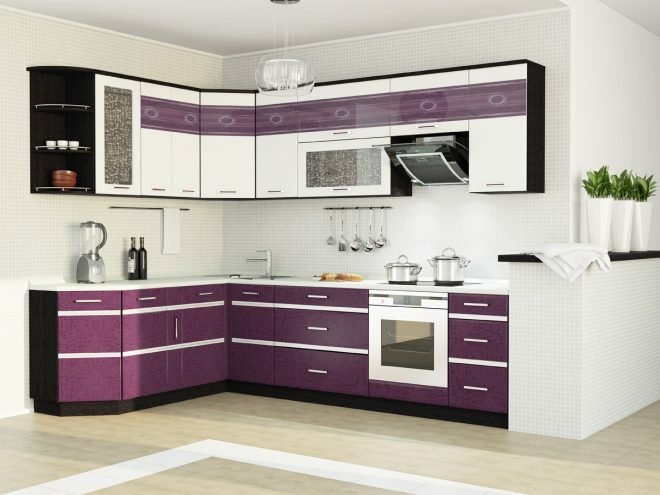 Advantages of modular furniture
Ready-made kitchen modules are convenient in terms of design. You do not need to puzzle over how to choose the selected wardrobes according to style, because here all the little things have already been thought out for you. So let's talk about the pros of a modular kitchen:
Attention! Earned on our website kitchen designer. You can familiarize yourself with it and design your dream kitchen for free! May also come in handy wardrobes designer.
Standard view. You simply choose from the options offered in the store or in the photo in the online catalog. You do not need a complex design project or consultation with a professional in this matter, since all modules look standard. You need to choose the elements that suit your taste and arrange them in your kitchen.
Variability. Usually one and the same module is manufactured in several versions at once. For example, a hanging cabinet can have two or three doors.
Price. Firstly, the price for a piece-by-piece kitchen set is less than that sold as a set. Secondly, you can easily calculate this price yourself.
Speed. All items are delivered quickly, because they are already in stock and are waiting in the wings. You do not have to languish in anticipation when your furniture will be made.
What materials are they made of
Economy class modular kitchen sets are, on the whole, a positive decision for your apartment. The purchase is really cheap, but you should not count on very small amounts. The cost varies depending on the material of manufacture.
What are the cases made of
Chipboard - the main advantage of this material is its low price. And the very disadvantage with which all the housewives of the kitchen from laminated chipboard suffer is hydrophobicity. Particle board is terribly afraid of moisture, begins to swell from direct contact with water. Chips and cracks appear in the corners of the furniture. This can not be prevented, but delayed by using a special silicone neutral sealant;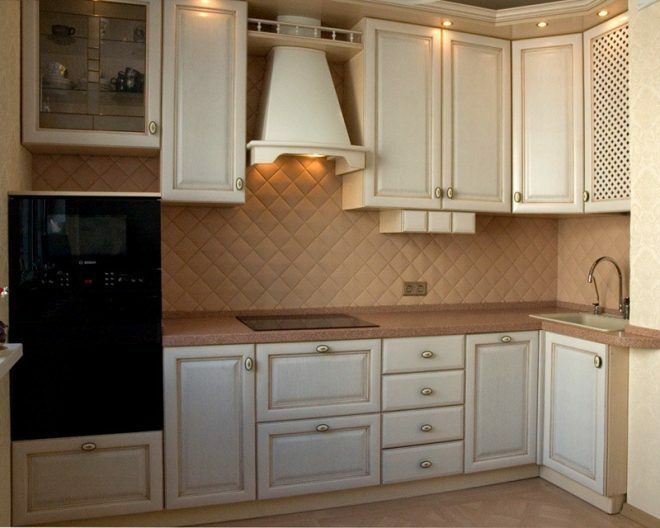 MDF - the advantage of this material is its affordable cost and variability in forms due to its flexibility and elasticity. But here, too, there is one problem: a thin layer of coating, which is used to decorate MDF furniture, can begin to peel off in places of intensive use. Such flaking will give your kitchen an untidy look, but it will last longer than if it is made of chipboard.

What facades can be
film is the most inexpensive finish. A film covering imitating a solid wood covering is stretched over the base;
veneer - this type of facade design is more expensive, but it also looks more pleasant. Also imitates wood finish;
plastic is one of the most practical finishes because the material is strong, durable, easy to use and easy to clean. However, you should give up gloss - this reduces the solidity of the design. Instead, look for matte or semi-gloss surfaces;
the frame is not the most budget option, but it looks very stylish. Tempered frosted glass or plastic is inserted into the aluminum alloy frame. It looks fashionable, modern, but remember that the glass needs to be wiped frequently, and there must be order inside the cabinet.
Types of cabinets in modular kitchens
Assembling a modular kitchen resembles a children's designer. There are many variations of the elements, made in different configurations and sizes, but the same style and color scheme. You just need to choose the right dimensions of the furniture that fit into your kitchen, as well as the appearance that would be the most pleasant.
By installation type
By the type of installation, kitchen cabinets are divided into pendant and floor-standing ones, and the main furniture set consists of them. In the store, it is better to immediately look for these elements in pairs so that they match in width and height.
Some models do not have a work surface. Here the focus is on purchasing similar elements, installing and covering with one common worktop without seams, purchased separately.
Often there are situations when more hanging cabinets are used than floor standing ones. This usually happens in a place above the stove, if it is possible to mount a hood in the cabinet above it. Floor cabinets can have more than just the look we are used to. There are also cabinets and cabinets for the island kitchen. They are modern furniture that fit perfectly into the interior of the room, adding unusual details to it.
By sight
Cabinets can be different in a set of drawers, their height, a combination of doors, and so on. Modular corner kitchens are popular for L-shaped and U-shaped rooms. Furniture, which is located in the corner of the kitchen, should be spacious and deep so that you do not have to reach far for the object inside. Therefore, they are made of two types:
two separate cabinets - hinged doors that open each in its own direction are not very convenient, since not all of the place is easily accessible;
one L-shaped cabinet - one door that folds like a book when opened, giving access to a large interior space.
End cabinets are usually placed on the outer corner of the composition and serve as a decorative function. It is not possible to place anything on their shelves for frequent use. Such models look beautiful because of the curved shape, but do not represent practical value.
Economy class modular kitchens: the order of the selection of cabinets
The first step is to choose whether you are doing a renovation from scratch or simply replacing a few pieces of furniture. In the first case, you need to start thinking exactly from the headset, place sockets under it, lay pipes and electricity, rearrange the stove, sink, refrigerator.
In the second case, you have already installed equipment that you will not move. Then you need to be guided by the following action plan:
select a countertop under the sink;
pick up corner cabinets;
measure the dimensions of cabinets with built-in appliances, select similar ones;
consider whether you need end cabinets;
fill the rest of the space with ordinary floor cabinets.
We figured out how to assemble a kitchen element by element, using separate modules in our work. It is not difficult, the main thing is to correctly determine the dimensions so that they fit into the room. Enjoy the shopping!
Video: modular economy class kitchens
average rating 0 / 5. Number of ratings: 0
No ratings yet. Be the first to rate.