When setting up a kitchen, it is necessary to take the choice of furniture seriously. All details in the interior should be in harmony with each other, create comfort and good mood for the owners and their guests. When choosing chairs for the kitchen with a back, pay attention to the design of the products, the material from which they are made and the strength of the structure.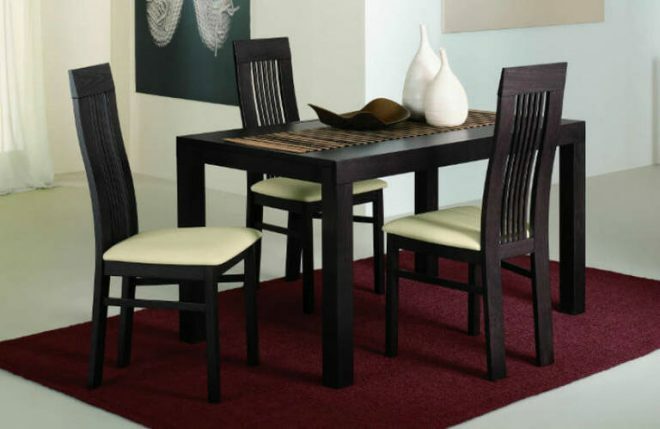 Product features
There are several options for chairs:
Attention! Earned on our website kitchen designer. You can familiarize yourself with it and design your dream kitchen for free! May also come in handy wardrobes designer.
stools;
items of furniture with high or low backs;
half-chairs;
bar stools.
Stools should be purchased for small kitchens where the dining table can be used as a work surface. Products with backs are unsuitable for such rooms, they visually eat up the usable space, and prevent the hostess from moving. The main advantage of such pieces of furniture is considered to be back support. You can lean against the back and sit comfortably on the chair.
The standard version is a monolithic construction that does not change its overall dimensions. Not every kitchen has enough free space. Stackable structures that can be stacked in one column and free up space are the ideal choice for a small room. Such products are easy to use, lightweight and comfortable. This option is suitable for hosts who constantly receive many guests.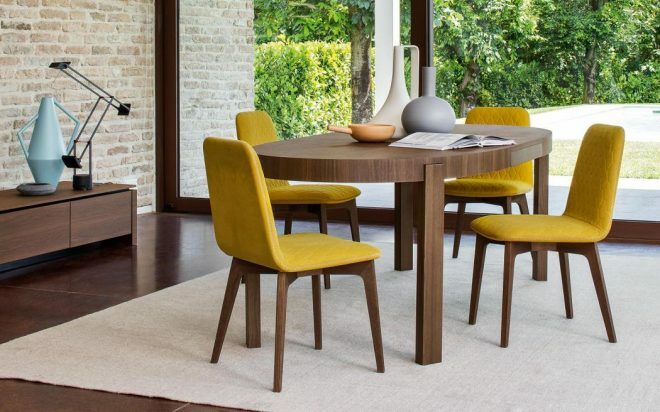 Materials used
The following materials are used for the manufacture of chairs:
plastic;
tree;
vine for wicker furniture;
metal.
In the modern construction market, you can find combined products consisting of metal and plastic or wood. These kitchen chairs are inexpensive, lightweight and durable. Let's consider each type in more detail.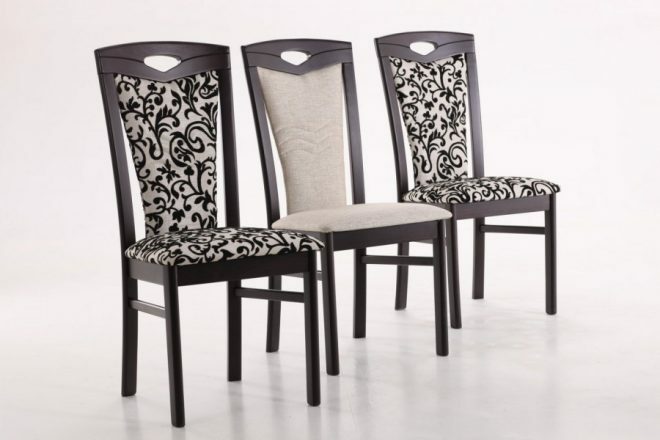 Wooden
Such products have a unique design. They look good in interiors where other wooden furniture is present, such as cabinets, armchairs and kitchen units. Such products will ideally fit into the style of a loft or high-tech interior. Kitchen chairs, photos of which can be seen on our website, are perfect for classic designs. This is especially true of furniture with a carved back and fabric upholstery. Products with carved legs will complement the kitchen in the Provence or country style. For convenience and comfort, models with armrests are available.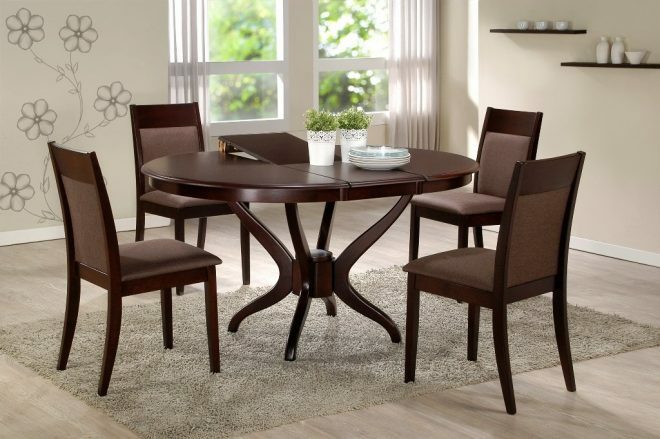 Wicker furniture
For the manufacture of wicker structures, vine, bamboo or rattan can be used. Such products can decorate the interior of the kitchen in country or Provence style. Despite the original appearance, such furniture has a number of disadvantages:
High price of chairs for the kitchen.
Difficulty in leaving. Furniture is afraid of high humidity.
Low strength.
Wickerwork is rarely used in kitchens, much more often they can be found in country houses. Such furniture evokes in the visitor a state of pacification, harmony with nature. The furniture goes well with the light, warm interiors of the premises.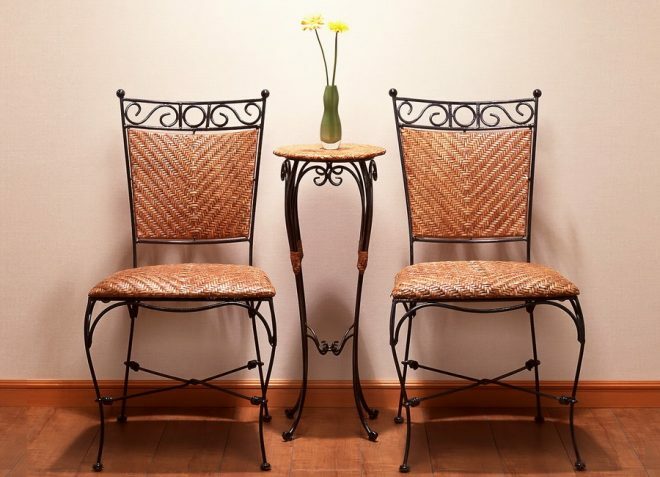 Plastic
Plastic furniture has a number of positive characteristics:
low cost;
resistance to moisture;
ease;
sufficient strength.
Plastic chairs for the kitchen, the photos of which are posted below, can withstand a load of up to 90 kilograms. The back and seat of such products are made of polyvinyl chloride, and the legs are made of metal or wood.
Smooth shiny plastic will suit minimalist interiors. Beautiful tables and chairs for the kitchen go well with a glossy surface or a set made of MDF. The main advantage of plastic furniture is lightness and mobility. For use in the kitchen, it is recommended to select plastic chairs with a back in soft pastel colors or transparent products.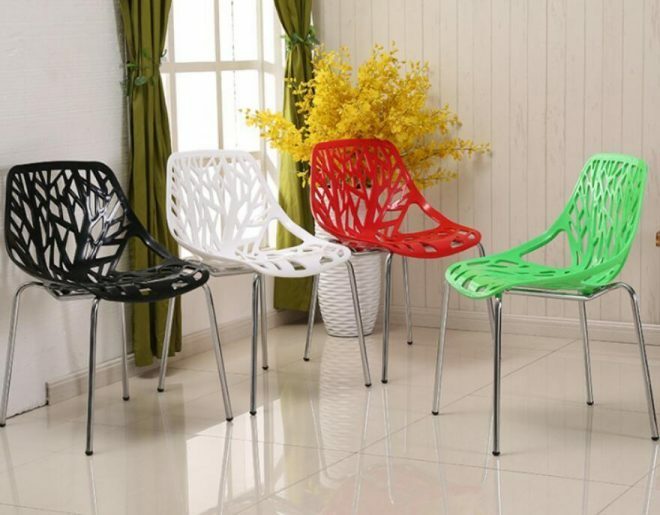 Metallic
For the manufacture of metal furniture, aluminum or chrome-plated steel is used. Such elements can withstand significant weight. There are models with adjustable backrest height. The sizes of chairs for the kitchen can be different, some products are substituted under the dining table, others under the bar counter. It all depends on the purpose of a particular model.
Metal structures are combined with glass and natural stone products, they are ideal for a loft or high-tech kitchen. Such models have a soft back, trimmed with artificial leather or dense fabric.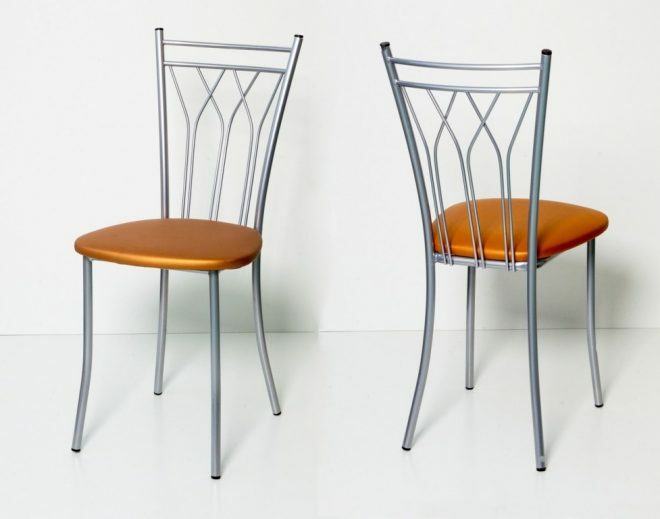 Nuances of care
Furniture in the kitchen is always exposed to high humidity and changing temperatures, its surface suffers from dirt. When caring for chairs, you need to pay attention to the material from which they are made:
Metal and plastic items should be periodically cleaned with a damp cloth.
Wooden furniture is first wiped with a damp sponge, then dry. To preserve the natural shine, the surface is covered with a 10% concentration of glycerin solution. Such operations are carried out at intervals of 2 weeks.
Wicker chairs quickly deteriorate from dryness or excessive moisture, so such materials should be periodically wiped with a damp cloth.
Chair upholstery is easy to maintain, but stains should be removed as soon as they appear on the surface. Natural leather is cleaned of impurities with special substances; an aerosol for cleaning the interior of a car is suitable for textiles. The Teflon upholstery is cleaned with an alcohol solution at a concentration of 1: 1 with water. To care for the artificial leather surface, you will need a rag and soapy water.
Many users buy seat covers and covers. Such accessories not only soften the chair, but also add an atmosphere of solemnity and romance to the interior. When choosing covers, you must focus on the color and material of the tablecloth, curtains and other interior items. This is the best way to protect chairs with expensive upholstery and fabric backs. The textiles are excellent at absorbing odors and dirt.
average rating 0 / 5. Number of ratings: 0
No ratings yet. Be the first to rate.