Successful acquisition pipe blanks made of polypropylene for the arrangement of a water supply system can be considered half the success. Additionally, you will need fittings, fasteners, taps and other components for polypropylene pipes. At the same time, the quality of the future water supply system directly depends on the correct selection and installation of all elements.
The content of the article:
Characteristics of polypropylene pipes

Types of components

Accessories for joining polypropylene pipes

Accessories for branching pipes, bends for connecting flexible pipes

Taps and fittings for polypropylene water pipes

Fasteners for pipes

How to choose accessories

For plumbing

For heating system

Installation of accessories
Characteristics of polypropylene pipes
For domestic water supply and heating, two types of pipes are used - reinforced and unreinforced. In the second case, pipe blanks are made by melt extrusion through a die-die. These are ordinary monolithic pipes made of polypropylene mass with copolymer additives.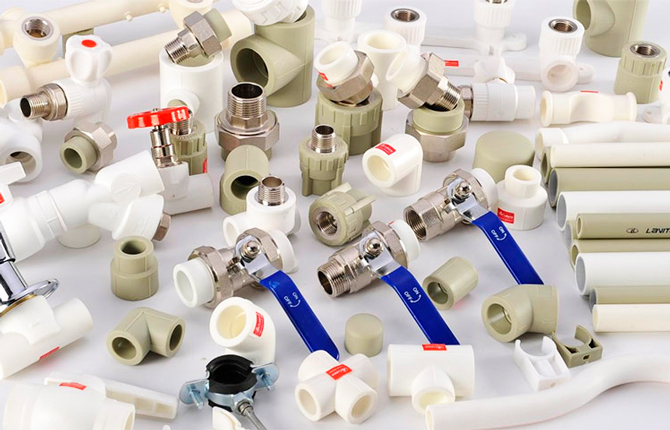 Reinforced blanks are made with gluing an intermediate aluminum layer or welding a sublayer with the addition of glass microfiber. This will need to be taken into account when choosing accessories for polypropylene heating pipes.
Polypropylene pipe blanks are marked depending on the permissible pressure of water or working fluid:
PN10 - pressure up to 10 bar at a temperature not exceeding 45 ℃;
PN16 - pressure up to 16 bar up to 60 ℃;
PN20 - pressure up to 20 bar up to 80 ℃;
PN25 - pressure up to 25 bar up to 95 ℃.
Polypropylene pipe billets PN16-25 are produced in reinforced and unreinforced versions. PN16 with an aluminum sublayer are used in apartment heating systems with double-circuit boilers.
| | | | |
| --- | --- | --- | --- |
| PN10 | PN16 | PN20 | PN25 |
| for cold water supply | for media with a temperature not exceeding 60 ℃ | universal, for cold water and hot water up to 80 ℃ | for heating |
| unreinforced | unreinforced | reinforced | reinforced |
| 0-45 ℃ | 0-60 ℃ | 0-80 ℃ | 0-95 ℃ |
| up to 10 at | up to 26 at | up to 20 at | up to 25 at |
Glass fiber-doped tube blanks are used in:
complete with floor standing boilers with maximum water temperature;
underfloor heating systems;
in high pressure water pipes.
Polypropylene blanks can be made from different materials. The most affordable PPH grade is pure polypropylene. It is used for cold water supply. PPB is a polypropylene-based complex copolymer with the addition of low-pressure polyethylene. It has high elasticity, therefore it is used for components of cold water pipelines and underfloor heating.
The most common PPR brand is a polypropylene base, into which ethylene was "sewn" in a special way during the polymerization process. Withstands constant heating up to 70 ℃. It is used for hot water supply and in low temperature heating systems. The most heat-resistant material - PPs is used for heating circuit components.
Components for assembling a water supply or heating circuit must be taken with the same brand and from the same material as the pipes. Otherwise, there is a risk of damage to the solder seam. It is undesirable to solder polypropylene components of different composition. For example, the coefficient of thermal expansion of a glass fiber reinforced polypropylene pipe billet is 2-3 times lower than that of a conventional PPR pipe for water supply. Therefore, a reliable junction will not work.
Types of components
Dozens of models of fittings and additional elements are used to assemble the water supply system.
They can be conditionally divided into several groups by application:
Components for joining workpieces. These include

couplings

, fittings, adapters, triangles, simple and with a metal fitting.
Shut-off valves, taps, filters.
Fittings for making branches and connecting water or heat consumers.
Fixing elements for polypropylene mains on the wall.
Within the product range of one manufacturer, all components are grouped, systematized and labeled for a specific type of polypropylene pipe. The company puts the product code on the side of the case.
In retail sale, components can be offered in groups, for example, for the assembly of a water supply system or a heating circuit. But more often it is necessary to assemble a set of additional elements in bulk, so it is important to know every detail "in person", or at least to have an idea about the device of accessories for a water supply system.
Accessories for joining polypropylene pipes
For simple docking, straight and angle couplings are used. The fitting used to weld a polypropylene pipe in one line is a cylindrical barrel with seating cavities at the inlet and outlet.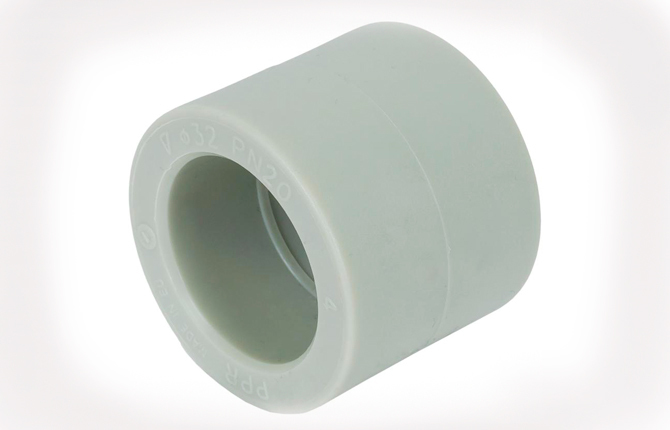 The overwhelming majority of manufacturers put on the end or side surface of the components information about the class of the PN10-PN25 pipe, the bore diameter and the grade of polypropylene.
To connect pipes of different diameters, transition from polypropylene to a steel squeegee or a metal union nut, components of a more complex shape are used. Depending on the method of fastening, such a coupling can have an internal or external metal thread.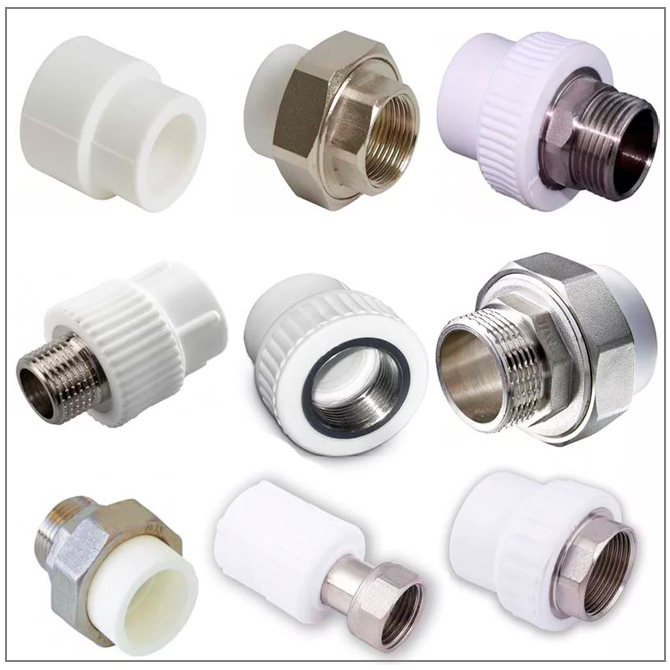 In addition to straight fittings, corner polypropylene couplings are used - with their help, the pipeline is rotated by 45 and 90 degrees.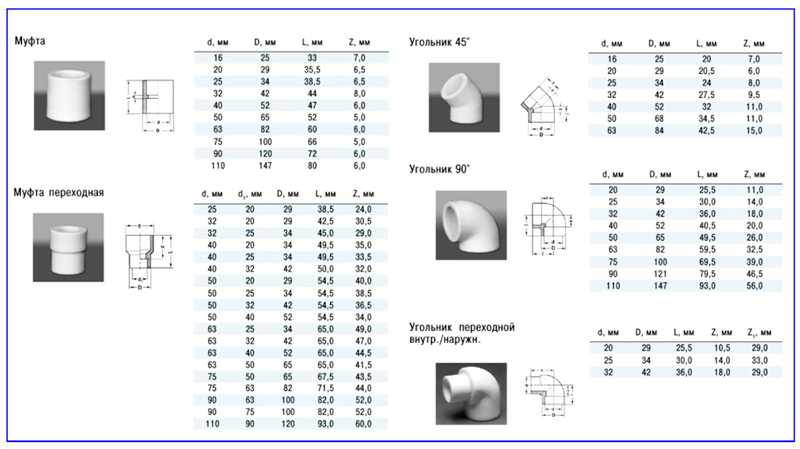 These components can also be made for welding two workpieces of different diameters, have metal elements with an external or internal thread.
For the final assembly of a polypropylene water supply system, components are used that provide service functions:
bypasses if several pipes intersect in the same plane. Usually they are placed at the final stage of assembly, when it becomes possible to measure the radius of rounding of one section over another;
expansion joints made of polypropylene pipes. This pipe ring is used to compensate for the thermal expansion of polypropylene when heated;
plugs and transition collars from pipe to flange connection.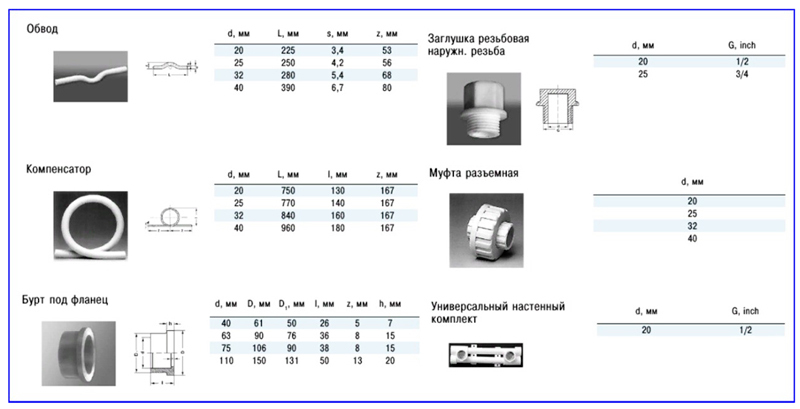 Accessories for branching pipes, bends for connecting flexible pipes
The pipe system does not have to be built in a single broken line or straight line. For complex water supply systems, or more often for heating, several bends have to be made. For example, to connect several heating radiators to the flow line. It is possible to solve the problem of branching a water supply system or a heating pipe using complex-shaped components.
For example, when laying pipes horizontally, it is required to make a vertical drainage of water above or below the main level, or branching from vertical sections of the water supply system. In this case, you can use polypropylene tees to branch the pipe at right angles to the inlet-outlet line.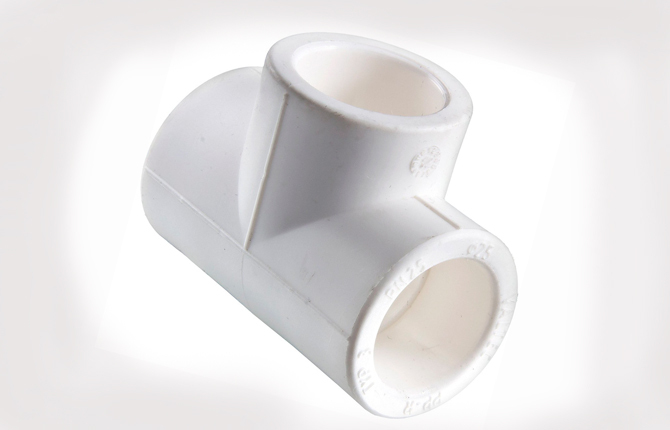 They are also called reduction. All three holes are located in the same plane or in two at once.
The outlet outlet can have an internal or external thread, which is convenient if you want to dock the circuit with a metal pipe.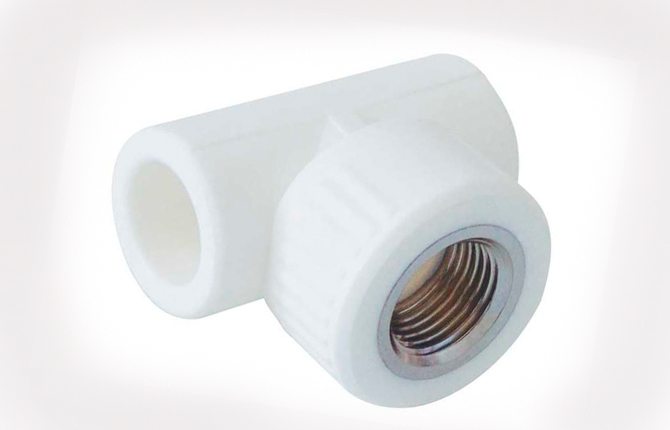 Tees can be transitional with holes for pipes of different diameters.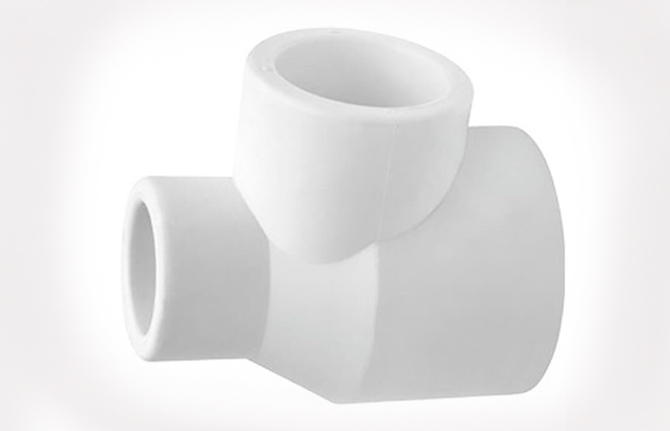 Threaded fittings are also used to connect flexible pipes for mixers, cisterns or boilers.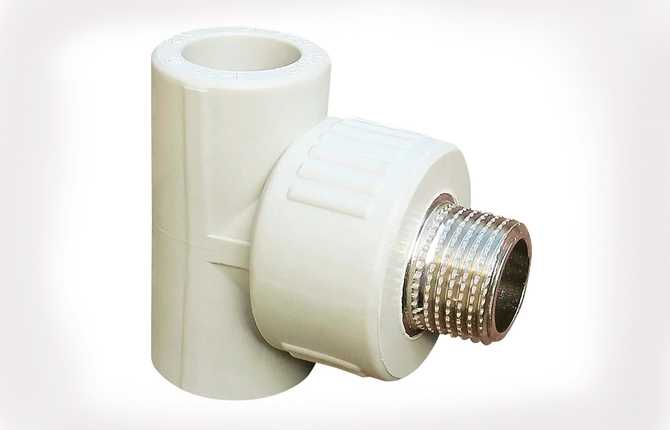 For bath or shower faucets, more commonly used accessories are known as a water outlet. It can be an angle with a threaded nipple.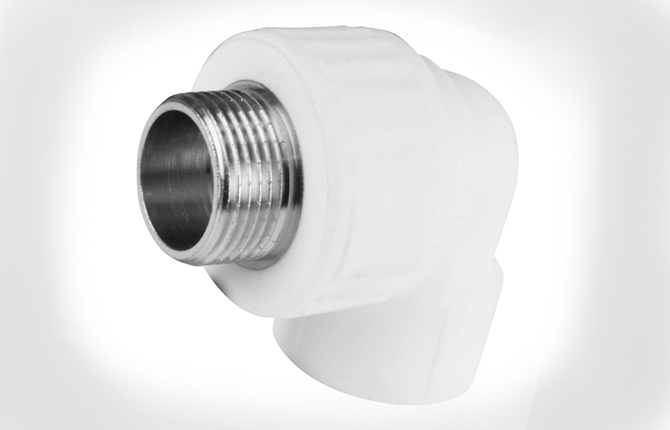 Or a more complex version of accessories - a double plank with fastening for embedding in the bathroom wall.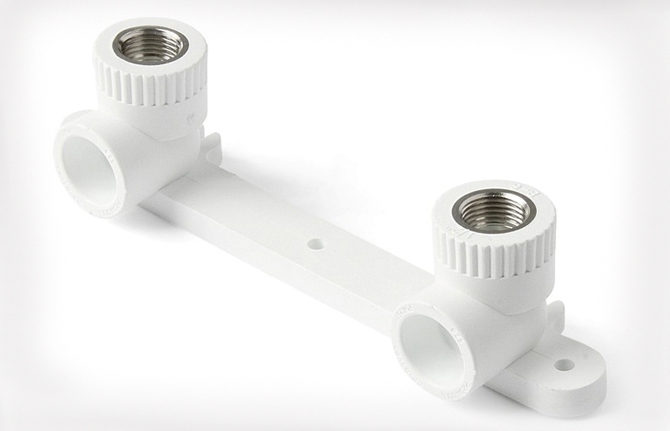 For the kitchen, you can use a universal wall kit.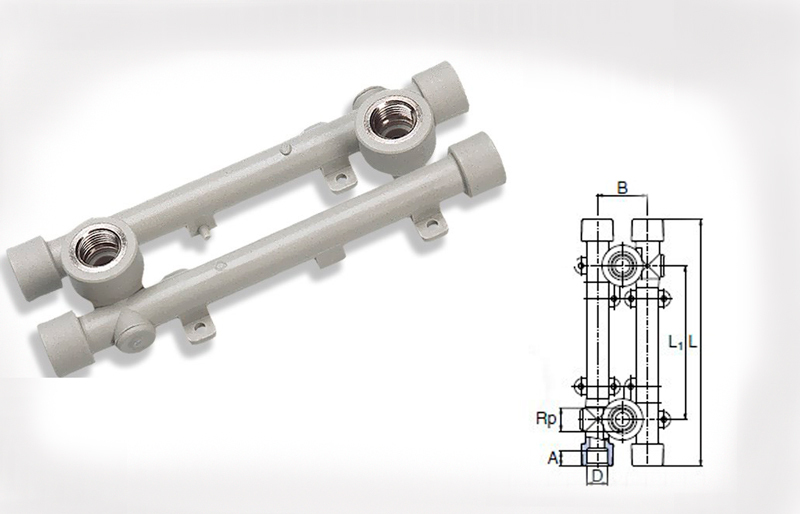 Taps and fittings for polypropylene water pipes
In addition to couplings and adapter adapters, components are used in pipeline structures - valves and gate valves. For cold water, you can put a full bore faucet for soldering with pipes.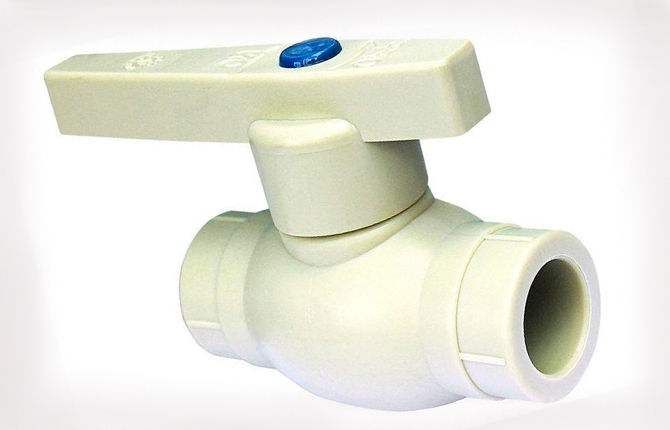 In the heating circuits, the polypropylene pipe is connected to the radiators using a transitional valve for soldering and a fitting.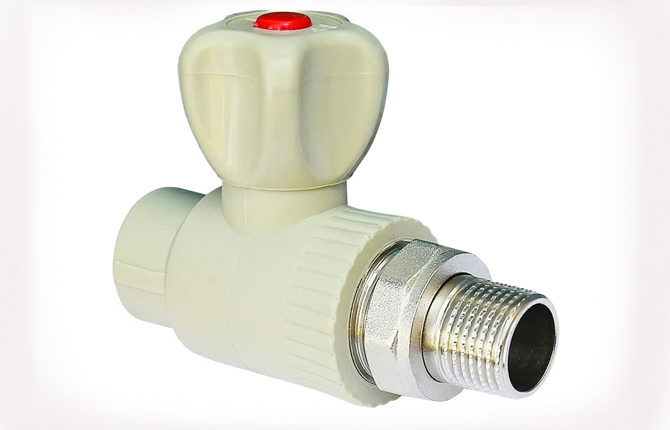 When choosing components for a heating system or a water supply system, a coarse filter is purchased.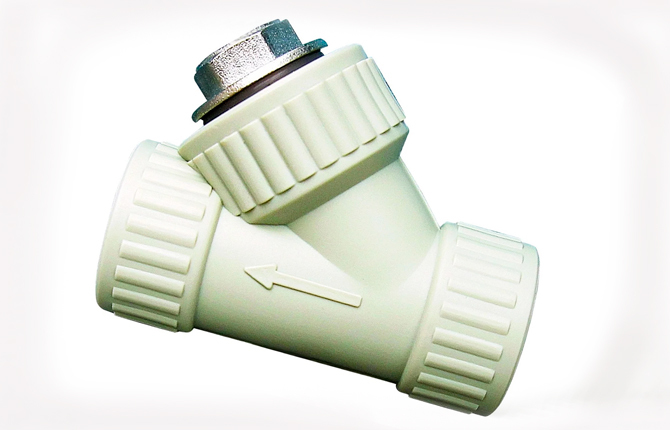 Usually they use models with a metal stopper, but there are also options with a polypropylene one. Plastic components are used for low pressure lines, no more than 1.5 bar.
Fasteners for pipes
Selection of accessories used for fixing polypropylene lines on the walls, small.
For household plumbing, two types of fasteners are used:
polypropylene clips;
clamps of the "beaver" type.
Both options of accessories are mounted on the wall with a self-tapping screw and a plug.
Fastening of polypropylene pipes must be sliding - hard pinching is not allowed. Otherwise, the line, when heated, can break off the fasteners of any component part.
The clips are placed along the line of the polypropylene pipe laying.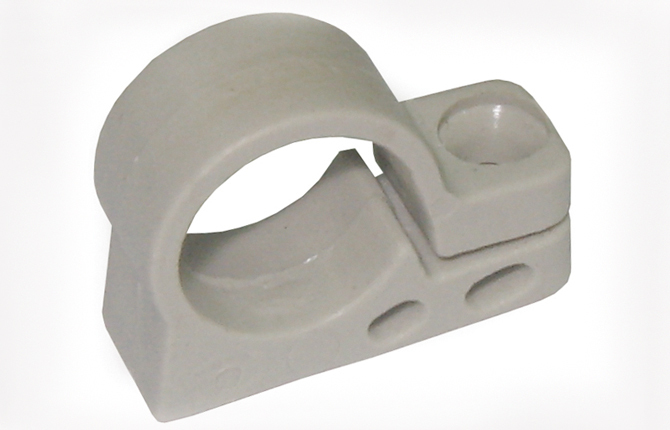 The second type of accessories is put on the pipe in advance.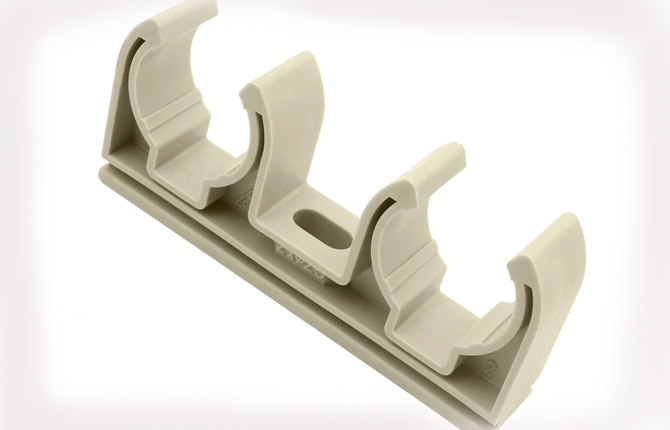 After soldering the pipes, you can choose a place for installation and fix the part with a dowel.
How to choose accessories
The best solution when selecting parts for assembling a plumbing or heating system is to use the catalog of one manufacturer. This approach will ensure that the components match each other both in material and in product size.
What you need to pay attention to:
Components must be correctly matched to fit. Therefore, it is necessary to draw up a diagram of the future wiring, mark the type of parts on it. It is important to correctly size the components. After that, you can make a list.
Components for water supply and heating systems are made of different materials. Glass fiber reinforced polypropylene parts should only be welded to pipe blanks of the same material.
An exception may be the situation when pipe billets with a reinforcing aluminum sublayer are used for hot water. In this case, components can be purchased in one list, both for cold and hot water.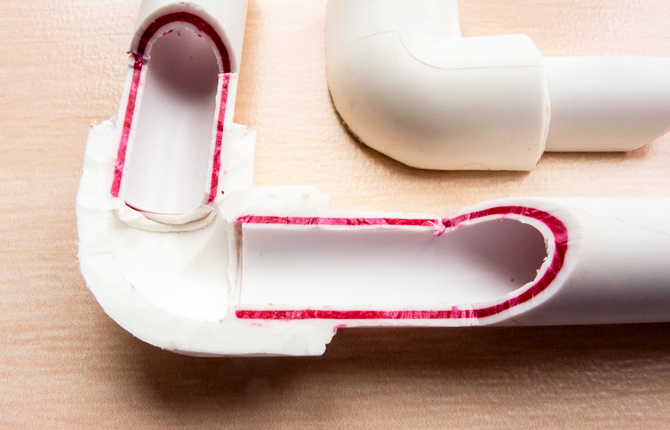 The wall thickness of the polypropylene body of the components is much larger than that of the pipe. Therefore, there are no special problems with heat resistance.
For plumbing
First of all, it is necessary to put a tap and a filter on the inlet. At the inlet in front of the water meter, a polypropylene valve-type valve with a rubber gasket and a clamping nut on the stem is mounted. This type is considered more reliable and durable. It is better not to save on accessories for the introductory part.
Tees, transition fittings, couplings are purchased from the list. It is advisable to buy components from one manufacturer. If the water supply scheme requires the installation of blocking taps, for example, when connecting plumbing or a boiler, it is better to take components made of brass and install them on polypropylene transitions couplings.
For heating system
Planning a heating circuit is no different from a similar process for a plumbing. The only difference is that development begins with the selection of a location for the security group and the selection of components for it.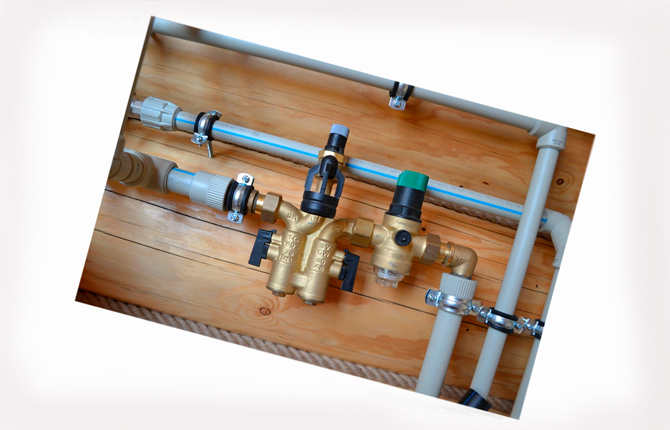 The second feature is that an expansion compensator must be included in the list of accessories for polypropylene heating pipes. You can use a Kozlov ring or compensator.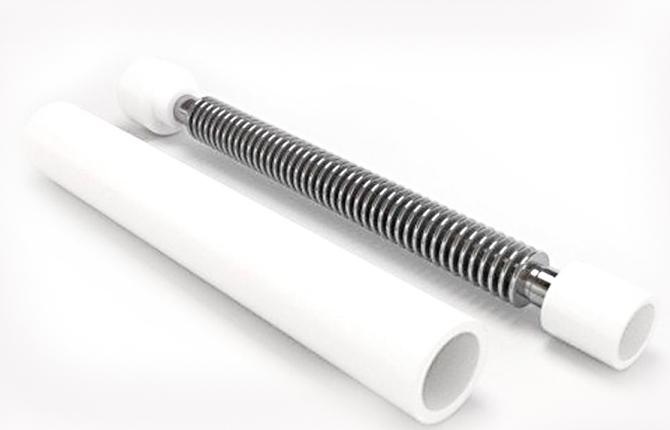 If desired, this type of component can be made independently.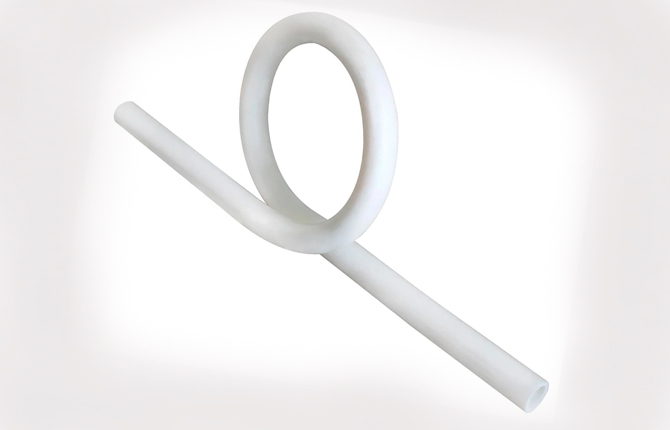 Installation of accessories
Plumbing soldering starts from the input. The heating system begins to be assembled from the security group.
When soldering components to polypropylene blanks, two rules must be observed:
You cannot cut and cut anything in advance. All components are soldered to the pipe sequentially as you progress through the assembly scheme.
Complex nodes are assembled separately. Only after making sure that a particularly valuable type of component is soldered to the pipe blank correctly, you can install the unit on the water supply.
When using good soldering iron the soldering process is progressing quickly. It is necessary to put the components to be welded on the heating nozzles, heat them for a certain time and connect.
| | | | | | | | | |
| --- | --- | --- | --- | --- | --- | --- | --- | --- |
| Pipe diameter, mm | 20 | 25 | 32 | 40 | 50 | 63 | 75 | 90 |
| Heating time, s | 5 | 7 | 8 | 12 | 18 | 24 | 30 | 40 |
| Welding time, s | 4 | 4 | 6 | 6 | 6 | 8 | 8 | 8 |
| Cooling time, s | 120 | 120 | 220 | 240 | 250 | 360 | 360 | 360 |
If a part has not been successfully soldered, it is not necessary to discard it. It is enough to cut off the outer part of the pipe blank with a hacksaw, everything inside the coupling can be cut out with a feather drill on wood.
Short-term heating does not in any way affect the characteristics of the components, including taps and threaded couplings.
What are the first things you look for when choosing pipe fittings?
On the material and its quality.
0%
For dimensions and other required parameters.
0%
I don't buy these things myself.
100%
Voted: 1
The choice of accessories for polypropylene pipes is an important process that has many nuances. You need to take into account everything - from the type of system where they will be installed, and ending with the material, dimensions. Therefore, it is important to study the characteristics of these parts in advance, to study the assortment of well-known companies.
Elements for connecting polypropylene pipes: video.
Did you know about all the nuances of choosing components? Write in the comments. Bookmark this article to avoid losing useful information. Share it with your friends on social networks.