Threaded brass fittings - the most common type of pipe fastening, because the variety of offers is greater than that of connecting elements made of other metal. They can be used to connect workpieces made of different materials: steel, polypropylene, low-pressure polyethylene, metal-plastic, and so on. But apart from the pluses, does this armature also have minuses? What are the nuances of its installation?
The content of the article:
What is brass - metal characteristics

What do brass threaded fittings look like?

What are brass threaded fittings for?

Types of brass threaded fittings for HDPE pipes and other materials
What is brass - metal characteristics
Brass is an alloy of copper and zinc in varying proportions. This composition makes the material highly plastic and high-tech. In terms of corrosion resistance, it is inferior to copper, so brass fittings are coated with chromium or nickel. To the pluses it is necessary to add low thermal and electrical conductivity.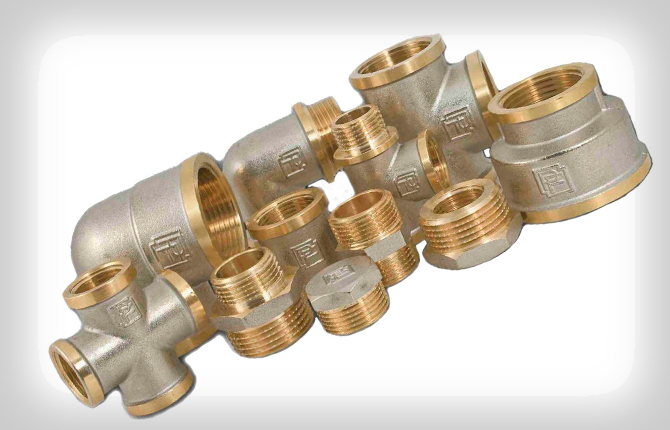 Specifications of brass:
electrical resistance - 0.07-0.09 Ohm / m, for steel 13-18;
heat capacity - 0.377 J / kg K, this is at a temperature of +20 ℃;
density - 3000-5500 kg / m³;
brass melts at a temperature of +900 ℃.
It is these indicators that make brass fittings competitive.
What do brass threaded fittings look like?
All fittings made from copper alloys are manufactured in accordance with GOST under the number 35585-2013. This applies to both threaded elements and crimps. Since the pipes can be connected not only along one axis, then, accordingly, the fittings can have a different configuration.
Often, it is required to connect two circuits with different sections of workpieces. Such elements are also made of brass. The main difference between threaded models is the thread is internal or external. There are no other distinguishing features.
What are brass threaded fittings for?
Their main purpose is to connect pipe lines to each other. But among the threaded models there are those that are installed at the ends of the pipeline circuits. For example, a plug or fitting through which plumbing equipment, measuring instruments, valves and other devices are connected to the pipe. With the help of the latter, the flow of the medium passing through the pipe circuit is regulated.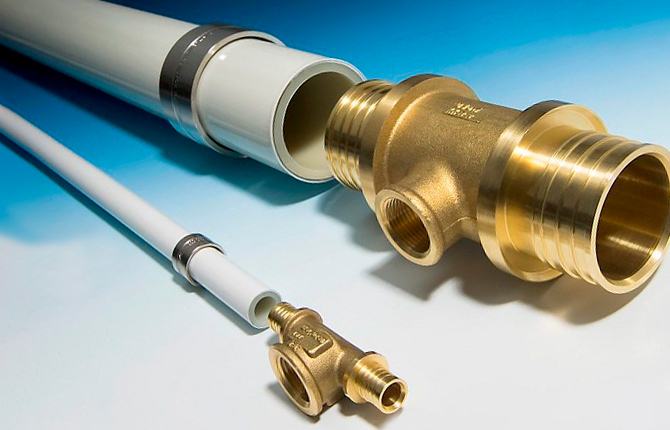 Types of brass threaded fittings for HDPE pipes and other materials
There are many varieties of brass fittings:
Sgons, they

couplings

. These are straight connecting elements with external or internal thread. Used to connect pipes located on the same axis. Their length is standard: 100, 150 and 200 mm. There are smaller ones that are called barrels.
Branches, they are corners. Pipe loops are connected at an angle to each other. Tilt angle - 45-120º.
Tees. With this element, three pipes are connected. One of them is perpendicular to the other two. Usually this connecting element is mounted on the main pipeline, from which the auxiliary circuit departs.
Cross. Four pipes are connected, located to each other at angles of 90º.
American. This is a type of coupling that uses a union nut. Convenient design. The variety of forms is great.
Stub. Used only if it is necessary to plug the pipe.
Nipple. On one side there is a thread, on the other a branch pipe for a hose. It is used to connect the pipe and the measuring device.
Futorka. In form and design, this is a plug, only with a through hole in which an internal thread is cut. It is used for connection to the pipeline of devices.
Adapter. It is installed on pipelines in two cases. The first is when you need to connect two pipes of different diameters. It has two or external threads, or internal. The second is when it is necessary to connect the pipeline to the device or shutoff valves. It has one external thread, the other internal.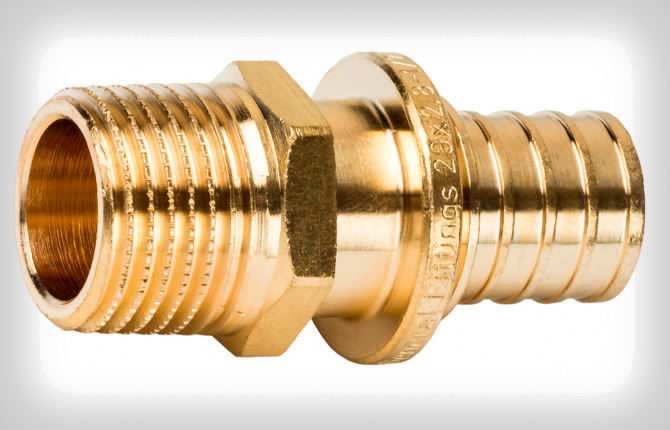 Operating conditions are one of the main components of the long-term performance of brass threaded fittings. It's all about brass, its technical characteristics. You cannot install them in pipelines, through which media with temperatures above +2000 ℃ and pressures above 20 bar move if there is no steam. If steam is present, then no more than 10 bar.
Brass is a heavy metal. Products from it are also heavy. Some manufacturers save on wall thickness, which reduces quality. For example, a branch or sleeve with a diameter of 20 mm cannot weigh less than 200 g. Thin walls are the reason not to purchase such an element.
Another important point regarding the protection of threaded brass fittings. The thickness of the chrome-plated layer should be within 0.3-1.4 microns, nickel-plated - 12.6-15.3 microns. If the protective layer is thinner, then the connection will not last long. If it is thicker, then the layer will crack within a short time. In both cases, the likelihood of corrosion of the metal is high.
What materials do you prefer for fittings?
Metal (brass, cast iron, copper or steel).
100%
Polyethylene or polypropylene.
0%
Depends on the situation.
0%
Voted: 1
The popularity of threaded brass fittings is great, so all hardware stores sell them. For example, Leroy-Merlin, Santehmir and others. When choosing, you need to pay attention not only to the design, but also to the wall thickness, the quality of the coating.
Brass threaded fittings. Fittings for connecting pipes. Review: video.
Have you ever bought brass threaded fittings? What did they pay attention to? Tell in the comments. Bookmark the article, share it on social networks.