I don't know who thinks otherwise, but I am sure that the most interesting and original furniture is obtained from solid wood. The natural texture of the breed is always more advantageous than any artificial material, and if you add contrast of colors and original decorative elements here, you will get an amazing kitchen, such as ours.
Made by company Solid wood furniture Skazka ,
www.instagram.com/skazka_mebel_na_zakaz_anapa
G. Anapa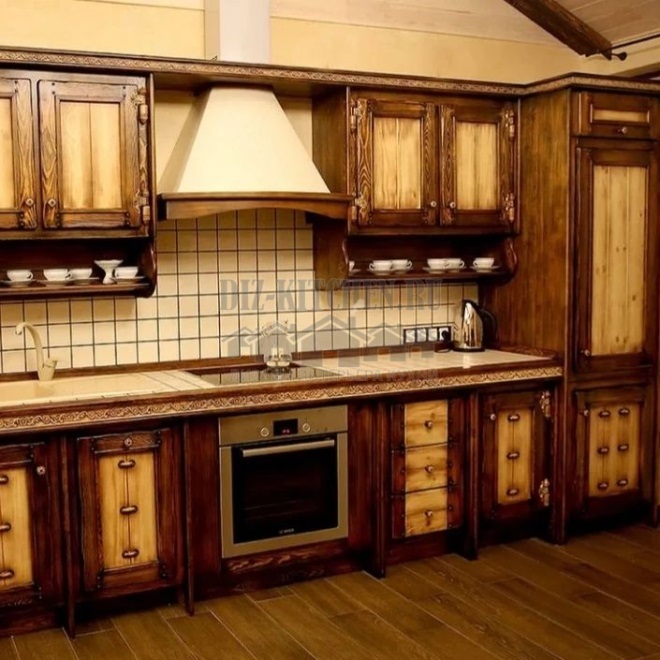 Attention! Earned on our site kitchen constructor. You can get acquainted with it and design the kitchen of your dreams for free! Also may be useful wardrobe designer.
There is a light, warm and relaxed atmosphere. Compared to strict minimalism, our interior is softer and more comfortable, with many interesting details. There is no chrome or plastic in it, here they will look ridiculous.
The Premium kitchen is made of solid pine. The façades are classic but rougher, with a lighter center and a contrasting dark overlay frame. All with patina painting, additionally aging the surface. Muted warm shades of wood are perfect for communication and a long stay in the kitchen.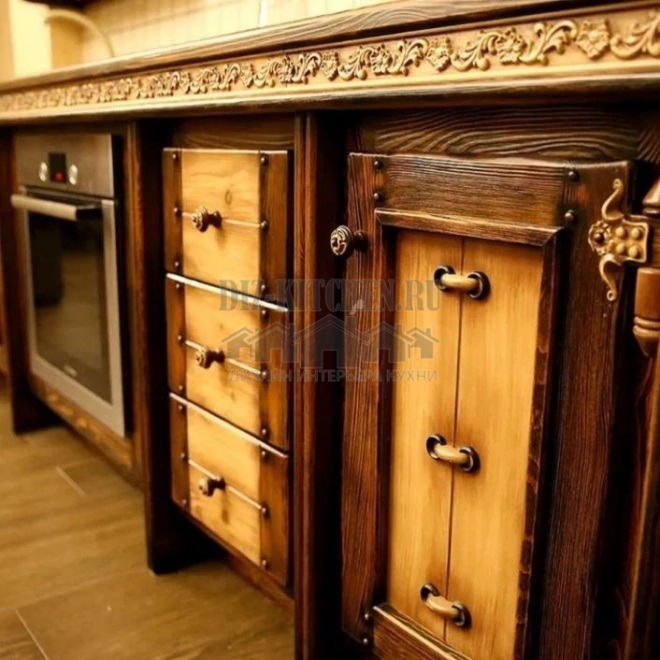 A carved wooden ornament adorned the edge of the tabletop and the cornice. Thanks to him, the furniture acquired a more festive look.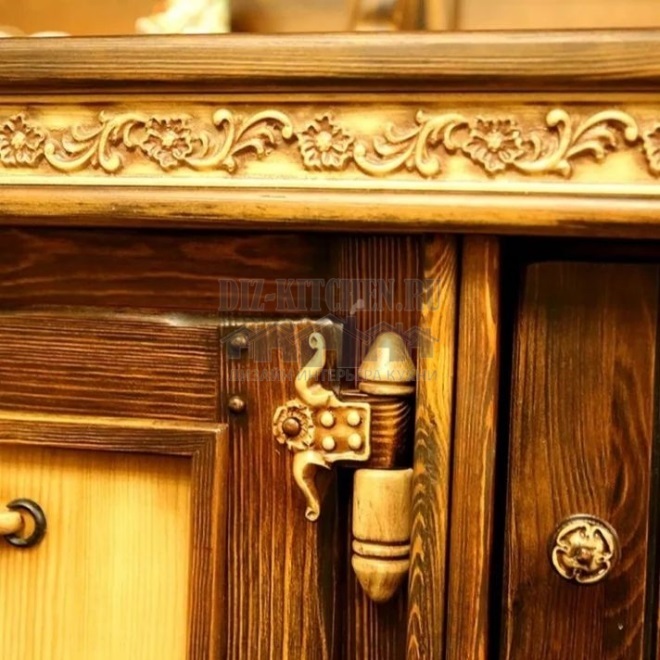 Another original decor is an imitation of the fixation of two planks on the lower facades. Such an accent looks very interesting, as if the facades are very many years old and even nails have not yet been invented.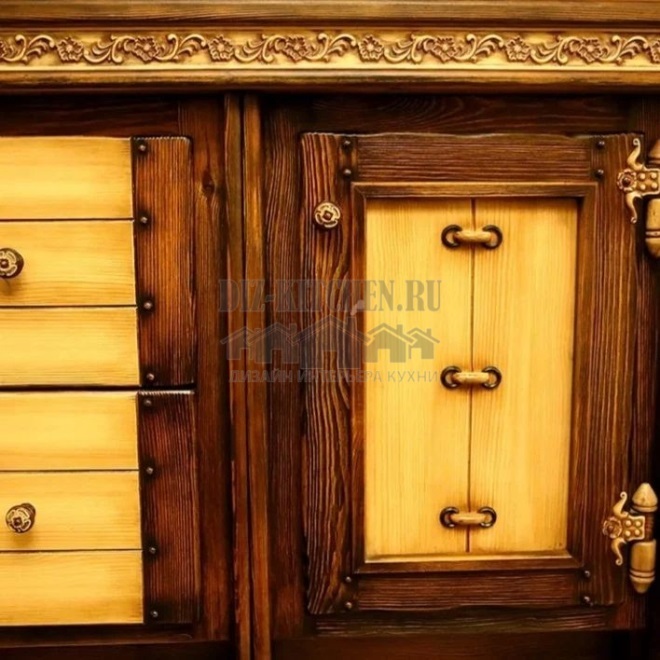 The furniture set is straight, with a white dome hood in the center. It reminds of the hearth, the main symbol of the house. The refrigerator was hidden behind the facades so that it would not disturb the orderly row of antique cabinets.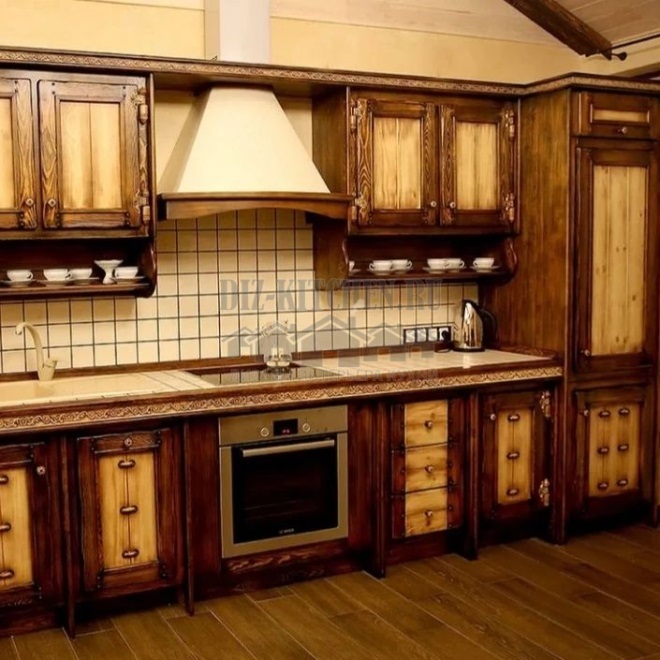 In such kitchens, beautiful dishes are not hidden, they are always in sight. Therefore, under the upper sections there are open shelves where we placed the service.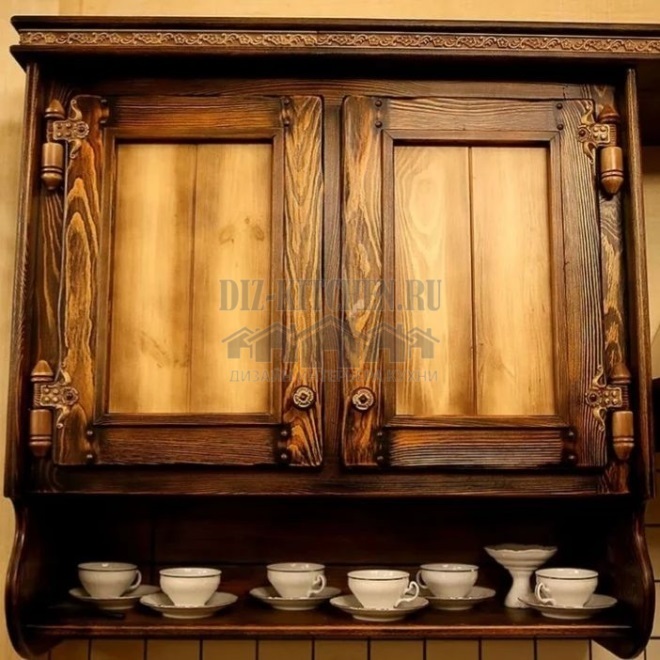 Door hinges on top, they are attached to the canvas, being an interesting element of decor, reminiscent of forged arrows.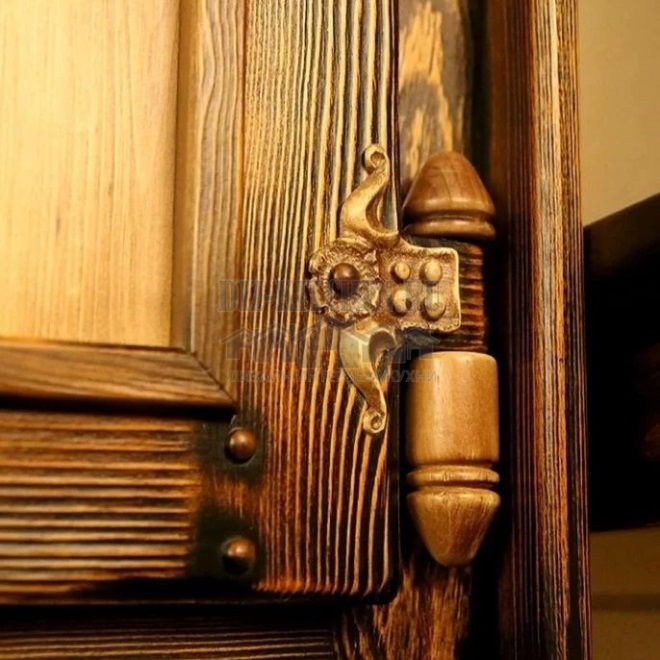 Countertop with square white tiles. Ceramics goes well with natural wood, besides, the white apron best shaded the beauty of wooden surfaces.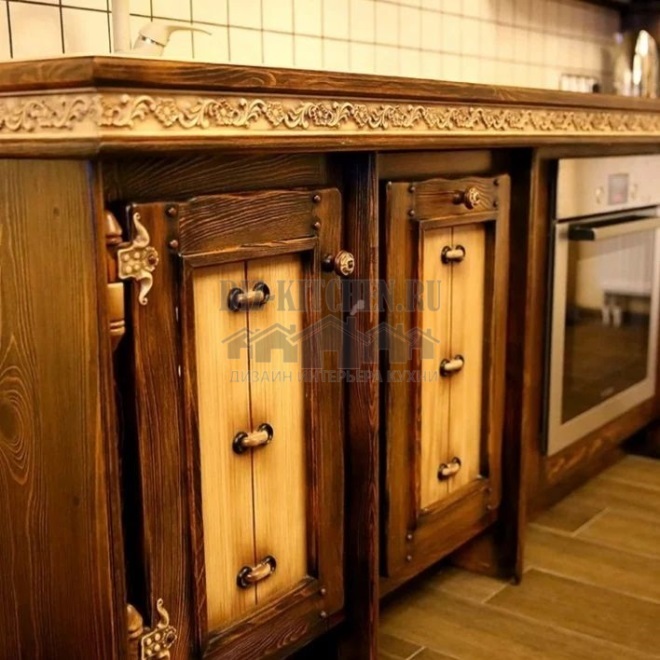 The lower drawers are equipped with B-Box BOYARD full extension systems with a stable and uniform stroke.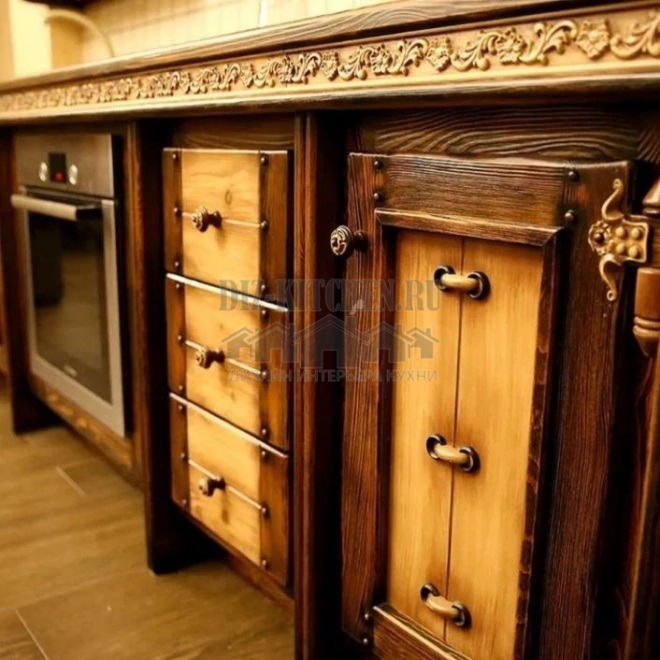 Our kitchen looks very natural, furniture and other decorations are harmoniously combined in it. The interior gives warmth and soothes.
Average score / 5. Number of ratings:
There are no ratings yet. Rate first.