I am impressed by the special charm of minimalism. In such interiors there is nothing superfluous, everything is purely functional, but at the same time the furniture is interesting and attractive in its own way. The charm is achieved by the contrast of tones and textures, volumetric solutions. The contrast is discreet and not flashy, it only emphasizes every detail of the elegant design.
Made by company Egoist,
egoist-kitchens.ru
G. St. Petersburg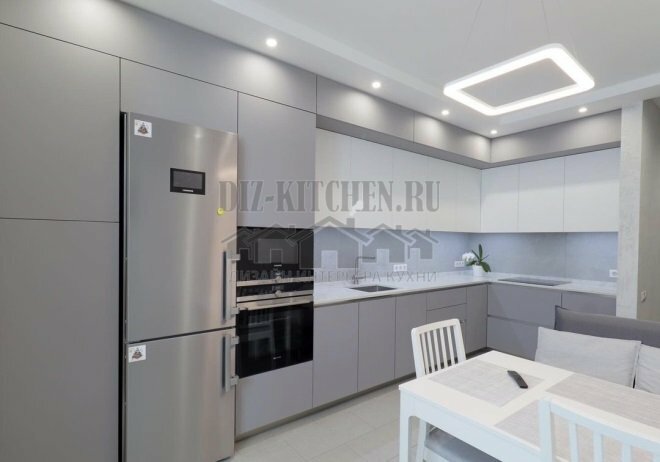 Attention! Earned on our site kitchen constructor. You can get acquainted with it and design the kitchen of your dreams for free! Also may be useful wardrobe designer.
We have a corner suite, with a spacious worktop and several sections by the window up to the ceiling (refrigerator, built-in appliances and another spacious closet).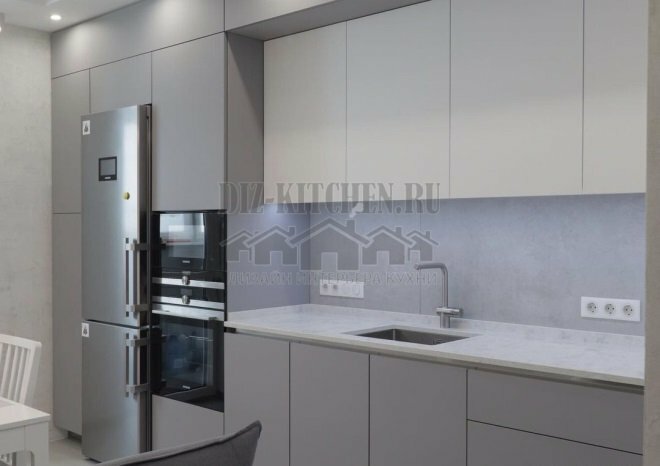 There is a lot of light in the kitchen, there are several types of lighting (spotlights above the mezzanines, built-in lighting, a central chandelier). Under the top row of cabinets, an LED backlight was installed with a sensor that responds to a wave of the hand. The kitchen magically changes under artificial lighting, acquires depth, colors become more saturated and expressive.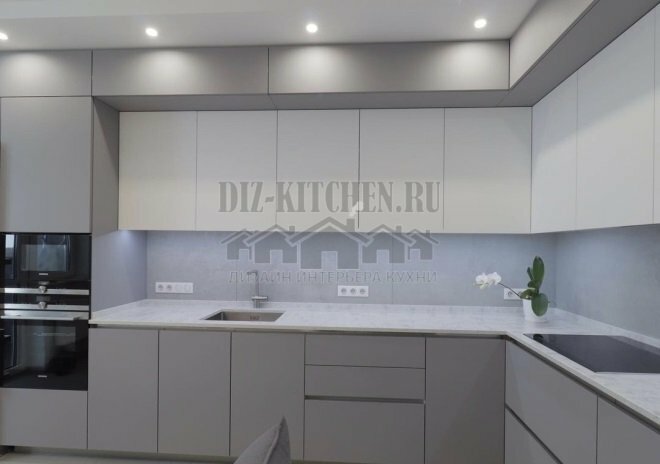 The light tabletop is made of acrylic stone. Together with the gray-blue wall panel and milky fronts, it creates a voluminous light center that enlivens the monochrome furniture modules.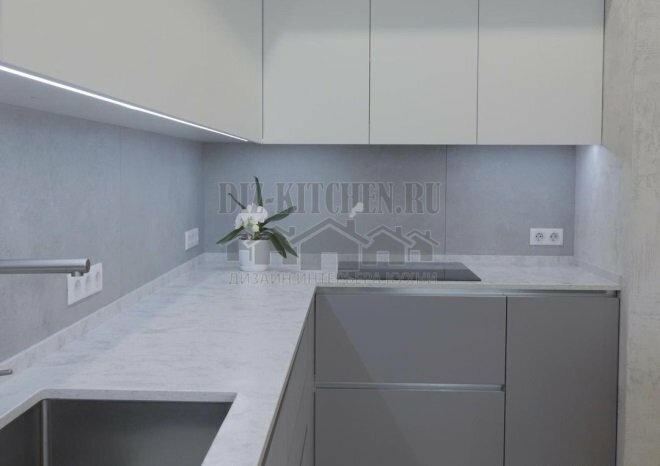 The body is made of Lamarty chipboard. The facades of the first and second rows are made of Turkish AGT board material (cutting and PUR-edging were performed at the Egoist company). At the heart of MDF is a plate with a matte PVC coating that reliably protects surfaces from all types of influences. The shades are light, soft - milky and light gray. The overall composition develops into a harmonious interior that looks fresh and stylish.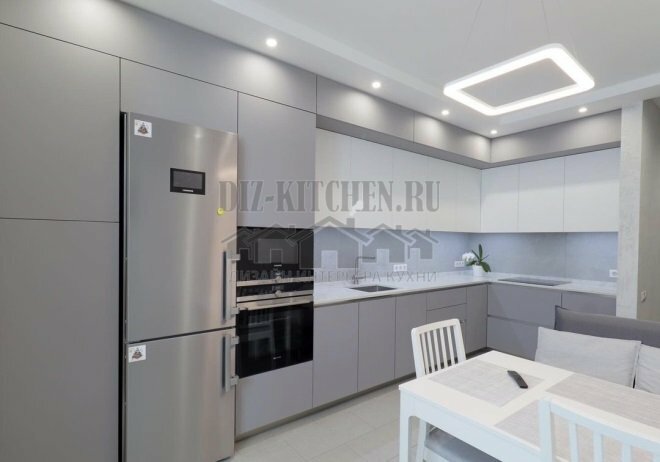 The project technologist moved the outlet of the ventilation duct and hid it in the mezzanine (the topmost row of the kitchen). It was possible to preserve the beautiful and holistic appearance of the facades.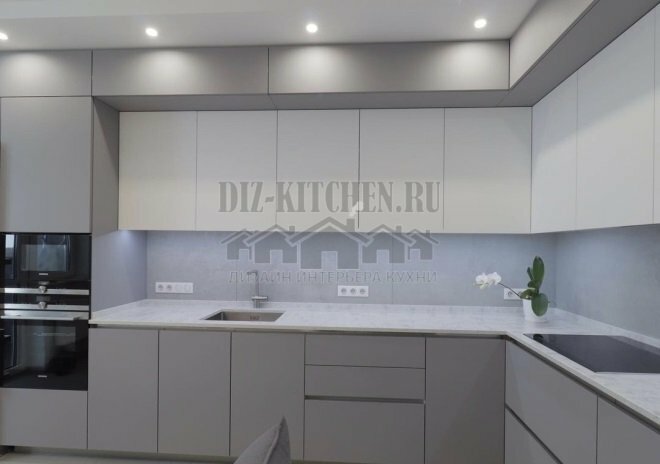 The steel refrigerator fits perfectly into the light gray-white interior. He protrudes slightly forward in the general furniture row. Such planes of different depths seem more interesting, especially since there are also mezzanines and a less deep upper row.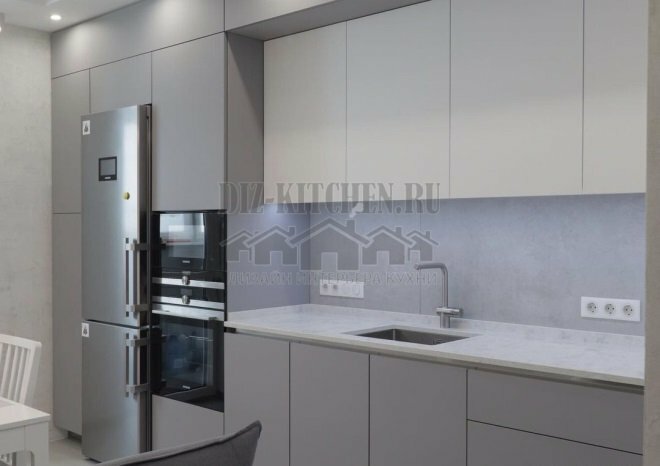 Inside Austrian fittings Blum with closers. In a modern and functional kitchen, all mechanisms must work clearly, smoothly and without failure. Therefore, we have chosen the best fittings. For example, our Blum Tandembox Antaro (light grey) can carry up to 65 kg.
There are no front fittings and voluminous handles on the facades, they were replaced by a mortise aluminum profile Gola. Above the sink is an Italian chrome-plated dish drainer. The furniture legs are hidden behind an Italian stainless steel plinth.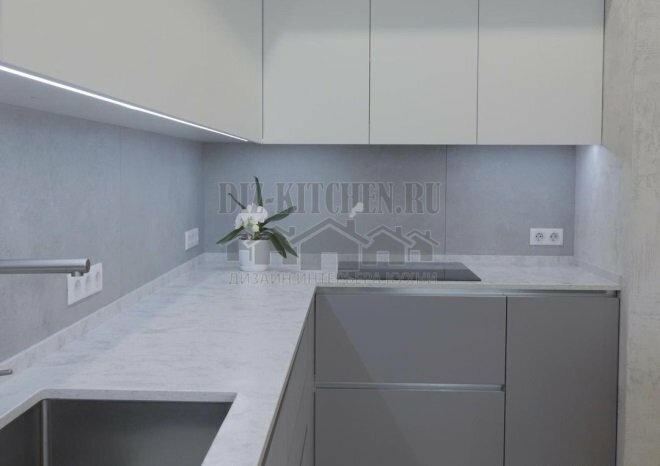 An elegant kitchen in neutral tones and without unnecessary details, turned out to be calm and balanced. It is very comfortable to be in it.
Average score / 5. Number of ratings:
There are no ratings yet. Rate first.