Green is a fairly rare color in modern interiors. It is completely undeservedly bypassed by white and brown furniture, as well as newfangled kitchens with shades of concrete or graphite. But it was not in vain that we chose a light green Provence-style kitchen, getting a fresh interior, which is always cozy and calm.
Made by company Solid wood furniture Skazka ,
www.instagram.com/skazka_mebel_na_zakaz_anapa
G. Anapa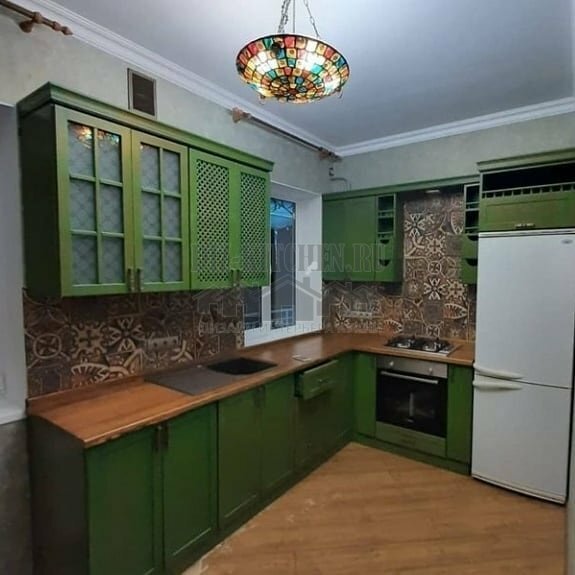 Attention! Earned on our site kitchen constructor. You can get acquainted with it and design the kitchen of your dreams for free! Also may be useful wardrobe designer.
The kitchen is small, the whole range of furniture is rich green. Additional brown shades in the form of an apron, a wooden tabletop and a floor are combined into a single harmonious picture. The natural atmosphere of a fresh forest is fully recreated in our house.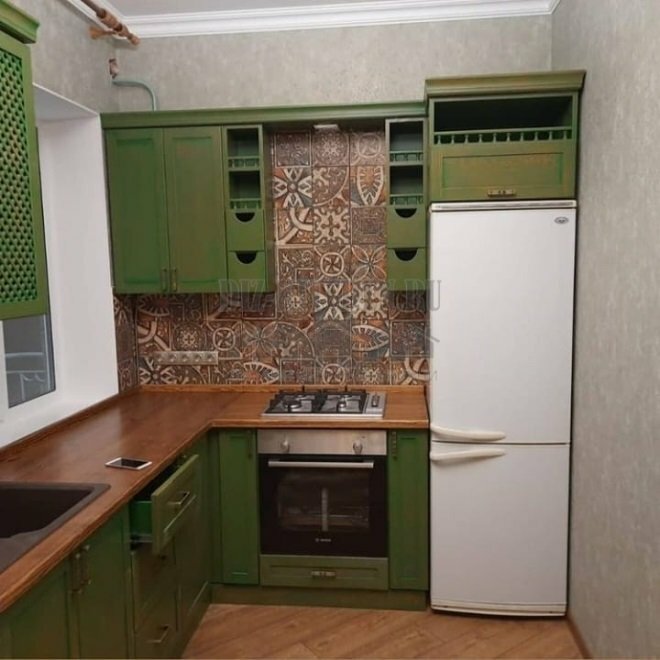 The set is angular, in the center there is a window. White window plastic echoes the refrigerator in the corner.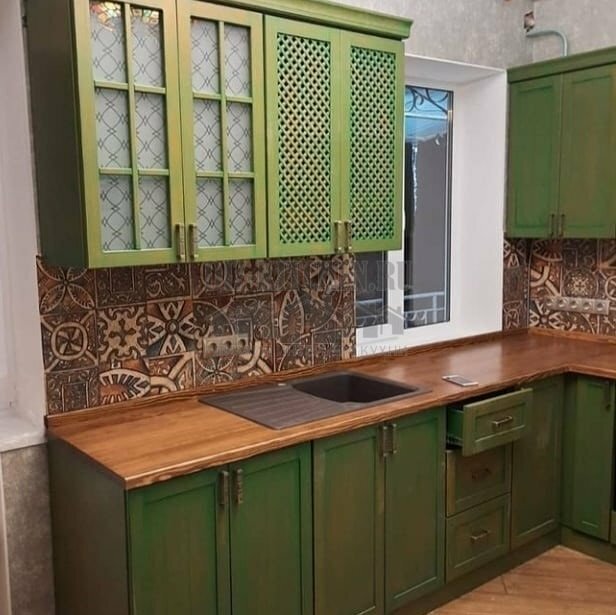 The highlight of the furniture was the lattice and glass facades. They adorned the simple frame sections and the kitchen looks much more elegant now. Glass is a mandatory attribute of the Provence style, as well as shelves.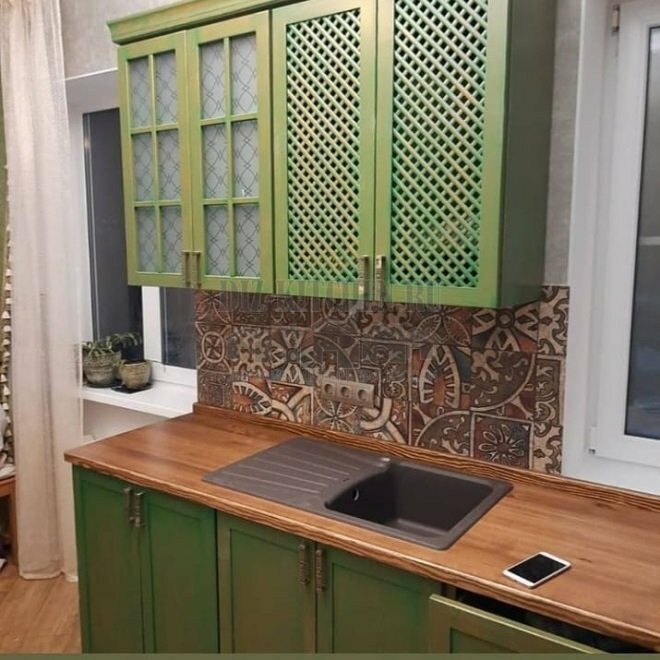 The grill on the facades is located directly above the sink. Behind them is a dish dryer and thanks to the additional ventilation function, now there will never be mold.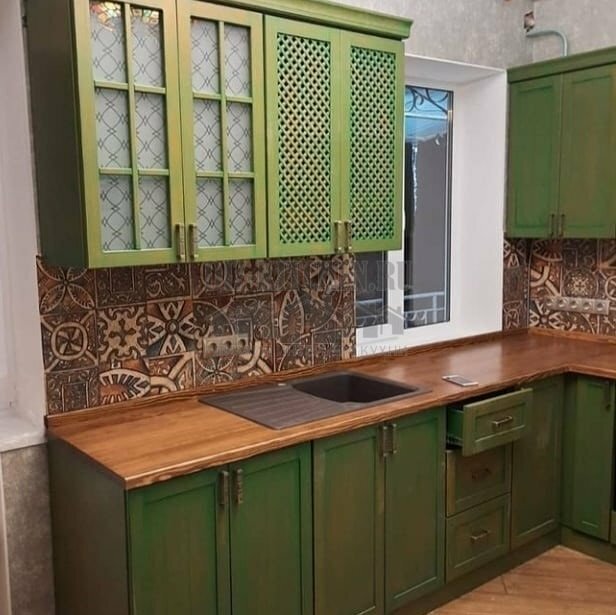 Pine is a moisture-resistant and durable material, well suited for a solid kitchen created for many years. Painted wooden surfaces received additional protection. The wood species does not need additional decor and carving, as its structure is quite expressive.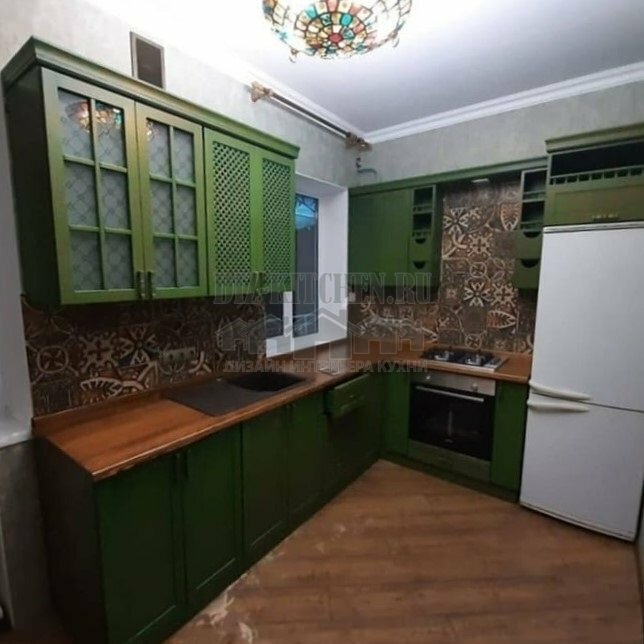 Provence style involves open shelves and we also have them. There are few of them - an elegant balcony above the refrigerator and an original frame around our future hood.
First there are two open shelves, and under them - 2 closed retractable, but with wide slots, they can be easily opened with your fingers.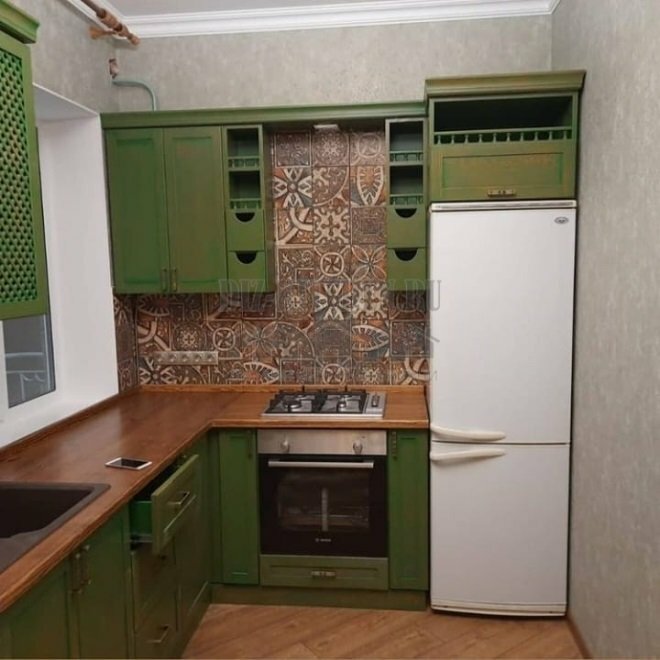 The light-wood patterned table top brightens and adds softness to an interior with rich dark tones.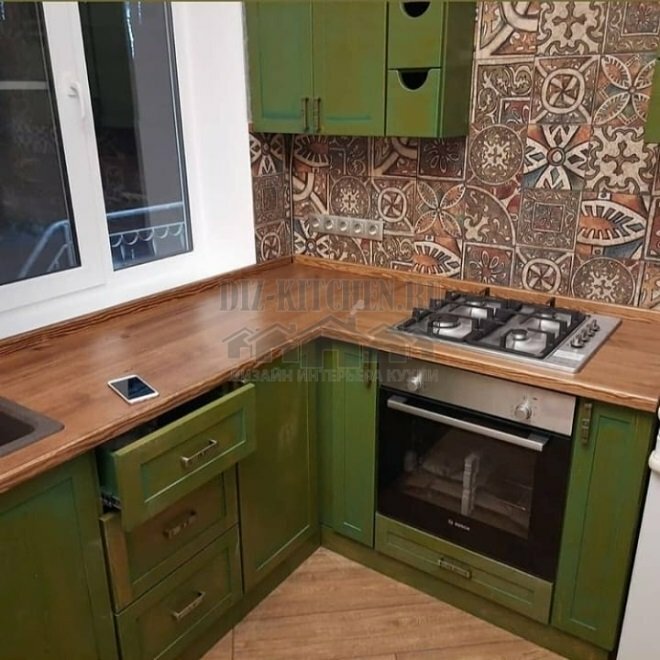 A brown ceramic apron with a tile-like ornament added variety to the monochrome interior, additionally acting as a contrast to the green.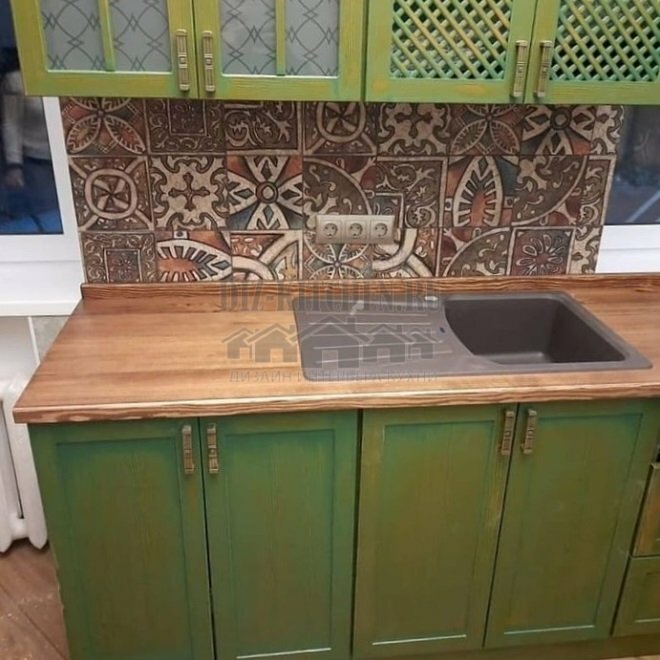 The green color has incredibly refreshed our kitchen, literally breathing life into it.
What does feng shui furniture arrangement mean?
The stove (the main element of the kitchen) should not be in the corner
35.03%
Refusal of mirrors and height differences
13.38%
Harmony of balance, soothing shades, purity
32.48%
Put the refrigerator next to the TV)))
19.11%
Voted: 157
Average score / 5. Number of ratings:
There are no ratings yet. Rate first.