The kitchen is made at the Dariya furniture factory. We chose white glossy furniture for the main quality - the visual expansion of the room. It is always light here, because any light (electric, solar) increases, reflecting from furniture surfaces.
Made by company Daria,
deria-furniture.com
G. Ulyanovsk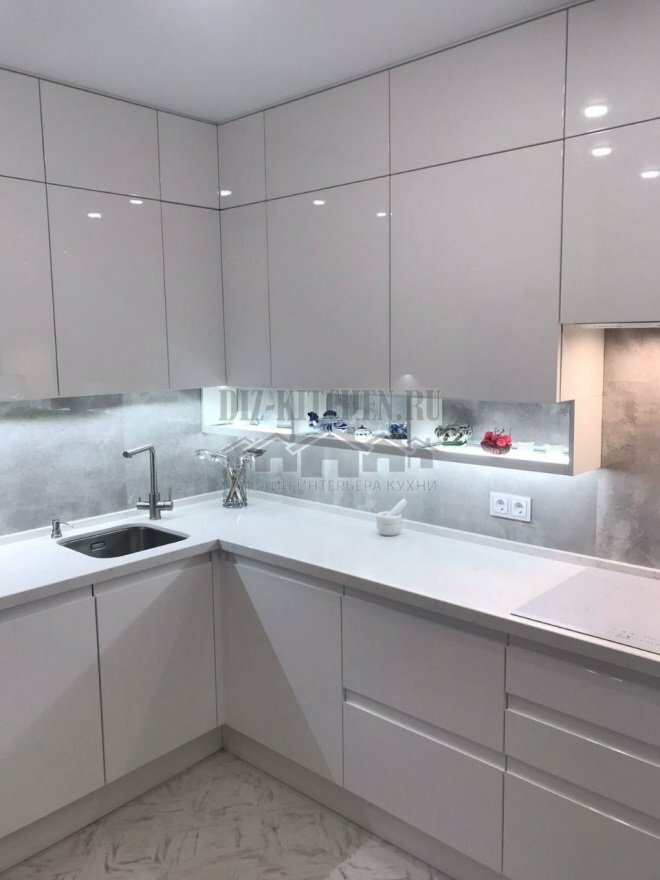 Attention! Earned on our site kitchen constructor. You can get acquainted with it and design the kitchen of your dreams for free! Also may be useful wardrobe designer.
The corner set, as it were, dissolves in the area of ​​​​the room, creating the illusion of free space. The radiant kitchen with no-frills fronts up to the ceiling looks very impressive, despite the fact that it has strict and simple forms, a neutral color palette.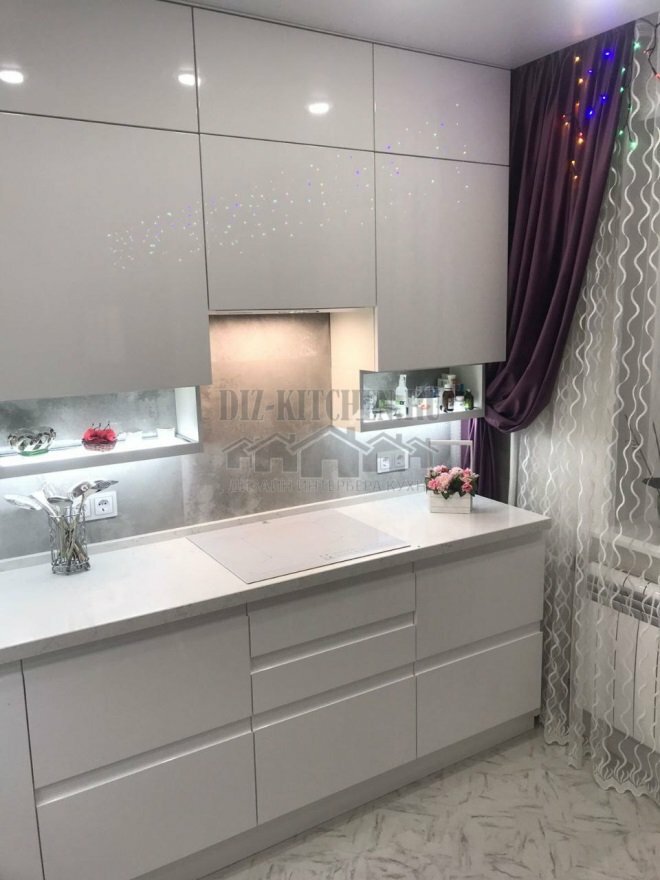 Furniture facades are made of MDF 19 mm thick. They are strict and concise, they shine at different angles, which makes the headset seem wider and more spacious. Such cabinets are characterized by durability and practicality, for a long time they will not lose their qualities.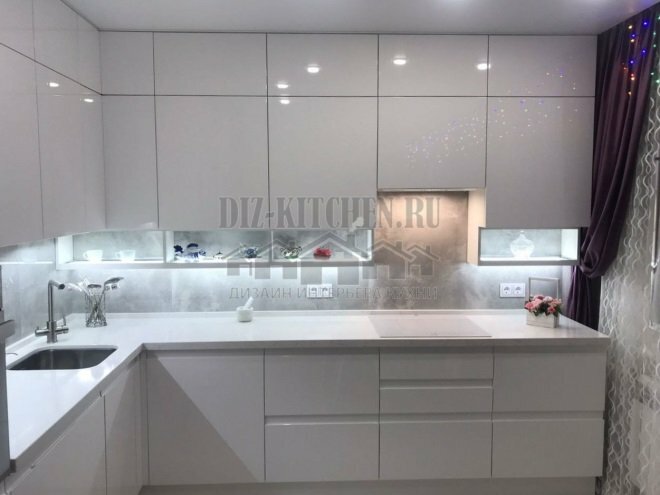 The shelves under the top modules are backlit. This detail enlivened the strict line of furniture sections, becoming a kind of accent. In addition, the idea is quite practical and helped to unload the countertop a little.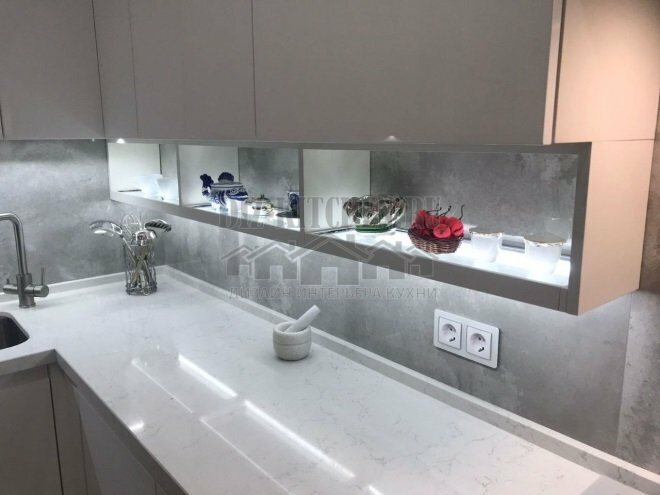 Integrated handles in the color of the cabinets do not detract from the beauty of the glossy facades, do not violate the integrity of the furniture surface and are best suited for a minimalist interior.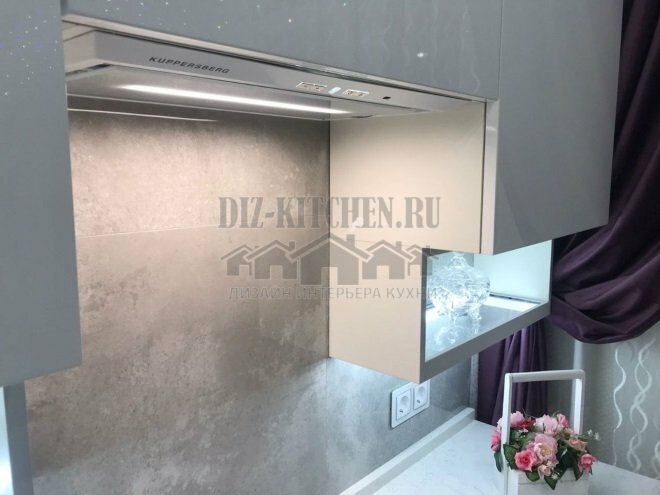 The tabletop is light stone, it has a built-in undermount sink. A wall panel in gray stone imitation, it has become a central element of the design, uniting the furniture sections and the table top. The design looks like a single whole, but at the same time, each zone is clearly distinguished and has its own boundaries.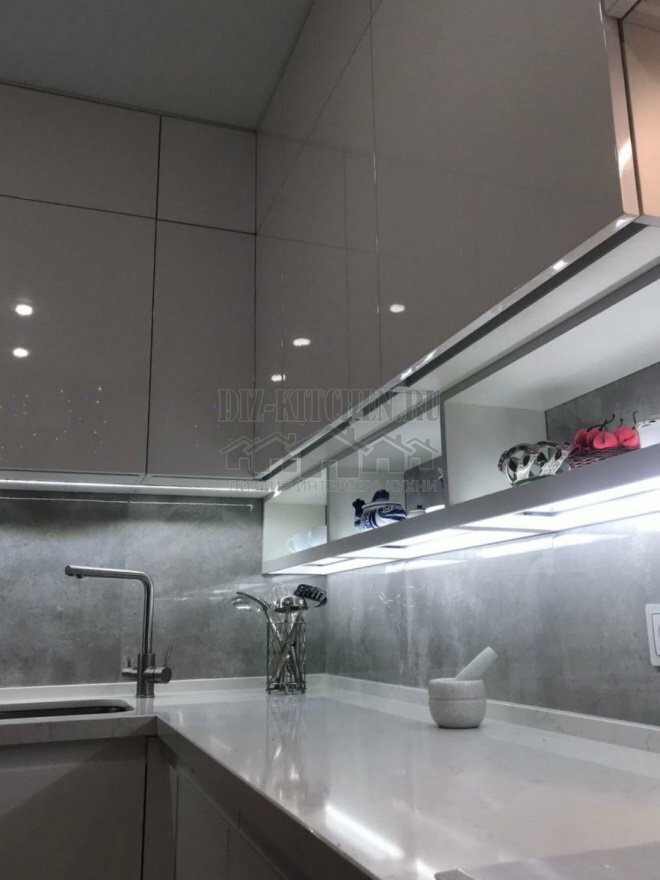 Such a contrast of textures (matte stone and shining gloss) in a single color turned out to be very harmonious and the only one suitable for a desaturated monochrome interior.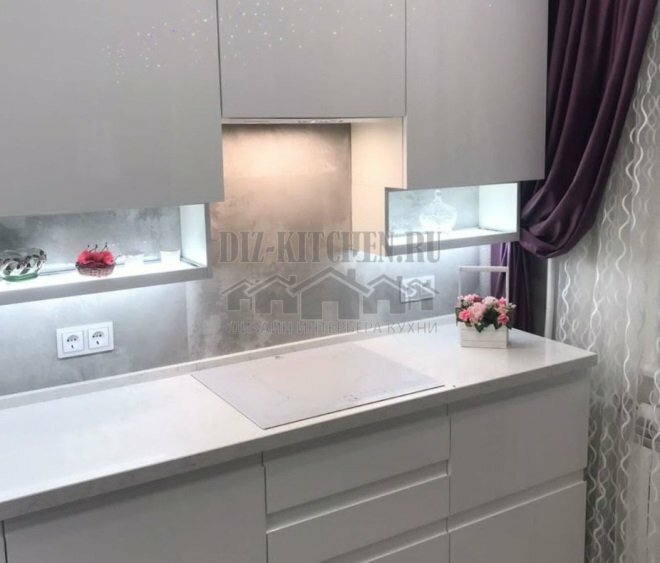 I managed to pick up all household appliances (refrigerator, oven, microwave oven) of the same gray-milky color. The technique looks good in a bright environment, without being a foreign stain, as is usually the case.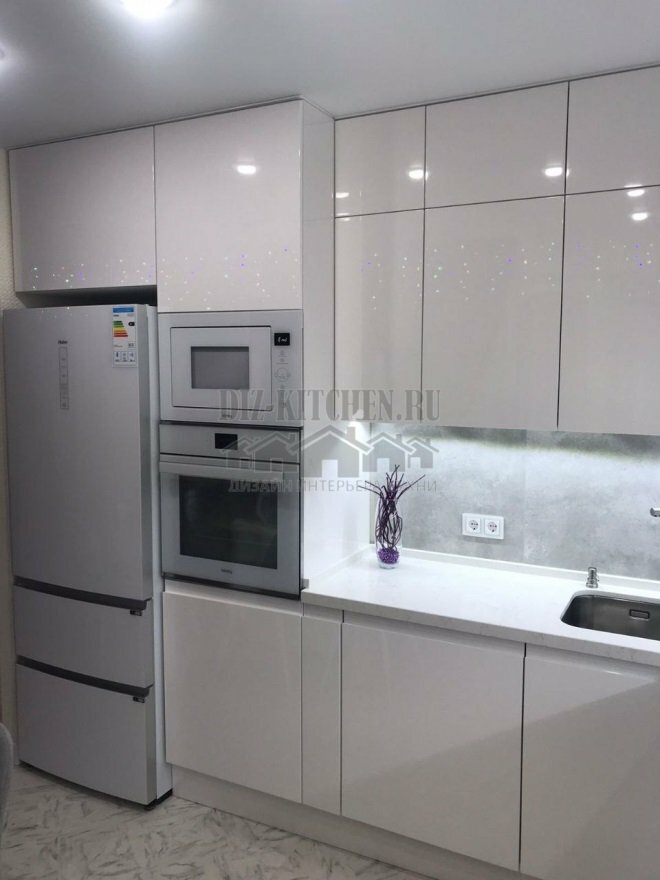 Technological and practical Blum fittings are the best fit for a modern headset. Mechanisms work flawlessly, clearly and smoothly.
Average score / 5. Number of ratings:
There are no ratings yet. Rate first.