I like modern style. But I also love the classics. Therefore, when choosing a new kitchen, some difficulties arose))) It's good that today, with the help of innovative materials, using non-standard combinations, you can create an incredible interior that will look no less luxurious than a strict classic, combining the features of both directions. And at the same time, the furniture can be the simplest and most minimalistic, but it will all look great.
Made by company real furniture,
www.d-kuhni.ru
G. Moscow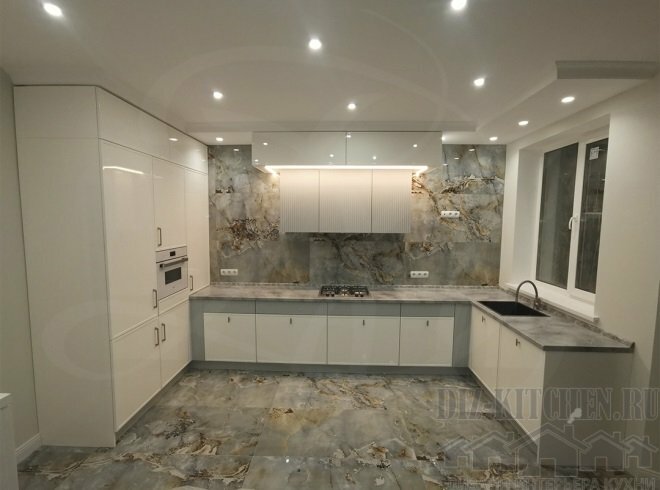 Attention! Earned on our site kitchen constructor. You can get acquainted with it and design the kitchen of your dreams for free! Also may be useful wardrobe designer.
In the interior of our kitchen, the most striking accent element was the marble panels on the wall panel and on the floor. Against their background, laconic light MDF facades with enamel coating have changed, the design has acquired an expensive and elegant look.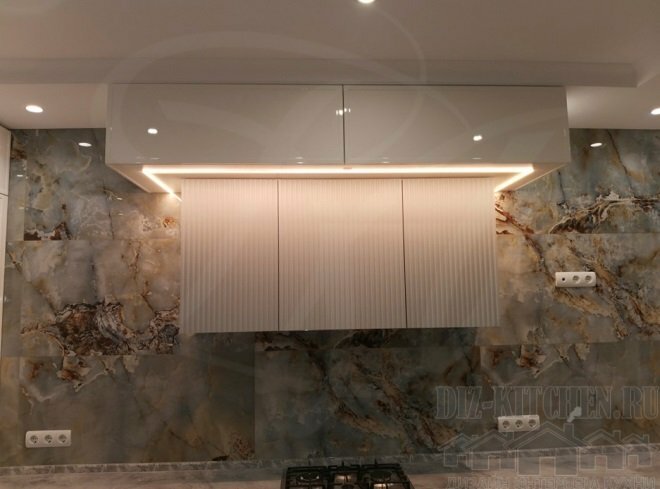 The entire interior is light, interspersed with gray and gray-brown stains of stone. Such a restrained coloring allows you to fully convey the beauty, grandeur and scope of noble marble.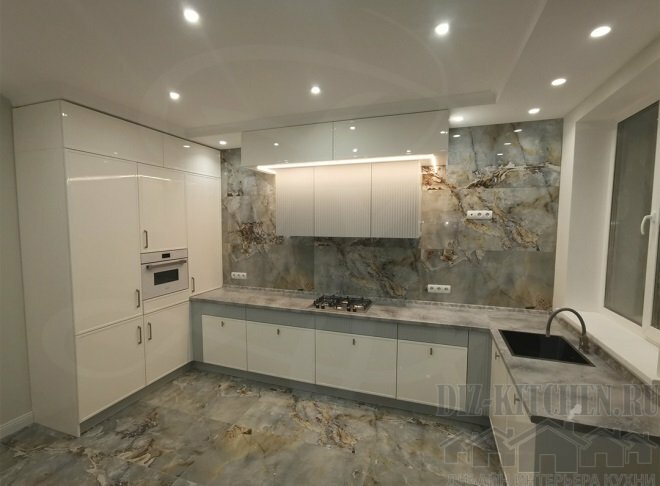 The U-shaped set made it possible to use the space of the room as rationally as possible. Every meter on 3 walls is fully involved, there is a lot of work surface, several people can cook without crushing and embarrassment.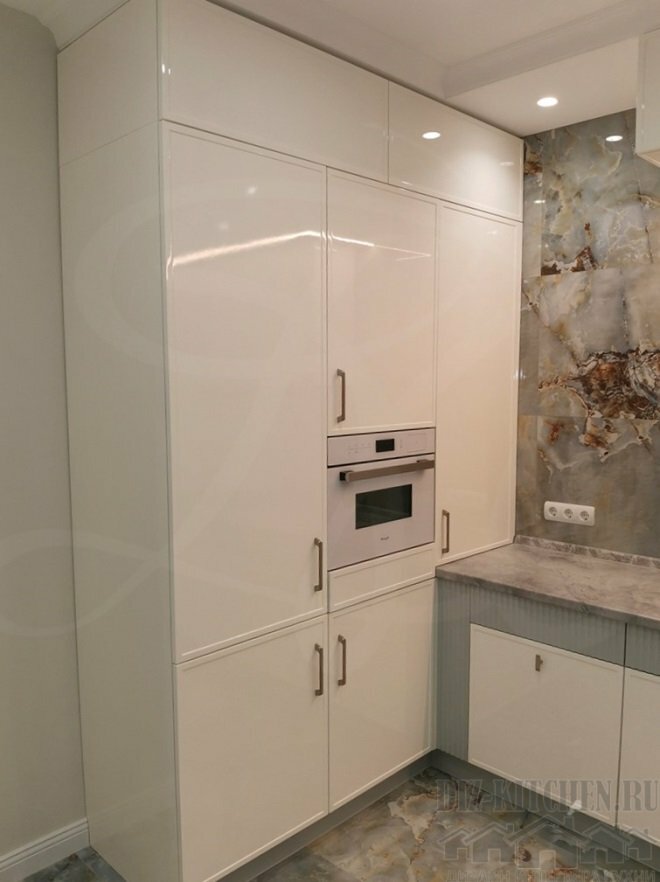 The set begins with high wall-mounted cases with an oven and a built-in refrigerator. Then comes the central part with the hood, continuing with the part with the inset sink. Washing by the window allows you to admire nature and the view outside the window.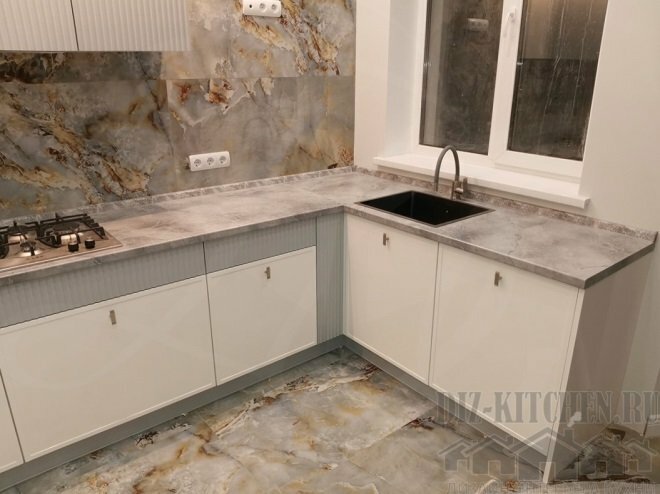 Light facades and a marble wall visually made the ceiling higher, increasing the space of the room. Gloss and backlight further enhanced this effect.
A spectacular hood with an original design attracts all eyes, rightfully being the center and another accent of the entire interior. Despite the fact that this is a modern style, the design resembles a classic portal. Recessed lighting emphasizes the monumentality of the structure and the original texture of the marble wall.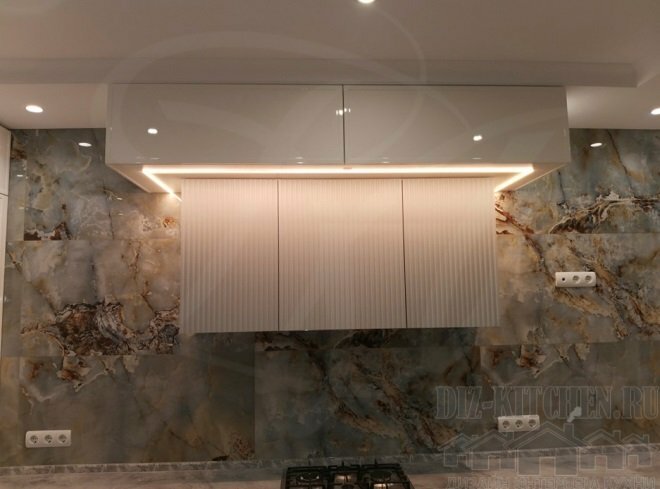 The facades are made of MDF, covered with Saerlack enamel on top. They are of 2 types - smooth and with a ribbed part. And this alternation of textures makes the furniture more interesting and attractive.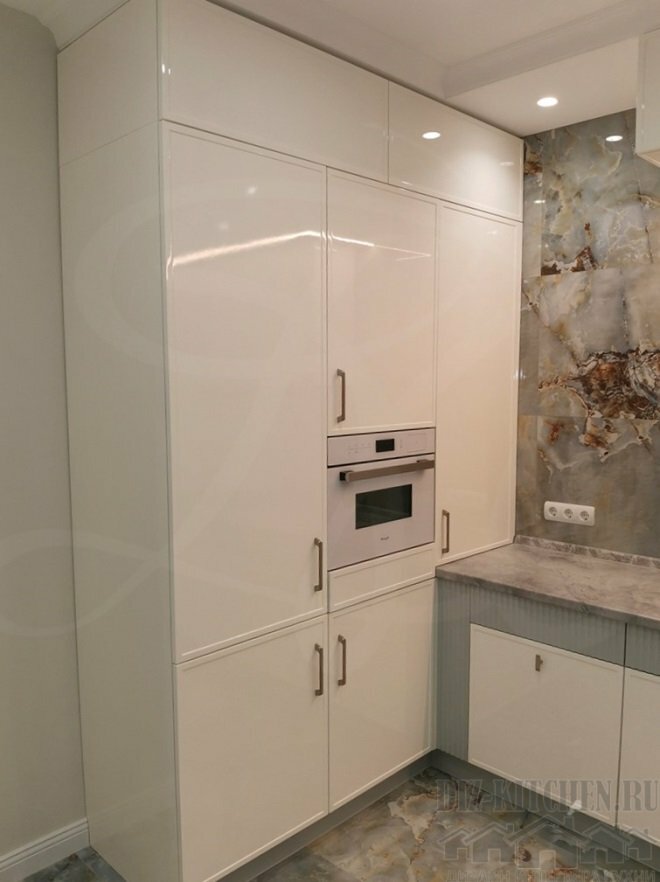 Also, to enhance the effect, highlight the texture of materials and the lower part, a gray center was marked on the lower sections. It is strictly symmetrical, like the hood and the rest of the breading in the room.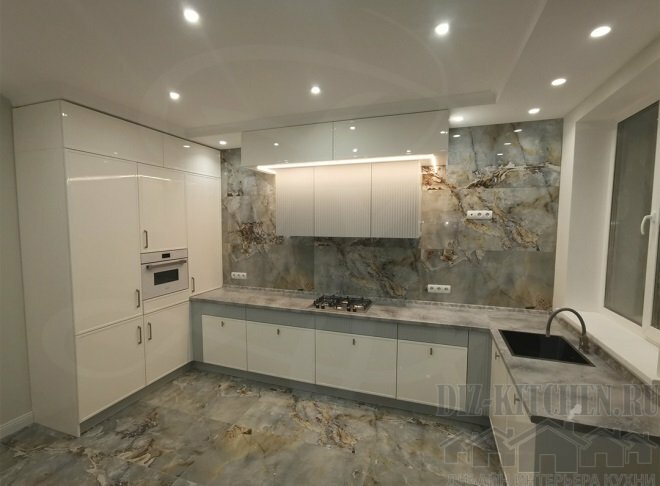 The countertop is slightly darker than the walls. The coloring was successfully chosen so that it seems to be one with the wall and, as it were, is its continuation.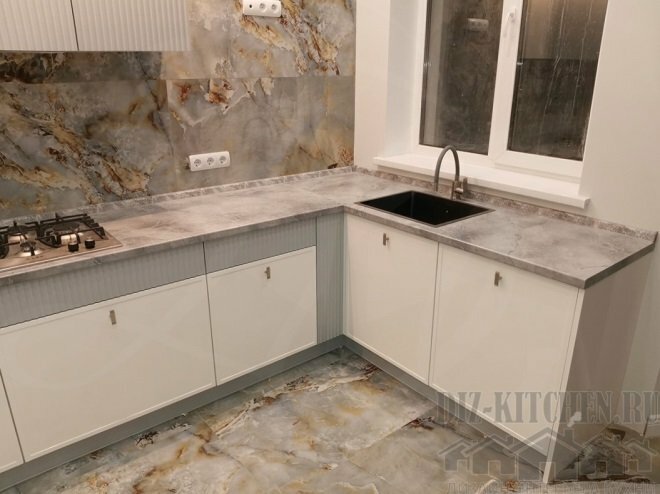 The hardware is the best. Internal drawers - Antaro Blum and Movento. Lifts in the upper cabinets - Aventos Blum. Blum hinges with closers and Italian handles.
Average score / 5. Number of ratings:
There are no ratings yet. Rate first.