In a large family, there are always a lot of shoes. Therefore, there should be plenty of storage space in the hallway. One of the options is spacious shoe racks made of different materials. Their design is simple, so you can try to do something with your own hands, having the necessary tools for this.
The content of the article:
What design should be

Shoe rack options

Master class of self-creation of shelves for shoes

From chipboard laminated

from wood

From laminate

From PVC pipes

Round swivel cabinet

Shoe cabinet pouffe/bench

Do-it-yourself corner cabinet

metal

From plywood

From wooden slats

From a metal profile

Out of the boxes

From wooden boxes and pallets
What design should be
Structurally, shelves for shoes are divided into 2 categories:
open;
closed, with cabinet-type doors.
There is another classification based on the type of installation:
There are options with various additions. For example, a soft seat is installed on top, under it you can build a hidden cabinet for a shoe spoon, shoe creams, etc.
But in any case, the design of the shelf should be comfortable, roomy and durable.
We bring to your attention the article - shelving in the garage.
Shoe rack options
If we talk about making it yourself, then the best option is an open floor-type shelf made from simple building materials. You can even use used ones. After assembling the structure, it should be updated: painted, trimmed with fabric and applied other types of finishes.
Master class of self-creation of shelves for shoes
It is easier to make those products in the manufacture of which do not require the use of complex technologies. For example, electric welding. Not everyone can use it, and the presence of a welding machine often causes a problem. Therefore, we will consider those options that you can do with your own hands using simple tools.
From chipboard laminated
This material is easy to process. To cut it, you need a regular saw or a jigsaw. Self-tapping screws are easily screwed into it. In addition, it is a flat material from which pieces of various shapes and sizes can be cut.
Optimally, it is better to make a rack in the form of a long bookcase from chipboard. In its design, you can install a back wall or do without it.
Approximate shelf dimensions:
depth 30-40 cm;
distance between horizontal shelves 25-30 cm;
the length is determined either by the place of installation, or by the number of shoes to be placed in a row.
The width of a pair of women's shoes is 22 cm, men's - 25 cm.
From chipboard, you need to cut 2 sidewalls, which will be not only support posts. They need to attach horizontal shelves, legs. Several shelves are also cut out - their number depends on the height of the shelf.
All elements are interconnected by self-tapping screws, which are screwed in at an angle. You can use steel furniture corners - this option is more reliable.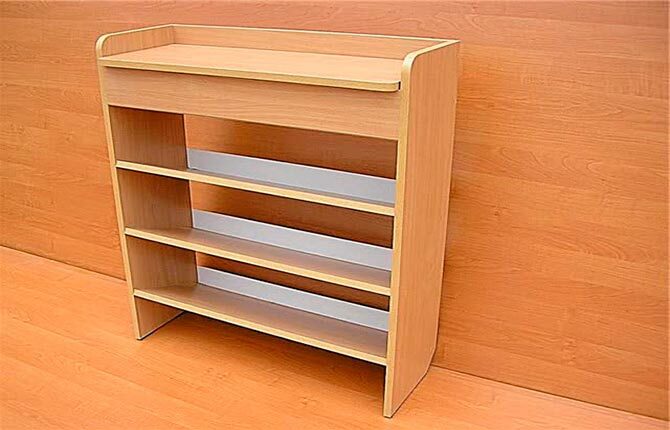 from wood
Shoe wooden shelf made of boards is a classic. She has many advantages:
naturalness;
environmental friendliness;
practicality;
long service life;
can be painted or varnished;
easily repaired;
the material is inexpensive.
From laminate
This floor finishing material is well suited to make a DIY shoe storage shelf. It is better to choose thick models - they are stronger.
But to form a shelf, you will need to make a wooden frame from a bar with a section of 40x40 mm. A frame structure is assembled according to the shape and dimensions of the future rack. Then it is sheathed on the outside with laminate.
You can make a shoe rack out of a clean laminated panel, but the fastening will still be weak. So it is better to choose the frame option.
From PVC pipes
An original model that can be made if you know how to use a welding iron. The photo below shows one of the modifications. It uses the pipes themselves and plastic fittings: bends, tees and couplings. It is important to understand in what sequence to assemble. Everything else is simple.
Plastic is a material with a long service life. It is 100% environmentally friendly and moisture resistant. It has high strength and bearing capacity. For manufacturing, you can use used pipes, which will reduce the cost of the shelf almost to zero.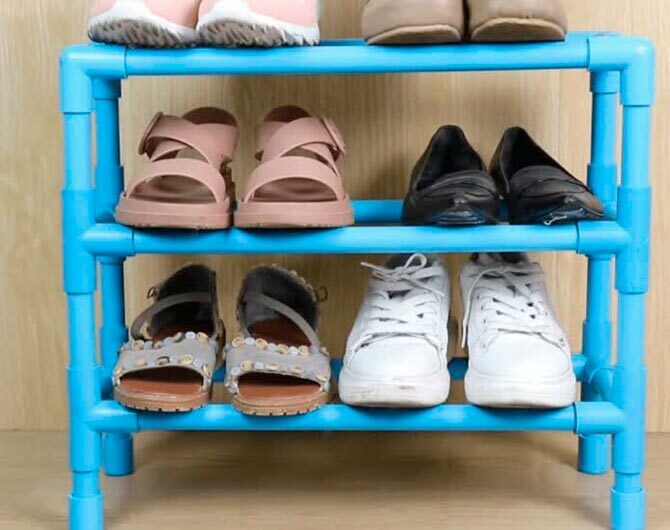 Round swivel cabinet
This is the most original and functional option for storing shoes. It can fit all the shoes, and at the same time it will be easy to find and get it. This is a cylindrical structure, delimited by floors with compartments where shoes fit. Hence its simple manufacture.
As a base, you need 2-3 pancakes cut from plywood, OSB or chipboard. Installed one on top of the other, they are fastened together by rectangular walls mounted on an edge. One wall runs across the entire structure through the diameter. Others are also attached to it across, but through the center.
4 rollers are attached to the back of the lower pancake. It is they who will create free rotation relative to the center of the shelf.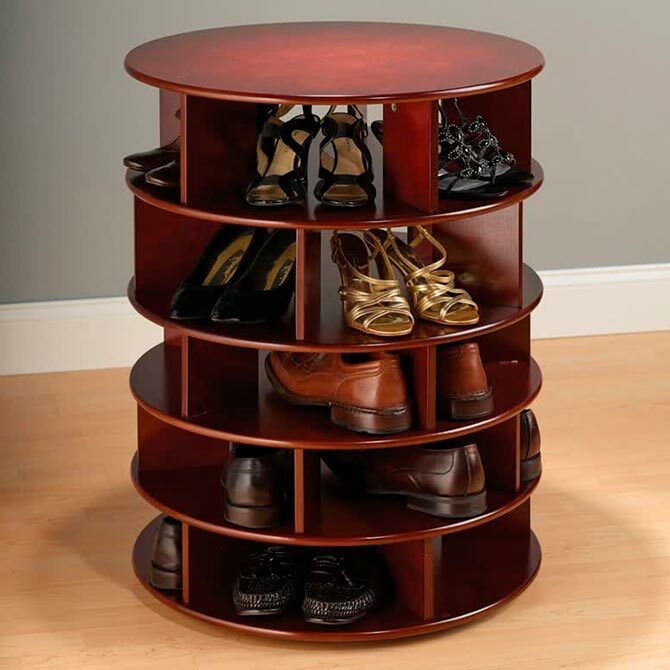 Shoe cabinet pouffe/bench
This is an ordinary shoe rack, the upper floor of which is formed under a soft bench. Foam rubber is laid on it and sheathed with furniture fabric or dermantine.
The shoe rack can be open or closed. Can be made from wood, chipboard and metal. The combined version is also appropriate in the hallways.
This design has its own advantages. The main plus is the seat on which you can sit down to put on or take off your shoes.
Do-it-yourself corner cabinet
This model got its name because it is installed in the corner of the room. The design is compact yet functional. It takes up little space in the hallway, which makes it possible to place other pieces of furniture in the room, such as a wardrobe.
One of the manufacturing options is combined: metal and plywood. A frame is made from the first, the shelves are cut out of a plywood sheet. They should be in the form of a segment of a circle (a quarter of the latter). Fastening method - bolts with nuts or furniture screws.
metal
Metal shelves for shoes are the most durable and reliable. Their service life is practically unlimited. But the initial investment is large. One of the options is from a profile pipe.
First, determine the dimensions of the shelf. Make a sketch or drawing. Then blanks are cut from pipes, which are interconnected strictly according to the sketch. Connection method - electric welding.
The joints are cleaned of sagging, metal drops, soot. Such a shelf can be left without painting - it will perfectly fit into the interior of the room. But you can also paint.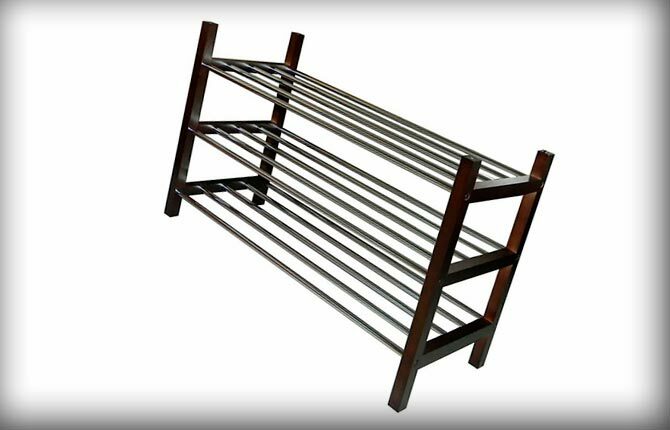 From plywood
This option is made in the same way as a chipboard shelf. But here it all depends on the thickness of the plywood sheet. If the parameter is up to 10 mm, then it is better to build a frame, as is the case with a laminate. If the thickness is more than 12 mm, then you can connect the furniture elements with self-tapping screws.
It is recommended to cut plywood with a jigsaw. The cut is even without chips, which is important when creating any furniture, including shoes.
This shelf does not need to be painted. Plywood has a natural texture. So the applied colorless varnish will only emphasize the natural beauty of the material.
From wooden slats
Wooden blocks are a versatile material. Of these, you can make not only shelves for shoes. Even large pieces of furniture are easy to assemble from them.
For the shelf, you will need 4 legs from a rail, with a section of 40x40 mm or 30x50 mm, 6 crossbars from the same material. As shelves, you can use rails of smaller thickness, for example, 25x40 or 25x50 mm.
First, 2 sidewalls are assembled: 2 racks and 3 crossbars. They are interconnected by longitudinal rails. It turns out a rack in which there are no shelves. They are formed by slats laid on the crossbars. You can use a short material, then the installation is carried out with an emphasis on the longitudinal connecting elements.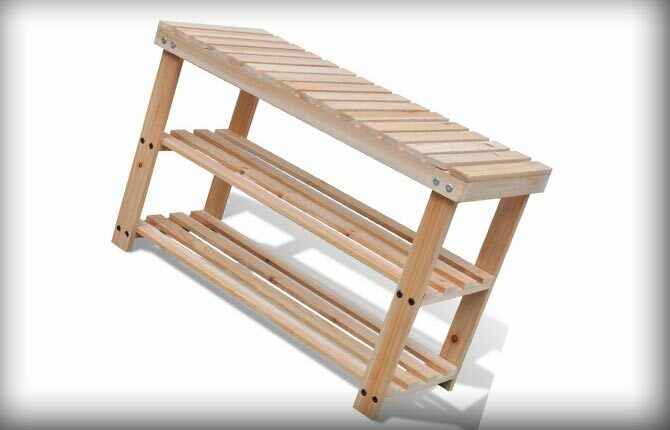 From a metal profile
This is the same option as from a profile pipe. Only instead of the latter, corners and round pipes, a metal profile are used. Here it is also possible to make a connection by electric welding, but there is an alternative - to use self-tapping screws for metal.
Under them will have to drill holes. But this is a way out for those who do not know how to work with a welding machine.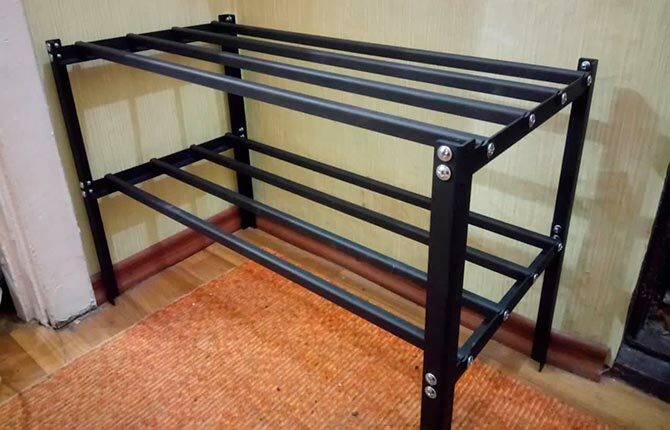 Out of the boxes
For those who like to make their own hands, this model will be interesting. There is a minimum of costs, the availability of material. Every family has shoeboxes. In all other respects, such shelves lose to the rest:
strength is low;
appearance leaves much to be desired;
minimal functionality;
short service life;
There are also few manufacturing options.
One of the easiest options is to stack the boxes on top of each other. The lid of the box is placed upside down. She has a box on edge. On top is another lid from a smaller box. It has its own box on edge. And so on in a row and up.
You can not use shoe boxes. A good shelf from a larger cardboard container will turn out. The photo below shows one of the options. To do this, you need a box with a retractable interior.
Although you can do it all by hand. Cut out the end of the container, insert a smaller cardboard into it. The place for pulling is cut out and closed with a transparent plastic film. It makes it possible to see which shoes are located in this box.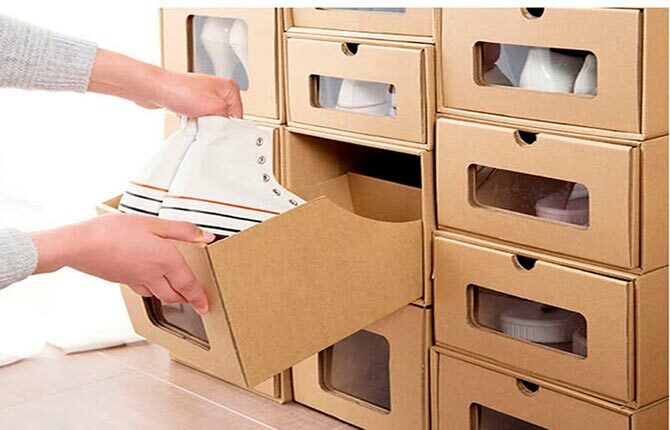 From wooden boxes and pallets
Wooden pallets are a versatile product. Designed for the transportation and storage of various goods, pallets have proven to be an excellent material for building loft-style furniture. They make chairs, stools, tables, swings and more. Shelves for shoes from them are simply wonderful.
The simplest design is to lay pallets on top of each other without fastening anything. Their width is large - 80, 100 and 120 cm. From one you can get 2, 3 or more shelves. It is necessary to choose the depth and cut to the required size. Almost the entire manufacturing process is reduced to one operation - cutting with a saw.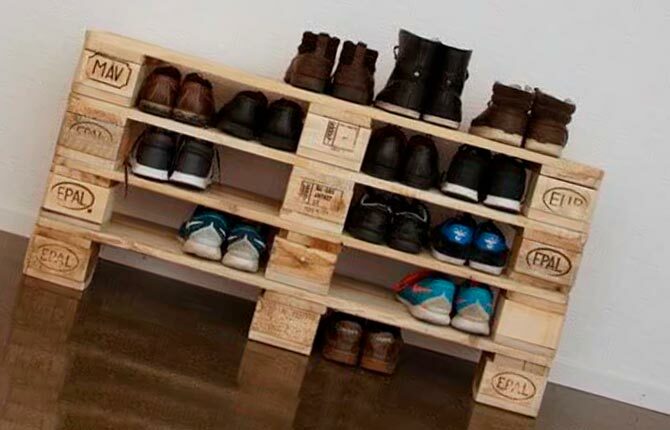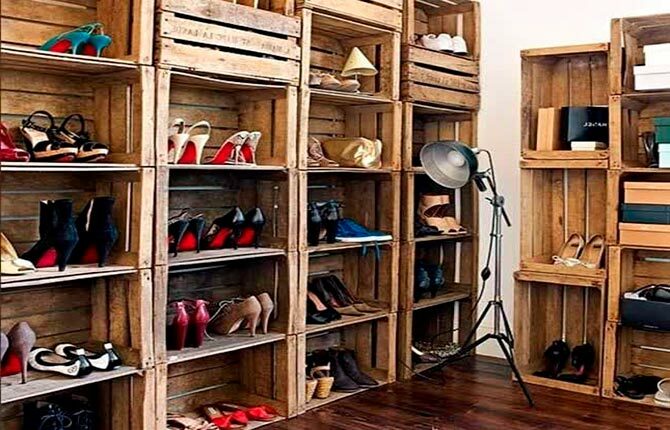 The same boxes. These are almost ready-made shelves for giving. They are wide, but it is not difficult to reduce them by 2 times. Just one partition, and from the box you get a two-level vertical structure for shoes. It must be attached to the wall, and next to hang exactly the same: from the side, from below, from above. Floor structures will also look good.
There are a lot of improvised materials and finished products from which you can make shelves for shoes with your own hands. You need imagination, desire and diligence, as well as the ability to use simple construction tools. Some materials do not even need to be processed - they will easily fit into the interior of the hallway.
Who has already tried to make a floor or hanging shoe rack with their own hands? What materials were used for this? What is easy in the basis of a shoe rack? We are waiting for your comments.